2018 Nathan's Hot Dog Eating Contest Odds: Joey Chestnut a Massive Favorite
Joey Chestnut remains an overwhelming favorite to win this year's Hot Dog Eating Contest at Coney Island on July 4. His betting odds range from -500 to -750. 
Almost equally as favored is Miki Sudo, who has won four straight contests in the women's division.
It's about that time. School's out, the weather is heating up, and it's BBQ season across America. You know what I love on my Q? A few tube steaks. Frankfurters. Hot dogs.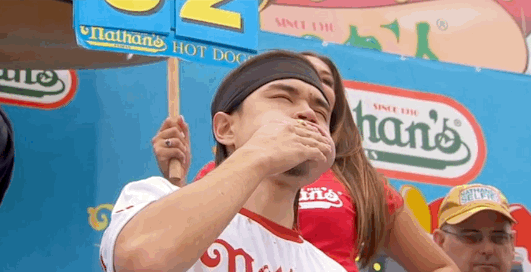 Personally, I like to try to down five or six dozen of the salty snacks in a sitting. To make it easier, I usually like to soak the buns in water and drink water while the pooches are still in my mouth. Makes it so I can slide two down my esophagus without choking to death, which almost did happen to me one time with spaghetti.
With the Nathan's Famous International Hot Dog Eating Contest on July 4 just around the bend, here are the odds from around the market for the men's and women's contests.
Men's
Joey Chestnut has won 10 of the past 11 contests, and oddsmakers believe he is a huge favorite (ranging from -500 to -750) to prevail again. With the contest quickly approaching, books have offered odds on anywhere from three to six other eaters, including Joey's two biggest competitors — Matt "Megatoad" Stonie and Carmen Cincotti. Bookmaker, however, is still currently not offering odds on the men's winner, just an over/under on Chestnut's meat consumption.
Stonie dethroned Chestnut in 2015, but has come well short the past two years. He has also grown in popularity recently due to his YouTube channel, which features him downing meals that could potentially cause the sugar diabetes. Cincotti is still not a household name, but with 60 mutts chowed last year, he's definitely a threat to Chestnut.
If you're confident in Joey Jaws, BetOnline is your best bet to earn some cash. And given that the winner is almost guaranteed to be one of Chestnut, Cincotti or Stonie, I'd refrain from taking a chance on the field payout.
Women's
When I was a yout, Sonya "The Black Widow" Thomas was the woman to beat. In fact, in 2011, the original competition branched off into a men's and women's division, as Thomas' popularity led to the sport being more popular with the ladies.
Even though Thomas' women's record of 45 HDB (hot dogs and buns to the layperson) remains unbroken, Miki Sudo has won the women's contest four straight years. Her odds have now reached as high as -660, but you can still nab a -475 at MyBookie.
How would you rate this article?