Marky's Malarkey: Breaking Down 'Creed II' Betting Props
Marky breaks down the trailers to find clues about the movie that should help cash some bets.
He also uses his knowledge and love of 'Rocky IV' to draw parallels and help figure out where the value lies.
GATLINBURG, Tenn. — My new favorite thing to do is break down prop bets for movies. There is nothing like going down to the theater, seeing a double feature and betting on the pictures as if you were down at the track. Gee whiz, what a swell feeling.
I recently had one heck of a sweat when I saw "Halloween." I put in hours of studying to provide the readers with the answers, and by god, I get more nervous about those outcomes than the things I bet on my own.
This go round, I'm back at it with "Creed II." 
The Premise
In my mind, "Rocky IV" is the best movie of the "Rocky" franchise without a doubt. It's a USA vs. USSR heavyweight showdown between Philly's golden boy Rocky Balboa and the genetically enhanced Ivan Drago of the Soviet Union — portrayed by the most underrated actor of all time, Dolph Lundgren, with his spiky hair, ice cold demeanor and big muscles.
This movie looks like a spiritual reboot so I am pumped.
I'm going to be spoiling "Creed" and "Rocky IV" so stop now or else …
In "Creed", we saw Adonis Creed, aka Donnie, move to Philly and get trained by Balboa. He meets a romantic interest, Rocky gets cancer and Donnie is challenged by a world champion, Ricky Conlan, who has to retire because he's being sent to the slammer.
The film is quite similar to the original "Rocky" — though our protagonist loses, it's clear that he's made some strides in the boxing ring in life. How sweet.
"Creed II" is basically a 21st century reboot that reignites the USA/USSR rivalry that has been missing since the Cold War, while giving us an age-old tale of redemption at the same time. Adonis will be fighting Viktor Drago, son of Ivan Drago — the man who killed Apollo Creed (father of Adonis). Only in the movies, folks.
Donnie's life has changed since we last saw him at the end of "Creed." He apparently holds a title belt and … what's this now? He has a baby? I'm no doctor, but generally speaking, I believe there's one way those are made, and The Penguin would be rolling over in his grave if he knew what Donnie did.
I guess he decided to take a family man approach. Whatever … just blatantly ignore what Rocky told you in the first movie.
Breaking down the props
So you're probably wondering what the hell this article has to do with gambling.
Will Adonis Creed beat the son of Ivan Drago?
This prop is making my head spin. Why? Because I think there are TWO fights between Creed and Drago.
It took some detective work, but throughout the two trailers there are subtle hints that prove my theory.
Trailer 1:
Beginning: Drago wearing black boots, black gloves and white trunks with no stripes knocks out Creed, who's wearing American-themed gloves and trunks, top rope of boxing ring is blue
1:28: Drago wearing red gloves punches Creed, who's wearing black gloves, top rope of boxing ring is red
1:49: Red Conotoxia top rope
1:54: Drago wearing red gloves and white trunks with red and blue stripe, Creed wearing black gloves, red Conotoxia top rope
Trailer 2:
1:30: Drago wearing red gloves
1:32: Creed wearing black robes, red Conotoxia top rope
1:44: Creed wearing black gloves, red Conotoxia top rope
1:54: Drago wearing red gloves
1:55: Creed wearing American gloves, blue Tecate top rope
2:07: Creed and Drago facing off with red Conotoxia top rope
2:16: Creed wearing black gloves, red Conotoxia top rope
2:21: Creed wearing American gloves, Drago wearing black gloves, blue Tecate top rope
Friggin' Sherlock Holmes over here. I've watched these trailers so many times now, I hardly want to see the film anymore.
Here's what I've gathered from these clues:
First fight: Creed wearing American garb, Drago wearing the black gloves. Fight takes place in Russia. Creed loses.
Second fight: Creed wearing all black, Drago wearing red gloves. Fight takes place in USA. Creed wins.
So what does that mean for the prop bet? Time for a good old live chat.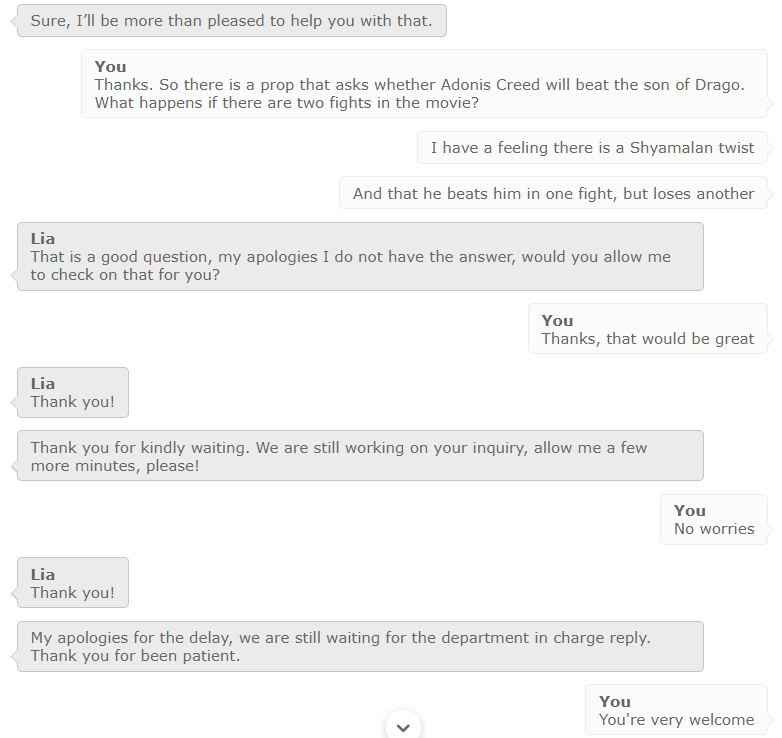 After that, I was unfortunately informed that I would have to hit them up again the next day because nobody there knew the answer (it was 1 a.m. ET).
The next day, the entire People's Republic was there to assist my needs.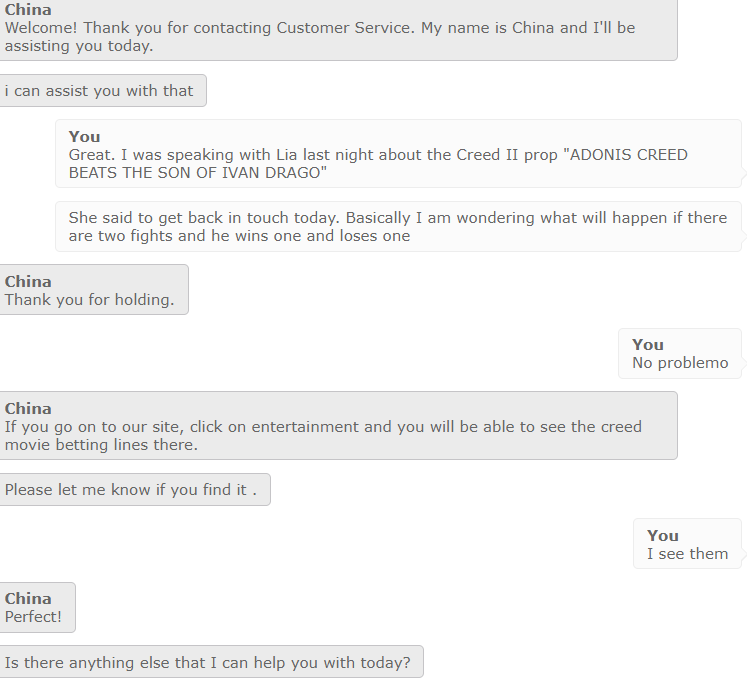 Nope! I was clearly just confused about where to find the prop, thanks for the help!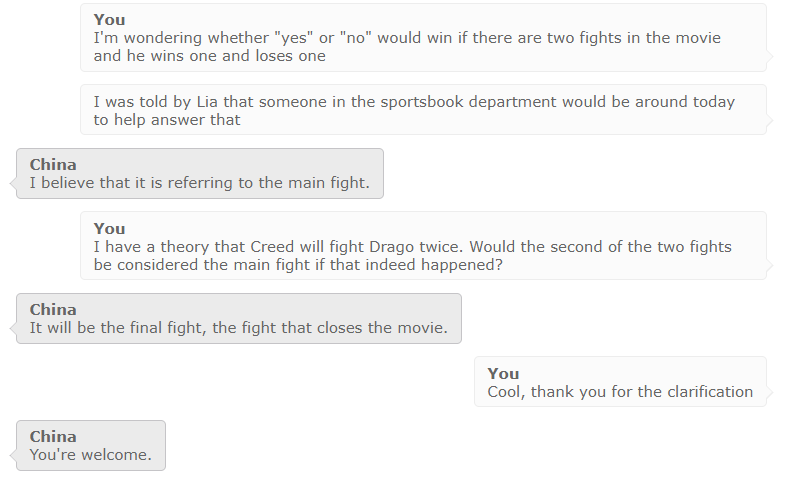 There you have it. Apparently my detective sleuthing isn't going to lead to a juicy +600 payout. A few free bucks on "yes" -1000 for you.
Maybe I'm wrong and they fight twice and Creed loses both. Now there's a M. Night Shyamalan twist!
Will the son of Ivan Drago kill Adonis Creed?
Yeah, that would be a great ending to the "Creed" sequel. The first movie, he loses. The second movie, he dies. The fairy-tale ending you always read about.
The last thing viewers want to see is Donnie Creed face planting onto the mat and flopping around like a fish before he meets his maker in the same fashion his father did. It just makes no sense.
Also, they can keep spitting out "Creed" movies for the next decade or so if they want to. Can't do that if he's dead, though — unless Sly Stallone goes Shyamalan on us.
I'm sure you can make a nearly sweat-free buck or two if you want to bet on "no" so have at it if you're about that life.
Will Rocky punch Ivan Drago in any part of the movie?
The only one of the four props without ridiculous odds. I better get this one right.
I was thinking back to the ending of "Rocky IV" and recalled that Drago congratulated Rocky out of respect after the fight. I was wrong, though. I misremembered.
I was actually thinking of when Johnny Lawrence of the Cobra Kai dojo congratulated Daniel-san at the end of "The Karate Kid." You know, right after he tried to obliterate his ACL, MCL, PCL and meniscus by following sensei's instructions to sweep the leg.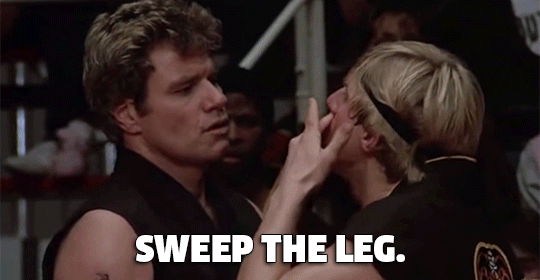 Wrong bleach blonde pugilistic antagonist.
Rocky and Drago had no words following their fight in "Rocky IV." I expect Drago Sr. to have a fairly minor role in this movie, making appearances in Drago Jr.'s training sequences, the weigh-in, news conference and fight(s).
Of course, as we all know, the weigh-in and news conference are always filled with drama. In real life and the pictures.
In the first trailer, you can see at exactly 1:34 that there is a beef breaking out. Drago Sr. can be seen in the back right pointing his finger. Rocky is nowhere to be seen, however.
In the second trailer, they have a little stare-down in the ring. What are they going to do, though? Start throwing haymakers right before their protégés' big fight? I doubt it.
These are two old men we're talking about. Rocky either recently got over a cancer bout or is still dealing with it. Drago was never one for theatrics, you know, with his icy cold demeanor and all. I honestly can't see either of them being the aggressor in this scenario.
Remember what Rocky said after he beat Drago in the first place:
"If I can change … and you can change … everybody can change!"
These men are done with throwing fists. Give me the no at a buck ten.
---
>> Sign up for The Action Network's daily newsletter to get the smartest conversation delivered into your inbox each morning.
---
Will Adonis Creed fight Clubber Lang's son?
Hmm. This would be out of left field. Fighting Drago's son and Clubber Lang's son in the same movie? Clubber Lang, played by Mr. T, is of course the main antagonist of "Rocky III."
He definitely doesn't only fight Drago in this movie. We can see a snippet of another fight at 1:30 in the first trailer. I imagine this movie begins somewhat like "Rocky III," with a montage of Creed beating some bum fighters as he rises through the ranks in the boxing world. He got a title belt so he must've beaten somebody.
If my other prediction of the two fights comes true, this movie will be a mixture of "Rocky III" and "Rocky IV." Rocky faces Clubber Lang twice in "Rocky III" — with a loss followed by a win, while "Rocky IV" of course has the whole USA/USSR/Creed/Drago aspect. A real hodgepodge, best-of-both-worlds scenario.
If we check the cast on IMDB, the name Lang does not appear. I doubt they would just throw him in there for a brief moment for the hell of it. We don't even know if Clubber Lang has a son who boxes, for crying out loud!
Unfortunately, I cannot suggest throwing a dart at "yes" here. It's a "no" or no bet.
Alright. Place those bets, get some tickets and get your popcorn ready.