2021 Fantasy QB Rankings & Draft Tiers: The Optimal Strategy For Drafting Quarterbacks
Credit:
Getty Images. Pictured: Lamar Jackson, Josh Allen
When is the optimal time to draft a quarterback in 2021? Sean Koerner details his strategy below.
You can also find his full fantasy football quarterback rankings outlined into tiers so you can draft with confidence.
Sean Koerner — FantasyPros' most-accurate draft ranker of 2019 — is breaking down his positional rankings and draft strategy for 2021. This series is part of our PRO subscription, which will not only grant you access to these Tiers, but also to his real-time rankings as part of our 2021 Fantasy Draft Kit.
---
My quarterback draft strategy changes drastically based on whether it's a 1QB or 2QB/Superflex format.
In a 1QB format, your league will typically draft only 13-15 QBs, meaning 17-19 starting QBs will be available on the waiver wire each week — that's why streaming QBs in-season can be a viable strategy.
If I don't land one of the top six QBs in 1QB formats, I'll likely punt the position and plan on streaming in-season.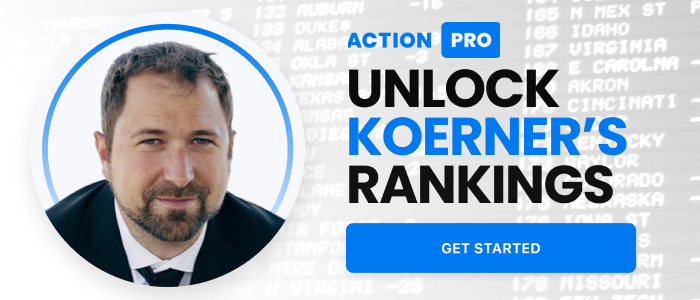 Just because you begin the season streaming QB does not mean you'll be relying on the Kirk Cousins or Derek Carrs of the league all season long. Every season, it seems I stumble on a full-time QB1 at some point during the season. Last season, I ended up with Justin Herbert or Jalen Hurts in leagues in which I didn't even draft a QB.
The moral of the story is that you don't have to draft a QB in 1QB leagues, and in some cases, it can be a winning strategy.
On the other hand, 2QB/Superflex leagues make the QB position much more valuable in fantasy (as it should be). The primary reason for that is easier to understand when looking at the projected points for the top 40 QBs: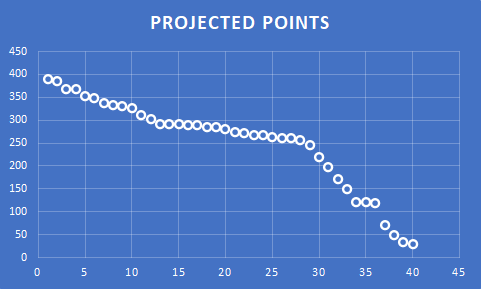 As you can see, there's a massive drop-off right after the QB30 is off the board. It makes sense when, considering at any given time, there are only 32 starting QBs. Therefore, you can get yourself into trouble in 2QB/Superflex formats if you don't have 2-3 starting QBs at any given time.
Because of this, it's a race against your league to draft 2-3 QBs, making them a precious asset in that format (which is much closer to how valuable QBs are in real life and is why I prefer these formats).
With all that said, let's dive right into my 2021 QB tiers!
---
Editor's note: Find Sean Koerner's latest draft tiers for each position as of Aug. 27 here.
---
Fantasy QB Rankings & Tiers