Best Ball QB Rankings: How to Use Tiers as Part of Your Draft Strategy
Credit:
Getty Images. Pictured: Lamar Jackson, Patrick Mahomes
Sean Koerner reveals his 2020 best ball quarterback rankings and explains how to use tiers as part of your draft strategy.
A viable strategy in re-draft leagues is to wait until the later rounds to take a quarterback — or in some cases, not draft one at all.
Most seasons, streaming QBs off the waiver wire based on their week-to-week matchup can result in about a QB5-level of production for free. But best ball leagues are much different in that regard.
There is no waiver wire in best ball — in fact, there is no in-season roster management at all — so we have to take the position more seriously in drafts. Since only the highest scores will count each week, including only one QB on Yahoo, we have to maximize our team's ceiling as much as possible.
Additionally, since the payout structures are top-heavy, our goal is to beat every other team in our league each week — i.e. shoot for the moon as much as possible. The opposite is true for re-draft leagues, in which you face only one team in a given week, and poor performances are more detrimental. That's why I focus more on raising my team's floor in re-draft.
When it comes to draft strategy for QBs in best ball, I like to approach it with the mindset of an actual QB. Think of your RB and WR draft strategy as the play call in the huddle. This is the foundation for what you want to achieve in the draft.
Drafting QB and TE is more about reading what the defense — in this case, your league-mates — give you. Typically when I select either position, I'm thinking, "Well, I didn't want to take a QB/TE here, but since Player X is still available, I am going to pull the trigger."
That's why it's critical to use tiers rather than exact rankings when drafting in best ball. So without further ado, here are my QB tiers for best ball!
More Best Ball Tiers: RB | WR | TE
Tier 1
Lamar Jackson
Patrick Mahomes
Lamar Jackson was the definition of a league winner last season. He outscored the entire position by 90 points (Weeks 1-16) and came with a Round 10 price tag. It will cost you a late second- or early third-round pick to land Jackson this season.
If there were ever a QB to take that early in best ball, it's Jackson.
We should expect significant regression to his passing touchdown production, though. He posted a league-high 36 TDs through the air with an unsustainable 9% TDs per attempt in 2019. A reasonable projection for his passing TDs this year would be around 26.5.
His rushing production should also drop a bit — I think a fair over/under for his expected rushing yards is in the 950 range.
Of the 33 total games in which a QB posted 30 or more fantasy points last season, Jackson was responsible for eight of them. While his overall numbers will likely take a hit in 2020, he'll offer the highest week-to-week ceiling at his position — that's precisely what we want to be targeting in best ball and why it's not crazy to spend third-round draft capital to add him to your roster.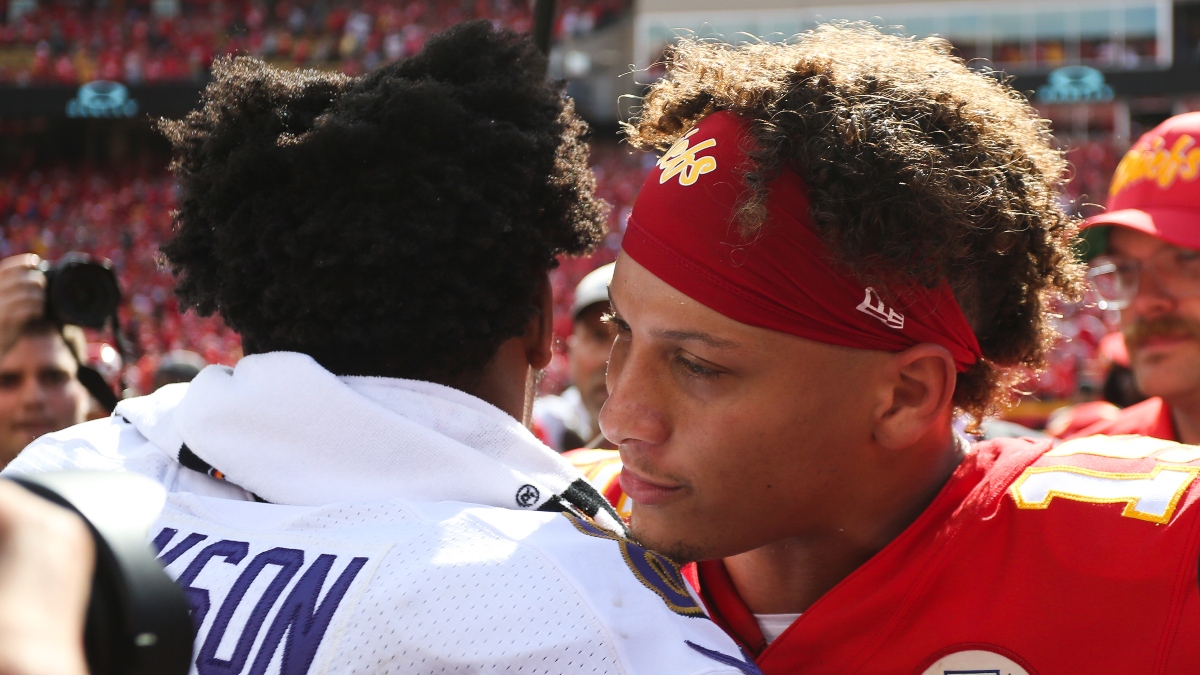 Patrick Mahomes' 2019 season is likely to be considered a "down" year despite finishing as the QB8 (No. 3 in points per game) and Super Bowl MVP.
He suffered an ankle injury in Week 5 only to be followed by a knee injury in Week 7 that knocked him out for two games. He was also without his top weapon, Tyreek Hill, from Weeks 2-5. Due to the various injuries, Mahomes' upside was held in check for much of last season.
Once it looked like he was closer to 100% health in the playoffs, we saw flashes of his rushing upside. He averaged 45 yards rushing in three postseason games, and I wouldn't be shocked to see him top his career-high (272) in rushing yards this season.
Mahomes will also have first-round pick Clyde Edwards-Helaire, who should be able to thrive as a pass-catching back in this offense. Not to mention Mecole Hardman could break out in Year 2 and essentially become another Hill-type weapon for Mahomes.
Once Jackson is drafted, Mahomes should be taken immediately after — the drop-off from this tier to the rest of the position warrants it.
Tier 2
Kyler Murray
Dak Prescott
Deshaun Watson
Russell Wilson
These four QBs allow you to target RB/WR/TE with your first six picks and still land an elite QB1 in Rounds 6-7. That makes for a very compelling draft strategy.
Kyler Murray had a solid rookie season, but ranked only 14th in my best ball points added per game (BBPA) metric. He posted a top-five QB score only twice last season, failing to display his ceiling as much as we would have expected.
Murray is essentially a loaded cannon heading into Year 2. Think of DeAndre Hopkins as the gun powder that is only going to make Murray's breakout that much more explosive. And we can't forget that Christian Kirk is a prime candidate for a Year 3 breakout.
The Cowboys had no choice but to take CeeDee Lamb, who fell to them at No. 17 in the 2020 draft. They now possess what I consider to be the best WR trio in the league. Drafting Dak Prescott this year allows you to invest in all three.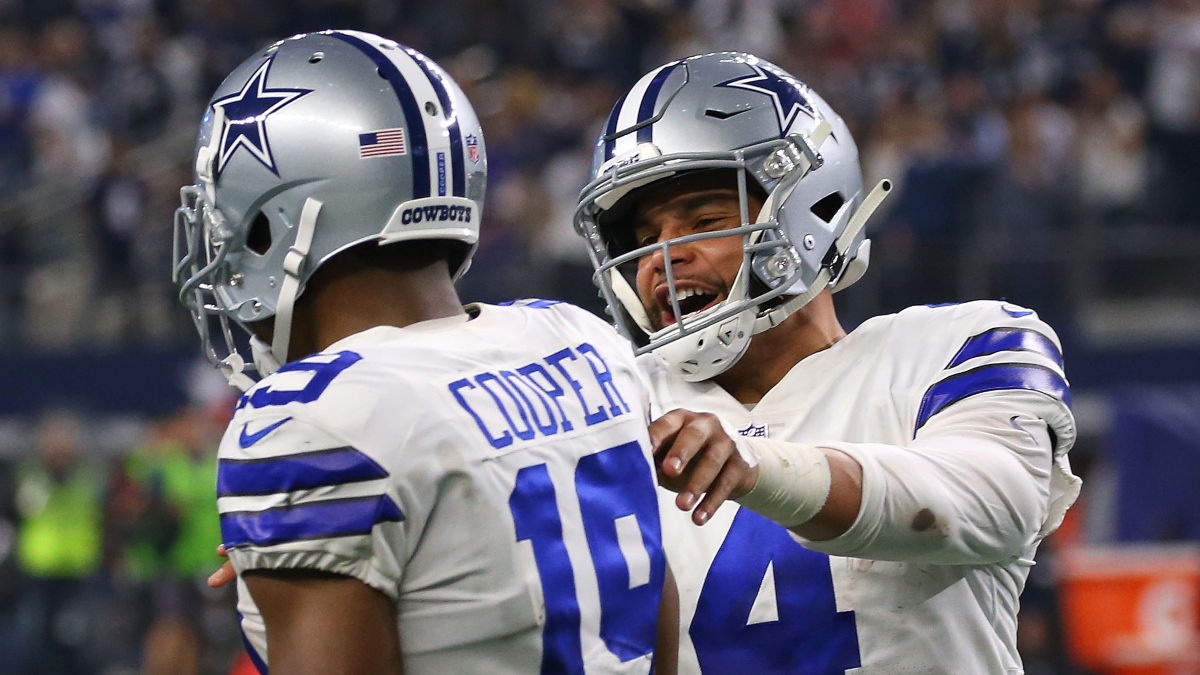 Deshaun Watson fell victim to Bill O'Brien's offseason shenanigans, losing his No. 1 target in Hopkins. It'll be impossible to fill the void left by Hopkins, but on paper, the Texans still have an above-average WR corps. Brandin Cooks, Will Fuller, Kenny Stills and Randall Cobb should be enough to keep Watson as a top-five option this year.
Russell Wilson will continue to put up substantial numbers despite being trapped in a run-heavy scheme. We have to accept that Pete Carroll will not make a sudden change to his run-first philosophy, but Wilson is so good that he can thrive despite the limitations his coaches force on him.
Tier 3
Josh Allen
Carson Wentz
Drew Brees
Matt Ryan
Tom Brady
There is nothing wrong with waiting until this tier to select your first QB — all five offer a solid floor/ceiling combo that is nice to have in best ball.
In re-draft leagues, it's easier to punt on QB until the end of the draft because you have the option to stream the position in-season. Best ball formats don't offer that luxury, so it's necessary to lock in at least two solid QBs.
Josh Allen has some hidden "2019 Lamar Jackson" value heading into this season. We all know the fantasy value Allen provides as a runner, but what if he makes considerable progress as a passer in 2020? The addition of Stefon Diggs could be one of the keys needed to unlock that potential.
Carson Wentz managed to stay healthy for all 16 games last season, but injuries at the WR position killed his 2019 production. It's also clear that Wentz needs to have a deep threat on the field to thrive. DeSean Jackson can provide this spark, but has been unable to stay healthy. The Eagles spent their first-round pick on Jalen Reagor to help address this — he's the long-term DJax replacement and should be able to step up if Jackson ends up missing time.
Matt Ryan is a safe bet in this range. When it comes to best ball, we don't always want to play it safe, therefore we need to think of creative ways to maximize our team's ceiling around roster construction.
I think a sneaky way to help boost Ryan's ceiling for your roster is to pair him with Calvin Ridley. By selecting Ryan, you are already finding a cheap way to buy into Julio Jones. Ridley will be my main WR2 target this year, and a big season from him would correlate perfectly with Ryan.
Tom Brady heading to Tampa Bay is arguably the most interesting situation to watch in 2020.
He gets a significant upgrade in weapons as he will have Mike Evans, Chris Godwin, Rob Gronkowski and OJ. Howard, but I think it's a mistake to assume this will be the same offense we saw under Jameis Winston. The Buccaneers led the league in passing yards and interceptions each of the past two seasons. Winston's aggressive playing style led to a ton of turnovers, which essentially forced the Bucs to remain pass-heavy all game long.
Brady is the opposite of Winston, in that regard. He is going to limit turnovers, and the Bucs will be a better team from it. I expect substantial numbers from Brady this season, but other QBs in this range have a higher week-to-week ceiling, which is what we want to shoot for in best ball.
Tier 4
Daniel Jones
Matthew Stafford
Aaron Rodgers
Baker Mayfield
Similar to Josh Allen, Daniel Jones is far better fantasy QB than in reality.
Jones finished seventh in my BBPA metric last season, mainly due to a few spiked weeks in which he threw four or more TDs: Week 8 (4), Week 10 (4), and Week 16 (5). I expect his TD% to regress a bit this year, but his rushing ability should help spark a few spiked weeks.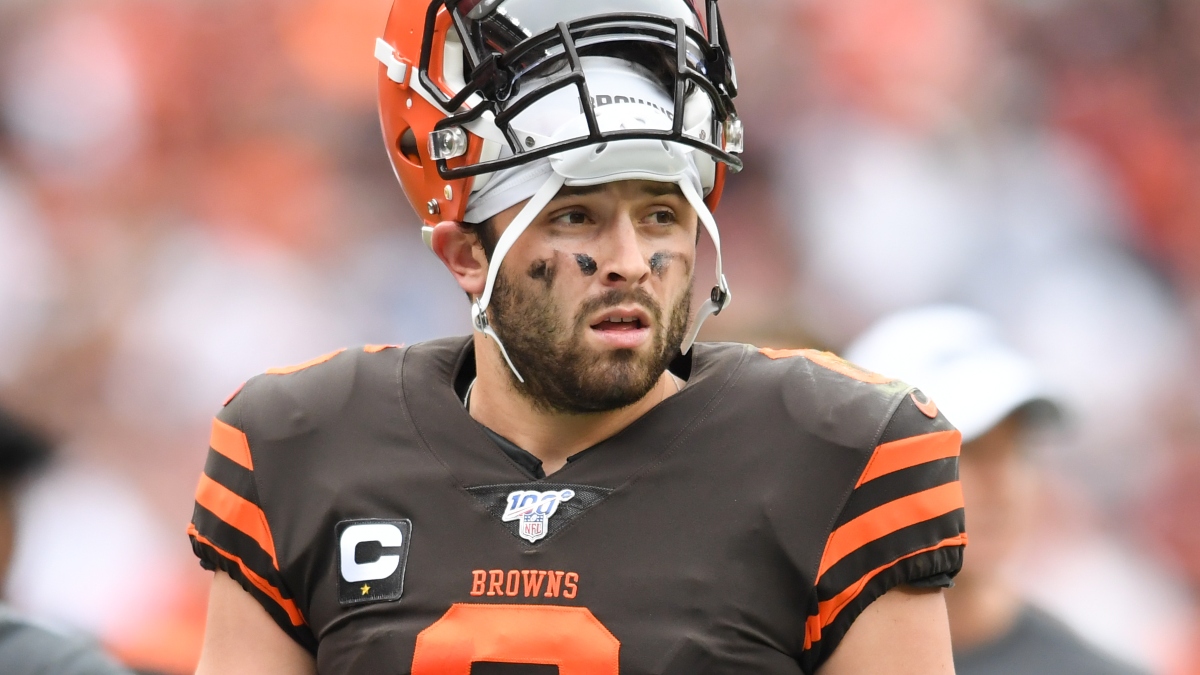 Stafford, Rodgers and Mayfield offer some stability in the later rounds.
Stafford ranked seventh in BBPA per game last season, but a back injury knocked him out of the lineup for the final eight games. He had made 136 consecutive starts before the injury last season, so we should continue to see him gut it out through minor injuries.
The Packers did nothing to help Rodgers' ceiling by failing to add any pass-catching talent this offseason. However, he's still one of the highest-floor QBs in this range.
Mayfield should bounce back after a very disappointing 2019 to be a solid QB2.
Tier 5
Ben Roethlisberger
Jared Goff
Joe Burrow
Drew Lock
It's a challenge to project Big Ben right now. He is coming back from major elbow surgery; therefore, we will need to monitor his health. It's also possible the Steelers' elite defense will limit his ceiling, considering they may not need him to attempt 550-plus passes this year.
His wide range of outcomes makes him an attractive best ball target at this point in the draft, but I'm likely passing on him for now.
Burrow and Lock provide upside in this range. Both have the weapons and sneaky rushing upside to put up QB1 numbers, though it may not be until 2021 when we see either reach that potential.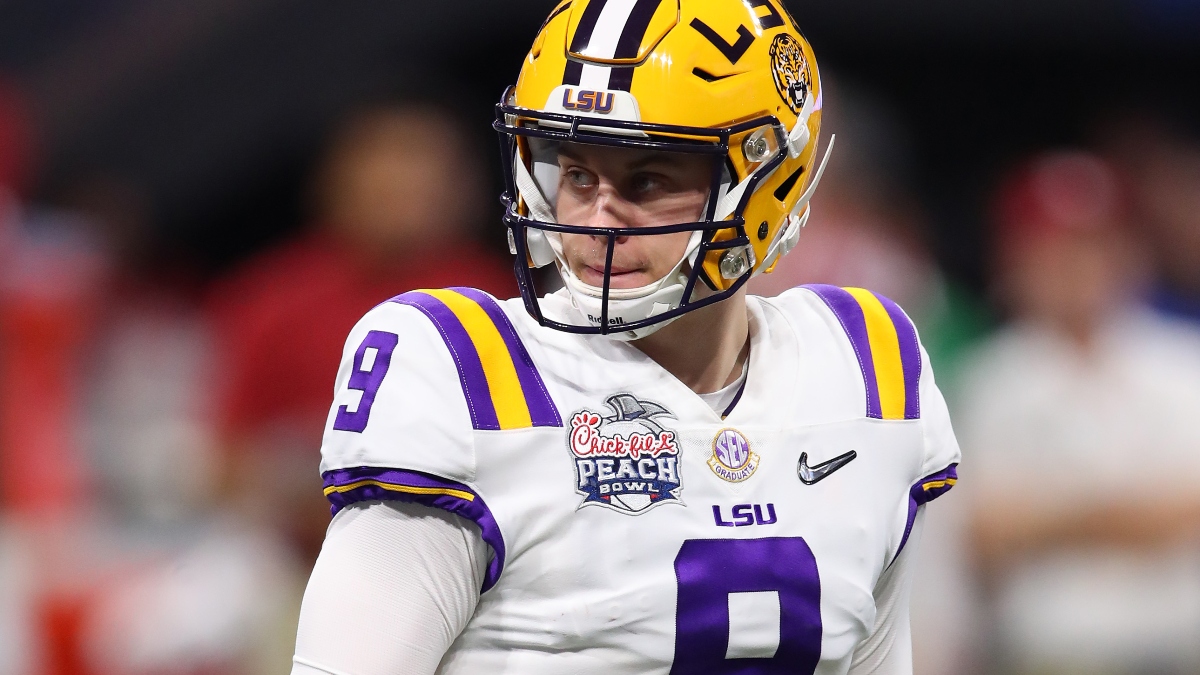 Taking them in best ball makes sense if you pair them with a steady veteran QB like Matt Ryan (early) or Philip Rivers (late).
Tier 6
Ryan Tannehill
Philip Rivers
Gardner Minshew
Jimmy Garoppolo
Jarrett Stidham
Teddy Bridgewater
Derek Carr
Ryan Tannehill played lights out in 2019 and revived a career that was on life support, but it's highly unlikely he will be able to maintain the efficiency we saw from him last season. The Titans are still going to be a run-heavy team, meaning it's going be difficult to finish as a high-end QB2.
Rivers, Jimmy G, Bridgewater and Carr are high-floor plays in this range. You'd likely pair these guys with volatile QBs such as Allen, Jones or Lock.
While we try to target upside and maximize our ceiling as much as possible in best ball, there are times to play it safe. The QB position is the highest scoring in fantasy, so having some stability there at the expense of taking on risk is OK, but you'll likely want to be more aggressive at the other positions if you go this route.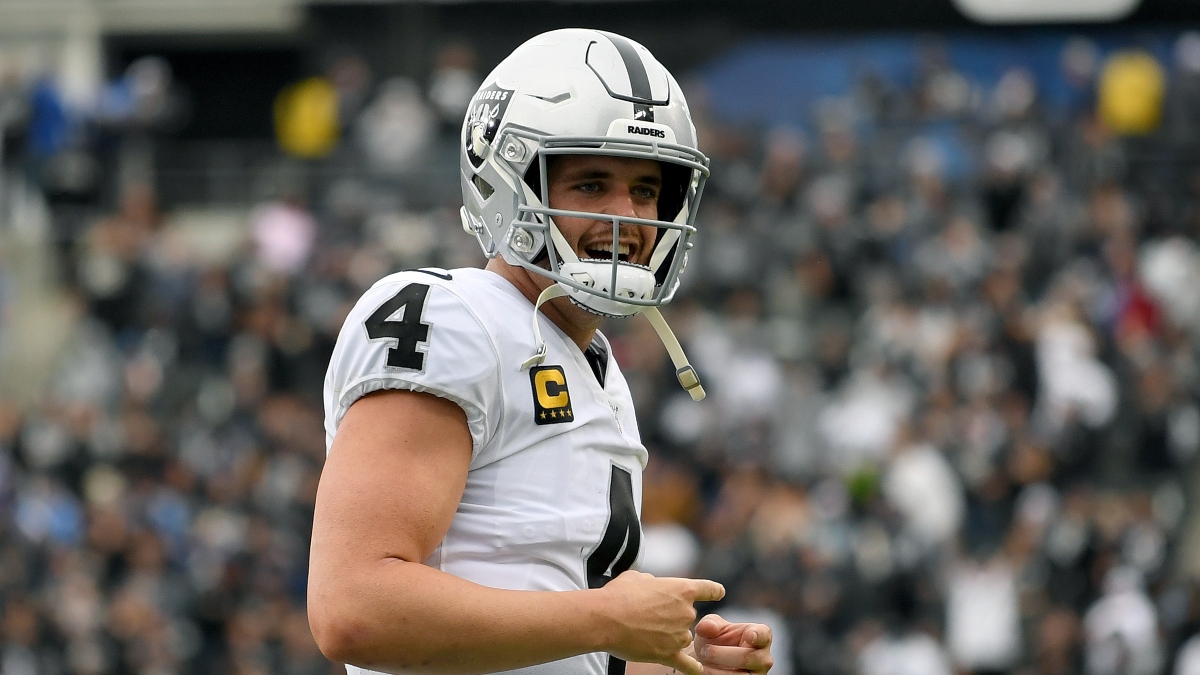 Gardner Minshew is a gunslinger with sneaky rushing upside. He racked up 30-plus rushing yards in six games as a rookie. The Jaguars are likely going to tank in 2020 to land Trevor Lawrence. We could see Minshew channel Ryan Fitzpatrick this season and put up borderline QB1 numbers playing YOLO ball, making him an appealing flier in best ball formats in this range.
Tier 7
Sam Darnold
Dwayne Haskins
Kirk Cousins
Tyrod Taylor
Tua Tagovailoa
Darnold and Cousins are the last remaining safe bets at QB — they provide a decent safety net if you punted at QB or decided to snag either Jackson or Mahomes.
Haskins should have enough job security to start all 16 games this season, if healthy. He's worth a flier for that very reason, but don't expect him to be a league winner.
Taylor and Tagovailoa could start anywhere from zero to 16 games this season. It makes them the first pure "gambles" at the position in that regard.
I think the Chargers will hold out Justin Herbert from starting as long as possible. He's a pretty raw quarterback who may not be ready to start right away. The COVID pandemic will likely limit the offseason enough to slow down the development of certain rookies, such as Herbert. Plus, the Chargers have a playoff-caliber roster, making it likely they take the safer route at QB and start Taylor.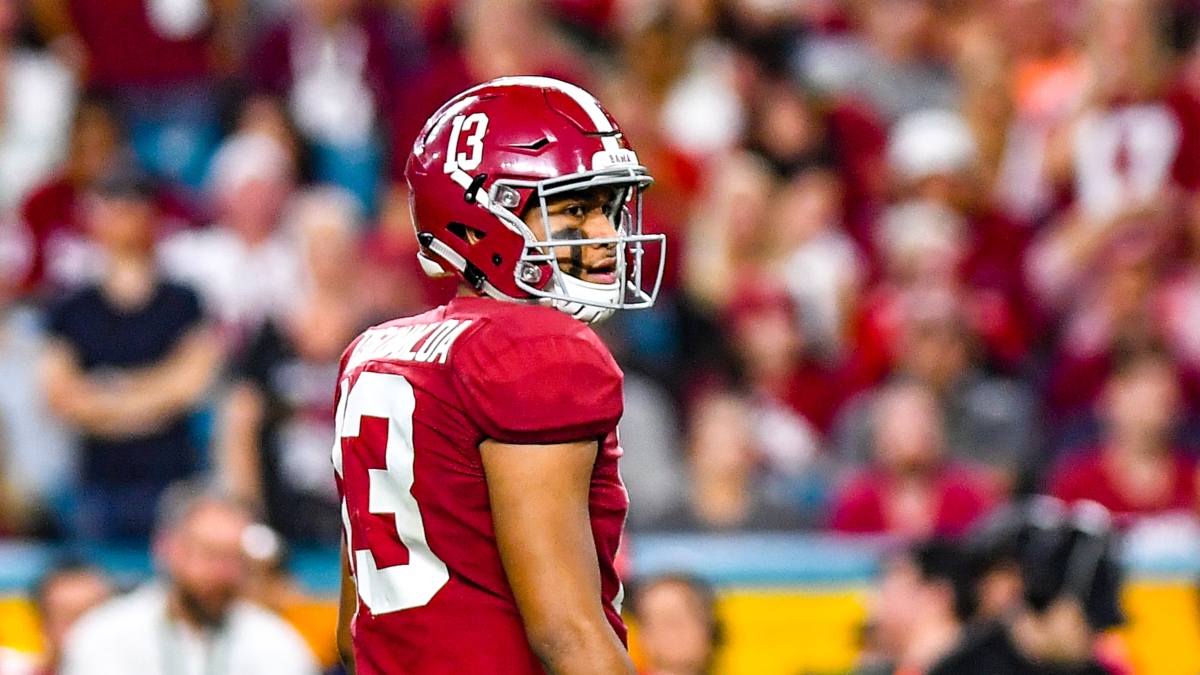 Tua is in a bit of a different situation. Ryan Fitzpatrick is the -400 favorite to start Week 1, but if the Dolphins get off to a slow start, it'll be easier to turn the starting role over to the rookie. Tua is polished enough to start right away, but given the severity of the hip injury that ended his college career, it makes sense to ease him in if they can.
Tier 8
Nick Foles
Mitchell Trubisky
Ryan Fitzpatrick
Justin Herbert
Cam Newton
Brian Hoyer
The remaining gambles you can take at QB if you decide to draft three. It's a pretty aggressive approach that I don't recommend. However, with so much uncertainty heading into 2020, my opinion on this could change.
Cam Newton is a sneaky late-round flier. It appears all 32 teams are content with their QB situations heading into the season. However, an injury could occur that forces a team to bring Newton in as their starter. He would provide stable QB2 value depending on the landing spot.
How would you rate this article?