Best Ball RB Rankings & Tiers: The Best Draft Strategy For 2020
Credit:
Getty Images. Pictured: Alvin Kamara, Ezekiel Elliott, Derrick Henry
Sean Koerner reveals his 2020 best ball running back rankings in tiers, complete with his draft strategy at the position.
Running back is emerging as the most critical position in fantasy football as the NFL becomes a more pass-heavy league and teams implement committees, making true workhorse RBs much more scarce.
That means landing one to two workhorse backs early in drafts is key.
But RB is also the most volatile position. Whether it's due to injuries or coaching decisions, the RB landscape changes the most in-season, and that sort of chaos also creates massive value later in drafts (and in-season with the waiver wire).
Except we don't have the luxury of dropping or adding players mid-season in best ball, therefore we need to maximize our leverage in drafts. I attempt to do this with very strategic roster construction: Target workhorse RBs in early rounds, then RBs who could potentially benefit from the chaos in later rounds.
Of course, every draft is different, so we need to adapt and let each one come to us.
With that in mind, I've ranked RBs into best ball tiers so you know which type of backs to prioritize taking and when, depending on how your draft is unfolding. Let's begin.
More Best Ball Tiers: QB | WR | TE
Tier 1: The Clear No. 1 Pick
Christian McCaffrey
There isn't much left to say about CMC other than he should be the first pick in every draft this year.
It's important to remember that if he finishes the season as the RB5, it would not necessarily mean he was a bust. The odds of CMC finishing as the overall RB1 again is likely in the 15-25% range. When you compare those odds to all other RBs, no other back even comes close to him, hence why we are taking him No. 1 overall.
Tier 2: Elite RB1s
Ezekiel Elliott
Saquon Barkley
Dalvin Cook
The debate for the second overall pick comes down to this trio of RBs.
Ezekiel Elliott is the safest bet at No. 2 overall, given his role and durability. The Cowboys have the best wide receiver trio in football with Amari Cooper, Michael Gallup and CeeDee Lamb. I imagine they'll run more 11 personnel (three WRs) this season, which would force defenses to use one less defender in the box, thus opening more lanes for Zeke to feast on.
Not to mention this high octane offense should continue to provide Zeke with plenty of touchdown opportunities around the goal line. Ten of his 12 rushing TDs in 2019 were inside the 5-yard line. Those types of TDs are more sticky year-to-year, so he shouldn't be due for any regression in that department.
Taking Saquon Barkley second overall is a bit more aggressive, but not at all a bad pick.
Barkley's 2019 season was derailed by Week 3 ankle injury. He admitted his ankle didn't return to 100% until around Week 15, from which point he went on to be the RB1 over the final three weeks.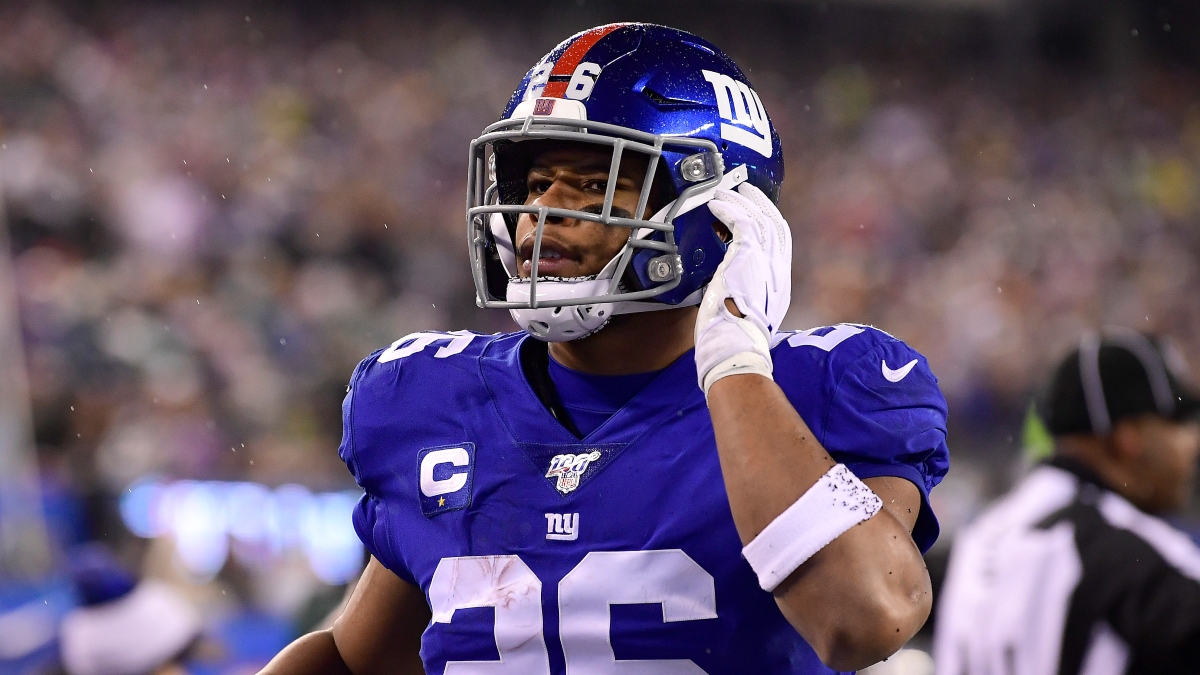 My only concern with Barkley is that his receiving upside takes a hit with Daniel Jones under center. Here's how Barkley's targets per game have fared with Eli Manning vs. Daniel Jones:
Manning: 7.44 targets/game (18 games)
Jones: 5.45 targets/game (11 games)
Jones is more likely to pull it down and run, so Barkley will see fewer check-downs than he did with Manning. This concern is only minor, though, and I consider Barkley a strong pick at No. 3 overall.
Dalvin Cook is a top-three RB, as long as he stays healthy.
Tier 3: Mid-Range RB1s
Derrick Henry
Alvin Kamara
When it comes to first-round picks, you have to decide how much risk you're willing to take on. Personally, I try to be as safe as possible with my first three picks then become more aggressive as the draft goes on.
Taking Derrick Henry No. 4 overall instead of Dalvin Cook is a very safe pick that I can get behind. While injuries aren't predictive year-to-year, I'll go out on a limb and say that Henry is more likely to play all 16 games than Cook.
Meanwhile, Alvin Kamara battled ankle and knee injuries in 2019 that forced him to miss two games, and he later admitted it recovered to about only 75%. Look for him to bounce back this season in terms of health and TD production.
Tier 4: Low-End RB1s
Joe Mixon
Nick Chubb
It's important to remember that your draft position narrows the player pool considerably for the first few rounds. If you have a top-three pick, there's a 0% chance you will be landing either of these backs (unless you draft Mixon No. 1 overall instead of CMC).
Neither Mixon nor Chubb will make it back to you in Round 2.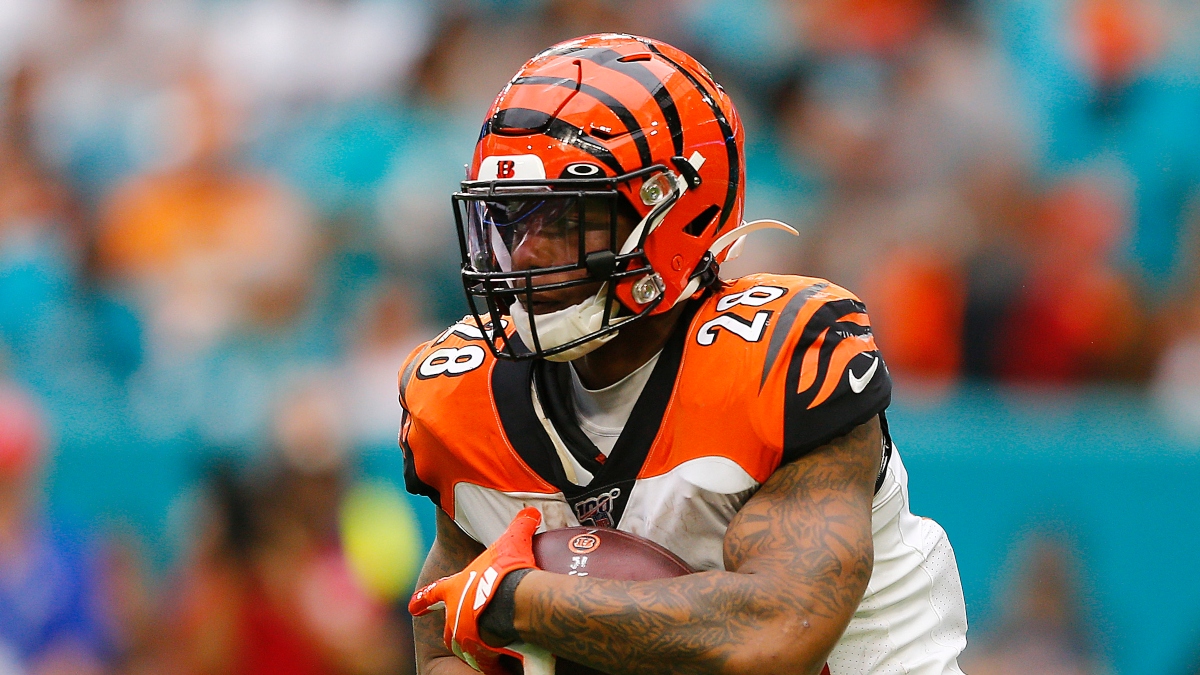 However, if you have a first-round pick in the 8-10 range, these RBs are in-play for you.
If that's the case, you'll likely have to decide whether to draft one of these backs, a Tier 2 WR or Travis Kelce with your first pick. I consider this to be the final RB1 tier, meaning I'll target it aggressively — Tier 2 WRs and George Kittle would likely be available for your next pick.
I consider it a toss-up between Mixon and Chubb in terms of who will put up more points this season.
Instead of agonizing over a coin-flip, I typically let average draft position (ADP) data make decisions like this for me. Based on ADP data, there would be close to a 0% chance Mixon would make it back to me if I were to draft Chubb in that 8-10 range. However, it's possible Chubb would make it back to me if I drafted Mixon, which means I could end up with both. The worst-case scenario would be Chubb is off the board, and I end up drafting a WR like Tyreek Hill instead.
Tier 5: RB1/2 Hybrids
Josh Jacobs
Aaron Jones
Miles Sanders
Kenyan Drake
Leonard Fournette
I'm likely targeting Tiers 1-4 aggressively, then backing off when the draft reaches this tier, opting for a Tier 2 WR or Tier 1 TE instead.
While I do like all of these RBs, there's some degree of risk tied to each — enough to dissuade me from spending high draft capital on them.
Josh Jacobs is one of six RBs I'm projecting to rush for 1,200-plus yards, but the Raiders will likely use Jalen Richard and Lynn Bowden Jr. enough to limit Jacobs' receiving upside.
Aaron Jones is likely due for significant regression in rushing TDs after leading the league last season with 16. The Packers also used a second-round pick to land a bruising back in A.J. Dillon, who may end up stealing some goal-line carries from Jones.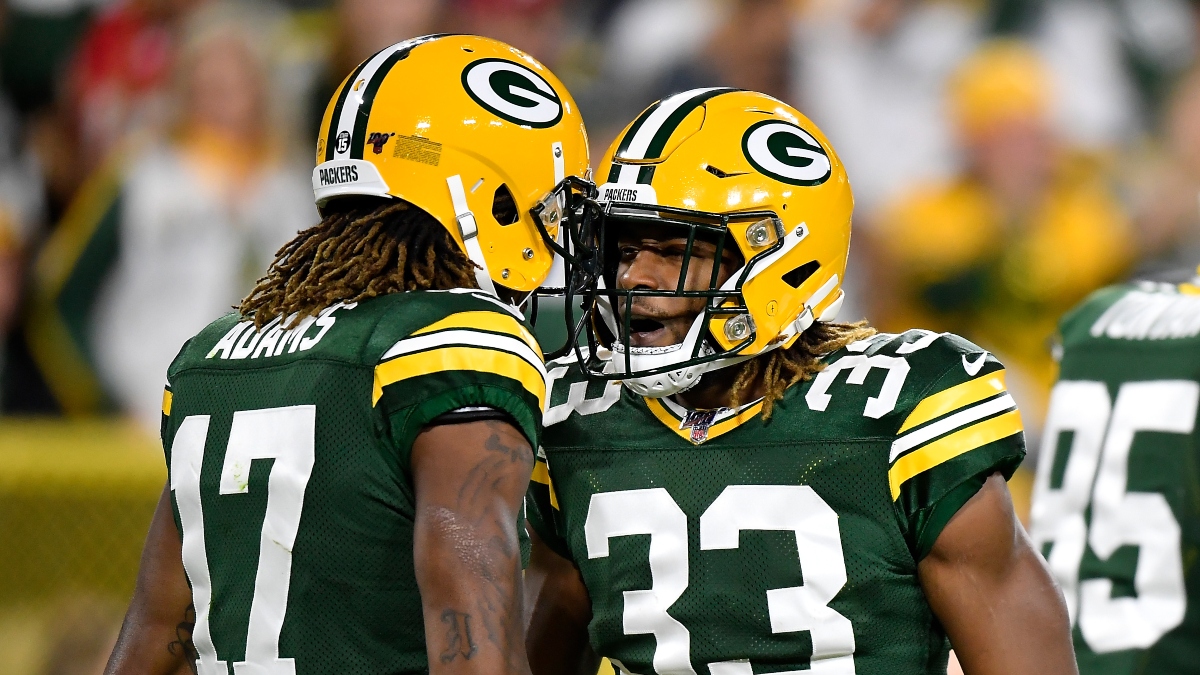 Miles Sanders scares me a bit this early in the draft season. If the Eagles end up beginning the season with just Sanders and Boston Scott as their two main RBs, I would be fine with Sanders. However, Doug Pederson never seems content with only one or two RBs. We may see the Eagles bring in Devonta Freeman, LeSean McCoy or Lamar Miller to take touches from Sanders. Just something to keep in the back of your mind.
Tier 6: High-End RB2s
Chris Carson
Austin Ekeler
Chris Carson's value took a hit after the Carlos Hyde signing. Hyde is capable of eating away at Carson's workload and is a threat to replace him outright if his fumbling issues remain an issue this season.
Seattle is such a run-heavy team that I think Carson should be able to remain a solid RB2, even if Hyde ends up stealing 5-10 carries a game. Rashaad Penny will likely begin the season on the PUP, which will help keep Carson's receiving upside intact.
Austin Ekeler is one of the most challenging RBs to project for 2020.
Yes, he should see a pretty big boost with Melvin Gordon off to Denver — Ekeler managed to post RB2 overall numbers during Gordon's four-game holdout last season. He's also the type of back who doesn't need many touches to put up big numbers. However, if given anything close to a workhorse role, he has RB1 upside.
Given the uncertainty of how this offense will look with either Tyrod Taylor or Justin Herbert under center, Ekeler's ADP feels a bit too expensive.
Tier 7: Veteran Workhorses & The Rookie
Clyde Edwards-Helaire
Todd Gurley
James Conner
Le'Veon Bell
David Johnson
Melvin Gordon
I've written about how Clyde Edwards-Helaire is in the best position to succeed as a rookie — in fact, he's the perfect type of player to take a gamble on in best ball.
I'm willing to draft CEH well ahead of where my median projections have him. He has legit top-five RB upside if he's able to become the Chiefs' workhorse back to begin the season.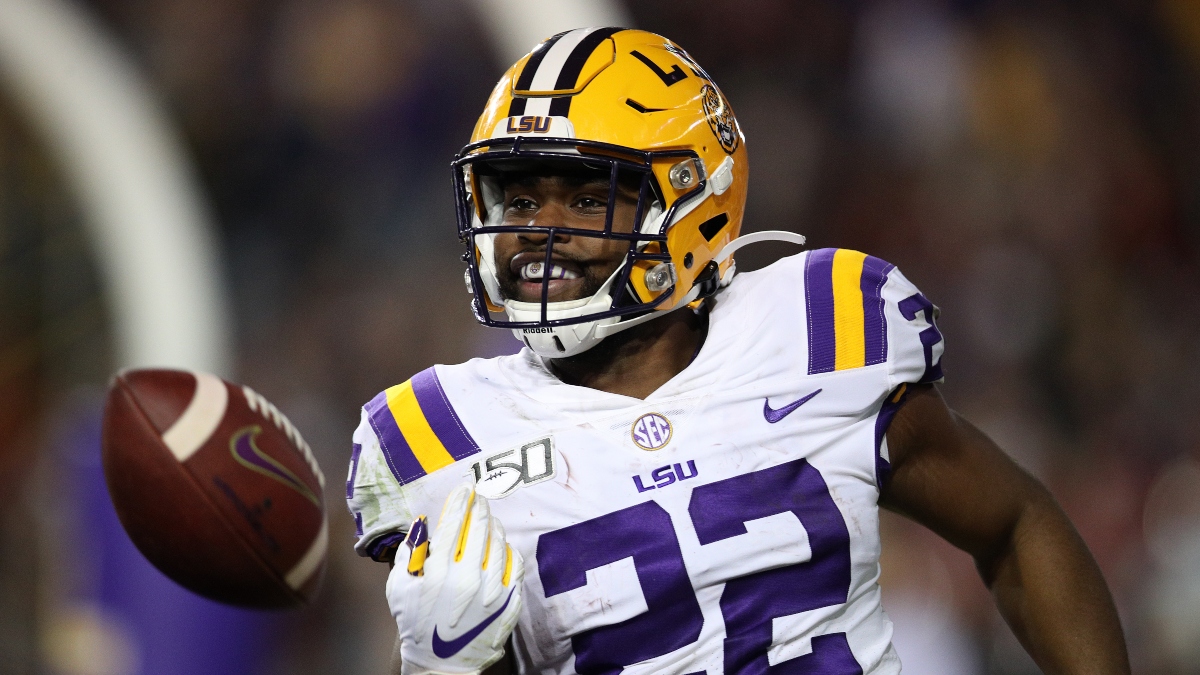 The rest of this tier features the remaining RBs I would still consider to be workhorses. Yes, most of them are past their prime and likely have some competition, but they should provide plenty of value based on volume alone.
James Conner is likely the RB I will target the most out of this group.
Tier 8: High-End Committee Backs
Jonathan Taylor
Raheem Mostert
Devin Singletary
David Montgomery
Mark Ingram
Tiers 8-10 offer the most risk/reward of the entire draft.
Most of these backs are part of some sort of RB by committee (RBBC), therefore their floor/ceiling is dependent on the RB they share touches with. If their RB counterpart overtakes them on the depth chart, it would cripple their value — spending Round 4-6 capital on them would make that a devastating pick in that scenario.
However, if they can earn a more significant role due to strong play, or merely due to their RB counterpart missing time, they have RB1 upside. A lot of that ultimately comes down to luck, so I think it's best to further parse RBs in this range into buckets.
I would classify Tier 8 as the most likely to achieve RB1 status through strong play.
That said, I typically aim to have two RBs before the draft reaches this tier, and instead target a couple WRs in this range — it's much more appealing to me to take a chance on D.K. Metcalf, Courtland Sutton and D.J. Chark types at this point in the draft.
Tier 9: Upside Committee Starter
Kareem Hunt
Ronald Jones
Cam Akers
D'Andre Swift
Derrius Guice
Every year, the RB I end up having the most exposure to fits a particular type of criteria:
They're part of a RBBC (typically the second option).
They have a big enough role to produce RB3/Flex value even when the starter is healthy.
They would be able to hit their ADP (in terms of value) if the starter plays all 16 games.
They would become an instant RB1 if/when the starter ever misses time.
Essentially, the idea is that you get RB1 upside with no risk. In 2018, these RBs were Derrick Henry and Tevin Coleman. Last season it was Latavius Murray. This season that RB is shaping up to be Kareem Hunt.
Hunt is the epitome of the type of high-upside RB I love to target in the mid-rounds.
Yes, Chubb is the unquestioned starter in this offense. However,  Hunt managed to post RB19 numbers in the eight games he played alongside Chubb. So even if Chubb were to stay healthy for all 16 games, Hunt has an excellent chance to outpace his ADP of RB30. But if Chubb were to miss any time, Hunt would be a slam-dunk RB1 option for that stretch.
With Hunt, you get a reasonably high-floor RB3/Flex option at a fair price, with potential RB1 upside baked in for free.
Tier 10: Upside Committee Backup
Damien Williams
Marlon Mack
Kerryon Johnson
All three of these backs have a lot of the same features I highlighted with Hunt.
Each of their teams took a RB early in the 2020 draft, which dealt a crushing blow to their value. However, if their ADP continues to fall, they would likely be decent backs to target in the later rounds.
There's a chance that an abbreviated offseason could force teams to ease in their rookies until they can adjust to the NFL. It's a factor, unique to this season, that could benefit this trio.
Tier 11: High-End Committee Backs
Sony Michel
Tarik Cohen
James White
J.K. Dobbins
Latavius Murray
Latavius Murray was my highest owned RB in best ball leagues last season for the very reasons I laid out for targeting Hunt this season. Murray was able to capitalize when Kamara missed two games due to injury, posting overall RB1 numbers over that stretch.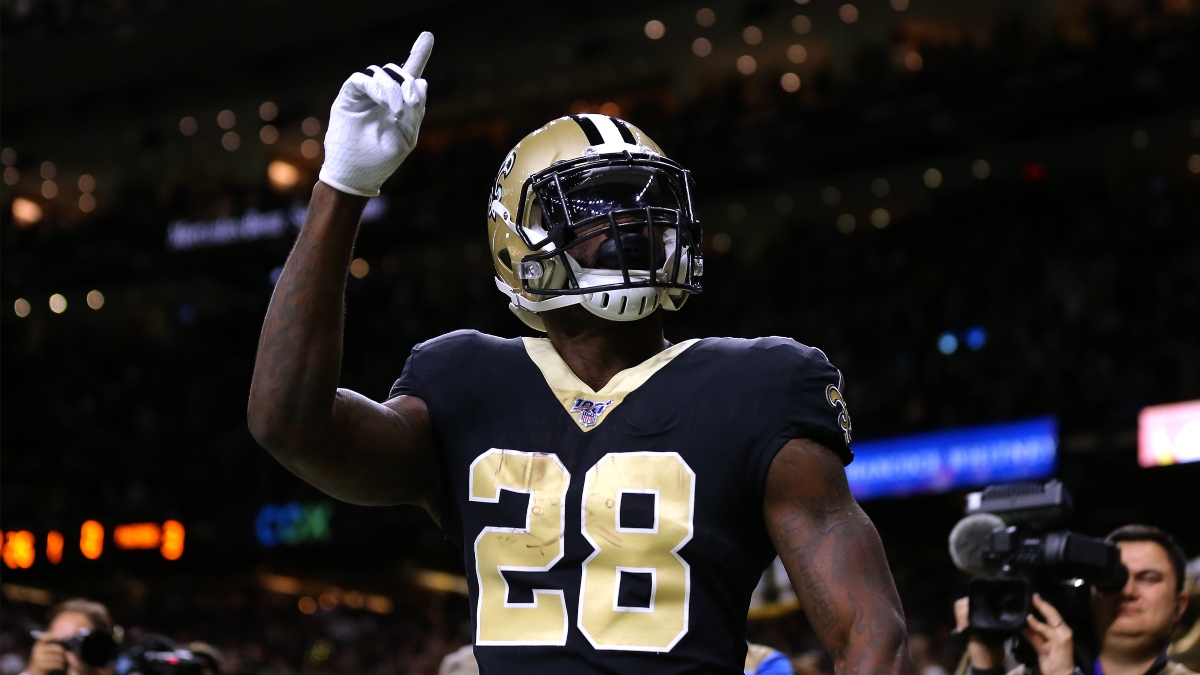 However, Murray didn't have as big of a role I would have hoped when Kamara was healthy. That's why I won't be going out of my way to draft him this year.
Tier 12: Lower-End Committee Backs
Phillip Lindsay
Jordan Howard
Darrell Henderson
Boston Scott
Ke'Shawn Vaughn
Matt Breida
Duke Johnson
It was this time last year when we saw Darrell Henderson's ADP shoot up to Rounds 6-7. There was so much uncertainty around Todd Gurley's knee that the hype around Henderson got a bit out of hand.
Now that Gurley is out of the picture, everyone seems to have already given up on Henderson. Cam Akers should have every chance to be the lead back in this offense, but with a shortened preseason, it may favor Henderson, who already has a year in the offense. Akers also tended to take a lot of unnecessary big hits in college. Injuries are unpredictable, but there are individual running styles that can lead to a higher risk of injury, and Akers fits that type.
Don't sleep on Henderson in this range.
Henderson, Phillip Lindsay and Ke'Shawn Vaughn are my favorite fliers in this tier (as of now).
Tier 13: Backups To Target
Tony Pollard
Justin Jackson
Tevin Coleman
Alexander Mattison
Zack Moss
I'll heavily target these RBs in re-draft leagues this year because if the starting RBs for their team misses any time, they would be RB1/2 caliber fantasy plays.
Unfortunately, in best ball, most of these backs will fail to put up useful scores most weeks if their team's starter plays all 16 games. We can't get away with having just two to three starting RBs and three backups in best ball. That's why I aim to have at least four RBs before reaching this tier. At that point, we're getting their upside as a bonus.
These backs can also act as handcuffs if you have the RB they're backing up.
I'm not a big fan of this strategy in best ball, though, considering the goal is to maximize our ceiling as much as possible. The strategy suits re-draft leagues much better.
If Ezekiel Elliott goes down, hedging your bet by taking Tony Pollard seems a bit counterproductive in best ball. Remember, you need to outscore the entire league to win first place. Having your second overall pick go down can be chalked up to bad luck.
Putting a contingency plan in place only lowers your ceiling.
Imagine having Elliott, and instead of drafting Pollard, you take Alexander Mattison instead. If Dalvin Cook were to go down, you would have both Elliott and Mattison likely putting up RB1 numbers each week. That's a perfect example of what I mean by maximizing your ceiling — it's giving yourself the potential to have two RB1s at once rather than hedging and always having only one.
Tier 14: Backups with Workhorse Potential
A.J. Dillon
Adrian Peterson
Carlos Hyde
Devonta Freeman
This is essentially an extension of Tier 13, but these backs don't have the receiving upside to be an RB1 if their starter were to go down. However, their ability to steal the occasional goal-line TD gives them a better chance to provide useful scores any given week, even if their starter is healthy.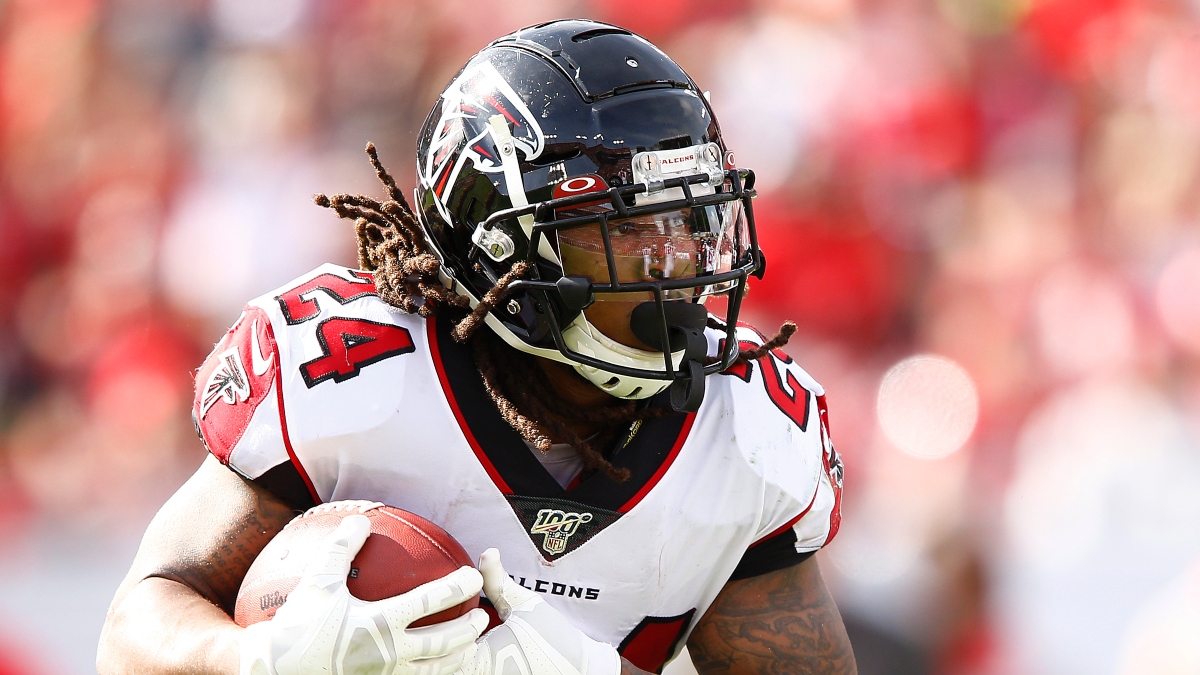 Devonta Freeman isn't currently on a team and is contemplating retirement. There's still a chance a team could end up bringing him on if one of their RBs gets injured. We'll have to keep tabs on him, but as of now, he should not be drafted.
Tier 15: High-Floor, Low-Ceiling Backups
Nyheim Hines
Jaylen Samuels
Ito Smith
Rex Burkhead
Jalen Richard
I mentioned that I like to have at least four RBs by Tier 13. There are some drafts, however, in which it won't work out that way. In those cases, we can't afford to just take a flier on Pollard and bank on Elliott missing a few games.
We may need a RB who can just give us 5-8 points every week. That's what this tier is for.
Almost every back in this tier should have a big enough passing down role that we can bank on getting a handful of points from them each week, even if their team's starter plays all 16 games. They also aren't likely going to jump up to the RB1/2 range whenever their starter misses a game. Because of this, these backs offer cheap safety nets when we're in a pinch.
Tier 16: Deeper Backups
Chase Edmonds
Darrynton Evans
Giovani Bernard
Ryquell Armstead
I consider this tier to be an inferior version of Tier 13. These backs should be able to step up if their team's starter goes down, but aren't likely to be anything higher than an RB2 in that event.
Ryquell Armstead is a sneaky flier right now. He has an additional path to becoming a starter that doesn't involve Leonard Fournette getting injured as there's a chance that the Jaguars continue their fire sale and trade Fournette away at some point this season. That possibility doesn't seem to be priced into Armstead's current ADP of RB58. I expect his ADP to climb over the summer as this factor will become more mainstream.
How would you rate this article?