Best Ball TE Rankings: Maximize Your Draft Strategy With These Tiers
Credit:
Getty Images. Pictured: Travis Kelce, George Kittle
Sean Koerner reveals his 2020 best ball tight end rankings in the form of tiers, complete with his draft strategy at the position.
As the NFL becomes more pass-heavy, the tight end position is increasingly fantasy-friendly — now it's deeper than ever.
We'll still likely draft only one TE per team in re-draft leagues, meaning the waiver wire will be loaded. But without any in-season roster management in best ball, there is much more strategy involved in drafts, as most teams will be drafting two to three TEs.
Tier 7 of my TE rankings appears to be the sweet spot for me — it's the range George Kittle went in 2018 then Austin Hooper and Mark Andrews went in 2019. Every single one of this season's Tier 7 TEs has the potential to keep that trend going.
Taking a swing on two TEs between Rounds 8-11 would be a good game plan heading in. But as always, I let the draft come to me, so if there are TEs who are too good to pass up before that range, I will take them.
Now let's dig into my TE tiers!
More Best Ball Tiers: QB | RB | WR
Tier 1
Travis Kelce
George Kittle
These two remain the cream of the crop — Kelce is in the better offense while Kittle is the better player at this point in his career.
To land Kelce, you'll likely have to spend a late first-round pick, while Kittle goes mid- to late-second. Based on their average draft position (ADP), there's no question that Kittle is the more valuable pick.
Over the past couple of seasons, I've stressed the importance of landing a TE early. However, given how loaded the position is this season, it's not necessary. We can let the draft dictate when we target TEs based on which fall in our laps.
Tier 2
Mark Andrews
Andrews has leapfrogged Zach Ertz to be part of the top three.
Andrews' touchdown rate of 15.6% last season will undoubtedly regress toward the league average of 8.5%, but I wouldn't consider him or the Ravens' passing attack as average, so I'm projecting his TD% to be closer to 11%.
His playing time should increase significantly with Hayden Hurst headed to Atlanta. It's scary to think what sort of numbers Andrews will be able to put up in a more full-time role. That's what makes him such a valuable TE to target in best ball.
Tier 3
Zach Ertz
Ertz was able to benefit from all of the missed games from Eagles wide receivers last season: Alshon Jeffery (6), DeSean Jackson (13) and Nelson Agholor (5). He became a target vacuum in Weeks 9-15, when he saw 10-plus targets in five of those six games.
A player like Ertz needs that type of volume to pay off at his current ADP, but with an improved WR depth chart and TE Dallas Goedert now closer to his prime than Ertz, we'll likely see Ertz's target share take a bit of a hit this year.
I'll probably pass on Ertz in best ball for TEs with more upside.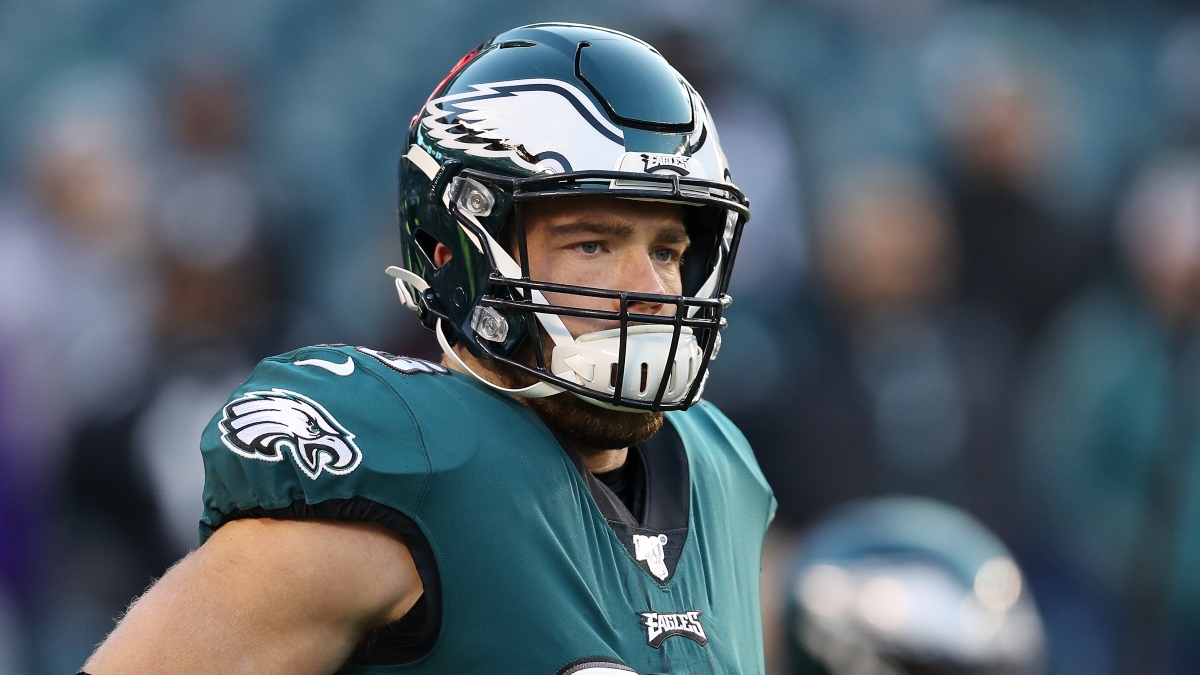 Tier 4
Darren Waller
Waller was one of the biggest surprises of 2019 — he finished as the TE4 after going undrafted in most leagues. But I think we can expect a significant drop-off from his 90 receptions and 1,146 receiving yards given the influx of talent the Raiders have brought in at WR while also adding Jason Witten.
Right now, I'm projecting Waller for 70 receptions and 820 yards.
He should be able to offset this with an increase in TD production. Last season, only three of his 90 receptions were TD scores. That translates to a 3.3% TD rate at a position in which the average is typically closer to 8.5%.
Waller has a massive 6-foot-6, 238-pound frame and is an excellent pass-catching TE. I have every reason to believe he will see a jump in TD production this season and have him projected for 4.9 TDs (a +1.9 increase from last year). That's one of the main reasons he should be considered a top-five TE heading into 2020.
Tier 5
Evan Engram
Tyler Higbee
Tyler Higbee was the No. 1 TE in fantasy from Weeks 13-17 last season. He averaged 11.2 targets per game over that five-game stretch, hinting it was not a fluke.
Late-season production, like Higbee's, is more predictive than any other span. The only reason to have a bit of skepticism would be that the Rams still have Gerald Everett, who is talented enough to force a two-way committee this year.
Higbee offers top-five upside with some risk baked in.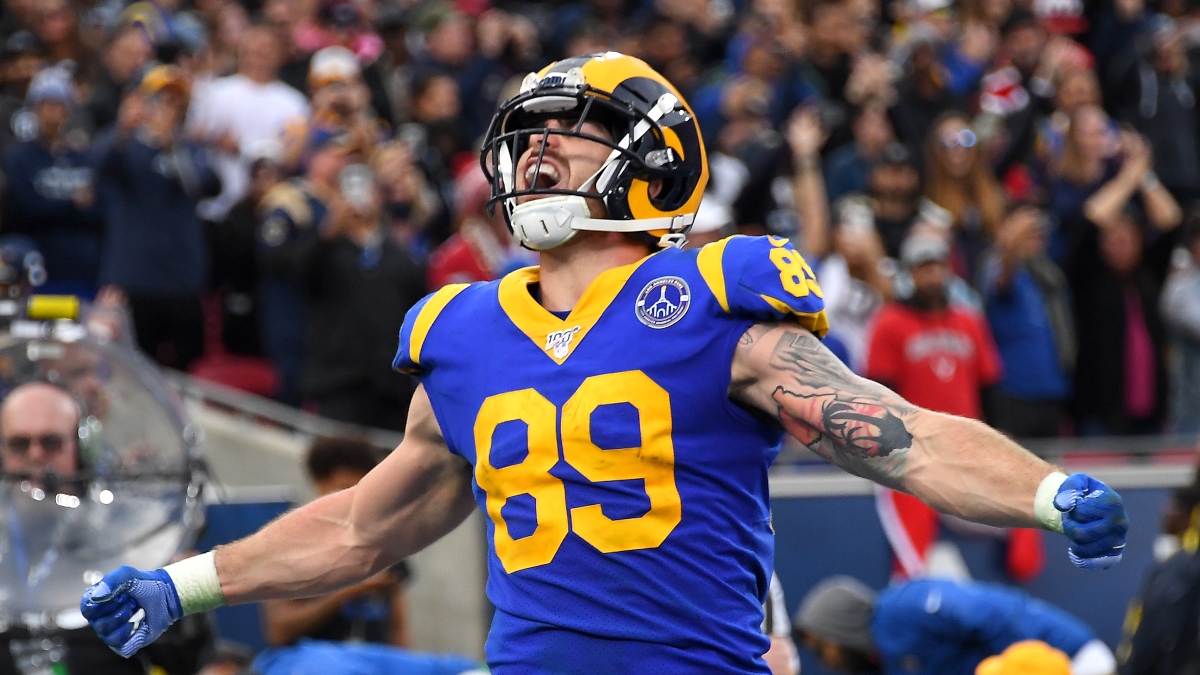 Tier 6
Hunter Henry
Rob Gronkowski
Jared Cook
Based on ADP, Jared Cook is my favorite target in this tier.
Henry and Gronk are being drafted as the TE8/9, which is right in line with my projections. Cook, on the other hand, is going as the TE14 off the board.
Here were the top-five TEs in terms of percentage of games in which they put up 10 or more points in 2019:
1. Travis Kelce: 69%
T-2. Jared Cook: 64%
T-2. George Kittle: 64%
4. Austin Hooper: 62%
5. Mark Andrews: 60%
Cook was in elite company with that key stat.
On the flip side, he was much more likely to put up a dud with five or fewer points in 29% of the games. That was as many as Kelce, Kittle and Hooper combined! But we only care about the upside in best ball; therefore, in this format, Cook should offer a ton of value again this season.
Rookie Adam Trautman is talented, but was likely brought in as the long-term replacement for Cook. I'm not anticipating him eating into Cook's usage enough this year to make a huge impact.
Tier 7
Mike Gesicki
Dallas Goedert
Hayden Hurst
Austin Hooper
T.J. Hockenson
Jonnu Smith
Noah Fant
I'm willing to wait until this tier to snag my two (or three) TEs. It's not only loaded with potential, but it's the tier that's produced league-winning picks over the past couple of seasons. In 2018 it was George Kittle, and in 2019 it was Austin Hooper and Mark Andrews who were drafted in this range.
Every single one of these TEs has that potential heading into 2020.
Dallas Goedert has the highest built-in ceiling of this tier. He already provides borderline TE1/2 value playing alongside Ertz. If Ertz were ever to miss time, Goedert would likely be a top-five TE in my weekly projections.
Hayden Hurst should slide right into the Austin Hooper role for the Falcons.
If you recall, last season I was high on Hooper because of the background offensive coordinator Dirk Koetter has in creating a TE-friendly scheme — it's why I'm less interested in Hooper this year on his new team in the Browns. The Browns are more likely to spread the ball around and even run 2-TE sets with both Hooper and David Njoku on the field at times.
Hooper won't see the number of targets needed to warrant his TE12 price.
Hockenson, Smith and Fant may be in offenses that prevent their ability to consistent week-to-week production, but all three have the talent and upside to post massive scores at times this year. They're perfect late-round fliers in best ball.
Tier 8
Jack Doyle
Blake Jarwin
Eric Ebron
Doyle could become one of Philip Rivers' favorite targets this season. Doyle has the potential to be a target machine and provide a solid week-to-week floor.
Blake Jarwin, meanwhile, would have likely snuck into Tier 7 had the Cowboys not drafted CeeDee Lamb. Jarwin is still an excellent fallback option if you happen to miss out on Tier 7.
I said Vance McDonald had 2018 Eric Ebron potential last season, so it's pretty hilarious to see them now as teammates. I would be careful writing off McDonald heading into 2020. He was the TE5 after two games (before Ben Roethlisberger went down), then fell off once Mason Rudolph and Duck Hodges took over at QB.
I could see a scenario in which McDonald leads the Steelers' TEs in receiving yardage, and Ebron leads the group in TDs.
Tier 9
Ian Thomas
Irv Smith
Both of these TEs carry the type of upside we see in Tier 7. However, they're less likely to have spiked weeks.
Ian Thomas will compete with Christian McCaffrey, D.J. Moore, Curtis Samuel and Robby Anderson for targets each week. Teddy Bridgewater won't be able to feed all five of them each week, so Thomas is going to be the odd-man-out most week.
Irv Smith is in a run-heavy offense that runs a lot of 2-TE sets. He topped 35 yards only twice last season. Smith would likely need Kyle Rudolph to miss time to hit his potential.
Tier 10
Gerald Everett
Kyle Rudolph
Greg Olsen
Jace Sternberger
O.J. Howard
Chris Herndon
Dawson Knox
Gerald Everett and Dawson Knox are the only fliers I'm interested in here. Both at least carry the upside needed to provide a useful score from time-to-time.
OJ. Howard is worth monitoring as he would see a leap in value if Gronkowski were ever to miss time.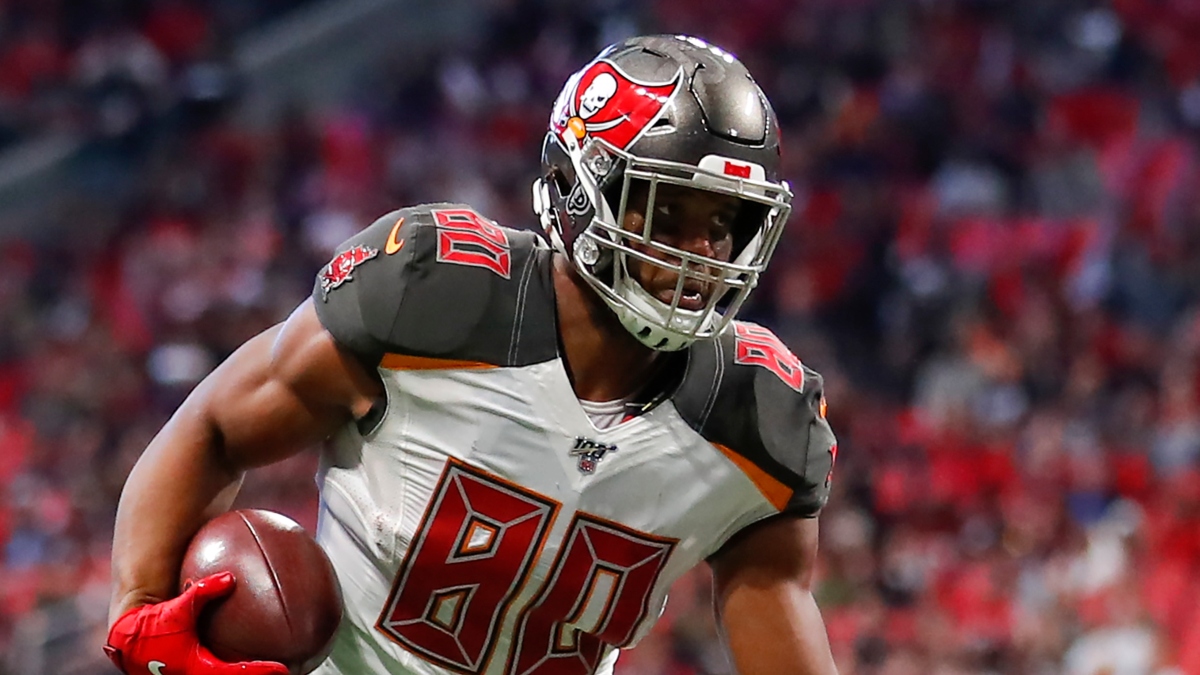 Tier 11
Jimmy Graham
Darren Fells
Tyler Eifert
If you want a TE past his prime but still provides TD upside, this is the tier for you!
When it comes to best ball, these types of TEs are pretty sneaky. Any week they score a TD, they will provide you a useful score in either your TE or Flex slot. And in best ball, we don't need to try to guess which weeks those will be. And if they happen to miss a few games due to injury (I'm looking at you Tyler), they won't kill you.
Hopefully, you already have two to three TEs by this tier. If not, you could do worse than adding one of these guys to be your third TE.
Tier 12
Nick Boyle
C.J. Uzomah
This tier is as deep as I'm willing to go. All the attention is on Andrews, and rightfully so, but I think Nick Boyle should see a boost with Hurst out of the picture.
C.J. Uzomah has backed up either Eifert or Tyler Kroft since 2015. Now that both are long gone, it's Uzomah's turn to be the opening day starter. I don't have high expectations for Uzomah this season, but the Bengals offense has a ton of upside with Joe Burrow under center.
Drew Sample was a second-round pick in 2019 by Cincinnati, but he's more of a blocking TE. I don't see him as a threat to Uzomah, who should be the Bengals' top pass-catching TE.
How would you rate this article?