Best Ball WR Rankings: High Ceiling & High Floor Tiers To Target In Your Drafts
Credit:
Getty Images. Pictured: Amari Cooper, Michael Thomas, Tyreek Hill
As is the case most seasons, the wide receiver position is loaded from top-to-bottom heading into 2020.
There are so many high-ceiling, high-floor players available in every single round that you'll have the flexibility to let the draft come to you knowing you'll have plenty of contingency plans if you miss out on a given tier of WRs.
Of course, it depends on your draft position, but I've found that Rounds 3-6 are the sweet spot for loading up at WR. That strategy allows you to snag two running backs and a top quarterback or tight end over the first three rounds — positions that have sharp drop-offs near the top, whereas WR has more of a gradual decline.
You also want to make sure you've drafted most of your WR depth by about Round 12.
Unlike RB, the WR position doesn't provide as much upside in the later rounds. For example, Jaguars RB Ryquell Armstead and Patriots WR N'Keal Harry are both going in Round 13 according to average draft position (ADP). Armstead has baked-in upside — if Leonard Fournette were to miss time, Armstead would become a solid RB2 — whereas Harry's value would rise if Julian Edelman were to miss time, but not nearly as much.
That's why you shouldn't take too many WR fliers at the end of the draft and instead load up on them from Rounds 3-12, if possible.
With all that said, let's dig into my WR tiers for best ball.
More Best Ball Tiers: QB | RB | TE
Tier 1
Michael Thomas
MT set the single-season receptions record with 149 in 2019 — and he was able to accomplish that despite Drew Brees missing five games due to injury.
Thomas will line up with a better No. 2 receiver in Emmanuel Sanders this season, which will eat into his targets quite a bit. I'm projecting MT to finish with around 115 receptions this season, which still places him as the No. 1 overall WR by a wide margin.
Thomas shouldn't make it past pick 6 in best ball drafts.
Tier 2
Tyreek Hill
Davante Adams
Julio Jones
DeAndre Hopkins
You don't need me to tell you these WRs are studs. However, there is an often-overlooked way to spot which WRs are genuinely elite: It's how they perform without their starting QB.
I mentioned that Thomas was able to post record-breaking numbers last season despite Drew Brees missing time. One factor that makes a WR truly elite is their ability to post WR1 numbers even when their starting QB is out.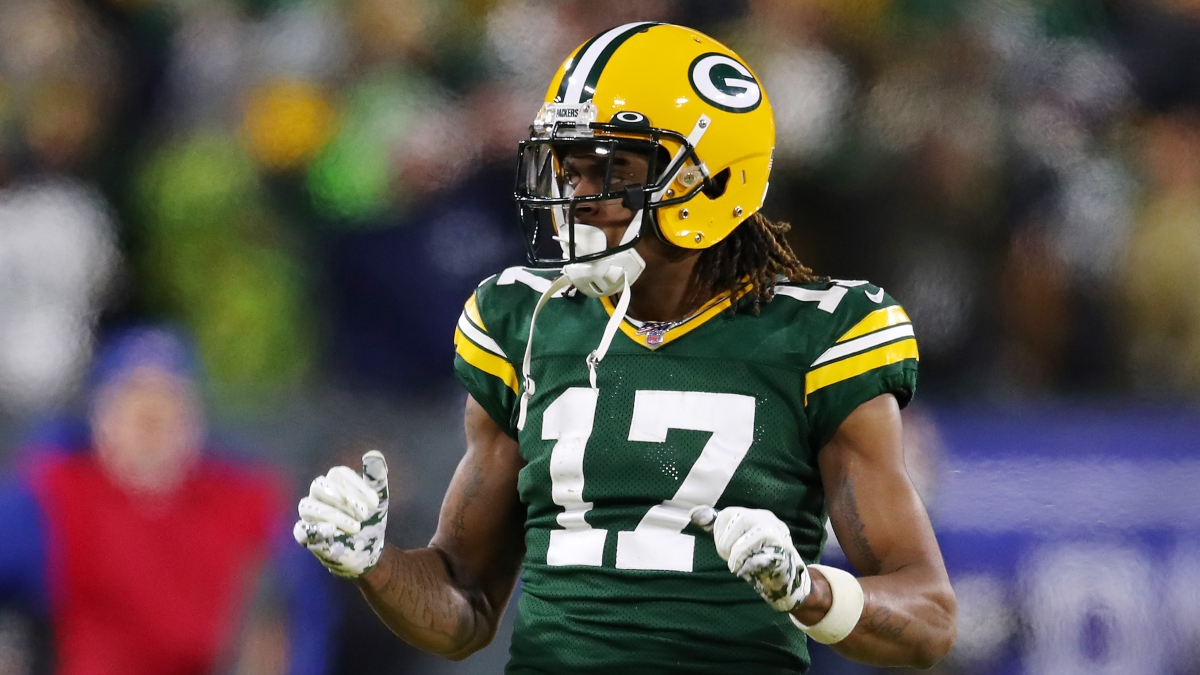 Davante Adams and DeAndre Hopkins accomplished that in 2018 when they were able to post WR1 numbers with Brett Hundley and Tom Savage, respectively, throwing them the ball for eight-plus games.
Last season, Tyreek Hill posted 6/76/0 and 6/140/1 stat lines with Matt Moore under center. Julio Jones put up 10/152/0 in Matt Schaub's spot start.
In Hopkins' case, he will be playing in a new offense this season. I think the move to Arizona is a slight downgrade to his stock because he will have more competition for targets, but it's still the type of offense he will be able to thrive in based on his talent alone.
Tier 3
Chris Godwin
Kenny Golladay
Mike Evans
Amari Cooper
Odell Beckham
Calvin Ridley
D.J. Moore
JuJu Smith-Schuster
Kenny Golladay managed to put up WR15 numbers in the second half of last season despite having Jeff Driskel and David Blough throwing him the football. A full season from Matthew Stafford will likely make Golladay a lock to finish as a top-10 WR.
JuJu Smith-Schuster was unable to maintain fantasy relevance without Ben Roethlisberger under center last year. He was the WR43 in Weeks 2-11 playing without Big Ben. Yes, if Big Ben can stay healthy for all 16 games, JuJu could be a steal as the WR13. But drafting JuJu comes with the added risk that no other top-20 WR carries in that regard.
Calvin Ridley is the WR I'll be targeting the most in this tier given his current ADP, and how much upside he carries into this season. He's my favorite bet to lead the league in receiving yards, which I bet him at 90-1.
Tier 4
Adam Thielen
Allen Robinson
A.J. Brown
Cooper Kupp
Robert Woods
Tyler Lockett
Keenan Allen
Courtland Sutton
D.K. Metcalf
Stefon Diggs
It's incredible just how deep WR is this season, and this tier really puts it into perspective. Every single one of these wideouts has top-10 potential.
Rounds 1-3 are the time to load up at RB (if possible), then Rounds 4-7 is when we can start attacking WR. That appears to be the best way to maximize our team's ceiling.
Take your pick of trusted veterans (Thielen, Robinson, Kupp, Woods and Diggs) or players loaded with upside (Brown, Sutton and Metcalf).
Metcalf was much more valuable in re-draft than best ball last season. He finished as the WR32 in overall points but came in at WR61 in my best ball points added per game (BBPA) metric. A lot of this has to do with Metcalf rarely flashing his ceiling, as seen by posting 20 or more points only once during the regular season.
He was able to provide a high weekly floor as he posted between 8-17 points in 10 games, but I think we see him hit his ceiling a few more times in 2020, making him a great WR to target in this range.
Tier 5
A.J. Green
T.Y. Hilton
DeVante Parker
D.J. Chark
Deebo Samuel
Michael Gallup
Terry McLaurin
Julian Edelman
The details of A.J. Green's recovery from ankle surgery remain murky. Considering he suffered the injury before the 2019 season, it seems likely he should be close to 100% for the start of this season. As of now, he looks worth the risk at his current ADP of WR29.
Michael Gallup has seen his ADP slip to WR34 after the Cowboys elected to draft CeeDee Lamb with their first-round pick. We have to remember that the Cowboys lost Randall Cobb and Jason Witten this offseason, so we may see Lamb take most of their leftover targets and none at the expense of Gallup.
If anything, Gallup's weekly ceiling remains intact, which is all we care about in best ball.
Terry McLaurin has WR1 potential but is held back by poor QB play. Target McLaurin here if you feel Dwayne Haskins will be able to make significant improvements in Year 2.
Tier 6
Marquise Brown
Jarvis Landry
Will Fuller
Brandin Cooks
Tyler Boyd
Marvin Jones
Marquise Brown and Will Fuller are my favorite targets in this tier.
Brown was held back by injuries and limited snaps his rookie season. He was able to flash high-end WR2 upside at times, and we could see him hit that potential as soon as this season.
This is also the perfect time to target a high-risk, high-reward player like Fuller.
We all know he can put up insane numbers when healthy — in fact, he was able to put up the 30th-most BBPA last season despite missing five games. A lot of his value came from his 47-point outburst in Week 5. Monster games like that can lose value in head-to-head leagues as it doesn't matter if you win by one or 30 points– a win is a win. But in best ball, every single point matters.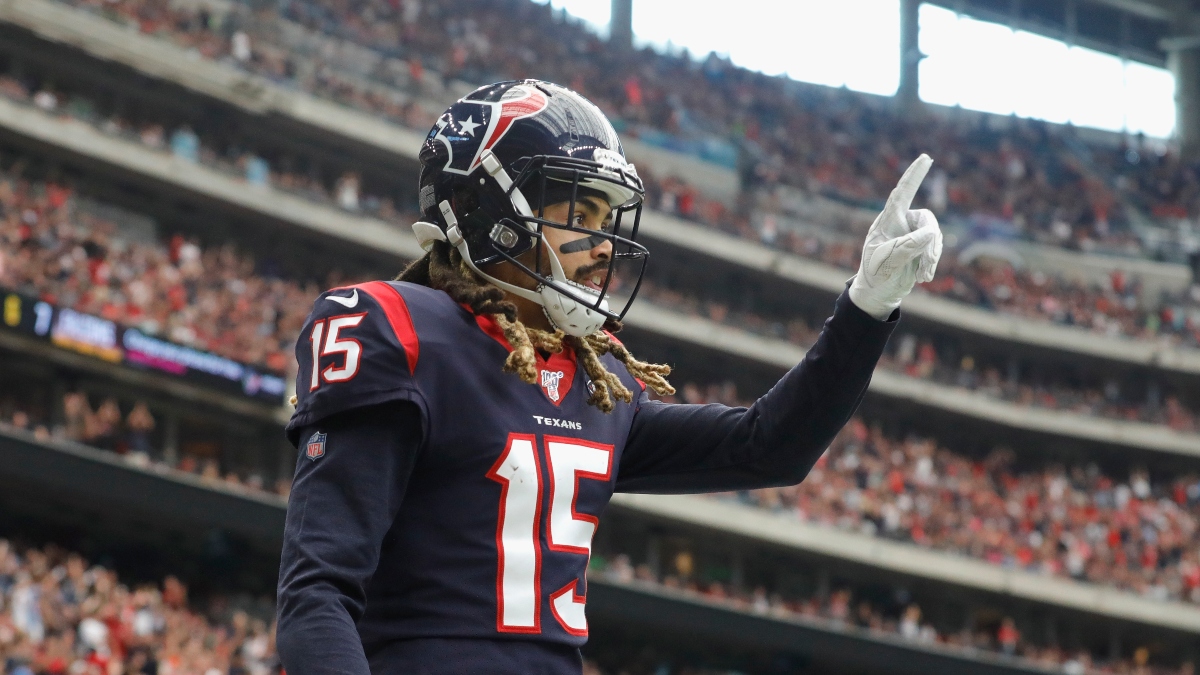 With Hopkins out of the picture, eruption games could be even more frequent for Fuller.
Tier 7: High Floor
CeeDee Lamb
Christian Kirk
Sterling Shepard
Jamison Crowder
John Brown
Emmanuel Sanders
Anthony Miller
Depending on your roster construction, you may want to target a "safe" WR in this range. All of these wideouts should see a healthy amount of targets each week and give you consistent production. The only downside is they may not offer as many spiked weeks as we'd like in best ball.
Sterling Shepard, John Brown and Anthony Miller are my favorite targets in this range.
Tier 7 (high ceiling)
Jerry Jeudy
Diontae Johnson
Henry Ruggs
Preston Williams
Darius Slayton
Mecole Hardman
If you have a solid WR group and want to start adding depth, target these high ceiling plays.
Mecole Hardman is ideal for best ball. He's hard to trust any given week, but the spiked weeks will be there. We can also expect him to be more polished in his second season and earn a prominent role.
It's going to be impossible for opposing defenses to account for Hardman and Tyreek Hill when they're on the field at the same time.
Tier 8
Curtis Samuel
Mike Williams
Golden Tate
I'm having a hard time making sense of Curtis Samuel's ADP at WR66.
Robby Anderson is likely going to eat into Samuel's target share, but we can still expect spiked weeks. It's also possible the Panthers end up trading Samuel before the deadline. In that case, I imagine he would end up on a WR-needy team, and his value would shoot up into the WR3 range. That possibility doesn't seem to be priced into his current ADP.
Tier 9
Robby Anderson
Michael Pittman
Justin Jefferson
Larry Fitzgerald
Desean Jackson
Dede Westbrook
James Washington
Sammy Watkins
Aside from Larry Fitzgerald and Dede Westbrook, this tier is loaded with upside.
James Washington gets a massive upgrade in best ball given we should see a few spiked games from him — we just don't know when they will be. Luckily, we don't have to try to predict when they will happen.
I aim to take at least one Chiefs player in every single draft I'm in. Sammy Watkins is the last chance to do so, and is a cheap way to invest in an offense made for best ball.
Tier 10: High Floor
Tyrell Williams
Corey Davis
Parris Campbell
Hunter Renfrow
Cole Beasley
Allen Lazard
Danny Amendola
Russell Gage
Allen Lazard was a massive winner from the offseason. The Packers chose not to draft a WR from a loaded 2020 class, and the only WR they brought in was Devin Funchess. I view Funchess more as the Jimmy Graham replacement in this offense.
Lazard will be Rodgers' No. 2 WR heading into 2020.
Tier 10: High Ceiling
Breshad Perriman
Denzel Mims
Jalen Reagor
N'Keal Harry
Alshon Jeffery
Tee Higgins
Devin Funchess
Funchess has double-digit TD potential on the Packers. He has a massive 6-foot-4, 232-pound frame that could make him one of Rodgers' favorite red-zone targets.
I also like to target Denzel Mims in this range. He has the skills to be the Jets' No. 1 wideout in his rookie season. My only concern is that Adam Gase isn't the type of coach who gets the most out of talented players like Mims.
How would you rate this article?
This site contains commercial content. We may be compensated for the links provided on this page. The content on this page is for informational purposes only. Action Network makes no representation or warranty as to the accuracy of the information given or the outcome of any game or event.