Fantasy Draft Strategy: Zero RB vs. Hero RB? The Better Strategy For 2021 — And Why Flexibility Is King
Credit:
Stephen Maturen/Getty Images. Pictured: Dalvin Cook
Like Disney's musical take on Hercules, the debate over the optimal fantasy draft strategy for running backs has gone from Zero to Hero.
With Zero RB strategy, fantasy managers pass on RBs in the early rounds of a draft in order to prioritize elite pass catchers. And Hero RB is the antithesis — its a strategy focused on drafting one elite RB early, then waiting multiple rounds to fill out the remainder of your roster's RB depth.
But which is the better strategy for 2021 drafts?
Two of our three fantasy football analysts agree on which strategy makes the most sense for this season while the third proposes an alternate — but all three agree that the optimal strategy is to not marry yourself to any one strategy before a draft even begins.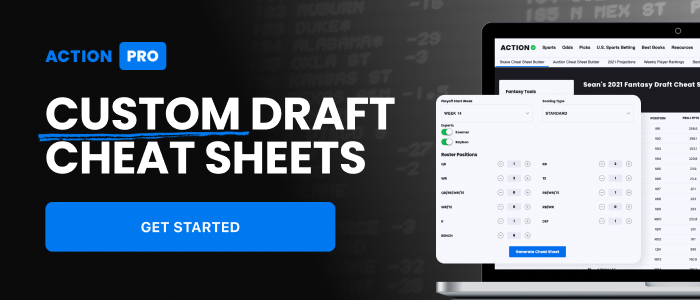 Chris is the host of our Fantasy Flex podcast and was the No. 4 in-season ranker of the 2019 season.
The 2021 season sets up better for Hero RB than Zero RB.
The latter means fading RBs altogether in the high-leverage rounds (Rounds 1-5), but why would you want to do that when this year's RB1 cohort is so strong? You know it's a good RB1 group when its high-risk guys are players like Saquon Barkley — a 24-year-old who already has a 2,000-yard, 15-touchdown season to his name — and Jonathan Taylor — a 22-year-old sophomore who finished top-six as a rookie.
The Hero RB strategy dictates drafting one stud RB before shifting focus to pass catchers.
Another reason to favor Hero RB over Zero RB this season is that the RB2 tier is actually halfway decent.
In years past, Rounds 3-6 have been the RB dead zone (aka the "Frozen Pond Tier" if you're a Fantasy Flex Podcast listener). While some experts will argue in favor of drafting a RB in this range based solely on past win rates at the position lagging behind WR, it's important to look at each year in its own context, and to allow yourself flexibility if value falls to you.
The Hero RB strategy aims to bookend your stud RB1 with an RB2 in Round 5 or 6. It's important to have that avenue open in case players like Mike Davis or Darrel Henderson fall to those rounds, or to ensure that you get high-upside rookies like Michael Carter, Travis Etienne, Javonte Williams or Trey Sermon before they're gone.
Again, the name of the game is flexibility — if you don't like the RB2 value when you're up to pick in the early-middle rounds, you can always wait and take your RB2 in more of the true Zero RB range, with the added benefit of already having a bell-cow RB1 in tow.
While I favor the Hero RB strategy over Zero RB in 2021, I would also like to point out that the best strategy is to play the board and take value as it comes rather than following a rigid plan that dictates when to take players at what position.
I have no problem with going Zero RB in the right spots this year, but I would let it happen organically rather than plan it going in.
For example, let's say I'm picking No. 9 and Davante Adams falls to me in the first round, followed by a run of RBs that results in Stefon Diggs still available at No. 16. Would I have any issue starting WR-WR if I'm getting both a couple of spots below ADP? Absolutely not. And if it so happens that in Rounds 3-4, the best players on the board are some combination of Allen Robinson, Terry McLaurin, CeeDee Lamb, Robert Woods, Mike Evans and Chris Godwin, would I have an issue with doubling up at WR again? No again.
During fantasy draft season, we tend to focus most of our efforts on forecasting player performance, and on predicting which strategies will work given those forecasts. But what we tend to forget is that just like no season plays out exactly like the projections, no fantasy draft order unfolds exactly like ADP.
The key is to head into the draft prepared to use any and every strategy that allows you to capitalize on your opponents and gain an edge.
Samantha is a fantasy football analyst.
I am fully out on Zero RB always, but especially this year.
The viability of the Zero RB strategy is predicated on waiting upwards of six to seven rounds to draft your first running back, though there is some disagreement in the fantasy community (big shock) as to what even qualifies as Zero RB.
A viable execution requires finding not one, but two start-able running backs in the late rounds of drafts or on waivers (a la James Robinson or Antonio Gibson in 2020), which is tantamount to hitting the lottery. I am personally not willing to punt completely on the position, especially in light of the paucity of workhorse backs — and subsequent increase in popularity of the dreaded running back by committee — in the NFL.
On the spectrum of running back draft strategies, it's no secret I would fall on the more bullish/robust end. However, I am willing to experiment with Zero RB's slightly less aggressive and increasingly popular Hero RB approach.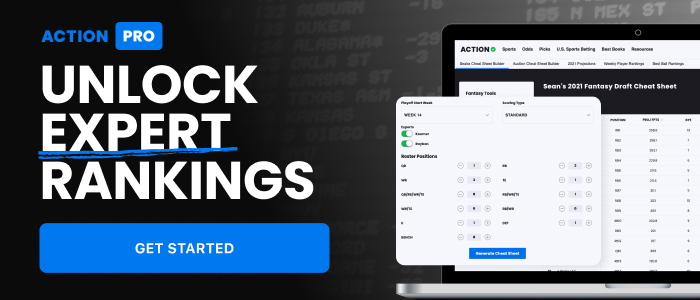 In my opinion, the Hero RB strategy is much more viable than Zero RB. In this scenario, you are getting a top 12 running back, then punting on your RB2 and in turn, edifying other parts of your roster. Most teams are going to have a weakness (or weaknesses). If you're fine with that being your second running back slot, Hero RB can make sense.
In the end, there is no "one size fits all" draft strategy. It is imperative to approach drafts with an open mind and be prepared to pivot based on how your league mates ultimately draft their teams. No matter how much research you've done to draft out of the 1.08 spot, there's a good chance you're not passing up Derrick Henry if he falls to you.
Building a roster is an art form, and excess rigidity in this department can be your team's undoing.
Sean is our Director of Predictive Analytics and was the No. 1 draft ranker of 2019 according to FantasyPros.
Running back continues to be the most critical position in fantasy football.
There are two main reasons RB typically decides the fate of your team each season:
As the NFL becomes an increasingly pass-heavy league and RBs are deployed for specific purposes, there are fewer workhorse backs. Positional scarcity makes it critical to draft at least two workhorse RBs.
The position is very volatile. RBs are the most likely players to miss time due to injury, or to lose their job. Given the position is much more about opportunity rather than talent, it paves the way for late-round picks or even waiver wire pickups to emerge as league winners.
Because of those two factors, there are a lot of draft strategies focused solely on how many RBs you should acquire early on.
On the opposite end of the spectrum is the Zero RB strategy, which I agree with … in theory. It mainly focuses on Reason No. 2 above, but ignores Reason No. 1 — that's why I would dub my approach as the RB Surplus Strategy: I first aim to draft two RBs before the end of Round 3/4 because, as I mentioned, it's critical to acquire two who are set to open the season with a reliable workload. Then I target high-upside backs in the middle and late rounds.
Another important component of your draft strategy should be to understand the purpose of your bench. Generally, you don't want to waste a bench slot on a quarterback or tight end — it's very easy to find a replacement for either position on the waiver wire if you're ever in a pinch or in need of a bye-week fill-in.
If I have seven bench slots, I'll usually aim to fill them with two to three WRs and four to five high-upside RBs.
The goal of stashing high-upside RBs, specifically, is to hopefully strike gold if one earns a one-off start or becomes their team's starter indefinitely. Think about the backup RBs who usually require a No. 1 waiver wire claim or the highest Free Agent Acquisition Budget (FAAB) bid to acquire when injury or depth chart news breaks mid-season — I can't tell you how many times a RB who fits that profile was already on my bench.
Drafting RBs with the highest potential to be league winners allows me to be even more aggressive when I do have first priority on waiver wire claims or still have a high percentage of my FAAB available. To help you easily identify them, I've ranked backups by their upside here.
The chart below illustrates just how valuable the first handful of RBs drafted are — they offer such a significant edge over your leaguemates, hence why they're typically the first four picks of the draft.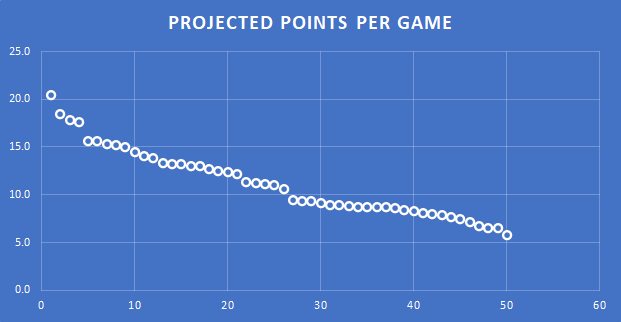 You can also see where the position features steep drop-offs. I aim to draft at least two RBs before the drop-off right outside the top 20, and three before the next drop off in the mid-20s.
Once a draft enters the RB30 range, your strategy depends on what type of RBs you're looking for. That's why, as part of my 2021 Draft Tiers, I attempted to create "buckets" that help you identify what exactly certain backs can offer you and when you'll want to target them.
How would you rate this article?
This site contains commercial content. We may be compensated for the links provided on this page. The content on this page is for informational purposes only. Action Network makes no representation or warranty as to the accuracy of the information given or the outcome of any game or event.