Your Guide To 2020 Fantasy Sleepers: Late-Round Targets At Each Position
Credit:
Getty Images. Pictured: Marvin Jones, Dallas Goedert
Fantasy football draft season is officially here.
With the first game of the 2020 NFL season only 42 days away, our trio of fantasy football rankers are here to help you identify late-round targets who are being undervalued based on their rankings and projections.
Before diving into their sleeper picks for each position, let's meet our analysts:
Sean Koerner is Action's Director of Predictive Analytics and was FantasyPros' No. 1 fantasy football draft ranker of 2019.
Chris Raybon was the fourth-most accurate FantasyPros ranker in 2019 and has watched every NFL snap since 2010.
Matthew Freedman is the Editor-in-Chief of FantasyLabs and was the sixth-most accurate FantasyPros ranker in 2017.
Now let's begin at the top with their quarterback sleepers.
---
Fantasy Football Sleepers
Jump to: QB | RB | WR | TE
Quarterbacks
Freedman: Cam Newton, Patriots
Is it fair to call a former MVP with five top-five fantasy finishes a sleeper? When he's being drafted outside the top 12, yes.
There are two main concerns with Newton: 1) Is he healthy? 2) Will he be the Week 1 starter for the Patriots? The answer to both questions is probably yes.
There's very little correlation between the number of games a guy has played per year in past seasons and the number of games he plays in future seasons. Newton played just two games last year because of a foot injury, and he missed the final two games of the 2018 season with a shoulder injury, but his rotator cuff was successfully repaired before the 2019 campaign, and he has been rehabbing his foot for almost a year.
There's little reason to expect him not to be healthy entering the season, and if that's the case, it's probable that he will play 14-16 games, just as he has done every year of his career except for one.
Of course, that's assuming that he's able to win the starting job in a competition against second-year quarterback Jarrett Stidham, who has just four passes in his career and an average of -7.8 adjusted yards per attempt. (That's not a typo.)
How will Cam not win this starting job?
Raybon: Joe Burrow, Bengals
Investing in rookie QBs who went No. 1 overall in the draft tends to be a winning proposition. The five quarterbacks picked first overall over the past decade who have gone on to start all 16 games in Year 1 have posted a median QB10 finish:
Kyler Murray (2019): QB8
Jameis Winston (2015): QB13
Andrew Luck (2012): QB10
Cam Newton (2011): QB4
Sam Bradford (2010): QB20
There are two key factors working in Burrow's favor:
His rushing upside: In his two seasons with LSU, Burrow averaged 27.4 rushing yards (which includes sack yardage, because college football) and 0.43 touchdowns per game.
It's no coincidence that scrambling ability is a trait shared universally among the top-seven QBs by ADP — Lamar Jackson, Patrick Mahomes, Deshaun Watson, Dak Prescott, Russell Wilson, Kyler Murray and Josh Allen — as those extra points are what separate consistent every-week fantasy starters from matchup-based streaming options.
2. A bad defense: The Bengals were a lowly 30th in Football Outsiders' defensive DVOA in 2019, resulting in a top-six finish in pass attempts (616) despite Andy Dalton and Ryan Finley residing atop their QB depth chart. If Zac Taylor threw 616 times with Dalton and Finley, the sky should be the limit for Burrow, even as a rookie.
Burrow should have enough passing volume to compete with the interchangeable tier of veteran pocket passers who go outside the top-seven, and enough rushing upside to put him over the top.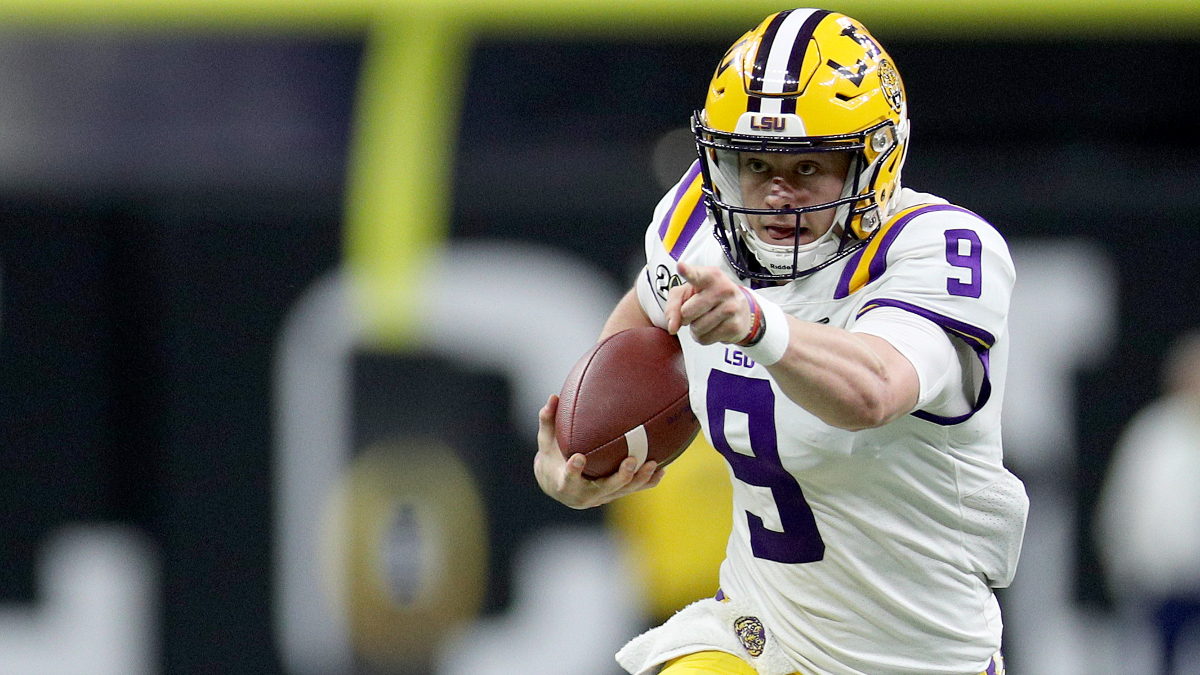 Koerner: Tyrod Taylor, Chargers
Tyrod's ADP has settled in at QB30. On the surface, this seems fair given the Chargers drafted Justin Herbert with the sixth overall pick. But while there's no guarantee Taylor will start any games this year, I'm willing to speculate he'll start at least Week 1.
Herbert is pretty raw for a first-round pick, and I wouldn't be surprised if the Chargers let him develop behind Taylor for most of this season. When you factor in the abbreviated offseason due to COVID, it makes even more sense for them to plan on Taylor being the starter for a majority of 2020. They are, after all, still a playoff-caliber team and Taylor has already earned the trust of head coach Anthony Lynn having played for him during their time on the Bills.
I would have Taylor ranked as my QB20 any time he's the starter. So if you're in a 2QB/Superflex league, he would be a great late-round flier at his current price. And if you're in a 1QB league and decide to punt on drafting the position and instead stream, Taylor would be a strong option thanks to his soft Week 1 matchup against the Bengals — he'll likely be a top-15 QB in my rankings that week.
Given just how low Taylor's price is right now, there's not much risk in drafting him at his current ADP. You're getting a potential QB2+ for dirt cheap.

Running Backs
Freedman: Damien Harris, Patriots
Patriots running back Sony Michel is recovering from a foot surgery and is uncertain to be ready for preseason activities. Given Michel's lengthy injury history and the chance that he will be less than 100% healthy to start the season, he seems vulnerable.
Michel is a strong candidate to miss multiple games and to play with diminished efficiency.
Enter Harris, a 2019 third-round selection. He saw limited action last year (12 yards on four carries in two games), but in college he had three straight campaigns of more than 1,000 yards from scrimmage for the championship-winning and -contending Crimson Tide.
Harris isn't an explosive playmaker, but he's a well-rounded back with a consistent rushing style and pass-catching ability.
As for the rest of the depth chart:
Brandon Bolden has recently opted out of the 2020 season for COVID-related reasons. In his absence, Harris now looks much likelier to be active on game days.
Rex Burkhead is a core contributor, but he is now 30 years old and has played just 10.3 regular season games for the Patriots over the past three seasons.
James White is probably a top-10 receiving back, but he has never had even 100 carries or 450 rushing yards in a season.
If Michel is injured or ineffective, Harris will have a real chance to steal the lead-back job, which could be worth 1,000 yards and double-digit touchdowns.
Every Patriots back selected with a top-100 pick over the past 20 years has had at least one season of fantasy viability: Laurence Maroney, Stevan Ridley, Shane Vereen, Michel and Harris — except for Harris, and he looks like he might get his opportunity this year.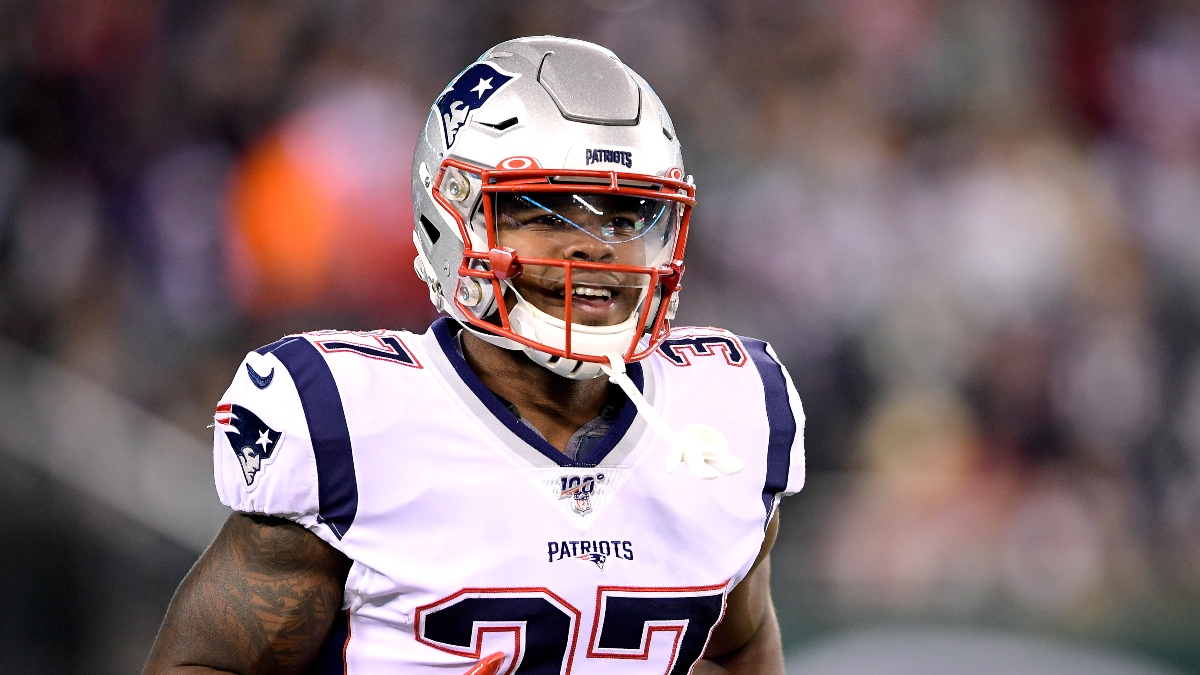 It's not ideal that Harris got no playing time in 2019 as a rookie, but the Patriots actually have a history of drafting backs with high picks then benching them for a year.
In 2011, the Patriots took both Ridley and Vereen with top-75 picks — and then they played behind early-down grinder BenJarvus Green-Ellis and receiving veterans Danny Woodhead and Kevin Faulk.
In 2012, Ridley led the team with 1,263 yards and 12 touchdowns rushing. In 2013, Vereen averaged a backfield-high 16.8 fantasy points per game in point-per-reception scoring.
Based on how head coach Bill Belichick has deployed his Day 2 backs in the past, Harris is likely to get an opportunity at some point, and that could be now.
Raybon: Jordan Howard, Dolphins
Calling the Dolphins run game a dumpster fire in 2019 would be an insult to dumpster fires. On 251 carries last season, Dolphins backs managed just 833 yards (3.3 yards per carry) and five touchdowns.
But enough has changed to create a good buy-low opportunity on Howard.
Chan Gailey will take over as the new offensive coordinator. The franchise invested first- and second-round picks into its offensive line in the form of Austin Jackson and Robert Hunt, respectively, who should be Day 1 starters. And Howard, who averages 17.1 touches per game for his career, was brought in along with Matt Breida, who averages 10.5 — usage which falls nicely in line with how Gailey has split up backfield work in the past and hints at what to expect moving forward.
Below are the touches per-game splits Gailey has employed for his top-two backs over his last six stints as a an NFL head coach or offensive coordinator:
2016 NYJ: 1a. Matt Forte 17.1; 1b. Bilal Powell 11.6
2015 NYJ: 1a. Chris Ivory 18.5; 1b. Bilal Powell 10.7
2012 BUF: 1a. C.J. Spiller 15.6; 1b. Fred Jackson 14.9
2011 BUF: 1a. Fred Jackson 20.9; 1b. C.J. Spiller 9.1
2010 BUF: 1a. Fre Jackson 15.8; 1b. C.J. Spiller 7.0
2008 KC: 1a. Larry Johnson 17.1; 1b. Jamaal Charles 5.9
Average: 1a. 17.5; 1b, 9.9
Given that the knock on Howard is he doesn't add much as a pass catcher, it's promising that in Gailey's two most recent seasons, Ivory and Forte each saw their high-volume roles come despite receptions accounting for 11% and 12% of their total touches, respectively.
Once the top RBs are off the board, you're just looking for players with a path to enough touches for relevance. I have Howard projected for 14.6 touches per game this season and Breida for 9.9, and I consider both to be undervalued at their respective ADPs of RB42 and RB43.

Howard stands out as the cheapest lead back on the board.
Wide Receivers
Koerner: Deebo Samuel, 49ers
Deebo is on my watch list as a potential buy-low candidate over the coming weeks. I expect his ADP to continue to plummet as it becomes more apparent that his broken foot could force him to miss a few games. He's already been dropping to the WR45-50 range in recent drafts I've done.
Let's stop and think about this for a second: If you're drafting Deebo as your WR4 or WR5, does it matter if he ends up missing the first several games? The easiest time to overcome a player injury is at the beginning of the season, when there aren't any bye weeks and the league is near full health. Then once Deebo returns, you have a rock-solid WR2/3 ready to plug into your lineup.
Even if this were a "normal" season, I would offer the same advice. However, given the unprecedented nature of this season, I would say there is even more upside in taking Deebo in this range. There's a non-zero chance that the beginning of the season is delayed and/or that games/weeks could be postponed — look no further than what is happening in the MLB.
Deebo could benefit from any potential delays, making him an absolute steal when he falls into the WR45+ range.
Raybon: Will Fuller, Texans
The missed games are all anyone seems to remember when it comes to Fuller, but at his ADP — WR35, 90th overall — you should be targeting upside, not avoiding risk.
Fuller went 14-217-3 in a game last year…as the No. 2 receiver.

Now he's likely to be the No. 1.

And his QB is Deshaun Watson.

By Rd 7 you should already have your core starting spots filled, so it's inexcusable to be staring Fuller in the face and think, "nah, I'll pass." pic.twitter.com/pJAR62kzpn

— Chris Raybon (@ChrisRaybon) July 22, 2020
One "high-risk" player I want everywhere this year is Will Fuller.

– Median % of routes run per team dropback in a game last season was 95%

-4.5 rec/g over last 2 years even w/ Hopkins there

-0.50 TDs/g since Watson was drafted

Fuller will go bezerk in his 11 healthy games

— Chris Raybon (@ChrisRaybon) July 22, 2020
Fuller has proved that he can produce at a high clip, even with DeAndre Hopkins hogging 10-plus targets per game. With Hopkins gone, Fuller has the inside track to be Deshaun Watson's new No. 1 receiver over newcomers Brandin Cooks and Randall Cobb, who lack rapport with Watson and have durability concerns of their own.
Based on what we've seen out of Watson and Fuller in the past, it's fair to peg Fuller's range of outcomes in 2020 with Old Will Fuller as a floor and something just below DeAndre Hopkins as a ceiling. He's going late enough that he could be a league-winner even if he misses his usual handful of games.
Freedman: Marvin Jones, Lions
I'm an OG Kenny Golladay stan, so I'm not about to cast any aspersions at Babytron, but the difference between Golladay and his teammate is thinner than a razor.
At a glance, Golladay and Jones don't compare. Golladay has back-to-back 1,000-yard seasons, and Jones has missed 10 games over the past two years. But since 2018, Golladay and Jones have had incredibly similar production and opportunity on a per-game basis.
Golladay (31 games): 14.7 PPR points, 12.7 expected points, 102.4 air yards
Jones (22 games): 14.1 PPR points, 12.3 expected points, 95.1 air yards
Last year, Golladay and Jones had an identical target market share of 0.21.

There's nothing wrong with drafting Golladay as the WR8, but I'd rather draft Jones as the WR38. And while Jones shouldn't be selected as a WR1, I have him projected as a low-end WR2, which means that he provides a world of value at his WR3/4 ADP.
Tight Ends
Koerner: Dallas Goedert, Eagles
The fantasy football market, in general, has Goedert's value entirely backward.
Most assume that Zach Ertz lowers Goedert's floor/ceiling combo and that his ADP of TE16 seems fair. But ultimately, the opposite is true: As long as Ertz stays healthy, it is true that he lowers Goedert's weekly floor/ceiling combo. We can reasonably say that Goedert would fall into the TE 14-16 range when Ertz is healthy. However, if Ertz were to miss any time, most would rank Goedert in their top 5-10.
Name another TE you can say that about?
You can't.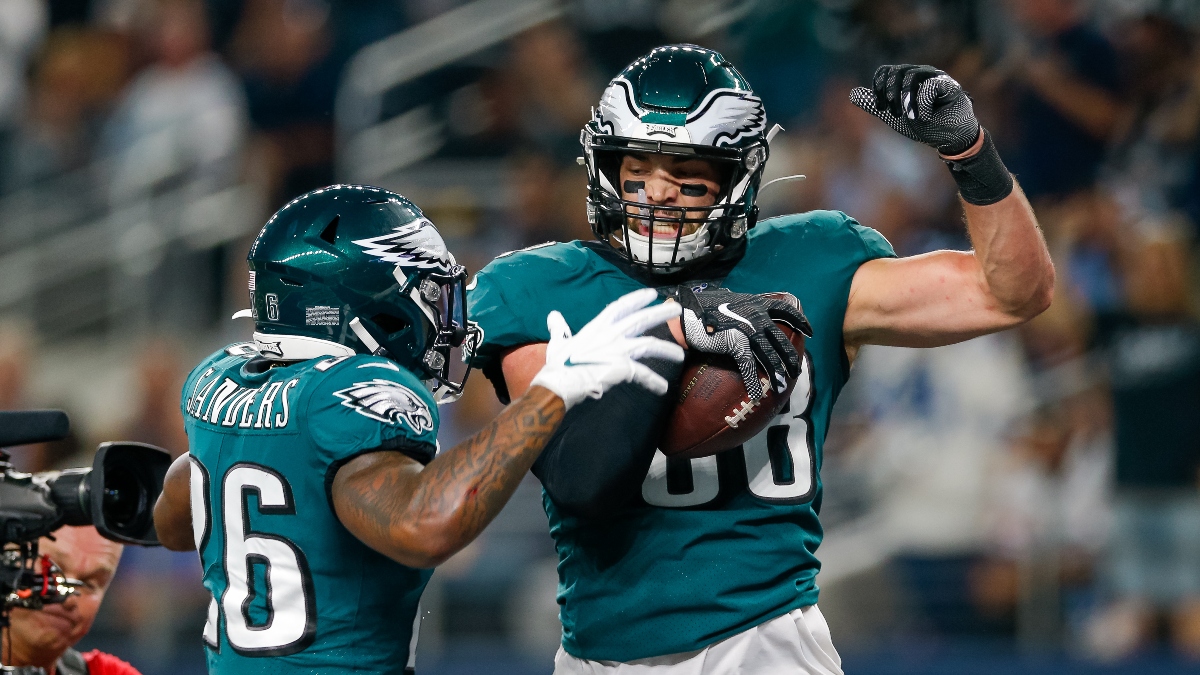 I consider Ertz the reason Goedert has a massive upside. Think of Ertz like the cap on a liter of soda that's been shaken for three minutes straight, and Goedert as the soda.
Freedman: Dalton Keene, Patriots
There are six significant factors in Keene's favor.
First of all, the dude's nickname is "Rambo." RAMBO.
Football players — grown-ass men who lift weights all day and hit each other as hard as they can — looked at him and said, "Yeah, this guy is tough, violent, and maybe a little unstable. Let's not mess with him."
Second, the Patriots did something they have never done before in drafting Keene: They traded a future pick — a 2021 draft pick — in order to trade up to get him. Think about that. Bill Belichick values future picks more than almost anything else. He has his drafting protocols and disciplines. And yet Keene was promising enough as a prospect to get Belichick to do something he's never done.
Third, Keene was drafted with a third-round pick. He has sufficient draft capital invested in him.
Fourth, as I note in my rookie dynasty rankings, he has a world of promise as a prospect. As a 21-year-old rookie tight end, he's in an elite group.
As a former high-school running back and linebacker, he is incredibly versatile. He can line up all across the formation, he can block, he can run after the catch, and he can even take carries out of the backfield. For his career he averaged an impressive 9.7 yards after the catch per reception (per Sports Info Solutions), and in his final year of college, he had 33 yards rushing on 11 carries to go with his 21-240-5 receiving line.
And he's athletic with an 81st-percentile 117.6 SPARQ-x score (per Player Profiler).
In the RotoViz Combine Explorer, Keene's top physical comp is Austin Hooper. His fourth-closest physical comp is T.J. Hockenson.
In the RV Prospect Box Score Scout, Mark Andrews pops up as a top-three comp based on physical profile, college production and draft position.
In the long term, Keene has the potential to be a top-five tight end.
Fifth, he should have the opportunity to play right away. There is no established tight end ahead of Keene on the depth chart, and the Patriots have few entrenched receiving weapons outside of wide receiver Julian Edelman and running back James White.
Even as a rookie, Keene could have a target market share as high as 0.18 if he gets just a few breaks.
Sixth, he's incredibly cheap. Is Keene likely to be a fantasy TE1 this year? No. But he's going undrafted in all but the very deepest of seasonal leagues. He's entirely off the radar. He's free.
If drafters are targeting a Patriots tight end, that guy is usually Devin Asiasi, whom the team selected 10 spots ahead of Keene.
Now I don't want to downplay Asiasi's potential: In the RV Prospect Box Score Scout, three of his four most comparable players are Andrews, Martellus Bennett, and Travis Kelce. It's possible that both Asiasi and Keene could crush. Ten years ago, the Patriots drafted both Rob Gronkowski and Aaron Hernandez — and both were fantasy TE1s as rookies.
But I prefer Keene to Asiasi. Like Gronk, Keene can line up inline and in the slot. He can block and stretch defenses down the seam. Like Hernandez, Keene can pile up yards after the catch and also play as a functional rushing fullback.
I'm probably wrong about Keene: Most tight ends never turn into fantasy-viable players, let alone as rookies. But at his nonexistent draft price, you have nothing to lose.
Raybon: Hayden Hurst, Falcons
Most tight ends simply won't get the opportunity to produce at the level of Travis Kelce, George Kittle, Mark Andrews or Zach Ertz, who are essentially their team's No. 1 receivers. And Hurst has an ADP of TE12, but I have him ahead of Tyler Higbee, Hunter Henry, Rob Gronkowski, Jared Cook and Austin Hooper because Hurst has the clearest path to join Darren Waller and Evan Engram in the second tier of high-volume TEs.
Hooper's role in Atlanta afforded him the opportunity to run the most routes per game at the position (36.8, per Pro Football Focus), which resulted in 7.5 targets and 5.8 catches per game — numbers that just aren't realistic for the other low-end TE1s except Higbee.
Hurst blocked on only 2% of his pass snaps in Baltimore, and the Falcons traded a second-round pick for Hurst, so it's clear they envision the 2018 first rounder in a similar role to Hooper's. The Falcons attempted 684 passes last season — 51 more than any other team — and projects to be among the league leaders once again after failing to substantially improve its defense, so Hurst's role comes with huge upside that isn't factored in to his ADP.
How would you rate this article?