Fantasy Football Winners & Losers: Tom Brady, Cowboys D Among Winners; Trevor Lawrence, DK Metcalf Among Losers
Credit:
Getty Images. Pictured: Cowboys LB Micah Parsons, Bucs QB Tom Brady, Seahawks WR DK Metcalf, Jags QB Trevor Lawrence (left to right)
As the 2021 fantasy season comes to a wrap, it's natural to feel a little nostalgic.
Below, I rewind to draft season from this past summer and review some of the home runs, as well as some swing-and-misses. I have provided a fantasy roster of winners, or players who over-performed expectations based on average draft position, and a roster of losers, or players who underperformed their ADPs. 
* All fantasy stats listed are in half-PPR scoring unless otherwise noted. 
** Average draft positions, or ADPs, were taken from FantasyPros, which leveraged data from platforms such as ESPN, Yahoo, MFL, Fantrax, FFC and Sleeper. 
2021 Fantasy Football Winners
QB1: Tom Brady, Buccaneers
ADP: QB9
Weeks 1 through 17: QB3 overall, QB3 per game
Each year, I wonder if this will be the season Brady finally slows down. Spoiler: It wasn't this year. He topped a spectacular 2020 campaign when he finished as QB8 for fantasy, which ultimately led the Buccaneers to a Super Bowl championship. He was drafted in that vicinity as the QB9 and finished top three at the position, tossing 40 touchdowns and falling a hair shy of 5,000 yards. The quadragenarian, who is wrapping up his 22nd regular season in the NFL and seems to be aging in reverse, was a big surprise for fantasy this year and outperformed Patrick Mahomes, Kyler Murray, Aaron Rodgers, Lamar Jackson, Dak Prescott and Russell Wilson on a per-game basis — some of whom are more than a decade younger than Brady. Maybe he will slow down in 2022, but I, for one, will keep riding the Brady train until then.
QB2: Joe Burrow, Bengals
ADP: QB13
Weeks 1 through 17: QB5 overall, QB9 per game
There were many questions surrounding Burrow heading into the 2021 NFL season that impacted his draft position for fantasy. The Heisman Trophy-winner and CFP National Champion was coming off of a disappointing rookie campaign in which he suffered a torn ACL and MCL in Week 11 of the year prior and finished with 2,688 passing yards, 13 passing touchdowns and five interceptions over 10 games. He quelled those concerns in Year 2, healthy and equipped with a new weapon — Ja'Marr Chase, his former teammate at LSU. He did not miss a single game and completed 70.4% of his passes for 4,611 yards, 34 touchdowns and 14 interceptions. He delivered in the fantasy playoffs and passed for a whopping 971 yards, eight touchdowns and zero interceptions in Weeks 16 and 17 combined. He was fairly consistent all season and had just three games with fewer than two touchdowns. He and Chase will be a fearsome duo for seasons to come.
RB1: James Conner, Cardinals
ADP: RB33
Weeks 1 through 17: RB7 overall, RB9 per game
Although Conner wasn't much help in the fantasy playoffs (missed Weeks 16 and 17), the former Steeler certainly aided fantasy managers throughout the regular season. His ADP took a hit amid concerns about the team switch and that he would take on a secondary role behind Chase Edmonds. Weeks 3 to 14, Conner averaged a whopping 18.1 fantasy points per game and was the RB5. During that span, he posted a career-high 16 touchdowns — tied with Joe Mixon for the third-most in the NFL behind only Jonathan Taylor (20) and Austin Ekeler (18). Certainly not bad for a guy taken in the back half of the draft.
RB2: Leonard Fournette, Buccaneers 
ADP: RB29
Weeks 1 through 17: RB5 overall, RB7 per game
Fournette was an integral part of the Buccaneers offense in their Super Bowl run last season and was in full-on Playoff Lenny form by October. It's a shame he was injured in Week 15, which undoubtedly hurt some managers' playoff campaigns, but he was solid nearly every week prior to that. Weeks 4 through 14, he averaged 18.8 fantasy points per game and was the RB5. He was so impressive that head coach Bruce Arians, who is notoriously mercurial when it comes to running backs, actually committed to giving Fournette the full workload over Ronald Jones. His health will be a key factor in the Buccaneers' success this postseason.
WR1: Cooper Kupp, Rams 
ADP: WR17
Weeks 1 through 17: WR1 overall, WR1 per game
I hate to toss around the phrase "league-winner," but if there ever were to be one, it's Cooper Kupp. He was drafted three spots behind Robert Woods, which was a costly mistake for some including myself. Woods ultimately took a firm backseat to Kupp, who led the NFL in almost all receiving categories including targets (184), receptions (138), yards (1,829) and touchdowns (15). His electric chemistry with new quarterback Matthew Stafford was almost unparalleled. He finished dominantly as the WR1 with 69.6 more total fantasy points than the WR2, Davante Adams, and averaged 21.5 points per game. 
WR2: Deebo Samuel, 49ers
ADP: WR35
Weeks 1 through 17: WR3 overall, WR3 per game
Samuel was essentially written off heading into 2021 after a disappointing and injury-riddled 2020 in which he appeared in just seven games and caught 33 passes for 391 yards and a touchdown. He bounced back in a huge way, completely usurping Brandon Aiyuk, who was drafted 12 spots higher, and posted his first 1,000-yard season. He finished the fantasy season with 73 catches on 115 targets for 1,310 yards and six touchdowns. The versatile player was also deployed as a rusher amid the 49ers' running back woes and saw 51 rushes for 320 yards and seven touchdowns. His combined 13 touchdowns tied Ja'Marr Chase for seventh-most in the NFL. He was consistency defined for fantasy purposes and did not post a single game with fewer than eight fantasy points all year. He finished with three times as many games with 20 or more fantasy points than he did with single digits, making him one of the best steals of the draft.
WR3: Jaylen Waddle, Dolphins
ADP: WR45
Weeks 1 through 17: WR17 overall, WR23 per game
Waddle was the lone bright spot in what was otherwise a dismal offensive showing from Miami this season. The Dolphins averaged just 19.3 points per game sandwiched between the Broncos and Jets — not exactly the company you want to keep in that category. Waddle was a major contributor to those points and demonstrated immediate chemistry with quarterback Tua Tagovailoa (the two overlapped at Alabama for two seasons). The 2021 No. 6 overall pick tied Hunter Renfrow and Mark Andrews for the seventh-most catches this year (99), which is huge in PPR formats. He far outperformed preseason expectations and will be in the WR1 conversation come draft season in 2022.
TE: Mark Andrews, Ravens
ADP: TE5
Weeks 1 through 17: TE1 overall, TE1 per game
Andrews was on the outside looking in on the elite tier of tight ends this preseason, which consisted of Travis Kelce, Darren Waller and George Kittle. He outperformed all three, tallying 30 more points than the next highest scorer and unseated Kelce as the TE1 — a distinction Kelce had held for three consecutive seasons. Andrews shattered previous career highs in multiple categories and tallied the sixth-most receiving yards this year.  He reeled in 99 of 138 targets for 1,276 yards and nine touchdowns and singlehandedly won me multiple weeks in one league.
Flex: Cordarrelle Patterson, Falcons
ADP: WR83 *
Weeks 1 through 17: RB8 overall, RB13 per game
* Patterson earned dual eligibility as a wide receiver and running back on most platforms, but was listed as a receiver prior to the season. 
There was a 0% chance this column would not mention Patterson — the fantasy Cinderella story of the year. I personally did not have a Year 9 breakout for the 2013 first-round pick on my 2021 bingo card. The versatile player — who had been deemed a return specialist after doing next to nothing in his first eight seasons — tallied 200 touches for 1,154 all-purpose yards and 11 touchdowns in his first season with the Falcons. Perhaps he was always capable of this kind of production and just needed to find the perfect system. He may have left some managers on a bit of a sour note after a disappointing three-week stretch in the fantasy playoffs, but it's safe to say he far outperformed expectations as a player who went undrafted in most leagues.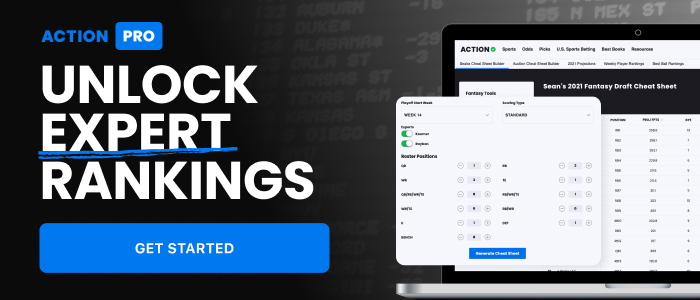 D/ST: Dallas Cowboys
ADP: DST20
Weeks 1 through 17: DST1 overall
The Cowboys defense far outperformed expectations, especially from a fantasy perspective. The unit recorded eight fumbles and a league-high 25 interceptions, 11 of which came from cornerback Trevon Diggs, who was the centerpiece of this defense. Rookie Micah Parsons was another standout, recording 13.0 sacks through Week 17 — good for sixth-most in the league heading into the final week of the season. Dallas allowed a lot of yardage (353.3 yards per game), but held opposing offenses to 20.8 points per game — the seventh-lowest total in the NFL. The Cowboys D/ST finished with 180 fantasy points — 20 more points than the next highest team, the New England Patriots.
K: Evan McPherson, Bengals
ADP: K18
Weeks 1 through 17: K2 overall, K5 per game
McPherson was the only kicker selected in the 2021 NFL Draft class. The Florida product was taken in the fifth round (149th overall) and earned his job over Austin Seibert as the Bengals starting kicker after going five-for-five on field goals in the Cincinnati's three preseason games. He was the fourth-most accurate at extra points, hitting 46 of 48 attempts, and was league's most accurate kicker at 50+ yards, making nine of 11 attempts. He was a perfect 13 of 13 on kicks from 20 to 39 yards and made the fifth-farthest field goal attempt this year at 58 yards (tied with Jake Elliott). Since the Bengals' Week 10 bye, McPherson fell shy of the double-digit fantasy point mark just once and averaged 12.3 fantasy points per game in that span.
2021 Fantasy Football Losers
QB1: Russell Wilson, Seahawks 
ADP: QB7
Weeks 1 through 17: QB19 overall, QB13 per game
Hopes were high for Wilson heading into the 2021 season amid pleas to "Let Russ Cook." Unfortunately, the Seahawks' signal-caller is going to post his statistically-worst season to date. Wilson appeared in 13 of 16 games, missing three games due to a finger injury. He completed 65.2% of passes for 2,875 yards, 22 touchdowns and five interceptions and rushed 39 times for 178 yards and a touchdown. The finger injury clearly hampered him long after his short IR stint, though he did end the fantasy season strong with four touchdowns, zero interceptions and 28 fantasy points in Week 17. His team situation will likely weigh heavily on his draft position in 2022.
QB2: Trevor Lawrence, Jaguars
ADP: QB16
Weeks 1 through 17: QB23 overall, QB38 per game
We all had such high hopes that the Jaguars could go from zero to hero with the help of No. 1 overall pick. Who can say how Lawrence's inaugural season might have gone if injuries and the Urban Meyer side show had not sent the team off the rails from the start. He was drafted as a high-end QB2, but posted just two weeks with 20 or more fantasy points — both of which came before Week 6. His performance was negatively impacted by copious injuries that started in the preseason with former Clemson teammate and first-round pick, Travis Etienne, who suffered a Lisfranc injury and missed the entire season. D.J. Chark, Jamal Agnew, Dan Arnold and James Robinson were also among the players who were injured throughout the season. Injuries or not, 12.3 points per game just isn't going to cut it, even as a fantasy QB2. He will look to bounce back in his sophomore campaign under a new coaching staff.
RB1: Saquon Barkley, Giants 
ADP: RB9
Weeks 1 through 17: RB33 overall, RB38 per game
Barkley was a high risk/reward pick heading into 2021 after the former No. 2 overall pick tore his ACL just two games into 2020. Prior to that, he had posted back-to-back 1,000+ rushing yard seasons, including an electric rookie campaign in which he tallied 2,028 scrimmage yards and 15 touchdowns. Barkley's 2021 season started slow as the Giants eased him back into play. He finished as RB10 and RB3 in Weeks 3 and 4, indicating he was on the upswing. Unfortunately, the Penn State product suffered an ankle injury in Week 5 that forced him to miss four games (five weeks including the bye) and seemed to linger throughout the remainder of the season. He posted a solid 21 attempts for 102 yards in Week 17 — his lone 100-rushing yard game this year. With an ADP of RB9, he is easily one of the biggest early-round busts.
RB2: Mike Davis, Falcons
ADP: RB22
Weeks 1 through 17: RB35 overall, RB55 per game
This one hurt. I will personally take the "L" here after drafting Davis in so many places as my RB2. Davis was the RB15 in 2020 stepping in for Christian McCaffrey and looked to be the only running back in the Falcons' backfield entering 2021. I thought his workload alone would keep him in that low-end RB2 tier, but Cordarrelle Patterson had other ideas. Patterson was fantastic this season and was everything we had hoped Davis to be and more. Davis finished with 132 attempts for 473 yards and 41 catches for 265 yards and four total touchdowns. He posted single-digit fantasy points in 10 of 16 games and was likely floating on most leagues' waiver wire by midseason.
WR1: DK Metcalf, Seahawks 
ADP: WR6
Weeks 1 through 17: WR10 overall, WR20 per game
Expectations were sky-high for Metcalf heading into Year 3 on the heels of an electric 2020. Last season, he caught 83 of 129 passes for 1,303 yards and 10 touchdowns and finished as the WR7. He began the 2021 season okay but not great. He had a very frustrating stretch from Weeks 10 to 15 in which he did not find the end zone once, did not break 10 fantasy points and averaged just 5.7 points per game. He finished as a top-12 receiver in five games of 16 — certainly not the type of numbers you'd hope for from a receiver who cost you a late second-/early third-round pick. Perhaps his Week 17 hat trick of touchdowns was enough to redeem an otherwise underwhelming season for some managers; for most, I suspect it was too little too late.
WR2: Allen Robinson II, Bears
ADP: WR11
Weeks 1 through 17: WR88 overall, WR88 per game
Please raise your hand if you were personally victimized by drafting Allen Robinson this season.
There was some contention among the fantasy community about Robinson's value heading into 2021, but I don't think many could have predicted this absolute dumpster fire of a season. I, for one, let out a deep sigh of relief after watching Justin Fields go to the Bears with the thought that Robinson would finally have a competent quarterback. Poor coaching, injuries and underperformance ultimately led to his worst season to date (excluding 2017 in which he was injured in Week 1). He tallied 36 catches on 62 targets for 388 yards and one touchdown, finishing as the WR88. You truly hate to see it.
WR3: Julio Jones, Titans 
ADP: WR18
Weeks 1 through 17: WR105 overall, WR90 per game
Jones was one of the most dramatic transactions this offseason. The longtime Falcons wideout (and a 2023 sixth-round pick) was dealt to the Titans amid overt discontent with the team in exchange for a 2022 second and a 2023 fourth. He was coming off of a disappointing, injury-plagued season in Atlanta that snapped a six-year streak of surpassing 1,000 receiving yards. Still, hopes were high for 32-year-old Jones and the entire Titans receiving corps heading into 2021. Injuries and Ryan Tannehill's struggles ultimately hurt Tennessee's passing game, which ranked sixth-worst in passing yards this year. A.J. Brown dealt with knee, hamstring and chest injuries while Jones was plagued with a hamstring injury — a similar injury to the one that derailed his 2020 campaign. Jones averaged an abysmal 5.6 fantasy points over nine games this season and finished as the WR90. 
TE: Tyler Higbee, Rams
ADP: TE10
Weeks 1 through 17: TE19 overall, TE17 per game
Expectations were high for Higbee entering the 2021 season, as many felt his true potential had been capped by suboptimal quarterback play and competition on the tight end depth chart (à la Dallas Goedert/Zach Ertz). With Gerald Everett off to Seattle and Matt Stafford under center, Higbee actually posted his worst season since 2018, recording fewer receiving yards, yards per catch and touchdowns than the year prior. He reeled in 55 of 77 targets for 505 yards and three touchdowns over 14 games played. He averaged 6.9 fantasy points per game and finished well outside the top 12 at the position.
Flex: Kenny Golladay, Giants
ADP: WR29
Weeks 1 through 17: WR81 overall, WR98 per game
Golladay was a major player during NFL free agency in 2021. The former Lions wideout inked a four-year, $72 million contract with the Giants in March on the heels of an injury-riddled 2020. Golladay played in just five games last year due to hamstring and hip issues. Those issues cropped up during training camp, along with knee and rib injuries. He appeared in 13 games and caught 34 of 71 targets for 499 yards and zero touchdowns, averaging just 5.2 fantasy points per game. Hopefully, he can bounce back next year with a new offensive coordinator (and potentially new coach); otherwise, his acquisition will go down as another suspect move in Dave Gettleman's legacy.
D/ST: Washington Football Team
ADP: DST4
Weeks 1 through 17: DST27 overall
Washington's D/ST was a pleasant surprise in 2020. The unit finished sixth in fantasy, led by their fearsome defensive line and stout secondary. They tied the Chiefs for the fifth-most interceptions, allowed the second-fewest yards and allowed the fourth-fewest points per game in 2020. This season, injuries to key players such as Montez Sweat and Chase Young contributed to underperformance. Washington allowed the sixth-most yards, fifth-most points and recorded the seventh-fewest interceptions. They finished sixth-worst for fantasy, beating out only the Falcons, Raiders, Jets, Lions and Jaguars.
K: Younghoo Koo, Falcons 
ADP: K3
Weeks 1 through 17: K19 overall, K27 per game
It's relatively rare that kickers garner a lot of fantasy hype. Koo was the exception last year, with many managers reaching multiple rounds to draft him. He finished as the top kicker for fantasy in 2020 on a per-game basis, averaging 11.2 points per game. In 2021, he was near-perfect, making all 28 extra point attempts and missing just two field goals all year (none from under 40 yards). His opportunities were limited, however, as the Falcons offense struggled all year. Atlanta recorded the sixth-fewest points and scored the sixth-fewest touchdowns. Suffice it to say, he was not worth reaching for earlier than the penultimate round.
How would you rate this article?
This site contains commercial content. We may be compensated for the links provided on this page. The content on this page is for informational purposes only. Action Network makes no representation or warranty as to the accuracy of the information given or the outcome of any game or event.