2020 Fantasy QB Tiers & Rankings: When To Draft Yours
Credit:
Getty Images. Pictured: Matthew Stafford, Patrick Mahomes, Dak Prescott
No matter what your strategy is for drafting quarterbacks in 2020, Sean Koerner's fantasy QB tiers can help.
Koerner -- the No. 1 fantasy football draft ranker of 2019 -- creates these tiers based on his rankings so you can strategize when to draft yours.
We were a bit spoiled by the talent of quarterbacks available in the later rounds of 2019 drafts.
My strategy was to target Lamar Jackson, Dak Prescott, Kyler Murray and Jameis Winston — all of whom I had ranked as Tier 6 QBs heading into the season. Sure enough, all four finished inside the top-seven fantasy QBs.
Now Jackson, Prescott and Murray require a top-six pick.
[Create custom fantasy cheat sheets with Koerner's rankings now]
I hate to be the bearer of bad news, but there doesn't appear to be another version of that tier in 2020. That means my strategy for this season is the complete opposite of 2019: I'll either target a QB from Tiers 1-2 or skip drafting a QB altogether and stream the position in-season.
If you're unfamiliar with streaming QBs, I detail how and why it's one of the most viable strategies every season here. But for context, I was able to generate season-long QB6 production by streaming throughout 2019.
Of course, streaming is not an option in 2QB or Superflex leagues, where every starting QB is in-play. That's why all of the following tiers will be especially helpful in those leagues: If a tier is beginning to thin out during a draft, that typically means it's time to snag a QB before there's another drop-off at the position.
With all that said, let's dive right into my 2020 QB tiers!
Fantasy QB Rankings
Click on a tier to skip to the analysis.
Tier 1
Patrick Mahomes
Lamar Jackson
Tier 2
Dak Prescott
Deshaun Watson
Kyler Murray
Russell Wilson
Tier 3
Carson Wentz
Drew Brees
Matt Ryan
Josh Allen
Matthew Stafford
Tom Brady
Tier 4
Daniel Jones
Jared Goff
Baker Mayfield
Joe Burrow
Cam Newton
Ben Roethlisberger
Philip Rivers
Aaron Rodgers
Jimmy Garoppolo
Tier 5
Kirk Cousins
Ryan Tannehill
Tier 6
Gardner Minshew
Drew Lock
Teddy Bridgewater
Sam Darnold
Derek Carr
Tier 7
Dwayne Haskins
Tier 8
Tyrod Taylor
Tua Tagovailoa
Ryan Fitzpatrick
Mitchell Trubisky
Nick Foles
Justin Herbert
Tier 1
Patrick Mahomes
Lamar Jackson
Mahomes and Lamar are in a tier of their own. When it comes to deciding which QB should come off the board first, there isn't a clear cut answer.
Jackson is coming off a historic season in which he set the record for QB rushing yards (1,206) and led the league in passing touchdowns (36). There's no question that he's the closest we've seen to a "cheat code" at the position. However, we should expect some regression to his rushing yards and scoring production, though it may not be much — the Ravens are likely to throw more this season, which could help offset any dips.
The pendulum should swing the other way for Mahomes, who is due for significant positive regression in 2020. He dealt with knee and ankle injuries for much of 2019, forcing him to miss two games. He also lost his best weapon, Tyreek Hill, for a four-game stretch last season.

If Mahomes and his playmakers can stay healthy, we could see record-breaking numbers this year.
Tier 2
Dak Prescott
Deshaun Watson
Kyler Murray
Russell Wilson
Waiting until Rounds 4-5 to draft a QB from this tier is an efficient strategy: It allows you to target RB/WR early or a top-tier TE and still end up with a high-end QB1, giving you the edge over anyone in your league planning to stream the position.
When I employ this strategy, I typically just take whichever QB falls to me.
Prescott will have the best WR trio in the league with Amari Cooper, Michael Gallup and CeeDee Lamb in Dallas. Prescott is a very high-floor, high-ceiling pick.
Kyler should see a big Year 2 leap, and the fact that the Cardinals were able to swap David Johnson for DeAndre Hopkins makes that even more likely. On the flip side of that trade, Deshaun Watson loses Hopkins, but still has plenty of weapons in his arsenal: Will Fuller and Brandin Cooks will be excellent deep threats, while Kenny Stills and Randall Cobb will be reliable options over the middle of the field.
Wilson is the QB I've ended up with the most from this tier.
He provides a very high floor despite playing for a coach who still leans on a run-heavy approach. Plus there's a small chance that Pete Carroll will come to his senses (though I can't emphasize "small" enough) and let Wilson attempt 550-600 passes this year. And we saw what he's capable of with that kind of volume in 2017, when he finished as the overall QB1 on more than 550 pass attempts.
Tier 3
Carson Wentz
Drew Brees
Matt Ryan
Josh Allen
Matthew Stafford
Tom Brady
If you're in a 12-team league that starts only one QB, I would fight the temptation to draft one in this range. None of these QBs are likely to give you the edge over others deciding to stream the position this year — having flexibility is going to be vital this season, and streaming provides that.
However, if you are in a 2QB or Superflex format, this tier does provide some nice floor/ceiling options.
Wentz has a chance to become a Tier 2 QB if DeSean Jackson can stay healthy and Jalen Reagor hits his potential as a rookie. Then there's Stafford, who was the QB6 before suffering a season-ending injury in Week 9 of 2019. Now he has the weapons to pick up where he left off.
It's Josh Allen who has the highest ceiling of this group, though.
We know the value he provides with his legs, but the addition of Stefon Diggs could be what unlocks a Lamar Jackson-esque breakout through the air for Allen. He and Kirk Cousins were both around league average with 43% of their passes 20 or more yards on target last year. However, only 25% of Allen's deep throws were caught, while Diggs managed to catch 75% of his deep targets. My takeaway is that Diggs' ability to track deep balls helps improve his QB's accuracy.

A big concern in drafting Allen is that his Week 16 matchup — i.e. fantasy championship week — is at New England.
Tier 4
Daniel Jones
Jared Goff
Baker Mayfield
Joe Burrow
Cam Newton
Ben Roethlisberger
Philip Rivers
Aaron Rodgers
Jimmy Garoppolo
Jones, Burrow and Newton offer the most upside in this tier — they're the closest to being what Jackson, Prescott, Murray and Winston were last year. You can take a flier on any of those three at their current average draft position (ADP), and if they don't pan out, it wouldn't have cost you much draft capital. Alternatively, you could catch lightning in a bottle and come out with a top-five QB.
That said, I'm not betting on the latter panning out for all three.
All the other QBs in this tier offer a high floor, which is ideal in 2QB/Superflex formats.

For those planning on streaming the QB position this season, Garoppolo is the QB to target. His Week 1 matchup is against the Cardinals, who he averaged 370 passing yards and four touchdowns against in two matchups last year.
Tier 5
Kirk Cousins
Ryan Tannehill
Both QBs play in run-heavy schemes and rely on their pass catchers to make plays for them — it's why I'm very concerned about Cousins no longer having Diggs. Cousins will need Adam Thielen, who turns 30 before the season begins, to stay healthy to maintain low-end QB2 value.
As for Tannehill, we should expect some regression in his efficiency. In fact, there are two distinct areas of his game in which that seems inevitable.
The first requires us to look at Expected Yards After Catch (EYAC) — a stat for which NextGenStats uses tracking data to determine how open a receiver is, how fast they're traveling, how many defenders/blockers are in space, etc. The two-pass catchers who had the biggest discrepancy between their EYAC over their actual YAC were A.J. Brown and Jonnu Smith. Expecting them to regress closer to expected YAC would deflate Tannehill's yardage numbers quite a bit.
The other area of concern is the Titans' league-leading 77% TD rate in the red zone last season. For context, the next closest team was the Packers at 67%. I expect significant regression there, which will turn a handful of Tannehill passing TDs from a year ago to Greg Joseph field goals this year.

I consider Derrick Henry, Brown and Smith the only Titans worth drafting this year at their ADP, so I'm staying away from Tannehill.
Tier 6
Gardner Minshew
Drew Lock
Teddy Bridgewater
Sam Darnold
Derek Carr
Minshew is my favorite late-round flier this season.
Opposing teams should be able to score with ease against the Jaguars' defense, which is currently in rebuild mode, creating plenty of pass-happy game scripts for Minshew. Offensive coordinator Jay Gruden should also recognize that they need to let Minshew attempt more deep throws, specifically to D.J. Chark, who had a 67% Positive% on deep throws from Minshew, ranked first among 41 qualifiers.
The Jags also added TE Tyler Eifert, who could provide Minshew with another red-zone weapon (when healthy).
Then there's Minshew's sneaky rushing upside. He had five games with 30 or more rushing yards last season, which ranked fifth among QBs (more than even Wilson or Prescott).
Given his skillset and the likelihood of the Jaguars tanking, Minshew has a chance to imitate 2019 Ryan Fitzpatrick.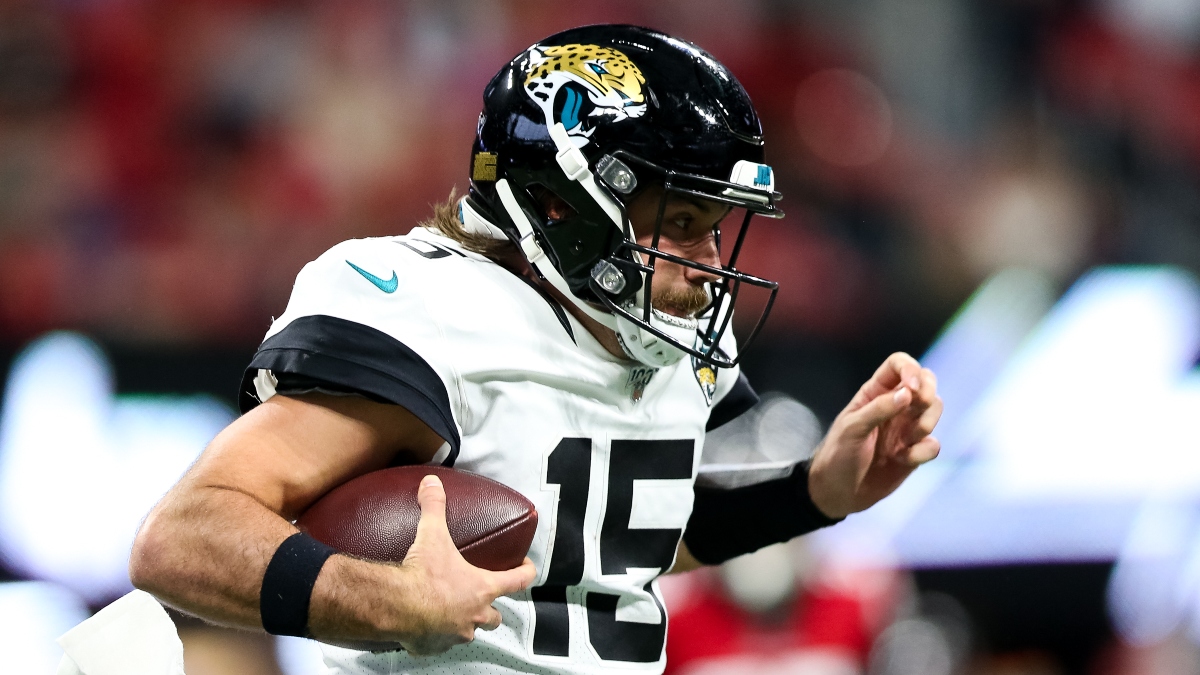 Tier 7
Dwayne Haskins
There were very few positives to come out of Haskins' rookie season, but we shouldn't write him off just yet. Over the past decade, there have been 47 first-round QBs to attempt at least 150 passes. Haskins' QBR (76.1) ranks 33rd. Other QBs in that range include Derek Carr, Andrew Luck and Ryan Tannehill.

Haskins has an uphill battle in Year 2 given how abysmal his pass-catching options are. Terry McLaurin is the silver lining, as he is one of the best young WRs in the game. However, the lack of a true No. 2 option makes it hard for me to picture Haskins taking much of a leap forward in 2020.
Tier 8
Tyrod Taylor
Tua Tagovailoa
Ryan Fitzpatrick
Mitchell Trubisky
Nick Foles
Justin Herbert
This is a high-risk, high-reward tier: As the position battle tier, these QBs could start anywhere from 0-16 games.
Taylor seems to be the most likely of the group to start at least 12, but it all depends on how the Chargers perform in the first half of the season. If he can lead them to a winning record heading into their Week 10 bye, it's likely they stick with him for the rest of the season. The Chargers are a playoff-caliber team, so this scenario is entirely possible.
At worst, Taylor should be viewed as a Week 1 streaming option against the Bengals.
How would you rate this article?