Kyle Pitts Dynasty Fantasy Outlook, NFL Draft Profile & Prop Bets
Credit:
Sam Greenwood/Getty Images. Pictured: Kyle Pitts
Kyle Pitts NFL Draft Profile
| | |
| --- | --- |
| Position | TE |
| School | Florida |
| Height | 6'6″ |
| Weight | 245 |
| 40-Yard Dash | 4.44 |
| 2021 Age | 21 |
| Class | Junior |
| Recruit. Stars | 4 |
| Projected Round | 1 |
---
Kyle Pitts Draft Props
There is absolutely no question as to who will be the No. 1 tight end drafted in the class: It's Pitts. He is slated in Round 1 of every mock I've seen, and he's highly likely to go in the top 10.
I have Pitts going even earlier in my post-free agency mock draft — No. 4 to Atlanta.
Think about that: A tight end in the top five.
We have had some great tight end prospects enter the league over the past 20 years.
Kellen Winslow (2004): 1.06
Vernon Davis (2006): 1.06
Eric Ebron (2014): 1.10
T.J. Hockenson (2019): 1.08
All four of those guys were heralded prospects with elite draft capital — and yet not one of them cracked the top five.
It's almost unthinkable for a tight end to be selected that high. Only twice has it happened in NFL history: The last time was in 1972, when the Broncos selected Riley Odoms at No. 5, and the first time was in 1961, when the Bears selected Mike Ditka at No. 5.
If Pitts does indeed go to the Falcons at No. 4, he will be making NFL history.
Kyle Pitts is now No. 4 in many sharp mock drafts.

No tight end has ever gone in the top four of the NFL draft.

We're talking about Pitts as if he's the greatest tight end prospect of all time, as if he will make history.

And I'm 100% fine with that.

— Matthew Freedman (@MattFtheOracle) April 2, 2021
Realistic pessimist that I am, I usually tend to bet against history, but I don't know if I'll be willing to do that in this case. Pitts is indeed a very special prospect.
Given that Winslow and Davis both went No. 6, and given that the Dolphins at No. 6 could certainly use another pass catcher, that pick is likely his floor.
I think the over/under on his draft position should be set at 4.5, which is why I bet the under 5.5 (-148) at FanDuel.
Pick: Under 5.5 (bet to -175); 1.48 units
Bet Now:FanDuel
There's another Pitts-adjacent prop that catches my eye: Over/under 1.5 tight ends selected in Round 1, available at DraftKings.
Over 1.5: +250
Under 1.5: -335
Pitts is guaranteed to go in Round 1, but will any other tight end sneak into the top 32?
I'm betting no.
The only other real option for Round 1 is Penn State tight end Pat Freiermuth, but he has an expected draft position of 40.7 at Grinding the Mocks, and in my personal index of recent mock drafts he is nowhere to be found: Not a single sharp mocker is looking at Freiermuth as a guy with a real chance to go on Day 1.
At -335, the under has an implied probability of 77%, but I think the true odds are closer to 85%, maybe 90%.
Pick: Under 1.5 TEs in Round 1 (to -500); 2.0 units
Bet Now:DraftKings
Dynasty Fantasy Analysis
In my daily "ask me anything" sessions on Twitter, Pitts might be the prospect dynasty investors ask the most about.
Specifically, they want to know how high is too high to take him in rookie drafts.
In the superflex format, where quarterbacks have outsized valuations, it would be unwise to take him at the top of the board. But in the tight end premium format, where tight ends get 1.5 points per reception (PPR), there is a very real case to be made for Pitts as the No. 1 overall pick.
Even in standard and PPR leagues, I can understand taking Pitts as the No. 1 overall pick.
One of the under-appreciated secrets of dynasty leagues is that it's incredibly hard to compete consistently if you do not have a top-tier tight end — and Pitts is a generational talent.
Analysts throw around the phrase "generational talent" way too often, but with Pitts, it is accurate.
He has a very real chance to make NFL draft history as the No. 4 overall pick. Even if he goes No. 5, he'll still be placing himself in an elite, generational cohort. Odoms was a two-time All-Pro in his third and fourth seasons, and Ditka — maybe the greatest tight end prospect ever — is a Hall-of-Famer who had 1,076 yards and 12 touchdowns receiving as a rookie.
If Pitts goes No. 6, it's not as if that is all that discouraging. The two guys to go that high over the past 20 years — Winslow and Davis — had good careers despite subpar circumstances.
Winslow had four top-eight fantasy seasons after suffering a catastrophic knee injury, and Davis overcame horrendous quarterback play and uninspiring offensive schemes to have four top-eight fantasy seasons before he turned 30 years old.
Based on his likely draft capital, Pitts looks like a prospect whose career will range anywhere from very good to Hall-of-Fame great.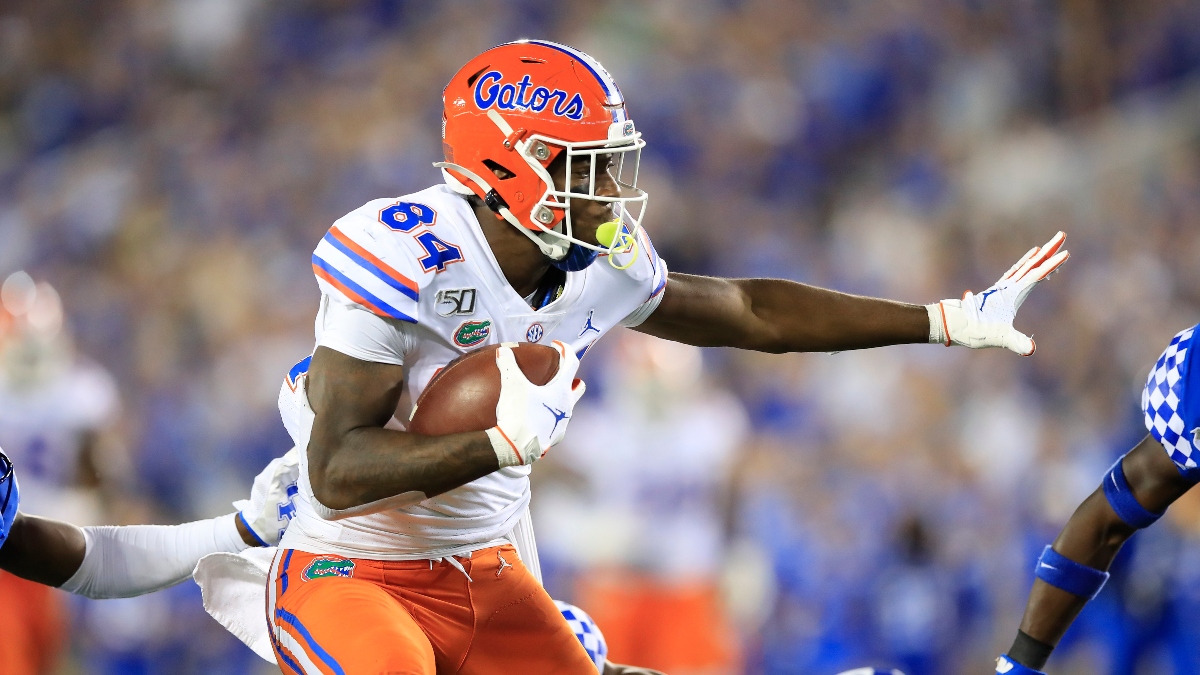 And his production is incredibly elite.
He did little as an 18-year-old true freshman, but in his sophomore season, he was No. 1 on Florida with 54 catches, No. 2 with 649 yards receiving and No. 3 with five touchdown receptions.
And then in 2020, in just eight games, Pitts balled out with a 43-770-12 receiving campaign. That's unbelievable production — at just 20 years of age.
On the strength of his junior season, Pitts was easily named a unanimous All-American, and he finished No. 10 in Heisman voting, the first tight end to rank in the top 10 in 43 years.
On top of that, Pitts was named a finalist for the Biletnikoff Award as one of the top receivers in the country. With that nomination, Pitts became the first tight end in history to be a Biletnikoff finalist. When people talk about him as a possible NFL wide receiver or as an all-around pass-catcher instead of a tight end, this is why.
Pitts truly has the skills and ability to be a receiver at the highest level. But he's still a tight end — with tight end eligibility in fantasy leagues — and he should be viewed that way, especially since he won the 2020 Mackey Award as the top tight end in college football.
A word on the Mackey Award: While other collegiate awards have marginal predictive value, the Mackey actually means something for how a guy will do in the NFL.
Lots of great college quarterbacks, running backs and wide receivers respectively win the Davey O'Brien, Doak Walker and Biletnikoff Awards and then do little in the NFL.
The Mackey is different. It's more than a feather in the cap. It's just one data point, but when combined with other factors, it has predictive worth.
For instance, here are the winners of the Mackey Award who have been selected with top-100 picks over the past 10 years.
Dwayne Allen (2012, 3.64): More of a blocker, but No. 13 TE in 2014
Tyler Eifert (2013, 1.21): Top-six season in 2015
Austin Seferian-Jenkins (2014, 2.38): Career derailed by substance abuse
Hunter Henry (2016, 2.35): Three top-12 seasons
Mark Andrews (2018, 3.86): Two top-four seasons
T.J. Hockenson (2019, 1.08): Top-five season in 2020
Everything else equal, Mackey Award winners tend to outperform their peers — and Pitts is basically a peerless prospect.
A quick glance at the 2021 Sports Info Solutions Football Rookie Handbook (SIS) shows the extent to which Pitts dominates as a receiver relative to any other tight end in this class, at least based on his 2020 production.
Receiving Total Points Per Game
Kyle Pitts: 4.1
Brevin Jordan: 2.8
Yards Per Route Run
Kyle Pitts: 2.5
Brevin Jordan: 1.8
Receptions Per Game
Kyle Pitts: 5.4
Hunter Long: 5.2
Receiving Yards Per Game
Kyle Pitts: 96.3
Brevin Jordan: 72.0
Total Touchdowns Per Game
Kyle Pitts: 1.5
Brevin Jordan: 0.9
Total Expected Points Added Per Game
Kyle Pitts: 6.2
Kenny Yeboah: 4.3
Pro Football Focus ranks Pitts as the No. 5 overall player in the class, which is entirely understandable. He dropped zero passes in 2020, and even though he played in just eight games, he was still No. 1 in deep receiving production (on throws with a depth of 20-plus yards) with 10 receptions and 331 yards. And he did all of that while lining up inline on 261-of-409 snaps.
The guy is just an all-around destroyer of defenses.
The extent of his NFL upside was easily evident at the Florida pro day, where he more than lived up to the hype.
Even if all he had done at his pro day was show up and weigh in at 245 pounds with a wingspan of almost 83.5 inches, that would have been enough.
With his long arms, he has an unholy catch radius. Even as a rookie, he should be able to bail his quarterback out on contested catches.
But he's more than just a big body — the guy is a world-class athlete. His 40-yard dash was a SportsCenter-worthy performance.
And he looked great in all the other drills too: The jumps, the shuttles, the routes, etc. He didn't do one single thing at his pro day that would make anyone think, "You know, I didn't like what I saw."
Granted, pro day numbers are usually inflated. This year especially — without the NFL combine — we've seen perhaps the most ridiculous athletic measurement inflation of the past 20 years.
So Pitts' 4.44-second 40 time should be treated with a smidgen of skepticism, but even if you aggressively adjust it to 4.50 seconds (a standard adjustment is between 0.03 and 0.05 seconds), his 40 time is still elite for a tight end — particularly one with his height and weight.
And Florida is one of the rare schools that actually has not seen pro day inflation in the recent past.
Dating back to 2011, Florida players run 0.5% SLOWER at their pro day than the combine.

Typically schools have faster surfaces for pro days than Indy, but not Florida. So it's fair game to compare Kyle Pitts' incredible time to the best 40s at past combines https://t.co/Mhazg6XyMg

— Ryan McCrystal (@Ryan_McCrystal) March 31, 2021
There's a very real chance that Pitts' pro day 40 time is representative of who he is as an athlete.
When you put all of that together — Pitts' expected draft position, college production and pro day performance — it makes him an incomparable prospect. There has never been another tight end prospect like him.
And I really do mean that.
If you screen for players in the RotoViz NFL Prospect Box Score Scout, normally you'll find multiple previous prospects who have similarity scores of at least 90. But if you assign Pitts a draft position of 6.0, weight of 245 pounds, 40 time of 4.50 seconds and bench press of 22 reps, not one single player has a similarity score of even 60.
Only four guys have similarity scores of even 40:
Noah Fant: 53
Tyler Eifert: 43
T.J. Hockenson: 42
Eric Ebron: 40
Pitts is unlike any other tight end prospect we've ever seen.
If you choose to take him No. 1 in your rookie drafts, that's why. He is elite — he is generational — in a way few prospects ever are.
It might make more sense to take a wide receiver or running back with the No. 1 pick, because Ja'Marr Chase, Travis Etienne and Najee Harris are all strong prospects. Plus, wide receivers tend to have long careers and are easier to project to the NFL than tight ends and running backs can provide league-winning upside when they hit early.
But as special as Chase, Etienne and Harris are, they aren't generational talents. It's not hard to come up with comps for each guy.
Pitts, however, is a unicorn.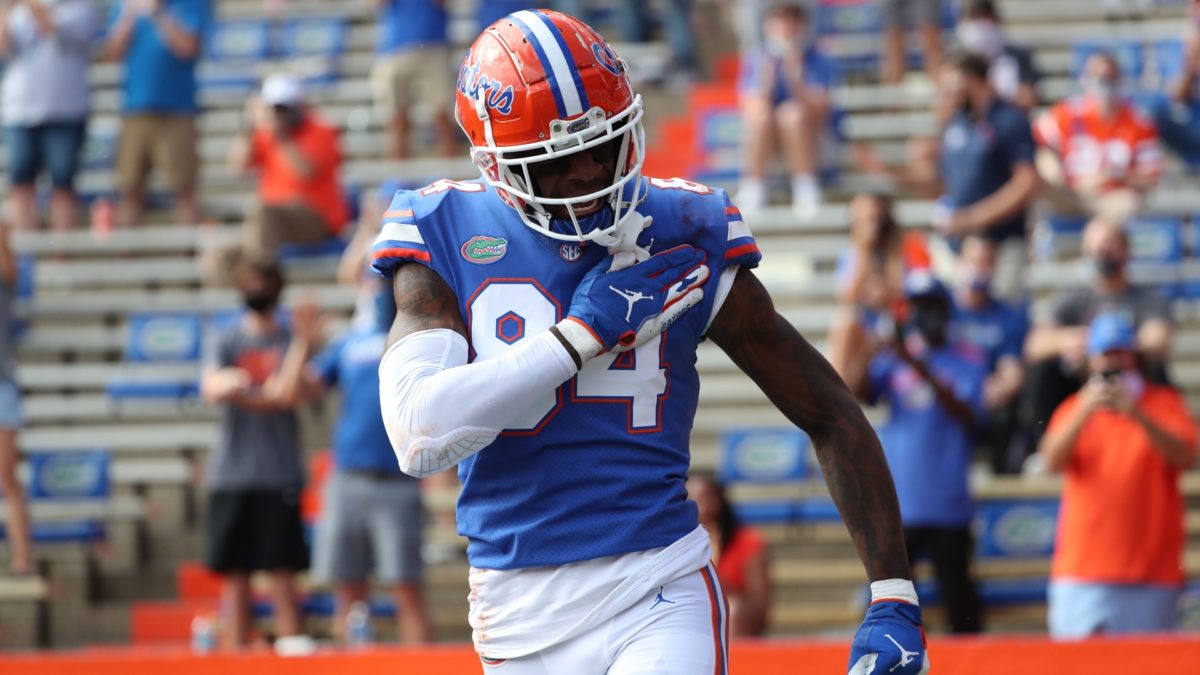 In the next five years, there will be other guys similar to Chase, Etienne and Harris to enter the NFL. That is certain. But it's not likely that another Pitts will come along. He's a one-shot prospect — and the time to shoot is now.
If you have the No. 1 pick, it might seem wasteful to use it on a tight end, but you will probably never have the opportunity to draft a prospect like Pitts again. If you're not going to use the No. 1 pick on a one-of-a-kind guy, what's the point of even having the No. 1 pick?
And I'm not so sure that it really is unwise to take a tight end at the top of the draft, assuming that he is a great prospect. Drafters tend to avoid "onesie" positions with their premium picks, but tight end markedly differs from quarterback in that multiple tight ends can play in a fantasy lineup via the flex, and the drop-off from high-end tight ends to average tight ends is much more significant than that from high-end quarterbacks to average quarterbacks.
From a structural perspective, it's actually justifiable to take a tight end No. 1 overall, as long as he is a top prospect.
But really, if you draft Pitts at No. 1, you're not doing it for structural reasons. You're doing it because you simply don't want to live with yourself if you pass on him and he turns into a Hall-of-Famer. You're paying a premium for his potential, and you're determined to pay whatever you must to have him.
If you have the No. 1 pick, you like Pitts and this is your mentality, I suggest you try to trade down to Nos. 2-4. In doing so, you'll pick up extra picks or players, and you'll likely still get Pitts. And if someone ahead of you takes him, at least you still get Chase, Etienne or Harris on top of the trade compensation.
At least you have a good process and a livable outcome.
But if you stay at No. 1 and take Pitts …
… I can't really blame you. If you want something — if your heart yearns for it — you'll do whatever is required to obtain it.
As a dynasty player who has been searching for my next top-tier tight end in my primary league ever since Jimmy Graham's decline, I can tell you that I am strongly considering doing whatever I can to get Pitts.
At the same time, if you have a top-four pick and don't have a pressing need at tight end, I can see why you would bypass Pitts, take a receiver or back instead and then perhaps go after an upside tight end in Round 3 — likely Freiermuth or Jordan. That's a rational, value-seeking approach.
Yet I can't be sensible when it comes to Pitts. To me, he's the top overall player in this class in terms of skill and ability. The only question is whether he's the top fantasy prospect when one considers positional scarcity and impact.
NFL Prospect Comp: Jimmy Graham but smaller, younger, more productive and with much more draft capital
---
Matthew Freedman is 1,018-828-37 (55.1%) overall betting on the NFL. You can follow him in our free app.
How would you rate this article?
This site contains commercial content. We may be compensated for the links provided on this page. The content on this page is for informational purposes only. Action Network makes no representation or warranty as to the accuracy of the information given or the outcome of any game or event.