Trey Sermon Dynasty Fantasy Outlook, NFL Draft Profile & Props
Credit:
Stephen Lew/Icon Sportswire via Getty Images. Pictured: Ohio State running back Trey Sermon (8).
"Trey Sermon is a Rorschach prospect," drawing comparisons as divergent as Marshawn Lynch and Damien Harris.
NFL draft and fantasy football analyst Matthew Freedman weighs in on Ohio State's enigmatic RB.
Find Freedman's full profile on Sermon below, complete with dynasty fantasy analysis and draft props.
Trey Sermon Draft Profile
| | |
| --- | --- |
| Position | RB |
| School | Ohio State |
| Height | 6'0″ |
| Weight | 215 |
| 40-Yard Dash | 4.58 |
| 2021 Age | 22 |
| Class | Graduate |
| Recruit. Stars | 4 |
| Projected Round | 3-4 |
---
Trey Sermon Draft Props
Sermon is +6000 at FOX Bet to be the No. 1 back to be drafted, but that's a bad bet at any price.
While I rely on my own research, I also take a "wisdom of the crowds" approach by surveying an index of mock drafts. I find that these drafts — created by experts with established records of success — collectively give me a good sense of the realistic range of outcomes for what we might see with any given player or pick.
In not one of the surveyed mocks has Sermon gone in Round 1.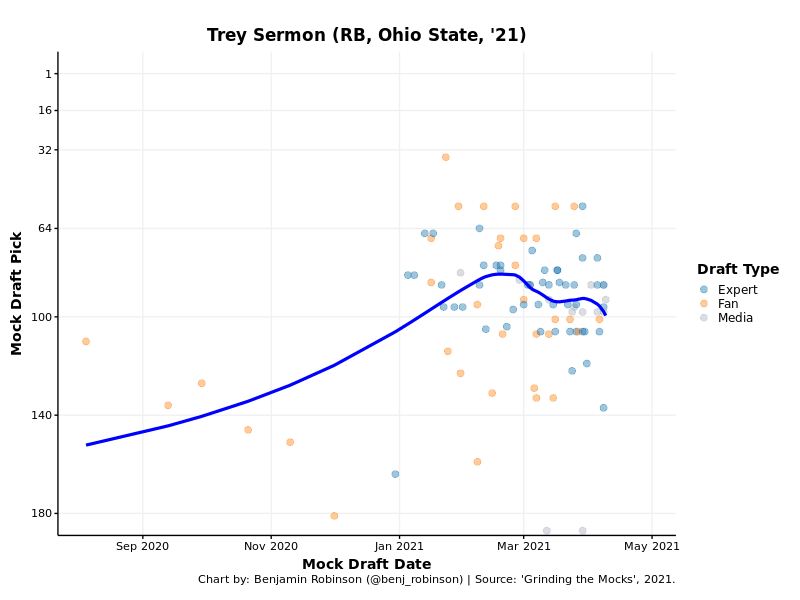 But, his draft stock has climbed significantly over the past year — and it wouldn't be a surprise if he was drafted in the second half of Day 2 (per Grinding the Mocks).
Circa recently posted prop lines for many players expected to be drafted outside of Round 1, including Sermon, whose over/under is 69.5.
I haven't bet this yet, so maybe you'll beat me to it — and I wish I had bet it yesterday when it was 61.5 …

Trey Sermon over 69.5, -115 at Circa. 1.15 units.

I think Sermon is on the borderline of Rounds 3-4.

— Matthew Freedman (@MattFtheOracle) April 18, 2021
Given his draft stock, I have taken a position on the over.
But aside from this prop, Sermon has no presence in the market.
Dynasty Fantasy Analysis
Sermon is a Rorschach prospect. One film-watcher I respect describes Sermon as running with indecision and poor vision, while another one asserts that he runs with conviction and good eyes.
Sermon is widely compared to Damien Harris.
But, Thor Nystrom compares him to Marshawn Lynch.
I'm not sure what to think.
To my untrained eye, Sermon definitely runs upright. But when it comes time to bang bodies, he demonstrates good balance through contact — and yet I wouldn't describe him as an overly powerful runner. He's just a runner who has good size.
I didn't notice a big difference for him in 2020 when running in zone vs. gap schemes, and the SIS numbers back that up (per 2021 Sports Info Solutions Football Rookie Handbook).
Positive Play Rate
Zone Scheme: 52%
Gap Scheme: 50%
But, his Pro Football Focus grades for zone vs. man suggest that he could be a highly scheme-dependent runner in the NFL.
Zone Grade: 88.9 (top quartile)
Man Grade: 69.4 (bottom quartile)
His potential scheme limitations raise questions about his NFL viability.
Here's what I do know: Based on his performance at the Ohio State pro day, Sermon has excellent size-adjusted agility and explosiveness.
Official results from Ohio State pro-day:

RB Trey Sermon
HT 6003
WT 215
Hand 9 3/8
Arm 33 3/8
Wing 77 1/8
40-yd 4.60/4.57 (NFL scout ⏱️)
VJ 37.0🚀
BJ 10-5🚀
SS 4.28
3C 6.83👀
BP ❌

EDGE Jonathon Cooper
6025
253
9 5/8
32 1/8
77 1/4
4.75/4.69
33.0
9-0
4.31
6.99👀
28x👀 pic.twitter.com/qPWktZVpMz

— Jim Nagy (@JimNagy_SB) March 30, 2021
And I think you see that agility and explosiveness in his game. He has a little bit of wiggle to make would-be tacklers miss, and when he puts his foot in the ground and heads upfield, he shoots through the hole quickly.
Beautiful rep of Duo by Trey Sermon. Pay attention to how deep he presses to the line of scrimmage while reading/moving the LB (17). Once LB bites, nice fluid hips get him smoothly to the hole without wasted steps or a jump cut. pic.twitter.com/TBf5HscEcF

— J Moyer (@JMoyerFB) February 24, 2021
But he has limited long speed, which will cap his big-play ability in the NFL. Sermon is a guy who can grind out multiple chunk plays each game and wear defenses down as the game progresses. Nonetheless, he won't have many 20-yard runs as a professional. That's not everything, but that's a reason for him to go on Day 3 instead of Day 2.
Even so, Sermon intrigues me, given that he's one of the few backs in this class with lead-back size and a three-down skill set.
As a four-star recruit, Sermon received offers from many major football programs, including running back factories Alabama and Georgia. Sermon committed to Oklahoma and immediately played as the No. 2 back behind Rodney Anderson, putting up 121-744-5 rushing and 16-139-2 receiving in 14 games.
As a sophomore, Sermon was elevated to the No. 1 job following Anderson's season-ending knee injury in Week 2, but his success was peppered with frustration. Despite finishing the season with 1,128 yards and 13 touchdowns from scrimmage in 14 games, he lost 140 attempts to run-friendly quarterback Kyler Murray (including sacks, 1,001-12 rushing). Second-string running back Kennedy Brooks also earned 129 touches, which he leveraged into 1,113 yards and 12 touchdowns from scrimmage.
At the end of the season, there was nothing wrong with Sermon's stats.
Rushing: 164-947-13
Receiving: 12-181-0
But he barely outproduced the team's No. 2 back — and even though he easily led the team in carries, he wasn't one of the two 1,000-yard rushers the Sooners produced in 2018.
Even though he broke out as a sophomore, Sermon clearly saw the extent to which his upside was capped at Oklahoma.
Then, everything went sideways in Sermon's junior year. After the first five games of the season, he lost his starting role to Brooks. From then on he had to compete with Rhamondre Stevenson for the No. 2 job until a season-ending knee injury in November ended his disappointing campaign.
On the whole, Sermon was just 54-385-4 rushing and 8-71-1 receiving in nine games as a junior.
Aware that he would never be a high-volume back at Oklahoma, Sermon transferred to Ohio State as a graduate student for his final season, and he found his stride. Despite splitting work with No. 2 back Master Teague (104-514-8 rushing, 5-46-0 receiving) and losing attempts to quarterback Justin Fields (81-383-5 rushing, including sacks), Sermon was an impressive 116-870-4 rushing and 12-95-0 receiving in eight games.
His postseason run was especially incredible, even though he missed almost all of the College Football Playoff National Championship due to an in-game shoulder injury.
Big Ten Championship (vs. Northwestern): 29-331-2 rushing | 3-4-0 receiving
Sugar Bowl (vs. Clemson): 31-193-1 rushing | 4-61-0 receiving
Title Game (vs. Alabama): 1-2-0 rushing | 0-0-0 receiving
Before his injury, Sermon was enjoying one of the best postseason runs we've ever seen from a college running back. On his 60 carries in the two complete postseason games, Sermon broke an unconscionable 24 tackles (per PFF).
Moreover, for a bigger back, he's a good receiver. Well … a sufficient receiver. He doesn't drop the ball, and he's functional on screens and dump-offs. He's also an above-average pass blocker with his size, which will grant him the opportunity to earn a three-down role in the NFL.
Here's what I wrote about Sermon in my National Championship prospect preview:
"Sermon lacks notable speed, so he's not likely to impress in his pre-draft workouts, which could cause him to go in the middle rounds. But as a prospect, he likely has the floor of a committee contributor and the ceiling of a multi-year starter."
That's still the opinion I have.
NFL Prospect Comp: Mike Davis with less receiving production but more peak production and agility
---
Matthew Freedman is 1,018-828-37 (55.1%) overall betting on the NFL. You can follow him in our free app.
How would you rate this article?
This site contains commercial content. We may be compensated for the links provided on this page. The content on this page is for informational purposes only. Action Network makes no representation or warranty as to the accuracy of the information given or the outcome of any game or event.