2018 Gambling Olympics: Can a Sauced Manzinelli Reward Sharp Bettors in Beer Pong?
The Highlights
Beer Pong is one of 12 events in the inaugural Gambling Olympics.
It will be played bracket-style with matchups chosen at random.
The overwhelming individual favorite is Pete Manzinelli (+100), who has seen significant line movement in his favor since open (+800).
---
The 2018 Gambling Olympics is a two-day, 12-person contest taking place in Las Vegas on July 9-10. The buy-in is $2,500, and the winner gets $10,000.
Before, during and after the Gambling Olympics, we will provide extensive coverage via participant profiles, event breakdowns and live in-person analysis. Be sure to follow all the action in the Gambling Olympics section of the site.
Official Rules
Bracket style; matchups chosen at random.
Top two most dominant wins based on cups remaining get bye (tiebreaker for bye is time to win).
Rankings for losers based on total cups made.
Tiebreaker for losers is one-cup throw-off.
Final standings based on average finish after two days.
Individual Odds
Team Odds
Who Wins Beer Pong?
The overwhelming individual favorite is Pete Manzinelli, who has seen his odds go from +800 to +100 since open. Manz is the creator of one of the preliminary events before the Gambling Olympics, the second-annual Broathalon, and he's no stranger to hitting the booze.
Multiple analysts came to Manz's defense after he received little respect from oddsmakers initially:

Manz has arguably the most #brand incentive of any competitor to dominate an alcohol-infused event, so when Manz says he's spending every waking hour training for this event, we should believe him: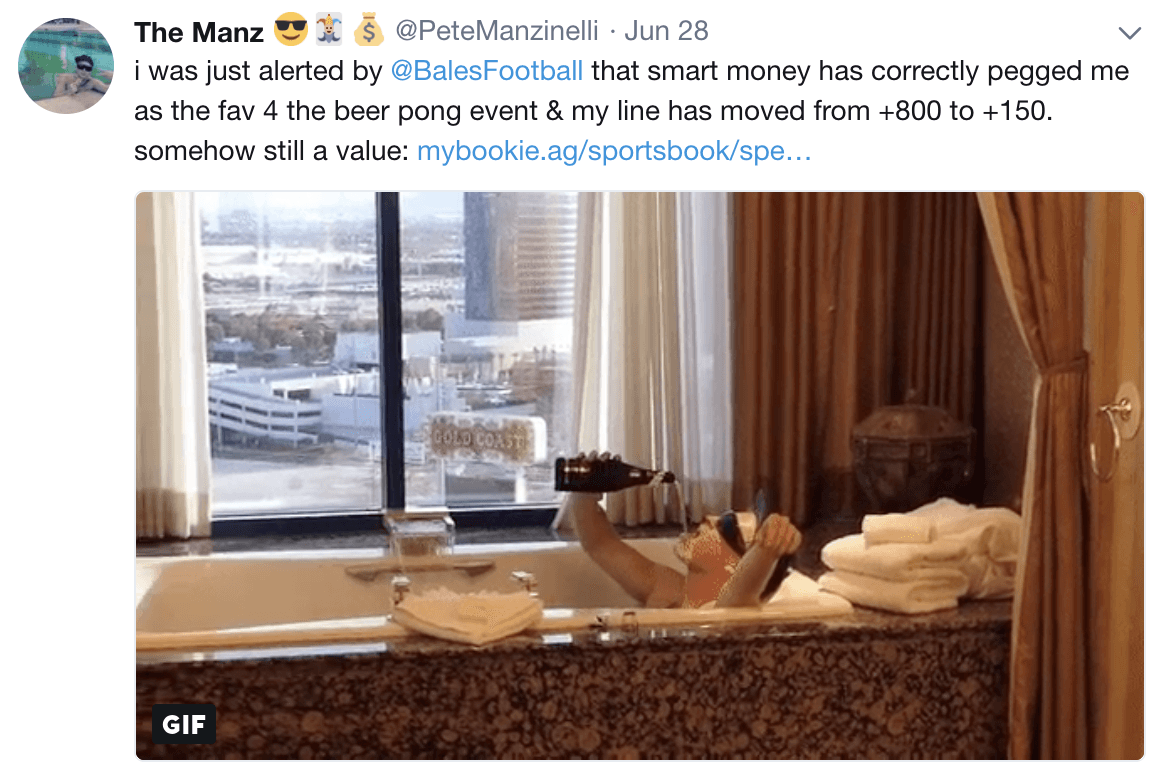 Dipping into the sauce a bit early is probably the likeliest path to a subpar finish for a heavy favorite like Manz or BlackJack (who's among the favorites in four of the skill-based events), so that's certainly a potential outcome to consider. It will be up to team captains to reel them in.
As an Arizona State alum, Lo Duca looks incredibly undervalued at +500, and he claims to know his way around a beer pong table. He also used to play a professional sport — one of the ones that entail, you know, throwing a ball accurately. Shorting that level of experience seems bad, as the former Sun Devil may have arguably the strongest chance to knock off Manz.
Levitan and Adams are the clear long shots. Not only is Levitan "not a meathead," he is adamant that this will be his worst event overall. Adams also notes Beer Pong as his weakest event, but +700 for him in literally anything hardly seems preposterous.
Where's the Value?
Preparation could be the difference in this event, so both drinking tolerance and overall athleticism seem like solid predictive measurements to go on. If there is one person outside of Manz that likely lined up red Solo cups by themselves to practice in anticipation of Gambling Olympics, it's probably Action Network regular employee Jonathan Bales. Not to mention, he pumped out 31 pull-ups while hungover the other day. Bales might just be my dark horse.
Koerner is flying under the radar, but when you dig deeper he looks like a solid dark horse as well. He claims to have won a 32-team beer pong tourney back in college (#screenshotlife?). One thing that stands out in Koerner's profile is that he notes his power ratings for each event "compared to the field," so he must think he has a significant edge here, rating his Beer Pong odds just behind DFS. Koerner is an objective evaluator (by reputation, at least).
Regardless, I'm all-in on the sharp money: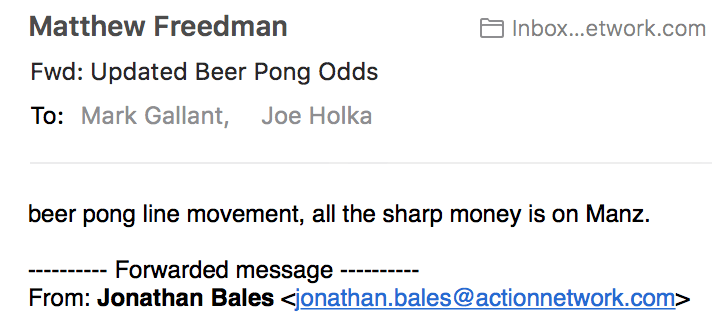 It may be a difficult task — even for Manz — to put Team Levitan onto the podium in this event, so my clear lean is Team Jennings, with both LoDuca and BlackJack leading the way.
Individual Pick: Pete Manzinelli +100
Team Pick: Team Jennings +150
How would you rate this article?