NBA Odds, Picks & Promos in Indiana: Bet the Pacers at Insane Odds vs. the 76ers!
Credit:
(Photo by Ron Hoskins/NBAE via Getty Images)
It's another huge week in the sports world, as the NBA and NHL return. Naturally, sportsbooks in Indiana are celebrating the occasion with plenty of no-brainer promos.
NBA Odds, Picks & Promos
Here are all the details.
---
PointsBet Sportsbook
Offer: Bet the Pacers at +30 (and rising!) … Boosted from +4.5
Bet now: Click here
Who's it for? New and existing users
Holy moly, PointsBet is going all out for Pacers fans!
For every 100 bets placed at PointsBet on this promo, they are raising the Pacers' line by a point. It opened at +4.5 and has already moved to +30, meaning this line is going to reach an insanely high number by Saturday night.
To bet the Pacers at bonkers odds:
Deposit at least $25 (the max bet for this promo $25)
Find the boost on the sportsbook homepage and bet on it
Important note: New users will also get access to the sign-up offer for PointsBet, which will instantly match your deposit up to $250. You can take advantage of both the Pacers promo and the $250 match at the same time.
If you're worried about getting the best line, have no fear! Your bet will be graded at whatever the closing line ends up being, which means there's no point in waiting around. Let's just say you're probably going to win the bet.
PointsBet is also offering +100 odds on every NBA spread for the remainder of the regular season, which could make line shopping a very easy task for the next few weeks.
Anyways, if you're looking for the easiest bet of your life, look no further.
Bet the Pacers +30 (And Rising!) vs. 76ers!
---
PointsBet Sportsbook
Offer: Bet $20, Win $125 if the Pacers Hit a 3-Pointer vs. 76ers
Looking to make a very easy $125? Well, look no further.
If you bet at least $20 on the Pacers' spread or moneyline vs. the 76ers, you'll win $125 if (more like when) they make at least one 3-pointer.
Here's how to bet on this no-brainer promo:
Sign up and deposit at least $20
Bet at least $20 on the Pacers spread or moneyline as your first bet
Assuming Indiana hits a 3, you'll have $125 in free bets deposited into your account. (Oh, and if your original bet wins, you'll be paid out that in cash, as usual.)
Note: We've used the Pacers as an example here, but you can literally choose any team you want between Thursday and Sunday.
Get your NBA betting back on the right foot and cash on just one 3-pointer.
Bet $20, Win $125 if the Pacers Make at Least One 3!
---
DraftKings Sportsbook
Offer: Get +500 Odds on Any Team's Moneyline Through Saturday
Bet Now: Click here
Who's it for? New and existing users
Fancy a spread favorite, but their moneyline is too juicy to bet? Well, this promotion solves that problem, as you can bet on any NBA team at +500 moneyline odds through Saturday.
All you have to do is:
Sign up for a new account and deposit at least $20 (this bet comes with a $20 max)
From DK's homepage, click the "Choose Now" button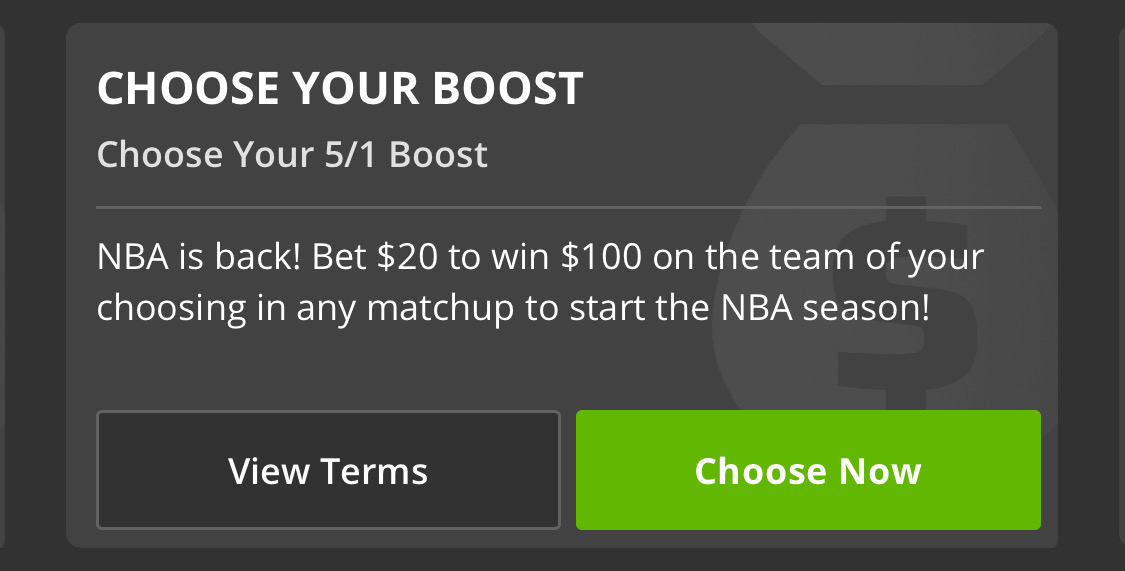 From there, you'll be taken to a landing page where you pick your game by clicking "BOOST THIS GAME." Important: Once you select a game, you can't undo it, so choose (and click) wisely.
Once you boost the game of your choosing, you'll be able to bet either side at +500 moneyline odds.
The biggest favorite at the moment for Saturday the 76ers against the Pacers (-235). Other sizable favorites include the Clippers (-200) vs. Pelicans and Lakers (-175) vs. Raptors.
Whether you want to play the numbers game and choose a big favorite or boost your favorite team regardless of their odds, you'll want to take advantage of this promo.
How would you rate this article?