Sports Betting Bonus Offers for Colorado, Pennsylvania & More: One Birdie from Dustin Johnson & You Win $100
Credit:
Maddie Meyer/Getty Images. Pictured: Dustin Johnson
Big sports weekends call for big promos, and sportsbooks have delivered with the PGA TOUR and EPL all in action.
Here are the top offers available, which we'll detail individually below:
---
PointsBet Sportsbook
Offer: Win $100 if Dustin Johnson Makes Just ONE Birdie on Sunday
Bet now: Click here
Available States: New Jersey and Indiana
Who's it for: New customers
Dustin Johnson is two back of leader Brendan Todd and ranks second in the field with 19 birdies this week.
So this PointsBet promotion — which offers $100 in free bets if DJ (or whichever golfer you choose) makes just ONE birdie on Sunday — seems pretty darn good.
Here's how to take advantage of this offer at any point on Sunday:
Step 1: Sign up through this link and deposit at least $50 into your account.
Step 2: Place your FIRST wager at PointsBet (at least $50) on any golfer to win this week's Travelers Championship. We've used DJ as an example here, but yes, you can pick ANY golfer for this promo, so long as it's your first bet.
That's it. Seriously. As long as your golfer has at least one birdie after you place your bet, you'll have $100 in free bets deposited into your PointsBet account. Those free bets only need to be put back into play once before you can withdraw them.
BetMGM Sportsbook
Offer: Bet $1, Win $50 if There's Just ONE Goal Scored in the EPL This Weekend
Bet now: Click here
Available States: Colorado, Indiana, West Virginia
Who's it for? New customers
The over/under for Sunday's Southampton vs. Watford game is 2.5, so multiple goals are expected. And as long as there's just ONE, you can turn $1 into $50 in free bets.
Here's how you can take advantage:
Deposit at least $10 into your account
Make at least a $1 moneyline bet on either Southhampton or Watford as your first wager
EPL games end in a 0-0 tie about 6% of the time, so historically speaking, you have about a 94% chance of scoring a free fifty-burger. Not bad.
DraftKings Sportsbook
Offer: Get one 30% profit boost on two Travelers Championship bets
Bet now: Click here
Available States: Colorado, Indiana, Iowa, New Jersey, Pennsylvania, West Virginia
Who's it for? New and existing users
Taking advantage of this promo is pretty simple. If you haven't signed up at DraftKings yet, click this link to sign up and deposit.
After that, click the green 'Opt-In' button for the promo, which you can find on the Sportsbook home page.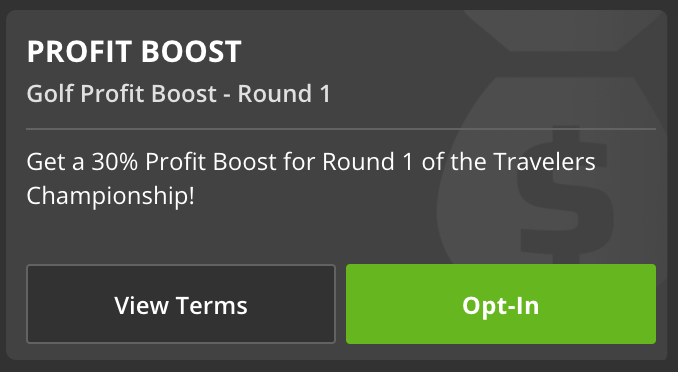 Each morning at 8 a.m. ET, the 30% profit boost for that day will be posted. You'll need to opt-in each time and select the profit boost in your odds slip when making the bet.
Here's a couple of examples of how you could use your boosts:
Bet $40 on Dustin Johnson (+2000) to win
Normal payout: $800
Boosted payout: $1,040 (800 x 1.3)
Bet $50 (the max bet) on Rory McIlroy (-110) over Phil Mickelson
Normal payout: $45.45
Boosted payout: $59.09
These boosts handsomely reward those who hit on longshots, but note that the max additional winnings you can earn on a single profit boost is $250, which you could get with an original payday of $833.33. You can still make bets that would pay out higher than this, but you'll cap out at $250 extra from the profit boost.
If your boss offered you a 30% raise, would you take it? This is sort of the betting equivalent, so what are you waiting for?!
How would you rate this article?