Tiger Woods Odds Boosts & Promos in Colorado: Bet $1, Win $100 if Tiger Finishes Top-50 at the Memorial Tournament
Credit:
Sean M. Haffey/Getty Images. Pictured: Tiger Woods
Tiger's back!
After a five month hiatus from tournament play, Tiger Woods is returning this week for the Memorial. Bettors and sportsbooks in Colorado are excited, too.
Tiger Woods Odds Boosts & Promotions
Somebody call Joe Exotic!
---
BetMGM Sportsbook
Offer: Bet $1, Win $100 if Tiger Finishes in the Top 50
This is as simple as it comes: Bet a dollar (a literal dollar!) and win one hundred dollars ($100) if Tiger Woods finishes in the top 50 at the Memorial Tournament.
Interested? Here's how to claim this offer before the end of the day on Friday:
Deposit at least $10
Bet $1 on Tiger to win the Memorial
If Tiger ends up finishing in the top 50 on Sunday, you'll have $100 in free bets deposited into your account.
Now, just how likely is it that Woods finishes top-50? Well, it's not a lock, but it's more than likely.
At BetMGM, Woods is listed at +125 to finish top-20 and -304 to make the cut. DraftKings has him at -200 to finish top-40, so perhaps we could peg him at -250 for a top-50 finish.
Uhh, I don't know about you, but +10000 odds instead of -250 seems like a pretty good deal to me, especially considering the $100 you'd walk away with if Woods can stave off the rust.
Bet $1, Win $100 for Tiger Woods to Finish Top-50
---
FanDuel Sportsbook
Offer: Bet Tiger Woods to Make the Cut at +100 (Boosted from -450)
Bet Now: Click here
Who's it for? New and existing users
When Tiger's playing a tournament, the question is typically whether or not he can win — not whether or not he can make the cut. With that said, FanDuel is letting bettors put down $50 on one heck of an odds boost.
All you have to do is:
Make a deposit (the max bet is $50, so keep that in mind)
Select the bet seen below from the "Boosts" tab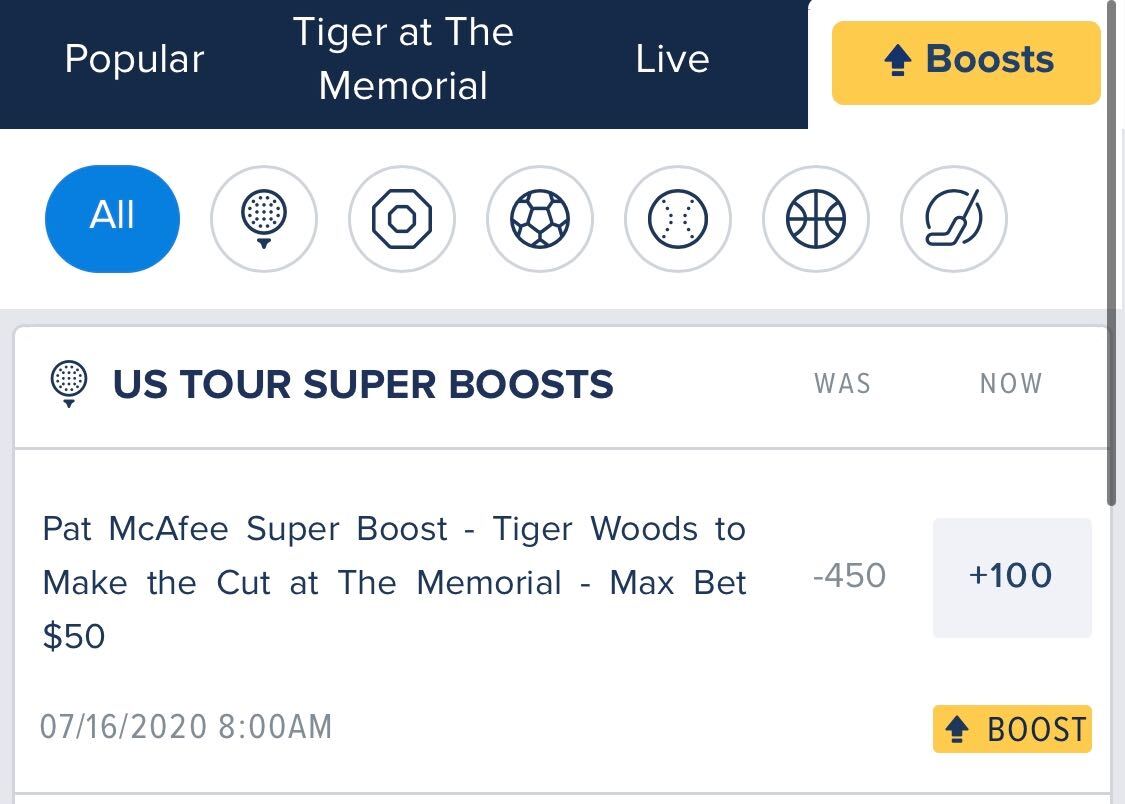 Tiger could be rusty, but he's still expected to do well compared to the field. The -450 odds suggest an 81.8% implied probability he makes the cut, but the boost makes it a 50/50 proposition, giving bettors more than a 30% edge.
Given the original odds, you'd need to bet a whopping $225.24 to win $50. Meanwhile, if you were to bet $50, you'd only make $11.10.
Even if you're not a huge Tiger fan, this bet is a wise one to take advantage of. It's simple math: 30% edge + $50 max = smart bet.
Get +100 Odds on Tiger Woods to Make the Cut (Boosted from -450)