Sobel: Fans Will Bet on Just About Anything at Golf's Biggest Party
Credit:
Jason Sobel. Pictured: Chilo Mendoza
Spectators on the 16th hole at TPC Scottsdale are known for being rowdy, but in between shots and cheers, there are plenty of bets being made.
Most of the wagering is on caddies because, as Chilo Mendoza explains, "caddies are so unpredictable."
SCOTTSDALE, Ariz. — From his perch down the left side of the 16th hole, about 50 yards from the tee box and surrounded by a rowdy group of Waste Management Phoenix Open regulars who are so prepared that they arrive armed with a cheat sheet for every player, Chilo Mendoza clutches what is not his first Coors Light of the morning and briefly interrupts a reporter's question with a curious bellow toward the tee.
"COME ON, YELLOW!"
No, that's not the name of a golfer in this week's field, nor is he trying to attract the attention of a fellow fan.
On the spreadsheet that Mendoza runs with friends – sometimes up to two dozen of them at a time – his bet is now on the player whose caddie is wearing the yellow bib, which has been the hot color so far this day.
Sure, Mendoza wants that player to hit a solid shot. There are bets for closest to the pin in each group and a bonus for all birdies.
More importantly, though, he's rooting for the caddie.
In each group, Mendoza and his crew have wagers on at least six different things:
First caddie to walk through the entrance
First to place his staff bag on the tee box
First to reach the desert on his way to the green
First to set foot on the green
First to pull the flag
First to exit the hole toward the 17th tee.
"Most of this is caddie-based and not player-based," he explains, "because caddies are so unpredictable in what they do. The goal was to be more involved on this hole, separate from the actual golf action that is going on."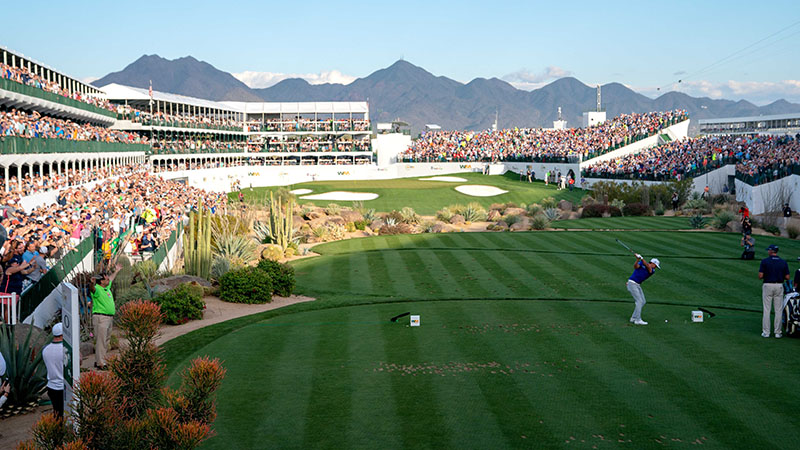 Even though parties and spreadsheets are strange bedfellows, golf and gambling is an easy combination, one that these fans first connected nearly 15 years ago.
It wasn't enough for Mendoza & Co. to catcall the players and spend the day imbibing. They needed a little action, too.
The director of operations for a local TopGolf, Mendoza still longs for the good ol' days that he considers the peak era of 16th hole wagering.
With bets on which caddie would make it to the green first, the cheering became louder and louder, while the guys carrying the bags became more aware of the scene.
By 2010, the caddies started getting in on the action, jogging or even sprinting their way to the green, sometimes leaving the bags behind for their players to carry themselves.
The caddie races became a spectacle inside the spectacle, like setting loose a few extra lions in the Colisseum — until, they weren't anymore.
In 2013, the PGA Tour banned these races, as executive vice president Andy Pazder meekly explained, "It was a situation where we developed a little concern about caddies' safety. Running 150 yards puts caddies at risk for injury."
Without these races, the betting in the cheap seats lost some luster, but the more muted version still continues to this day.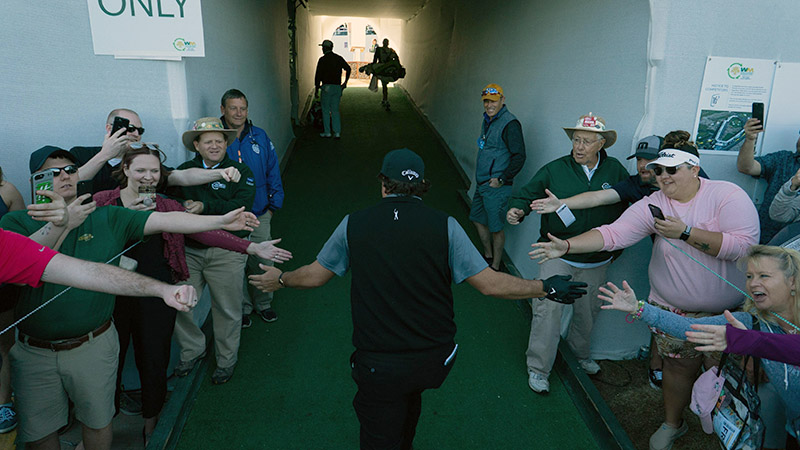 As he keeps a keen eye on the proceedings below, Mendoza points skyward and reveals he actually has a pass for the luxury boxes up above, complete with free food, drinks and cover from the sun. Even so, he refuses to use it.
"There might be free food and free drinks up there," he says, "but all the fun is down here."
Even when Mendoza isn't winning, as is the case on this day, he's still having fun at golf's biggest party.
"There are some people out here losing some serious money," he says. "I've lost a lot of money today."
He takes a swig of the Coors Light and shakes his head for a few seconds, then chuckles and points to a nearby fan.
"I'm not doing very well right now," he laments. "But at least my buddy is doing even worse."
How would you rate this article?