Sobel: 2018 PGA Championship Confidence Meter Entering the Weekend
Credit:
Jeff Curry-USA TODAY Sports. Pictured: Gary Woodland
The second round of the PGA Championship was suspended due to poor weather.
While some golfers haven't yet finished their second rounds, the tournament's contenders are starting to separate from the pretenders.
Jason Sobel breaks down the top 15 on the current leaderboard and assesses their chances of winning the event.
ST. LOUIS – As I write this, the heavens have opened up on Bellerive, and the course is quickly going from soggy to waterlogged.
What does this mean for the leaders? Well, those already done with the second round are enjoying the comforts of not having to worry about it, while those who are still playing are enjoying the comforts of knowing they'll have soft, scorable conditions when they finally resume play.
Let's take a look at the top 15 on the current board, with my confidence level in whether each player can — not will — win this weekend.
Gary Woodland -10
Odds: (+725)
I've always thought Woodland owns a ton of star potential. He doesn't just mash it off the tee; he carries himself with the quiet confidence of a guy who understands he's better than most of his peers. And yet, here are the facts: He's 34, is competing in his 28th career major championship and has never finished in the top 10 in any of 'em, let alone been in real contention. It's tough to believe he can hold on to this hot start, stiff-arm a group of studs and win this weekend.
Confidence level: 4.5
Kevin Kisner -9
Odds: (+1200)
The University of Georgia product is a literal bulldog, but that also serves as a perfect descriptor of his on-course demeanor. He reminds me of a modern-day Chris DiMarco, who never won a major but tended to play his best golf when it meant the most. Kisner has already gotten a taste of major contention, holding the 54-hole lead in this event last year before finishing T-7 and claiming co-runner-up honors at The Open last month.
Confidence level: 6.2
Brooks Koepka -8
Odds: (+500)
This is what it looks like when Koepka isn't bored. As I've written a few times this week, he doesn't always seem too motivated in non-major events, but the big ones get him a little excited. The two-time defending U.S. Open champion has twice as many major titles as non-major PGA Tour wins, and he's finished in the top 10 in seven of his last 11 major starts. The only issue here could be chasing a second-round 63, but don't expect him to seem too bothered by that.
---
>> Download The Action Network App to get real-time PGA Championship odds and track your bets.
---
Confidence level: 9.1
Dustin Johnson -7
Odds: (+400)
There's a narrative floating around social media that states DJ "can't win the big one," because, I guess … he's only captured one major in convincing fashion at Oakmont? I get that his major results don't quite measure up to his eye-popping stats, but you'd better believe that the guy who ranks first in a ton of statistical categories on the PGA Tour this year is more than capable of once again lapping the field at another major.
Confidence level: 9.2
Charl Schwartzel -7
Odds: (+3500)
If you don't recall Schwartzel's Masters win from 2011, just think about last month's Open Championship, placing him in the Francesco Molinari role. So, yes, Schwartzel has proven that he can win a major championship, but that doesn't mean we have to like him to pick off another. Like Koepka, he's chasing a second-round 63; unlike Koepka, he doesn't necessarily own the firepower to continue making birdies at will.
Confidence level: 4.3
Thomas Pieters -7
Odds: (+2500)
Speaking of firepower, as one player once told me about Pieters, "The dude brings a lot of offense." It hasn't been the best of years for the Belgian Bomber, but rounds of 67-66 have him in contention, and late-Friday rains should allow big hitters like him to play some aggressive weekend golf. If you're seeking a guy near the top who still owns some betting value, Pieters isn't a bad choice.
Confidence level: 6.0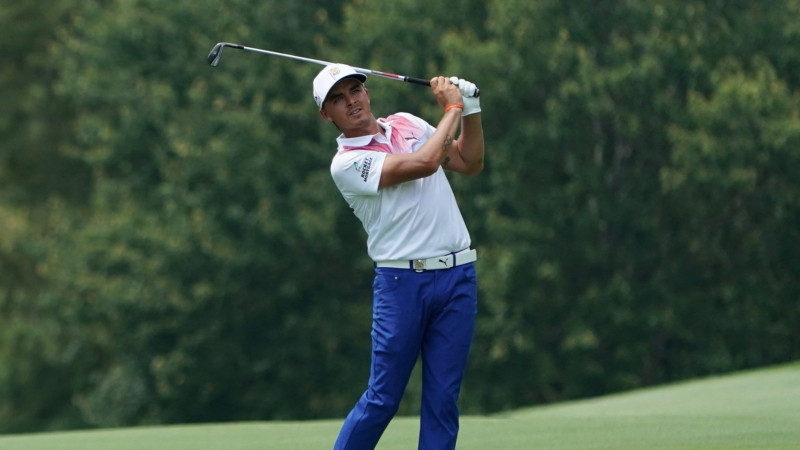 Kyle Terada-USA TODAY Sports, Photo: Rickie Fowler
Rickie Fowler -7
Odds: (+475)
At 2-under through his first 10 holes before Friday's stoppage of play, Fowler picked up where he left off from an opening-round 65. Nobody likes a weather delay, but it could prove to be beneficial for Fowler, who made birdie on the 10th hole and can play the final eight in softer conditions. If he takes advantage, watch out. As I wrote Thursday, he's ready to win his first major soon.
Confidence level: 7.7
Brandon Stone -6
Odds: (+8000)
The recent Scottish Open champion has been riding something of a heater over the past month. Not many expected the South African to carry his best stuff to the U.S., but it's difficult to believe he can keep it going over the weekend – especially against such a worthy group of contenders.
Confidence level: 1.9
Adam Scott -5
Odds: (+6000)
Always nice to have a Scotty sighting, especially at a major championship, where he's been largely invisible lately. I'm interested to see whether his weekend play reverts to that opening 70 or carries the momentum of his second-round 65. Considering his recent play, it would be a surprise to see him holding the Wanamaker Trophy come Sunday evening.
Confidence level: 4.5
Francesco Molinari -5
Odds: (+3000)
Walter Hagen, Nick Price, Tiger Woods (twice), Padraig Harrington and Rory McIlroy. That's the entire list of players who have won The Open and the PGA Championship in the same year. Anyone who doubts Molinari can do it must've somehow missed the final round from Carnoustie last month.
Confidence level: 7.9
Patrick Cantlay -5
Odds: (+4500)
The good news: Following years of injuries, Cantlay has emerged as one of the game's brightest up-and-coming stars, a guy capable of contending at a major championship. The bad news: He owns only one previous PGA Tour victory – and that came in Las Vegas against an admittedly weak field.
Confidence level: 4.3
Jon Rahm -5
Odds: (+2200)
Months ago, before his fourth-place finish at the Masters or his missed cuts at the last two majors, I'd picked this tournament as a potential site of Rahm's ultimate coming-out party. His game is in good shape and, more importantly, his emotional maturity is much improved. I think he stays in the serious hunt all weekend.
Confidence level: 7.6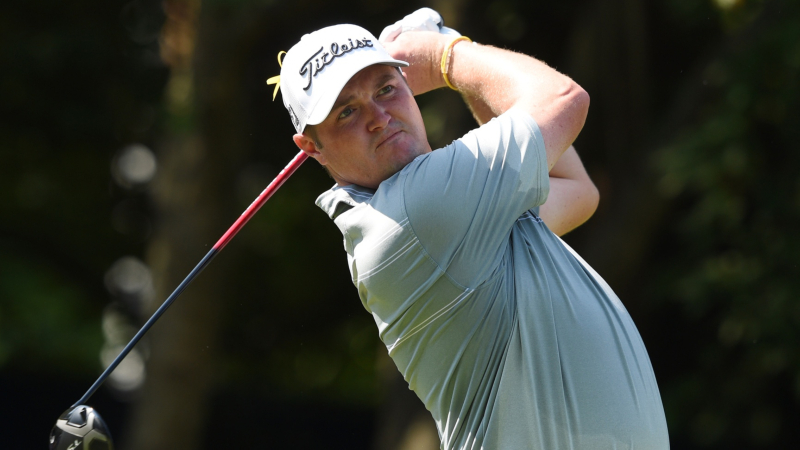 John David Mercer-USA TODAY Sports, Pictured: Jason Kokrak
Jason Kokrak -5
Odds: (+16000)
One of the longest hitters on the PGA Tour, he'll be helped by softer conditions this weekend. It wouldn't be a shock to see Kokrak finally claim his first victory during the FedEx playoffs or the fall series in the new schedule, but asking him to win this one might be a bit much.
Confidence level: 1.8
Billy Horschel -5
Odds: (+5500)
At 3-under through his first 10 holes in the second round, Horschel owns an advantage over all but Fowler above him on the board in that he's still got plenty of holes left to catch them before the midway point. He'd be a nice top-10 prop if you can still find decent value, but I'm not sure he's a serious contender.
Confidence level: 4.9
Pat Perez -5
Odds: (+6500)
Like Horschel, Perez is still playing his second round, currently 2-under at the turn. Trust me: There is nothing I'd like more than to witness to a Pat Perez major championship victory, since the post-round press conference would be the most legendary one in the game's history. Alas, I'm not sure he can hang with some of the big boys in this one.
Confidence level: 3.2