Sobel's AT&T Byron Nelson Preview: Is Now the Time to Buy Back on Jordan Spieth?
Credit:
Michael Madrid, USA Today Sports. Pictured: Jordan Spieth
Brooks Koepka is the betting favorite to win this weekend's AT&T Byron Nelson in Dallas, Texas.
Trinity Forest is a links-style golf course, so Jason Sobel believes European players may have an edge.
Congratulations to Max Homa and all Max Homa backers after his Wells Fargo Championship victory this past weekend.
I say that in jest — well, the second part of it — because if you were all-in on the Homa train, then you're clearly seeing such matters from an enlightened perspective.
I'm not talking about rooting for the guy, who's a #GolfTwitter fave and enjoys making the rounds on the podcast circuit; I'm talking about putting your hard-earned cash on a player who was ranked 417th entering last week, without any surefire warning signals of turning it around.
After his win, Homa spoke about all the things first-time winners always speak about. He spoke about the need to believe in himself more, about the butterfly effect of some of his past performances, about the inner fortitude which kept him from ever giving up on a chance to pursue his dreams, even when it seemed most dire.
Sometimes golfers just need more opportunities in order to fulfill those dreams. The more "reps" as Tiger Woods calls 'em, the more chances to hit the proverbial jackpot.
All of which serves as a nice segue into this week's AT&T Byron Nelson, where quarterback-turned-broadcaster Tony Romo will make his third career PGA Tour start.
You might think it's just a coy PR move to let Romo play in this week's event – and you might not be wrong. This is business. Title sponsors pay a lot of money to put their names on tournaments and they should have the right to make a few decisions of their own. If an athlete or celebrity happens to bring more non-golf fans to an event and gets them engaged with what's taking place, then it's hard to argue against this decision.
I guarantee you'll see plenty of spectators walking around in Cowboys jersey this week. For a game which so often preaches the need to grow from outside, this is a way to bring in potential new fans at a very low-risk price.
The truth is, I'm surprised it doesn't happen more often.
Instead of tournaments giving that last exemption to a Web.com Tour grad who's only made seven starts this season, I'm surprised that spot doesn't more often go to the scratch-handicap actor who lives nearby or the local athlete who thinks he can hang with the world's best players.
They're not "stealing" anything. Other professional golfers aren't more "deserving."
On the heels of Homa's fairytale story, we can understand that players make their own luck, that opportunities will come and chances to live out dreams will happen.
They can easily coexist with the rare exemption to someone whose main pursuit isn't professional golf. This doesn't have to be a one-or-the-other situation.
Let's move on to picks for this week's festivities at Trinity Forest, which will serve as the host venue for the second consecutive year. Without much course history to work with, don't be surprised if this winds up being yet another tourney where the improbable becomes probable on Sunday evening.
Favorites
Jordan Spieth (+1800)
Betting on Spieth right now is like going swimming in cold ocean water. Some people like to jump right in and get it over with; I prefer to dip a toe and stand there for a while deciding if I want to go any further.
The three-time major champion had his best finish of the year in his most recent start at the Masters, but still doesn't have a top-20. For those inclined to dip a toe, the good news is that he's a member at Trinity Forest, knows this golf course as well as anyone in the field and should be extremely motivated to turn his game around before the year's final three majors.
Marc Leishman (+3300)
There's no toe-dipping here – I'm going full belly-flop from the high board. (And yeah, I get there are no diving boards into the ocean, but just go with it. Also: Let's put some diving boards in the ocean. That would be rad.)
Last year's runner-up started the year hot, but has cooled off ever since. I like Leishman anywhere that it's windy and you can play the ball on the ground. This course checks both of those boxes.
Rafa Cabrera-Bello (+4000)
Some of RCB's best PGA Tour performances – T-3 at the Arnold Palmer this year; T-7 at the Dell Technologies and T-3 in Mexico last year – are less about similar course characteristics and more about his game trending in the right direction. On each of those three prior occasions, he had three or four good-but-not-great results entering that week. This time, he comes in on the heels of 16th-36th-24th-30th in his last four. That's enough for me to get on-board.
Mid-Tier
Rory Sabbatini (+5000)
You can admit if this one snuck up on you. The Slovakian Sensation – yes, he's from South Africa, but now plays under the flag of Slovakia after marrying a woman from there – hasn't finished outside the top-40 anywhere in the past three months.
His scoring average gets progressively worse each round, from ninth in the opener to 131st on Sundays, so I don't know that he's ready to win this week, but could be a nice DFS lineup filler – or another bet that I have listed below in this column.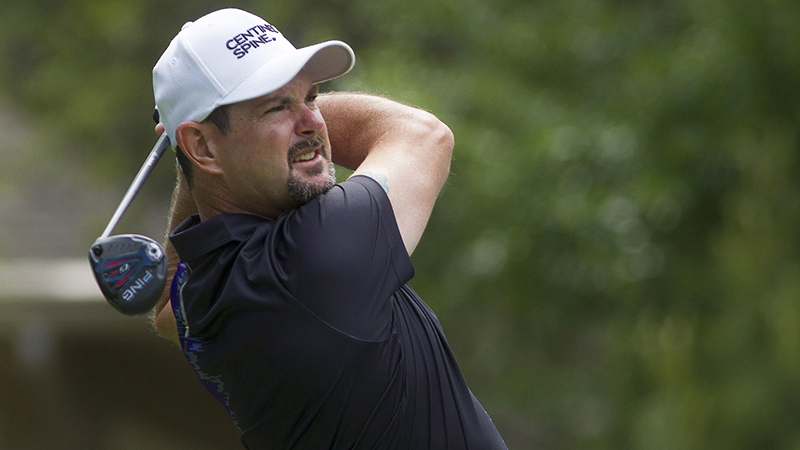 Abraham Ancer (+6600)
One of the better drivers of the golf ball, I convinced myself early in the year that Ancer was going to break through with his first PGA Tour win sometime this summer. I'm still looking to play him more at one of the new events in Detroit or Minneapolis, but this could be a solid week for him, as well.
Alex Noren (+6600)
A year ago, you would've jumped at this price in a non-major for Noren, who was firmly ranked inside the world's top-15. He's now drifted to 32nd and clearly hasn't been playing his best golf, but a links-style course could be just what he needs to get right. I love the value in this number.
K.H. Lee (+8000)
Finishes of T-14 at the Valero and T-7 at the Honda suggest that the short-hitting Lee is money when the wind starts blowing. The tougher the conditions are this week, the more we should like him as an outside shot to make a serious under-the-radar run at this title.
Longshots
Matt Jones (+9000)
As you might have noticed already, I'm bypassing most of the Americans this week in favor of global players with more links experience. It should come as no surprise that there were three Aussies in the top-13 last year.
One of them was Jones, who not only owns a little course mojo, but has quietly been playing some solid golf lately. Like Sabbatini, he's put together a nice string of top-40 results over the last few months, which should translate to another good week here.
Brian Harman (+10000)
It wasn't long ago that we were earmarking the bulldog-ish Harman for Ryder and Presidents Cup teams. He hasn't played his best golf this year, but there are signs he'll turn it around soon; a second-round 75 was the only round that kept him from serious contending at Quail last week.
Getting a player of this caliber at 100-1 on a course which should suit him (he didn't play here last year) screams value.
Dylan Frittelli (+10000)
I'm a bit surprised that this South African via the University of Texas hasn't quite made his mark on the PGA Tour yet, but his recent results suggest it might only be a matter of time.
This is a course which should suit his game and with two European Tour wins to his credit already, I don't think he'll falter if/when he gets into serious contention in a final round.
Beau Hossler (+12500)
It's a good week for dark-horses with value and Hossler is another Trinity member who should enjoy some home cooking.
His recent form hasn't been great – or even good – but he's shown a propensity in the past to play well out of nowhere. Each of his runner-up finishes last year occurred directly after two consecutive results outside the top-40.
Jim Knous (+20000)
Shot in the dark on Jimmy Hard K here, but with two top-25 finishes in his last three starts, he's shown some form. If you need a low-priced DFS option, you can do a lot worse this week than Knous.
My Favorite Bet
Rory Sabbatini: First-Round Leader (+5000)
I hate FRL bets. Hate 'em. The odds are usually very similar to a player's outright number, but there are so many more guys who are in the mix for a single-round lead than a tournament victory that it's truly a sucker bet.
And yes, I'm a sucker for playing it.
Look, we're going to bet on everything anyway, so we might as well go into this one armed with a little intel.
Prior to last week's opening 76, Sabbo had posted scores of 67-69-69-70-68-67-71-69-72-68-68-69-70-67 on Thursdays this season. And that doesn't even include the best-ball 60 alongside Brian Gay at the Zurich Classic which cashed that week's FRL bet.
Since I offered a very tame recommendation of Rory McIlroy for a top-10 last week – which just barely cashed when he limped to a final-round 73 – I'm going with a much more aggressive play this week.
It's a sucker bet. But at least it's an educated one.
How would you rate this article?