2019 FedEx Cup Playoffs: 5 Takeaways After Patrick Reed's Northern Trust Victory
Credit:
Mark Konezny, USA Today Sports. Pictured: Patrick Reed
JERSEY CITY, N.J. – In a week plagued with more controversy during a season that's been overflowing with it, one of the game's more controversial players simply went about his business and won the golf tournament.
Patrick Reed is your Northern Trust champion, which leads to these five takeaways from the weekend, starting with the key to his latest victory.
1. Reed puts the pedal to the metal
It was 16 long months ago when Reed last won a golf tournament, some little event they hold in Augusta each year.
During that time, he played some lousy golf and played some solid golf, most of the latter coming recently, as he owned plenty of momentum coming into this week.
One of the problems for first-time major champions is that they often take a foot off the gas pedal in the aftermath, which is completely understandable. Take some time to enjoy the victory, wallow in the spoils.
After Sunday's victory, I asked Reed whether this was the case for him, even though he doesn't seem like a foot-off-the-gas-pedal kind of guy.
"I felt like I almost did the opposite," he explained. "I pressed harder and worked harder and tried harder and therefore, it made me physically and mentally drained. … I'll never forget a great friend of mine told me that, hey, this is just the beginning. When I won Augusta, use this as a steppingstone. Use it as a steppingstone to continue, continue to play better, continue to grow. I almost went overboard on that and I grinded too hard. I played too much. I wore myself out."
Earlier this year, between the PGA Championship and U.S. Open, Reed was so burned out that he took three weeks off, which included not even touching a club for 10 days.
For him, that's not exactly normal behavior.
The last time he'd done that? "1990, when I was born," he joked. "Honestly, I mean, I can't remember the last time."
That break obviously helped him, though. As it turns out, he needed to take his foot off the gas pedal for a little while in order to get back into the winner's circle.
2. Tiger's promise might have to be kept
I didn't remember this until a Twitter follower reminded me on Sunday, but this was an actual tweet from Tiger Woods to Reed after last year's Masters:

In the moments after that win, it felt like a joke-type of message. Of course the Masters champion would be on the Presidents Cup team.
Well, 16 months later and Reed entered this week at 17th on the points list, well outside the top eight automatic qualifiers for the team.
Then there's this: After last year's Ryder Cup, Reed complained that he hadn't been paired with Jordan Spieth, instead having to play alongside … none other than Tiger Woods.
I've never heard that Woods held any grudge for being slighted like that, but if he does – and if some of the other U.S. players still have something against Reed – this could be a very interesting decision.
Earlier this past week, Tiger hinted that the playoff events would go a long way in helping determine his captain's picks. With Reed now at 12th on that list, he's an obvious candidate. If he doesn't make the team, we'll know exactly what the others felt about his public complaints last year.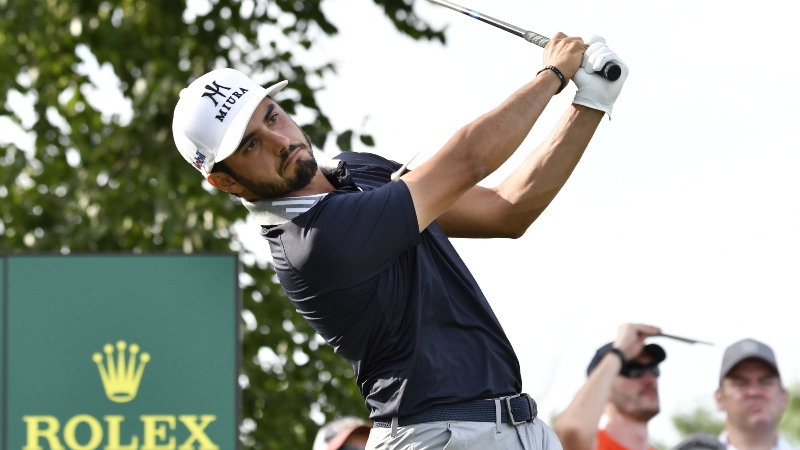 3. Ancer playing a mean game of dominoes
Golf's domino effect is wild. One little putt can get a player into another event down the road, which in turn can lead to so many bigger and better accomplishments.
Just this week, Max Homa tweeted a screenshot of his scorecard from last year's Korn Ferry finale, when he birdied the final four holes to earn PGA Tour status – and now he's a champion in the big leagues.
One of the most noteworthy ways for players to receive this bump is advancing into the Tour Championship, a feat which comes with its own set of special perks.
Not that he was aware at the time, but Abraham Ancer was solo second while playing the final hole Sunday, projected to move to eighth in the FedEx Cup standings and clinch a spot at East Lake. After rolling his birdie attempt 7 feet past the hole – and granted, he knew he likely needed birdie at that point to force a playoff – he then was faced with a comebacker to retain that status on the list.
"I was like, man, that was kind of dumb," he later said with a smile.
He was smiling because he did instead make the par putt, not only cementing a place in the Tour Championship field, but as a residual effect, also getting into the Masters for the first time. (He'd already solidified a roster spot on this year's International team for the Presidents Cup.)
"I'm extremely happy with all those boxes that I checked off," he said. "I can't wait for that, playing my first Masters."
If he plays well at the Masters, if that leads to other major contentions down the road, if the experience someday helps him garner a major championship, he can look back to that 7-footer for par on Sunday afternoon as the start to the domino effect.
4. Rahm's ceiling has one major issue
If I had to pick one player with the highest ceiling over the next decade, I'm going with Jon Rahm.
Sure, it's obviously debatable, but consider the other options.
Brooks Koepka? With four major wins already, it's tough to expect him to continue picking 'em off. Rory McIlroy? He's fresh off five prime years in which he didn't claim a major. Jordan Spieth? We've already witnessed the severe ups and downs. Justin Thomas? He's a close second for me. Collin Morikawa? Matthew Wolff? Viktor Hovland? They're all studs, but we can't even separate 'em yet, let alone pick one with the highest ceiling.
And so, sort of by process of elimination, my current pick would be Rahm. But there are still issues he needs to fix.
I'm on record as saying I'm fine with Rahm showing emotion on the golf course. My thoughts on that have always been: Be who you are. If you're a quiet, low-key type, don't try to fist-pump your way around the course, just to influence fans. If you're a fiery dude, don't bottle up those feelings.
The issue for Rahm isn't his emotions, but his performance when things start going sideways. On Sunday, after back-to-back bogeys on 14 and 15, you could tell by his body language that he wasn't focused on his game and wasn't focused on winning.
The whole point of releasing those emotions is so they're out of your system and you can move on. Rahm has the first part down, but he's still struggling with the second part of it – and until he figures it out, that might be the only thing holding him back from reaching that ceiling.
5. Bryson bites back on slow play
I've already written plenty about the slow play issues over the past few days, from Bryson DeChambeau's insistence that he's not part of the problem to my own truths and myths about the problem.
As the defending champion at the Northern Trust, Bryson quickly became the public whipping boy when two videos of irrationally slow play went viral. He didn't do himself any favors on Saturday, when he went on a lengthy diatribe in his post-round interview session and essentially said he felt people were unfairly pointing fingers at him.
I'm not necessarily going to stick up for DeChambeau in the aftermath, but since public sentiment piled on him so quickly, I feel the need to at least point out a few parts of his post-round session from Sunday, during which he made plenty of smart points about the issue and took more ownership than he had previously.
On his pre-round conversation with slow-play critic Brooks Koepka: "It was actually fantastic. I appreciate what Brooks did. I have high respect for him because he did that. … I think we got to start internally so we don't have these issues come out in public and it creates a bad image for the PGA Tour."
On whether the PGA Tour should enforce its rule about playing in a timely manner: "I agree with penalizing. That should be what happens out on Tour. I am not opposed to it one bit, because if it is my issue and I'm taking too long a time, absolutely penalize me. I've got no issue with that."
On why he asked his manager to time his pre-shot routine for every stroke during the final round: "We wanted to have proof. I said, 'Hey, let's see it today.' We want to have some proof so we can show some people, and he has the time numbers. Unfortunately, the PGA Tour doesn't keep all those. Not yet."
It was also announced Sunday – strangely enough, right in the middle of the final round of a playoff event, that the PGA Tour would explore options to start combating slow play. That's hardly a guarantee, but it's at least a step in the right direction.
How would you rate this article?