2019 Masters Power Ratings: Underrated, Overrated Golfers in Betting, DFS
Credit:
Photo credit: Orlando Ramirez-USA TODAY Sports. Pictured: Ian Poulter
The Action Network golf team released their first-ever power ratings for this year's 2019 Masters.
Using those power ratings, I've spotted some golfers we're lower and higher on than the betting public.
We've never had power ratings for golf before, but when you have Sean Koerner on your team, you build power ratings for everything. Coming soon: Professional darts power rating. The market isn't ready.
Anyway, we released our first ever power ratings for the 2019 Masters yesterday, and we obviously think they're pretty good.
Several of our golf experts contributed, so we were able to make consensus rankings based on the group's collective thoughts. Power in numbers.Using those power ratings, I looked at each golfer's rank in the betting market for to-win odds, top-10 odds and top-20 odds.
From there, we can eyeball where they rank in those to our power ratings and identify some golfers we're higher or lower on than the betting public.
Underrated, Overrated Golfers for the 2019 Masters
Golfers We're Higher On
Two that stand out immediately are Ian Poulter and Gary Woodland, who we have ranked 28.3 and 26.5, respectively. They're both in the 30-range rank in terms of to-win, top-10 and top-20 odds.
The biggest reason for Poulter is that he's simply been on fire of late. He hasn't missed a cut since last September, and during that span he's been inside the top 25 in eight of his 11 tournaments.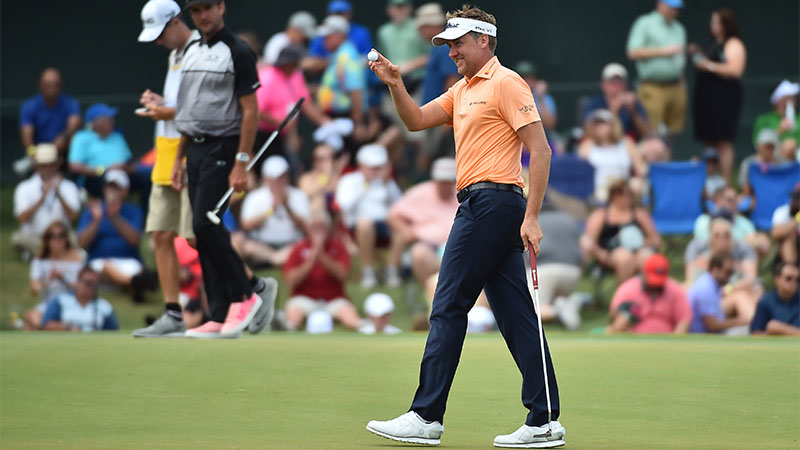 In four of those, he's been inside the top six. Further, with his ball-striking and putting ability, he certainly has the game to hang around for a top 20 this weekend.
Woodland is more of a mixed bag, but I would expect our crew is ranking him higher because of his talent and upside.
He's a boom-or-bust guy: He's missed the cut in each of his last three trips to Augusta, but he's also had some really impressive finishes in good fields this year. His putting has been hot lately, and that's historically been his weakness. If that's on, he's very undervalued.
Other guys who stand out are Keith Mitchell and Emiliano Grillo, as well as a trio of former Masters champs in Patrick Reed, Adam Scott and Bubba Watson. Augusta is such a unique course that fit and history could be more important here than usual.
If so, guys who have got it done in the past — and, in Bubba's case, a guy who is uniquely fitted for Augusta with his lefty fade — could be undervalued.
Golfers We're Lower On
The three golfers with the biggest discrepancies between our power ratings and their rankings in the betting market are Charley Hoffman, Billy Horschel  and Si Woo Kim (sorry, Si Woo fanatic and fellow editor Michael Leboff).
Hoff is one of the more interesting guys in the field. He's fared pretty well at Augusta historically, and if you looked at his most recent tournament, you'd think he was hot coming in: He finished second at last week's Texas Open.
The other results over the last six months have been egregious, however. He missed seven of eight cuts before his Valspar trip, and his metrics are predictably uninspiring as a result.
Horschel, meanwhile, is coming off a terrible outing at the Texas Open, shooting a Friday 77 to miss the cut. And Si Woo, while talented, doesn't seem to be a great fit for Augusta: He struggles to hit greens and has a low ball flight. That's almost an automatic disqualifier at Augusta.
There are plenty more golfers we're higher or lower on than the public, so peruse the table at your own leisure; good luck this week!
How would you rate this article?