Sobel's Memorial Tournament Betting Preview: Finding Value in a Star-Studded Field
Credit:
Ray Carlin, USA Today Sports. Pictured: Rickie Fowler
Rory McIlroy is the favorite for the 2019 Memorial Tournament at Muirfield Village in Dublin, Ohio.
The Memorial features a star-studded field, but favorites haven't fared too well in this tournament recently.
Jason Sobel previews this weekend's PGA Tour event and discusses who he thinks can contend.
Three weeks ago, it was Marc Leishman. Last week, Louis Oosthuizen.
For those who enjoy a sweat that starts early every Thursday morning, no other words need to be written. For the rest of you, you're clearly missing out.
In each of the last two Texas-based tourneys, Leishman and Oosthuizen have withdrawn after the first tee time of the day, but well before their own scheduled start.
Personally, I never have a problem with a qualified player trying to compete through injury. It happens in every other sport, but there's always been a notion that golfers in these circumstances should step aside to let the next alternate (and presumably healthy) player have an opportunity to compete.
If that was indeed part of the thought process for these two specific players, they should be commended for considering a less fortunate peer.
So, what's the issue? Even if these players didn't screw over another potential competitor, their sudden absence did impact others who were heavily counting on them.
If you placed an outright or matchup bet on Leishman or Oosthuizen, you were rewarded with a mulligan. No harm, no foul, no money exchanging hands. All of these wagers were summarily dismissed.
The problem, though, is well-known throughout the DFS community. Once lineups lock with the day's first tee time, any WD is just a bad-luck loser, even if the player bowed out hours before his tee time.
If you're someone who's been left with a few five-man lineups recently, it's important to remember one notable aspect of this: The players don't care. When these guys are in the physio trailer, trying to calculate whether they're healthy enough to play, the last thing they should be worried about is their image amongst the gambling/DFS masses.
(Although I did hear through the grapevine that at least in Leishman's case, he was conscious about his backers and wanted to ensure he didn't get yelled at on social media, even if he didn't quite understand all the nuances of the late WD in DFS terms.)
I never like pointing out a problem if I can't also suggest a viable solution. In this matter, it seems like a simple one – and it has nothing to do with the implementation of injury reports or any other change that would require some serious manpower.
It's this easy: The major DFS companies shouldn't consider a player "locked" until his specific tee time
This is hardly a unique idea. If you're playing, say, an MLB slate which begins with games at 7:05 p.m., those players in later games aren't locked into any lineups until their specific games have started.
There's no reason that golf shouldn't be the same way.
It's a win-win situation all around. This would save DFS players from these uncommon-yet-unpleasant situations that we've witnessed recently, with dead lineups before a second cup of coffee on Thursday morning. It would also save professional golfers the indignity of being publicly crucified, especially when they're trying to do the right thing for a fellow competitor.
Again, it all seems so easy that it's startling this hasn't already happened yet. But it should – and soon, for everybody's sake.
Anyway, let's move on to this week's Memorial Tournament, which features 33 of the world's top-50 players (and hopefully no late WDs). Justin Thomas is back for his first event since a T-12 at the Masters, Tiger Woods is back for his first since a MC at the PGA Championship and a few dozen big names are back to enjoy the world's best milkshakes at Jack Nicklaus' famed Muirfield Village.
Despite the annual parade of this star-power, the recent winners' list doesn't quite read like a who's who, with Bryson DeChambeau (in just his second career PGA Tour victory and his first of four wins during the last calendar year), Jason Dufner, William McGirt and David Lingmerth claiming the last four trophies.
While I can't overlook some of the name-brand players in this week's field, let's also look beyond these guys to find some value.
The Favorites
Patrick Cantlay (+1600)
One of my favorite plays this week – and apparently I'm not alone, as Cantlay opens tied with Justin Rose for the third-lowest odds in the field, lower than the likes of Justin Thomas or Jason Day.
That's kind of ridiculous for a player who owns one career win, but I still like him after finishing one stroke out of a playoff here last year and with third-place finishes in each of his last two starts.
Matt Kuchar (+1800)
Special shoutout to all the social media guys still making Kuchar-caddie jokes: Your statute of limitation ran out about two months ago. But hey, if those incessant jokes have helped motivate him, then keep 'em coming.
At 40, he's playing the best golf of his life, with results of 12th-or-better in his last five starts. Oh, and he happens to be the 2013 champion, too.
Tony Finau (+2000)
Supporters will point to Finau's title contention last week as evidence he's about to break out. Contrarians will insist that Colonial is hardly a correlation to Muirfield Village. You know what? Maybe you're both right.
Hideki Matsuyama (+2200)
The first time he played this tourney, back in 2014, he won it. Since then? He's finished T-5, MC, T-45 and T-13. That might inspire more confusion than confidence, but he's beyond due for his first win since two summers ago (also in Ohio).
Rickie Fowler (+2200)
That MC at Colonial last week should get some bettors off the scent, but Fowler was T-8 here last year and owns two career runner-up finishes. It won't be a surprise if he finally breaks through for a victory on this venue.
Mid-Tier
Adam Scott (+3300)
If the last two players in the previous section were due, then Scott might be overdue for a victory. We all know he can hit it as well as anyone on the planet and his putting stats are actually better than his ball-striking stats this year. At this number, he might be my favorite pick in the field, at a tourney where he owns three career top-five finishes.
Henrik Stenson (+4000)
His record here is pretty blah, with a career-best T-13 last year after taking the four previous years off, but his game should suit the course and he's slowly trending in the right direction.
Louis Oosthuizen (+5000)
That aforementioned WD should keep plenty of DFSers off Oosty this week, which could in turn make him a valuable, low-owned selection.
Jason Kokrak (+6600)
He's becoming a column stalwart lately, the byproduct of making every single cut this season and becoming one of the game's most consistent players. Too bad his track record in his native Ohio is so poor, with four MCs in five career starts.
Matt Fitzpatrick (+8000)
The question isn't whether he has the game, but rather whether he can sustain it for four full rounds against the world's top players.
At the Masters, he followed an opening 78 with rounds of 67-68; at the PGA Championship, first and third rounds of 75 and 76 with a 65 in between. Once he puts it all together, he's going to be dangerous.
Luke List (+8000)
Another one of my favorite picks this week, whether for a top-five/top-10 bet or wedged into the middle of a DFS lineup, List has shown a propensity to post strong results in bunches – and he's coming off a T-6 at Bethpage two weeks ago.
Longshots
Aaron Wise (+10000)
Simply put, this number is too big for a player of his talent level.
Jason Dufner (+10000)
If you're up for a week of watching his putts with one eye closed and teeth clenched, then he's not a bad play. After opening 67-68 at Colonial, he finished T-40, but he's at least hitting it well and owns the good vibes from a win at this tourney two years ago.
Peter Uihlein (+10000)
We've been waiting longer than some of us thought we'd be (read: me) for Uihlein to become a high-caliber performer, but he might be on that precipice now. For four straight events, he failed to reach the weekend, which is a shame, because as it turns out, he's pretty damn good on weekends.
Uihlein closed 63-64 at the Byron Nelson and 67-69 at Colonial, which could bode well for a nice finishing kick this week, too.
Bud Cauley (+15000)
One year ago, Cauley was in a serious car accident not far from Muirfield Village, one which ended his season prematurely. He's now playing some solid golf – and this would be a tremendous comeback story if he's able to play well into the weekend.
Cameron Champ (+20000)
Remember back about six months ago, when people were actually placing real money on Champ to win the Masters? (He didn't even get into the field.) We've learned to pump the brakes on this big hitter, but he's shown signs of some positive regression lately.
Think about it: You would've loved to get this number back in November; now could be the right time to jump on it.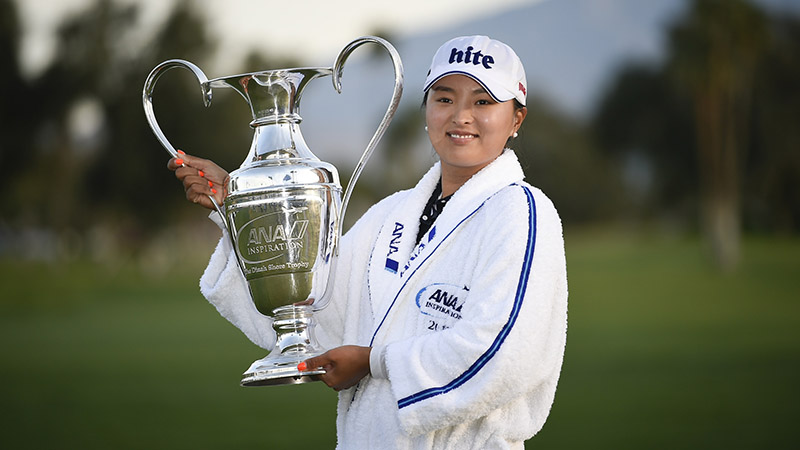 My Favorite Bet
Jin Young Ko: U.S. Women's Open Top-Five Finish (+225)
The status of best player in the women's game has sort of devolved over the years, a possible byproduct of our what-have-you-done-for-me-lately? fandom which becomes less impressed every time it collectively witnesses greatness.
It happened when the torch was passed from Annika Sorenstam to Lorena Ochoa, then again to Yani Tseng and again to Inbee Park.
Lydia Ko sparked plenty of interest by reaching this status at such a young age, but the Ariya Jutanugarn Era and Shanshan Feng Era and So-Yeon Ryu Era were largely forgotten before they ever started.
All of which leads to the current No. 1-ranked player, a name even most diehard golf fans might not recognize. Jin Young Ko is in just her second LPGA season, but the 23-year-old already owns two wins this season, including the ANA Inspiration, which is the circuit's first major.
At the U.S. Women's Open, her driving accuracy of 80.0% should keep her in play at Country Club of Charleston, which should favor the straight hitters over the long ones.
I'm not quite ready to pick her to win a second career major in two months, but I also don't believe she'll be too far from the eventual winner. At just over 2-1, I like the chances of Ko pulling a top-five result.
Players like Lexi Thompson and Brooke Henderson might have bigger followings and therefore might be more appealing wagers, but neither has been as good as Ko this season.
As we've seen over the years, when a hot hand comes along in the women's game, it's smart to ride it until it cools off – even if we rarely remember later that it ever happened in the first place.
How would you rate this article?