Sobel's 2019 Northern Trust Preview: Should You Fade Tiger Woods at Liberty National?
Credit:
Steve Flynn, USA Today Sports. Pictured: Tiger Woods
Brooks Koepka is the betting favorite to win this weekend's Northern Trust at Liberty National Golf Course in New Jersey.
Jason Sobel previews the first event of the FedEx Cup Playoffs and wonders if you should fade Tiger Woods.
JERSEY CITY, N.J. – Ten years ago, the former landfill now known as Liberty National Golf Club held its first major professional golf tournament.
(Save your mean tweets: I'm using "major" as a descriptive adjective here, not some overarching decree about the importance of FedEx Cup playoff events.)
The list of runners-up from that week reads like a who's who in golf over the past two decades: Tiger Woods, Ernie Els and Padraig Harrington – all either in the Hall of Fame or an imminent lock – each finished in second, as did Steve Stricker, a future U.S. Ryder Cup captain.
None of them, though, could hang with the 124th-ranked player on the FedEx Cup points list, as that event came to a disappointing conclusion for everyone outside of Heath Slocum's immediate family.
Four years later, the venue played host to a playoff event once again – and once again, there was a star-studded list of runners-up.
Felled by debilitating back pain during the final round, Woods again finished second, this time alongside Graham DeLaet, Gary Woodland and Justin Rose. I can still remember Rose walking off the final green and slamming his fist into the faux wood-paneled wall outside the makeshift scoring area while releasing a guttural scream, which is what happens when you turn a birdie putt for the win into a three-putt bogey to lose.
The winner that day was Adam Scott, hardly a Slocum-esque character after winning the Masters Tournament four months earlier, but the player who held off some hard-charging contenders.
What does all of this tell us on the eve of another playoff event at Liberty National, now called The Northern Trust? Well, not a whole lot.
I suppose you could translate a quartet of second-place finishers at the two previous individual tourneys here into the "fact" that something about this place guarantees a bunched final board with plenty of big names near the top, but golf doesn't work that way.
We can use everything from predictive models to course analytics to plain ol' hunches, but there's no statistic that proves a cluster of contenders will each finish near the leader this week.
I guess you could also assume that since Woods twice finished close here, the course must suit his game and he'll bring those good vibes back with him. Again, that could happen, but let's remember: In 2009, he was less than two weeks removed from losing the PGA Championship to Y.E. Yang and still hadn't undergone personal scandal or a single back surgery; in 2013, he was fresh off a five-win regular season.
When we last saw Tiger at The Open, he appeared physically, mentally and emotionally drained, despite his self-imposed shortened season.
All of which is a good way of saying there isn't much based on past history at this venue that we should use to determine predictions for this week. Even the 2017 Presidents Cup followed an unattainable trend: The American players nearly all played well and the International players nearly all played poorly.
What we can do, though, is take a hard examination into how players have fared in this region – specifically, the Northeast part of the country.
I'm a big believer in this theory. I thought it last week, as Bermuda specialists were always likely to converge on the leaderboard at the Wyndham Championship – a point also made by Zack Sucher on our Action Network Podcast – which came to fruition, with J.T. Poston and Webb Simpson fitting this tendency by finishing 1-2 on Sunday.
I believe it this week, too, as players with previous strong track records in Northeast-based events should continue to play well.
In the past half-decade, there have been 18 tournaments held in this area of the country. Let's first look at each of them, with the winners listed, as well.
2015 Travelers Championship (Bubba Watson)
2015 Barclays (Jason Day)
2015 Deutsche Bank Championship (Rickie Fowler)
2016 U.S. Open (Dustin Johnson)
2016 PGA Championship (Jimmy Walker)
2016 Travelers Championship (Russell Knox)
2016 Barclays (Patrick Reed)
2016 Deutsche Bank Championship (Rory McIlroy)
2017 Travelers Championship (Jordan Spieth)
2017 Northern Trust (Dustin Johnson)
2017 Dell Technologies Championship (Justin Thomas)
2018 U.S. Open (Brooks Koepka)
2018 Travelers Championship (Bubba Watson)
2018 Northern Trust (Bryson DeChambeau)
2018 Dell Technologies Championship (Bryson DeChambeau)
2018 BMW Championship (Keegan Bradley)
2019 PGA Championship (Brooks Koepka)
2019 Travelers Championship (Chez Reavie)
First thing you likely notice: There are a lot of heavy hitters on this list. Granted, 13 of the 18 tournaments have been either major championships or playoff events featuring fields littered with the world's best players, but that's also what we'll have this week, as 122 of the top 125 in the standings will be competing (Paul Casey, Henrik Stenson and Sam Burns are each taking the week off).
Point is, the likelihood of having another Slocum scenario seems improbable. Whether it's a case of the FedEx Cup meaning more to the elite players or strength in numbers as that upper echelon grows, playoff events have largely become the domain of the big boys in recent years. Case in point: Each of the last four editions of the Northern Trust have been won by a player who was already inside the top-10 on the points list.
With that in mind, let's now take a look at those familiar names and dive into how they've fared in these specific 18 events over the past five years. Here's the top-20, based on this week's odds:
OK, there's a lot of info to parse here, so let's get into some of it.
Not sure I would've guessed this one, but nobody has played more Northeast events in the past five years than Thomas and Finau. Granted, we can credit their similar improvement simply on their career trajectories, however it's worth noting that each has fared better in these tourneys in their most recent handful of starts.
The same could be said for Rose, who is no stranger to this area after winning his lone major title at Merion in 2013, and owns five top-10s in his last seven starts here.
Looking for players with multiple wins in this region? You won't find many – and zero surprises. That list includes Koepka and DJ, who have combined for three majors in the Northeast, and DeChambeau, who took the first two legs of last year's playoffs.
Who should we avoid based on these numbers? Well, it always scares me to eliminate ball-strikers, but the results show that three of the world's best haven't played their best golf around here. Simpson and Kuchar own average finishes of lower than normal, while Molinari might be the biggest fade, with just one top-20 in 11 starts.
None of this, of course, should serve as the be-all, end-all for picking players this week, but it does offer a nice starting point when trying to differentiate between so many top players on a venue many of them have little experience.
That's going to be important at a tournament which features 122 of the top 125 on this season's final points list.
(By the way, I totally understand the decision of Paul Casey, who is eighth, fresh off a three-week stretch and guaranteed to advance. And I obviously get Sam Burns, 89th, who is too injured to compete this week. But Henrik Stenson? The former FedEx Cup champion is 85th on the list and has decided not to play, effectively ending his PGA Tour season. Seems like a strange decision, unless I've missed some news here, though he's always had a bit of a love-hate relationship for the playoffs.)
Outright Winner
One player to win the tournament
Brooks Koepka (+800)
Yup, that's right. In a short two-week span, I've gone from he's-a-fade-until-he-proves-he-cares-about-non-majors to all-aboard-the-Koepka-train in this column.
Hey, people change. Brooks changed. I've changed.
Don't get me wrong: I'm not suddenly doing a complete 180 after he won the WGC-FedEx St. Jude Invitational, to where I think Koepka will start conquering every single event he plays. And I'm not exactly advocating betting him at 8/1 against such a star-studded field. You're buying high, as the case may be.
There's another reason I like Koepka here – and it has everything to do with two of his four majors.
Even though he's a South Florida native, I've often felt like Koepka is a New York kind of guy. He's no-nonsense, hates bull-crap, doesn't pull any punches. If he wasn't the world's best golfer, you could see him being at peace outside the ropes at a New York-based event, chugging Mich Ultras and laughing at buddies when they yell, "Mashed Potatoes!" at the players.
I won't say that it's a coincidence two of his major wins came on courses in this area, only that it's a confluence of events. He was going to win last year's U.S. Open and this year's PGA Championship whether they were played in California or Texas or New York. But he's got a New Yorker's moxie to him, which certainly didn't hurt the cause on those occasions.
That should come in very handy this week, too.
Other OADers
Potential selections for one-and-done options.
Dustin Johnson (+1600)
There's approximately a 0.001% chance you still haven't used DJ in OAD situations. Between the four majors, three WGCs and regular haunts like Pebble and Canada, there's little chance he's still on the card.
If he is, though, it's now-or-never.
Johnson doesn't own a great record at the Tour Championship, meaning you'll want to take him either this week or next week. I'd burn him now, as he owns a few wins in the Tri-State area.
Tommy Fleetwood (+2500)
Unlike DJ, there's a decent chance you've still got Fleetwood available, as his cross-continental schedule makes it tough to tough to bank on him in the U.S. if it's not a major.
Fresh off finishes of T-4 in Memphis and solo second at Portrush, Fleetwood seems to be finding his groove a little later than usual, though his track record suggests he often plays solid golf at this time in the summer.
He's not my absolute favorite this week, but if you've got the pick to burn and need to use him somewhere, I certainly don't dislike what should be a low-owned situation.
Billy Horschel (+5000)
Speaking of low-owned, Horschel is fresh off a T-6 finish at the Wyndham, during which he was fifth in strokes gained off the tee and ninth in strokes gained putting. That's a combo that will equal a title contention every time.
We've also seen that Horschel can get hot at this time of year. Five years ago, he snagged two playoff events and was T-2 at another to secure the FedEx Cup title.
Perhaps just as important is the fact that he's always been a momentum player. Some players can emerge from little form to win a tournament; Horschel is the type who usually builds on strong results, which could mean another contention this week.
Top-Five
One player to finish top-five
Justin Rose (+450)
Check out Rose's recent results and you'll find a guy who is at least knocking on the door of cashing this bet most weeks.
In his last dozen PGA Tour starts, Rose owns three top-five results – a win and two third-place finishes – and four other occasions where we can classify him as being "close."
As noted above, he's played well in this region lately, including a playoff loss at the BMW Championship outside Philadelphia last year. Expect another title contention this week.
Top-10
One player to finish top-10
Patrick Cantlay
One of my favorite recurring bets has taken a turn for the worse lately.
After cashing on four straight occasions, Cantlay has now failed to finish in the top-10 on four straight. That's still a pretty nice overall percentage, but it's time for this one to pay out again.
In those last four starts, he's missed a top-10 by one shot, two shots and three shots, meaning he's only a few burnt edges from going 7-for-8.
For a guy who consistently shows up and rarely struggles, I'm sticking with this wager.
Top-20
One player to finish top-20
Sungjae Im (+280)
As I tweeted this past weekend, when Im was in the midst of yet another title contention, he is 21 years old – a bit older than Matthew Wolff, but younger than Collin Morikawa.
I understand why we'll continue to group the Young 3 (Wolff, Morikawa and Viktor Hovland) together, since they turned pro at the same time, but we should firmly include Im within this group moving forward. He still has a leg up in the Rookie of the Year race, having competed a couple dozen more times than these other young guys; knowing that fellow PGA Tour players vote for this award, I trust they'll recognize consistency over victory.
Now back to this bet: In 25 starts during this calendar year, Im owns 10 top-20 finishes (and a pair of T-21s, too). That's a 40% clip, yet his odds offer an implied probability of 26.3%.
That tells us there's a ton of value in making this wager, which could pay off at nearly 3/1 just days after he coasted to a T-6 result. Count me in.
DFS Free Bingo Square
A safe plug-and-play option for DFS.
Tony Finau (DK $8,300; FD $10,200)
Look, I didn't do all of that previous Northeast-exposure research for nothing. I've gotta use some of it to our advantage.
As I mentioned, Finau has played in this area as much as any other top player over the past five years – and he's finally started getting the hang of it.
In his first 11 starts here, Finau had a best finish of 12th; in his last six, he owns four results of sixth-or-better.
With finishes of 27-3-23 after three missed cuts, he's trending in the right direction. At this price – under the average salary on DK, just barely over it on FD — he won't clog up too much of your cap, while likely providing more value than his price.
DFS 'Dog
A lower-priced option for DFS.
Emiliano Grillo (DK $7,000; FD $8,300)
According to our FantasyLabs models, the highest-rated player at this value (sub-$7,500 on DK; sub $8,500 on FD) is Grillo — and not that the analytics care about my opinion, but I agree.
Grillo has been a bit inconsistent lately, but he's still a world-class ball-striker. I'm surprised he has elevated himself into the next tier of players this season, but I'm still bullish on it happening in the not-too-distant future.
And it's not much, but at least he owns some experience at Liberty National, having competed here in the Presidents Cup two years ago.
Also receiving votes in this category: Jason Kokrak, Bud Cauley, Corey Conners, Andrew Putnam and (if you're going really cheap) Carlos Ortiz.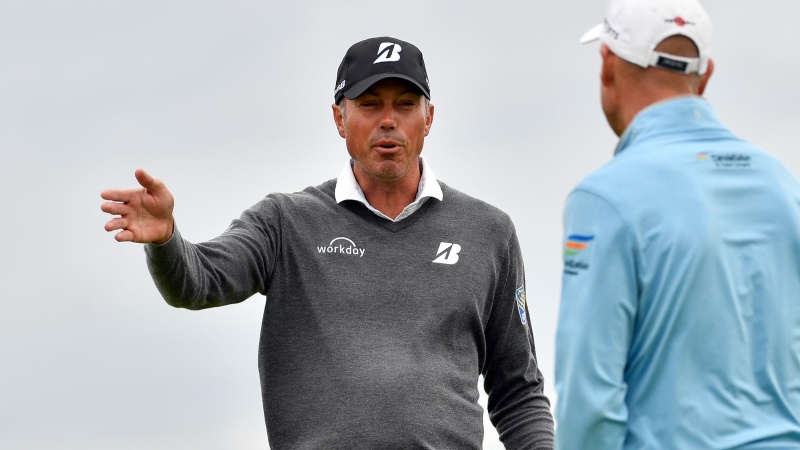 First-Round Leader
One player to post the low score Thursday.
Matt Kuchar (+5000)
Here's a fun stat for you: Kuchar has competed in 18 individual events this year and owns the lowest Round 1 scoring average at 68.33.
And yet, only once – at the Mayakoba, home of his caddie-cash controversy – has he held even a share of the lead, posting an opening 64 that week to claim co-leader honors with Kramer Hickok and Dominic Bozzelli.
I'd have to go back and check previous years, but I'll guess that most R1 scoring average leaders have cashed multiple FRL bets during the season. Perhaps all of this speaks to Kuch's consistency, but on a course where he opened with 68 in 2009 and 66 in 2013, I like his chances to go lower than usual and get a second FRL this week.
Matchup Man
One player who should beat comparable players.
Graeme McDowell
If you haven't checked out the consecutive cuts list on the PGA Tour in a while, you might be surprised by what it reveals.
Tommy Fleetwood, with 25 straight weekends played, leads the list by 10 strokes over the next-closest competitor.
That next guy – another surprise – is none other than G-Mac, who isn't getting much respect from the books this week.
You should be able to find some tasty head-to-head matchups for McDowell, including some players who might not even make the cut. We all love cashing these bets on Friday afternoon. Based on McDowell's recent history, that's a definite possibility in this situation.
The Big Fade
One top player to avoid at this tournament.
Tiger Woods
Like catching a fish that doesn't quite fit minimum requirements, I'm letting Jordan Spieth off the hook here, so he could go swim around with the sharks.
Instead, I'm focused on a bigger catch.
As I wrote in the intro, Tiger has seemed physically, mentally and emotionally exhausted ever since winning the Masters four months ago. And that's perfectly fine. If you'd told him at the beginning of the year that he could play consistent golf and have a bunch of title contentions or his fifth green jacket and nothing else, he would've taken the jacket before you'd finished the offer.
No matter what happens over the next few weeks, this year has been a success for Woods after claiming his 15th major.
But I also think he's lost a lot of motivation, too. Think about it: After getting that fired up to win the Masters, it's hard to refocus for things like the Northern Trust, especially for a guy who readily admits he wants his game to peak four times each year.
I'm going to take this fade a step further. After he won at Augusta, it was just assumed – by anyone who was thinking about it in these terms, at least – that Woods would be a playing-captain at this year's Presidents Cup in December. I know nothing – haven't heard rumors or gossip or innuendo – but I'd be willing to bet right now that if he doesn't qualify for the team (and he's currently outside the top-eight), Woods will recuse himself from competition and happily captain his peers instead.
Again, that's not based on any inside knowledge – I wonder if Woods himself even knows the answer to this right now – but for a guy who seems tired and unmotivated, it wouldn't be much of a surprise.
Off Tour
My favorite non-PGA Tour play of the week.
Charley Hull to win the Ladies' Scottish Open (+3000)
It's pretty slim pickings on tours around the world this week. There's nothing on the European Tour, the Korn Ferry is still a week away from its finals, even the seniors are off.
So, let's go back to the LPGA, which is hosting a co-sanctioned event in Scotland, one week after the brilliant closing to the Women's British Open.
I'd love to pick Hinako Shibuno to go back-to-back, but even heroes need a day off once in a while. She was so much fun to watch, though. Here's hoping the fast-playing, easy-smiling 20-year-old becomes a superstar.
Instead, I'm going with Hull, fresh off a T-24 finish that included an uncharacteristic final-round 76.
A native of England, she should be more accustomed to links golf than most others – and anyone who watched last week's major knows that Woburn was far from a links track.
Trust me: I'm a bit skittish after last week's pick of Shanshan Feng somehow doomed her to an MC, but I'm going back to the well in hopes I don't scare off Hull, who should be a solid play at 30-1.
How would you rate this article?