Sobel: The U.S. Open at Pebble Beach Is a 'Different Beast' Than Pro-Am
Credit:
Joe Camporeale-USA TODAY Sports. Pictured: Jason Day at Pebble Beach
Jason Day described the U.S. Open at Pebble Beach as a 'different beast' than the AT&T Pro-Am.
Jason Sobel explains why you shouldn't expect success in February to translate to this week's major.
PEBBLE BEACH, Calif. — Just minutes after polishing off his record-tying fifth victory at the AT&T Pebble Beach National Pro-Am four months ago, Phil Mickelson was asked about any relative significance to his long-elusive U.S. Open title hopes on the same venue.
Consider it a legitimate question. After all, Mickelson had just won at the course that will host his personal white whale, the lone major he needs for the career grand slam — and the one in which he's finished runner-up a record six times.
Lefty, though, immediately shut down the insinuation.
"I really don't think there's any carryover from here to the U.S. Open," he offered. "It's a totally different golf course — the greens will be firm, the rough will be high. Here I'm trying to hit the ball as far as I can, not worry too much about the rough.
"Ball's plugging and we're able to clean it and so there's really no carryover, other than I just really enjoy this place. I seem to play some of my best golf here and that's probably about it."
The waves continue crashing along the outer perimeter of this course, the views remain spectacularly breathtaking — if not a bit less foggy – but make no mistake: This isn't the same track that yielded a winning score of 19-under to Mickelson earlier this year.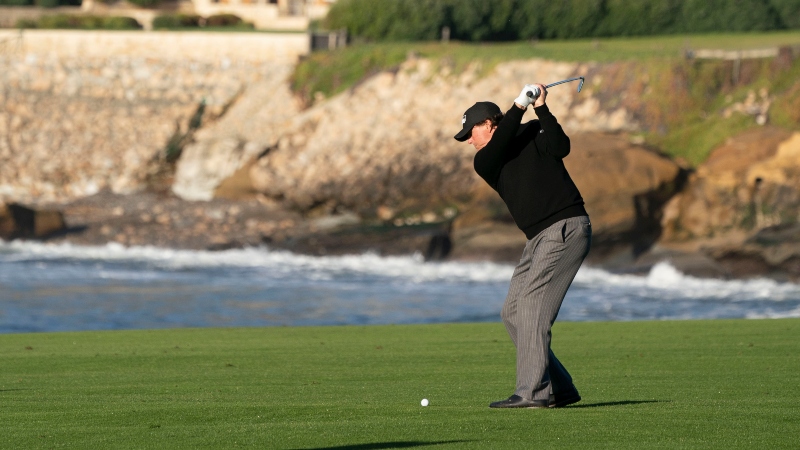 Let us count the ways: The fairways are hardly as generous as they were for a field that also included 156 amateur competitors; the rough is longer, thicker, gnarlier and more daunting; and the greens are so much firmer that players will need to aim for different landing areas than they did here in February.
"It's just getting comfortable on where you're landing ball into the greens," said Jordan Spieth, who won the clambake here two years ago. "Normally what we have to do in the tournament in February is hit more club in the greens real low and try to trap draw it to get it not to spin. And this week it's going to be throwing it up in the air and get it to land as softly as possible.
"It's just about trusting the shots that you have to play in and how different those shots are than what I'm used to doing."
For those trying to parlay — perhaps even literally — the success of Spieth or Mickelson on this venue during a regular-season PGA Tour event into this week's major championship, there are more than a few warning signs.
Just because Tiger Woods was able to augment his usual Torrey Pines dominance with a major victory on that same course in 2008, that doesn't mean others will replicate that achievement. And really, they shouldn't be expected to.
Keep in mind that, even during the AT&T Pro-Am, players only compete two of the four days on this golf course, rotating between two others on the other two days. Mickelson, for example posted a score two strokes lower on those other tracks than during his pair of spins around Pebble.
What it means is that experience is cut in half here. If you've played in 10 editions of that event, that only means 20 rounds (assuming made cuts every time) on this course, instead of the usual 40.
Really, though, that's the smaller point.
The big-picture takeaway here is that conditions and setup don't correlate at all to what we're used to seeing every February.
"It's a totally different beast," explained Jason Day, who annually plays the AT&T here. "We're playing with amateurs in February, and the greens are a lot slower, you can be more aggressive. Granted, there are a lot more footprints because there's a lot of foot traffic around the hole, but everything kind of stops on a dime. Drives to irons into the greens. It's going to be a lot more difficult this week.
"This is a very, very different golf course, especially at a U.S. Open venue."
When you're looking for an edge, any edge, it's a nice thought:
Hey, might as well pick some guys who own some experience and course knowledge and success on this course.
Yes, a nice though. But one that won't mean much this week when that "different beast," as Day called it, will rear its ugly head. The one we don't see every February.
How would you rate this article?