Sobel: Why This U.S. Open Will Feature Better Scoring Than Past Years
Credit:
Rob Schumacher-USA TODAY Sports
The U.S. Open has featured treacherous scoring in recent years, but this week's major at Pebble Beach could buck that trend.
PEBBLE BEACH, Calif. — Nineteen years ago, Tiger Woods posted a score of 12-under here at Pebble Beach, a total that must have left the hand-operated scoreboard volunteers scurrying for a red number of that size. It was the outlier of all outliers, as the runners-up finished a measly 3-over.
Here's a tip: If you're trying to handicap the winning score at this week's return, forget about that one.
A better idea is to examine the most recent U.S. Open here, when Graeme McDowell shot scores of 71-68-71-74 for an even-par total of 284 in 2010. It's not completely presumptuous to recall that number, understand that the USGA always tries to keep players from breaking into the red, and figure that even-par is a sensible total for this week's winner.
But that presumption would neglect a few mitigating factors.
Only one of the past five U.S. Opens, three of the past 11 and five of the past 40(!) have been won with a score over par. For years, tournament officials have contested that the winning score doesn't have to be par or above — and the numbers prove they've been telling the truth.
"I think I'd sign for 3-under for the next 25 U.S. Opens and just sit and watch it," said Jordan Spieth. "It's likely anything under par for the next 20 years is probably going to be in the top-five and have a chance to win."
He's not wrong about any of that, though in fairness he also stated "par is a really good score at this tournament." Again, he's not wrong.
Let's next examine the matter of yardage. Shinnecock played 7,440 yards on the scorecard last year. Erin Hills was 7,741 the previous year. Oakmont a comparatively short 7,254 the year before that.
Pebble Beach will be 7,075 yards on the scorecard this week. That's a virtual pitch-and-putt for the game's elite players.
Many of the top talents won't even need to rip many drivers off the tee, instead owning enough length with a long iron to keep it in the short stuff and still have a short-to-mid iron approach into the green. Two-time defending champion Brooks Koepka guessed he'll hit driver four times per round, maybe fewer, in an effort to keep his ball in the fairway.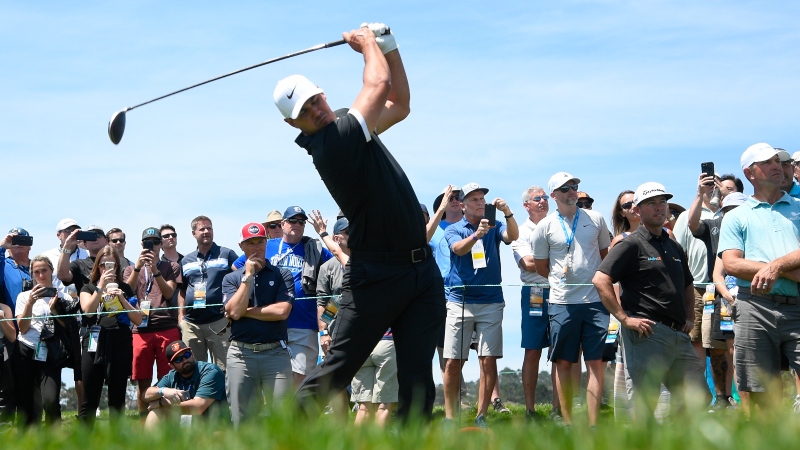 And yes, accuracy will be at a premium.
The conditions at this course — one of the world's most beautiful — have so far been absolutely stunning this week. And while the temperature might drop a few degrees, we're not expected to endure the type of heavy rain and low fog and ocean wind that can typically engulf this place.
The admittedly pinched fairways are soft and cushiony, far from the rock-hard turf we've come to expect at this tournament. That means slightly wayward tee shots, which might've bounded into nasty rough in previous editions of this event, will more often tend to catch the fairway and stay there, offering further scoring opportunities.
"Right now, the golf course is relatively soft," said Justin Rose, who won this tournament in 2013. "And if it's soft and calm, you're going to see some good scores; if it's not, you're going to see some high scores."
The greens are similarly a bit soft right now, too. They're sure to firm up, but not overly so — for a very important reason.
I've already listed the tangible aspects of why players will be able to score this week. But let's not overlook a massive intangible, one that could have a major impact on this very issue.
After promising, over and over, that they wouldn't lose the greens at Shinnecock, the USGA lost the greens during the third round, exemplified in the comedic action of Phil Mickelson hitting a putt that was still moving.
That's hardly a first-time occurrence for the USGA. In fact, it's become an annual tradition.
A recent Golf Digest article quoted professional golfers suggesting that a revolution has been discussed amongst them, one that would potentially include world-class players eschewing this event. While that likelihood remains extremely improbable, there's no doubt the USGA is keenly aware of its public image.
Mike Davis, executive director of the organization, has stepped down as the point man on course setups, a role he'd previously held since 2005. Now thrust into that spotlight, it's doubtful that John Bodenhamer immediately wants a similar reputation, one that might uphold the strict standards of the USGA but could damage the already fragile relationship with competitors.
As such, I have a suspicion that Bodenhamer and the USGA will err on the side of caution this week.
The winning score at the U.S. Open isn't always even-par or worse. It just feels that way.
The 2019 edition of the event might not be a kinder, gentler U.S. Open, but there are reasons to believe that scoring won't be as treacherous as we've witnessed in the recent past.
How would you rate this article?