Sobel: Golf's Contingency Plan Is a Step Towards Normalcy
Credit:
Juan Luis Díaz/Quality Sport Images/Getty Images
Whew. Take a breath as you absorb the latest scheduling announcements from around the golf world and attempt to digest what they could mean moving forward.
The Masters in November? This will not only be the latest date ever for this tournament, but the first time it will be contested consecutively in the rotation without interruption from any of the other three. The Open Championship canceled? This marks the first time since World War II that the event started in 1860 won't be played. The U.S. Open and Ryder Cup on back-to-back weeks? This could be an electric fortnight, especially if spectators are indeed allowed to attend both events.
That's a big "if," of course – just like everything else that was announced Monday.
In a joint briefing from the PGA TOUR, European Tour, LPGA, Augusta National, R&A, USGA and PGA of America, it clearly states that while rescheduled dates have been announced for many events previously postponed due to the COVID-19 pandemic, these concrete lists are contrastingly not set in stone.
"We remain very mindful of the obstacles ahead," it read. "Each organization will continue to follow the guidance of the leading public health authorities, conducting competitions only if it is safe and responsible to do so."
There is nothing wrong with having a contingency plan for the remainder of the year – in fact, putting together a strategic plan involving all parties was a smart move.
This contingency plan, though, should come fettered with its own contingency plans.
In layman's terms: Just because a schedule exists, that doesn't mean it will be followed.
Over the past month, with all major professional sports leagues suspended, there's been a healthy dose of conjecture over which ones are best positioned to return soonest. The most familiar, and appropriate, question is some form of this: In which sport is social distancing easiest?
Such practice is literally impossible in contact sports like hockey and basketball, but golf seems an ideal endeavor for competitors to remain 6 or 10 or 20 feet apart from each other.
And it's true: If you happen to live in one of the states which currently deems golf an essential activity, you might have witnessed this already. Don't touch anyone else and don't touch anything that belongs to anyone else, while bunker rakes are removed, flagsticks stay in the cup and ball washers remain statues of inconsequence. (Because really, you shouldn't need a bacteria-riddled cousin of a gumball-machine to keep your ball clean, even in healthier times.)
If you do it right and play by the rules – after all, golf is a sport of rules – you can engage in an 18-hole round without ever getting too close to another person or touching anything but the grips of your clubs.
All of which makes it reasonable to jump to the conclusion that if recreational amateurs can do this, then so can the world's best professionals, on a stage that can be scored and televised just like any other tournament.
I've heard this proposal suggested pretty often in recent weeks, a plan which states that professional golf tournaments without fans can be safe environments for players while providing the rest of us some entertainment relief when it's needed most – and presumably, this specific outline is at the very least a consideration in this first contingency plan.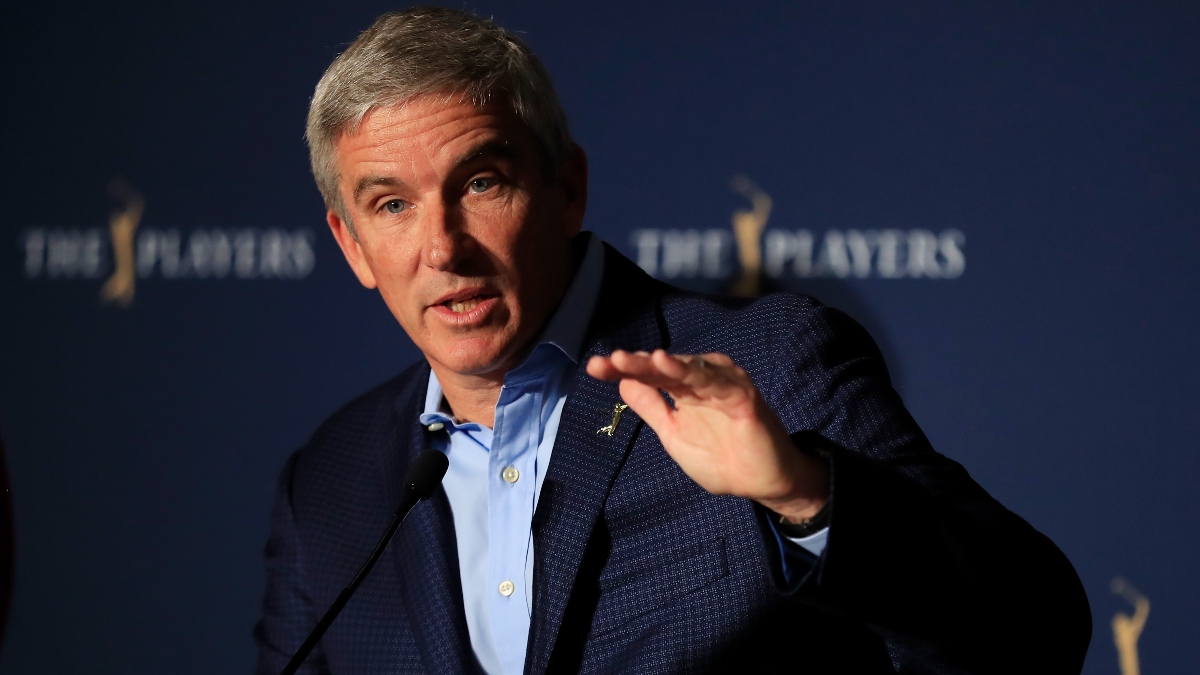 I get the thought process here. And at some point, maybe it can work. Right now, though, with the country in something close to a lockdown in most states, I think there's still too much naivete involved.
First things first: Just because you and two buddies can still practice social distancing at the local muni on a Sunday morning, that doesn't mean Tiger Woods, Rory McIlroy and Brooks Koepka (or any elite trio of players, plus their caddies) should be able to do similarly in an internationally broadcasted tournament, with a few cameramen on the course and others safely working off-site.
Sorry, but even without fans, it takes more than a bare-bones production crew to televise an event properly – or even semi-properly. Add in tournament staff (people running the event), course staff (grounds crew), catering staff (players gotta eat) and volunteer staff (yes, they'd still need some), and it becomes more difficult to remain socially distant than at first blush.
That, of course, is presuming that the game's best professional golfers feel safe enough and comfortable enough to leave their families in quarantine and return to work, a prospect facing millions of workers at some point. Besides, it's not just on-course interactions that retain vulnerability. We're now asking players to travel by air, stay in hotels, eat in restaurants and generally live a regular life in irregular times.
Worrying solely about the players, though, might be the most callow part of this. I've heard suggestions that as long as players and caddies follow all current health guidelines, they should keep themselves from being exposed. It should go without saying, however, that the lives of those who are extremely talented golfers shouldn't be regarded as more valuable than those who are sharing responsibilities on a riding mower in the early morning or cooking together in close kitchen quarters or shooting video and audio for the telecast.
If a tournament is going to be played, it needs to consider all parties involved.
That includes the fans. When professional golf is ready for a return – right now, the soonest the PGA TOUR could return is May 21 at the Charles Schwab Challenge – maybe it will include spectators in attendance, maybe it won't. Fans are naïve, though, if they believe any decisions are being made with their best interests at heart.
As much as fans would like to believe that sporting events are scheduled with their viewing pleasure as the paramount rationale, any professional league or tour is basing its decisions on the same thing responsible for the decision-making of all business entities – money.
Exhibit A is the R&A's decision to cancel The Open as opposed to postponing it. Yes, the organization could've found a later date on the calendar, but according to reports, it could only collect on a pandemic-related insurance clause if it was canceled by a certain date. There were two options: Either postpone for the good of competitors and fans, potentially offering a rescheduled tournament, or cancel altogether and collect on the insurance. The R&A apparently chose the latter.
Let's make no mistake: Other than this cancellation of one of golf's four majors, Monday should be classified as a banner day for golf and golf fans – if nothing else, it signified a potential light at the end of the tunnel and a hint at optimism in a world mostly devoid of it right now.
We shouldn't take the latest iteration of the schedule as gospel, though. More changes should be expected if the world isn't ready for professional golf tournaments to be played anytime soon. This contingency plan was a smart idea, but other such plans should still be hatched, just in case this one was overly optimistic.
How would you rate this article?