Our 13 Favorite RBC Heritage Picks: Outrights, Sleepers, Props & Matchup Bets
Credit:
Sam Greenwood/Getty Images. Pictured: Shane Lowry
Our staff highlights their RBC Heritage picks ahead of the first round at Harbour Town Golf Links in Hilton Head, South Carolina.
Their 13 favorite bets include outright winners, sleepers with long odds, props and matchups bets.
If this the 2020 RBC Heritage is half as good as the soap opera that unfolded at Colonial last Sunday then we are in for a treat.
We've got another star-studded field, headlined by World No. 1 and consensus favorite Rory McIlroy.
The Northern Irishman tops the odds at +1200 ($10 wins $120), but he's got plenty of company near the top of the odds. Bryson DeChambeau, fresh off a terrific showing at Colonial, is the second-favorite at +1400 with Justin Thomas (+1600), Jon Rahm (+1800) and Xander Schauffele (+2000) right behind him.
There's also plenty of big names in the mid-tier as Brooks Koepka (+4500), Dustin Johnson (+4500) and Rickie Fowler (+6000) have all dropped down the oddsboard after less-than-stellar displays at Colonial.
The good news for them is that Harbour Town is no stranger to big prices. Last year's winner, CT Pan, lifted the trophy as a 200-1 longshot.
Will we see another triple-digit score come through in Hilton Head? Or will this week belong to the stars?
Here are our favorite bets for the 2020 RBC Heritage:
---
RBC HERITAGE PROMO! Win $100 if Rory McIlroy makes just ONE birdie all week
---
Outright Bets
Jason Sobel
Hideki Matsuyama (+3000, $10 wins $300)
If there's an edge this week, it might come in fading the edge that everyone else thinks they have. With one tournament now under our belts in the TOUR's return, expect the masses to zig toward those who have shown some recent form – i.e. those who competed last week. I'd rather zag with my outright pick and take Matsuyama, one of the game's best ball-strikers, a metric about which you'll hear the importance ad nauseum this week.
Although there's no real record of Hideki performing better after lengthy layoffs and he owns very little history at Harbour Town (MC six years ago in his only previous start), expect his deft iron play to offer a distinct advantage on this golf course.
It's been nearly three full years since his last victory, which is simply too long for a player of this caliber. It's going to happen soon and this feels like a proper week for it. Besides, it'd also be a little karma for that wiped-away opening-round 63 at The PLAYERS three months ago.
Pick:
Hideki Matsuyama +3000
Josh Perry
Webb Simpson (+3000)
Simpson burned a lot of people at Colonial with a missed cut, but I like him this week on a course where he's made nine straight weekends in the last decade and owns two top-five finishes.
He had a really bad opening round, but bounced back on the second day and gained over three strokes ball-striking. His putter just didn't heat up enough to make the weekend. That's a less of a concern for me with the change to Bermuda, which has been a better surface for Webb in his career.
I would try and get at least 30-1 on Simpson.
Bryan Mears
Webb Simpson (+3000)
As I wrote here, I'm still not going to focus that much on recent play. It's definitely noisy because it's just from a couple rounds last week, and there are some golfers in the field who haven't played in months. It's a data point worth considering for sure, but I think it should be more anecdotal than something built into a robust model for Heritage this week.
That leads me to the top golfer in my model this week: Webb Simpson. Based on course fit in the link I listed above, Webb is about the ideal golfer for this track. Harbour Town favors consistent ball-strikers who avoid bogey golf, and especially those with great second shots and short games. That's about the definition of Webb's game.
This field is loaded, way more than Heritage usually is since it typically falls right after the Masters in the calendar. And that's depressing Webb's number all the way to 30/1, when in reality he should be more in the 15-20/1 range like Xander, Morikawa and Rahm.
Sleeper Picks
Jason Sobel
Lucas Glover (+17500, $10 bet wins $1,750)
The former U.S. Open champion has enjoyed a career renaissance recently. A runner-up finish at the 2018 Korn Ferry Tour Championship clinched his PGA TOUR card for the next season and he proceeded to finish 17th-or-better in 10 of his next 12 starts.
While he hasn't kept up with that torrid pace, a T-23 result last week should portend good things for this week, at an event where he tends to post some decent numbers, but has never really seriously contended. It feels like time for Glover to get himself into the mix on a Sunday afternoon and his ball-striking numbers suggest this could the time.
Pick:
Lucas Glover +12500 or better
Collin Wilson
Lucas Glover (+17500), Kevin Streelman (+17500)
One of these golfers loves the RBC Heritage, while one of them may be heating up just in time for another accuracy test. Glover finished tied for 23rd at Colonial, posting 21 total birdies and a ranking of first overall in driving accuracy.
His tee-to-green game was inline with his top 25 ranking since 2019. Before a missed cut last year, Glover had finished top 35 four years straight at the Heritage.
Kevin Streelman was cut at Colonial at even par after two rounds. But he had a fantastic strokes gained tee-to-green number and may have been saving his putter for the Bermuda's at the Heritage. Streelman has a terrific history at this course.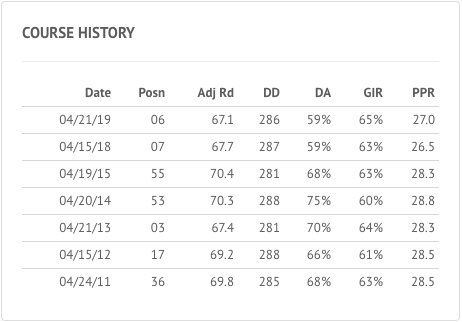 With seven straight cuts made, you can guarantee the search will be on for a Streelman to make the cut before first tee.
While I typically do not bet a ton of outrights and will stick to Top 20, Top 10 and matchups in the Action App, Streelman and Glover will be bet in just about anyway I can get cash down.
I wouldn't go below 150-1 on either of these longshots.
Pick:
Lucas Glover +17500; Kevin Streelman +17500
Josh Perry
Matthew NeSmith (+25000)
NeSmith is a South Carolina native who lists Harbour Town as his favorite course. In fact, he proposed to his wife on the 18th green here, so get ready to hear that story a few times this week.
As for his game, NeSmith was one of the best ball-strikers on the Korn Ferry Tour last season, but his putting would let him down. I'm hoping he'll get hot with the flat stick this week, since he'll know the greens pretty well. He also should understand how to get the ball around this course and score, which gives him some value at this number.
That being said, I'd definitely make sure you're getting at least 200-1 and close to +1000 for a top-20 finish on NeSmith.
Pick:
Matthew NeSmith +25000
Bryan Mears
Shane Lowry (+9000)
Near the top of my Harbour Town-specific model this week is Lowry, who sits all the way down at 90/1 for some reason at DraftKings. He's the same price as Joel Dahmen, which is honestly pretty absurd.
Lowry disappointed last week, missing the cut at Colonial, but that was pretty much entirely due to putting, which is mostly random week-to-week. He actually gained strokes tee-to-green but was just abysmal once he actually got there. That will shift over time, and it could be this week.
He's an awesome course fit for Harbour Town, which clearly catches his eye; he finished third here last year. It's a links-style course on the beach in South Carolina, and the Irishman just won the biggest links event in the world in the Open Championship in 2019.
All in all, Lowry is too good talent-wise and is too good of a fit for Harbour Town to be nearly triple digits in price. He may not win, but 90/1 is way lower than it should be.
Pick:
Shane Lowry (+9000)
Matchup Bets
Jason Sobel
Adam Hadwin (-110) over Harold Varner 
I think — and hope — HV3 won over a lot of fans last week, after being repeatedly asked about our country's race relations, maintaining that just because he's a professional golfer doesn't mean he's an expert, then speaking eloquently on the topic each time.
Those questions, combined with a title contention on the weekend, had to leave him wiped out by Sunday evening. He's going to win at some point, but don't be surprised if he doesn't have much gas left in the tank this week. Meanwhile, Hadwin eased his way back into the second half of the season with a T-43, but should have better luck this week on a course that undoubtedly suits his game.
Pick:
Adam Hadwin (-110) over Harold Varner III
Josh Perry
Branden Grace (+115) over Tyrrell Hatton 
Odds via The Westgate SuperBook
I'll take the guy who played last week at a plus-number here.
Grace faded on Sunday, but overall had a solid week. He's also won on this course and has three top-11 finishes in four starts.
Hatton was in great form the last time we saw him, but Harbour Town has been a mixed bag for him with a 29th and MC in two starts.
I'd probably make Grace a small favorite given what we saw last week from him and the unknown state of Hatton's game.
Bryan Mears
Bud Cauley (-114) over Joaquin Niemann 
In general, given the uncertainty of golf handicapping right now following the layoff, I prefer to target plus-money values. But I do think this one is too good to pass up.
Cauley and Niemann had different weeks last week at Colonial; the former was superior from tee-to-green, while the latter made up most of his strokes with his putter — not usually a strength for him.
I like the course fit for Cauley, who has superior ball-striking metrics and has the better short game, which will be important at Harbour Town. Niemann is a talented young golfer I want to buy long-term — man is golf loaded with young talent — but he isn't yet consistent enough to grind this type of course. His advantage with the driver should be negated, too.
Pick:
Bud Cauley (-114) over Joaquin Niemann
Prop Bets
Jason Sobel
Jim Furyk Top-10 (+1100)
Time is a flat circle. Furyk keeps on keeping on. Most players turn 50 – as Furyk did last month – and find it tough to keep up with the flatbellies on the big circuit. Same goes for most Ryder Cup captains, many of whom were never the same players after the rigors of leading a team.
And the truth is, all of this might ultimately lead to Furyk's demise as a guy who can contend on this level, but he's certainly got the right tournaments to play after this restart. A final-round 74 kept him from a solid final result last week, and this one should be a perfect fit for the two-time champion and all-time leading money-winner of this event.
Pick:
Jim Furyk Top-10 Finish (+1100)
Get Instant $500 Deposit Match
Josh Perry
Webb Simpson Top-20 (+160)
I'm not going to let one bad round after a three-month layoff sour me on Simpson, who has six top-20s in nine tries over the last decade here at Harbour Town.
He's playing as well as he ever has in his career, so getting a plus-number in this spot is a pretty nice play.
Pick:
Webb Simpson Top-20 Finish (+160)
Get Instant $500 Deposit Match
Bryan Mears
Top-40: Bud Cauley (+138); Jason Day (+125); Ian Poulter (-125)
Some of my favorite odds in the market right now are at DraftKings, who is offering not just top-20 and below odds, but even top-40 markets. I think if you believe in a longshot or value golfers, rather than betting them outright you should try to lock in some golfers around even money (or plus money for a top 40).
Some that catch my eye this week are Bud Cauley (+138), Jason Day (+125) and Ian Poulter (-125). All have solid history at Harbour Town and are probably mispriced here a bit vs. their long-term talent.
Day is especially eye-popping at plus money, and while he's been mediocre for a while now — after being the world No. 1 — he's been inside the top-40 at this track in each of his last four visits.
How would you rate this article?