Sobel's Waste Management Phoenix Open Betting Odds & Guide: Fade Rickie Fowler at TPC Scottsdale?
Credit:
Andrew Redington/Getty Images. Pictured: Bryson DeChambeau
Do yourself a favor: Watch the other 17 holes at the Waste Management Phoenix Open this week.
You know, the ones that aren't enclosed in stadium seating, that don't have twenty-something-thousand inebriated fans yelling inane observations into the atmosphere.
(Most inane thing they've ever yelled? My name. At me. While I walked from the tee box to green. I'm only half-kidding about the inebriation comment, but those fans – a few of whom have become good friends — do some serious homework.)
That's not to say you shouldn't – and even if you wanted to, you couldn't – avoid the infamous 16th hole, but it hardly tells the entire story. Very much like another TPC course, Scottsdale shares a reputation with Sawgrass in that every casual observer knows all about that one par-three hole, but it's the rest of the course which is really worth watching.
That's one of the reasons why the WMPO winner's list has included so many superstars over the past decade. With another strong field this week, it could be on the verge of another – but my pick is a guy you might not expect, fresh off a controversial ending to his last start.
---
Looking to bet the Waste Management Phoenix Open? Check out FanDuel, where Action Network users get a risk-free bet up to $500.
---
Outright Winner
One player to win the tournament.
Bryson DeChambeau (+2600)
I have four major reasons for this pick, which took me longer to make than any other outright so far this year. The first is that TPC Scottsdale tends to offer a greater advantage to longer hitters – and we all know how much longer Bryson has become in recent months.
My original choice to follow the likes of fellow big hitters Brooks Koepka, Gary Woodland and Phil Mickelson was Cameron Champ, but he's not in the field, so his loss could be DeChambeau's gain.
The second reason is that he played well last week, contending for a title in Dubai before a slow-play warning led to a bevy of bogeys down the stretch. The third is based on a crucial bit of karma. DeChambeau had been scheduled to compete in Saudi Arabia this week and whether it was external or internal pressure that forced him stateside, he could be rewarded for this move.
And the last reason is pure Murphy's Law: I'm taking him here because, despite each of the other three reasons, it doesn't make any sense. At the loudest, most boisterous tourney in the world, DeChambeau should expect to get jeered as much as anyone in the field – for slow play, for liking science, for trolling Koepka and myriad other reasons.
We can say the same for Bubba Watson, who despite contending that he doesn't like this tourney, continues to play and play well. I can absolutely see Bryson feeding off any negative energy coming his way this week – and I can certainly see him winning this title.
Other OADers
Potential selections for one-and-done options.
Byeong-Hun An (+6000)
Finishes of MC-68th in his last two starts likely threw some people off the scent, but An owns a solid record at this event, with results of 23rd-or-better in each of his three previous appearances. He's a guy you certainly want to use in season-long OADs, but one who doesn't pop off the page at many specific events, so this one might be as good as any.
Sungjae Im (+3300)
This is just the standard Sungjae citation at this point. I wrote last summer that I have a buddy who'd planned to bet Im outright each week, increasing the monetary amount each time he didn't cash.
That would be a weighty bet by now, if indeed that buddy kept it going, but it's essentially like betting 00 on the roulette wheel: At some point, you're going to get it right. He was T-7 here last year, with all four rounds under 70, so this could be the week.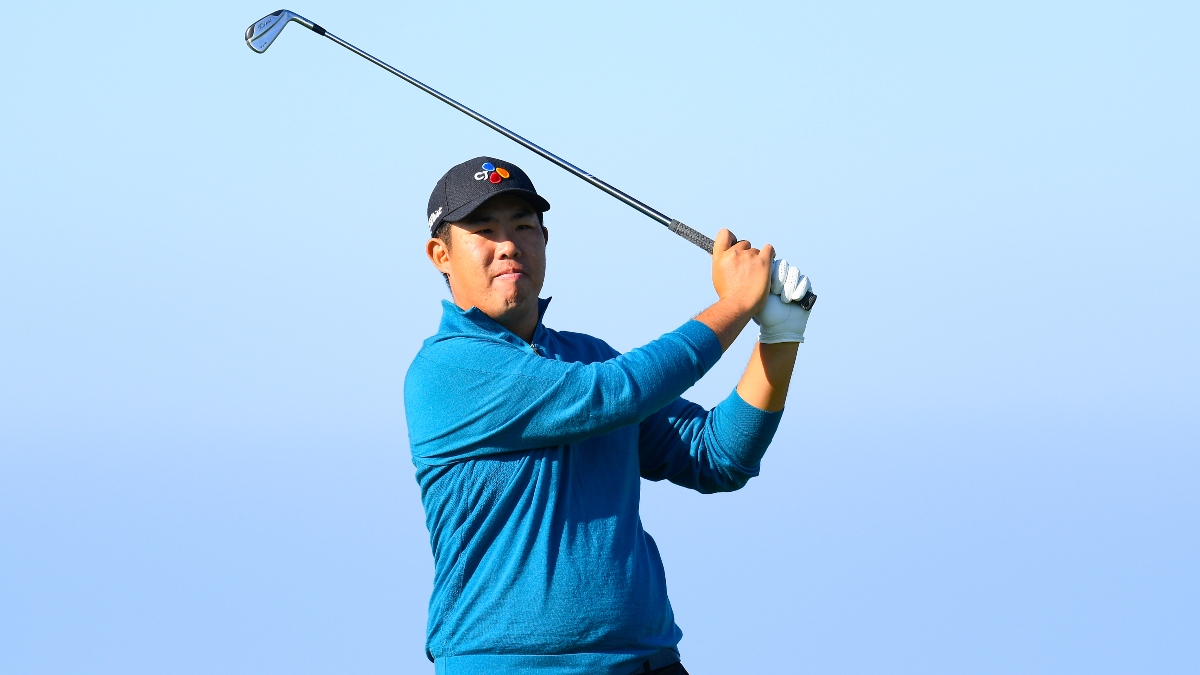 Top-Five
One player to finish top-five.
Jon Rahm (+185)
Some players would find it tough to bounce back from losing a 54-hole lead almost immediately in the final round and coming up one stroke short. None of these players are Rahm.
While the Spaniard is still routinely criticized for his temperament, there's a certain growing maturity in his ability to consistently play at such a high level.
He's now finished 13th-or-better in an astounding 14 of his last 15 worldwide starts, including three wins and four runners-up during that span. As the tourney favorite, Rahm is a potential card-wrecker this week, which is why a top-five wager can at least be viewed as a hedge against anyone else.
Top-10
One player to finish top-10.
Jason Kokrak (+750)
I'll admit it: I got a little spooked after being bullish on Kokrak for the AmEx event two weeks, only to see him miss the cut. He was T-21 last week, though, and T-20 here last year, so I like the intersection of form and history. Just as I wrote in the section on DeChambeau, distance is beneficial on this track, and Kokrak owns plenty of it.
Top-20
One player to finish top-20.
Max Homa (+500)
That's right – Mr. Roast Ya Swing his own self isn't just a social media superstar. In his next 15 PGA Tour starts after winning the Wells Fargo Championship last year, Homa failed to record a single top-20 finish.
Until last week, that is, when a final-round 67 at Torrey South vaulted him into a share of ninth place. Playing in his adopted hometown, it shouldn't come as a surprise if he repeats something close to last week's result.
DFS Free Bingo Square
A safe plug-and-play option for DFS.
Hideki Matsuyama
You want safe? How's this for safe: In a half-dozen career WMPO starts, Matsuyama has finished 15th-WD-1st-1st-2nd-4th. I do think that course history could make Hideki a little too popular in DFS, but I also think there's little reason to believe he won't at least put together four solid rounds.
My advice to go with lesser-owned plays elsewhere and bank on Matsuyama at the top.
DFS 'Dog
A lower-priced option for DFS.
Zack Sucher
Come on, did you really think we were going to get through this entire preview without mention of the newest DFS darling in golf?
It probably says more about the industry than Sucher himself that a handful of tweets pandering to those making lineups is enough to elevate him to this status, but in a world where so many pros either don't know anything about DFS or feign ignorance, it's refreshing to see Sucher essentially take up where Willy Wilcox once left off, getting so many on his own personal bandwagon with the simple act of not pretending they don't exist.
Fresh off gaining a spot in the field through the Monday qualifier, his ownership should be higher than usual based on his newfound fame in this corner of the world, though perhaps not quite as high as it could've been, considering he wasn't originally listed when the prices came out.
First-Round Leader
One player to post the low score Thursday.
Adam Hadwin (+6500)
He hasn't played an individual round of competitive golf since Nov. 22 and his opening-round scoring average at this tournament is higher than that of the following three rounds. So, why Hadwin? Playing his first event since his wife gave birth to the couple's first child, I'm going with the caged animal theory, thinking his ability to go low will supercede any possible rust.
Matchup Man
One player who should beat comparable players.
Daniel Berger
He's not quite there yet, but Berger is on the verge of returning to the status he owned just a few years ago, when he was a member of the U.S. Presidents Cup team.
Already with a T-38 and T-29 this year, he's inching closer to a title contention and this could be the right place for it, with three finishes of 11th-or-better in five previous starts here. I like him for a longshot outright, top-10 and DFS pick, but Berger's value might be most dangerous against other players priced similarly.
The Big Fade
One top player to avoid at this tournament.
Rickie Fowler (+1600)
Fading the defending champion usually isn't a great idea, but there are a few factors around Fowler that we need to remember. The first is that, despite winning last year, he posted a final-round 74 that included both a triple- and double-bogey.
The second is that, despite contending two weeks ago at the AmEx, he posted scores of 70-71 on the weekend, intimating that he was still undergoing swing tweaks, then followed with a missed cut last week. Of course, he's talented enough to contend on any given week, but compared with the other big names here, he comes with greater risk.
Off Tour
My favorite non-PGA Tour play of the week.
Jazz Janewattananond to win the Saudi International (+6000)
Well, I started off these picks by implying that DeChambeau could be due some karma points after deciding to skip this tourney in Saudi Arabia. Now I'll double-down and suggest that any of the handful of PGA Tour regulars who are making the trip for a little extra blood money could feel the reverse effect.
On a course listed at just over 7,000 yards, a guy like Dustin Johnson can certainly ping-pong some mid-irons around there and not need to bang it off the tee, but I'll go with a shorter guy instead. Before last week's MC in Dubai, Jazz finished 3rd-4th-4th-1st-1st in his last four starts, all on the Asian Tour.
It's tough to believe any of the elite players in this European Tour field will be too motivated, so look a bit further down the list for potential winners.
How would you rate this article?