2021 Fortinet Championship Betting Picks: Our Favorite Outrights, Longshots, Matchups in Napa
Credit:
Getty Images. Pictured: Harold Varner III (left) and Doug Ghim.
A new PGA TOUR season kicks off Thursday with the first round of the Fortinet Championship.
It's a strange field, with many of the world's best players prepping for the Ryder Cup next week. But Jon Rahm is playing, and is the favorite at under 3-1, a number we haven't seen in a full-field event since Tiger Woods.
Get all our Fortinet Championship picks below.
And just like that, the new PGA TOUR season is underway.
After Patrick Cantlay's thrilling FedEx Cup win at East Lake less than two weeks ago, the 2021-22 campaign is underway, starting with the Fortinet Championship in Napa, Calif. While most of the game's biggest games are skipping this one or preparing for the Ryder Cup, there is plenty of quality this week at Silverado Resort and Spa.
Jon Rahm headlines the field and is a Tiger Woods-like favorite around +400 at sportsbooks. He's followed by major winners like Webb Simpson and Hideki Matsuyama atop oddsboards.
Our staff has broken down who is poised to start the season and latest FedEx Cup chase in style. Check out their best bets below.
Outrights
Emiliano Grillo (+6000)
Jason Sobel: Whether it's the host course or the fact that this is the season opener or maybe there's just something about Napa, certain players have had a penchant for playing well at this one every year.
Grillo won here in his first start, five years and two title sponsors ago. Since then, the results haven't been fantastic, but he does own three more top-30 finishes with some potentially better placements undone by poor final rounds.
I still think Grillo owns a bit of star power — he's the prototypical world-class ball-striker who struggles with the flatstick. On the weeks he can get the putter going, though, he can contend – and really, if he can get it going on just a few more weeks each year, I could see him moving from his current OWGR position of 74th back to somewhere in the neighborhood of 23rd, his best career position, which was achieved not long after that win here a half-decade ago.
In a week that should include the few studs in this field on the leaderboard, not to mention a few new names, I'm looking at this past champion as a guy who can return to the winner's circle once again.
Mito Pereira (+7000)
Chris Murphy: Did you think I was going anywhere else?
There are only two players I am guaranteeing a win from during the swing season, and they are Mito and Aaron Wise. Wise isn't playing this week, so this choice was easy.
Pereira was one of the rare players to receive a promotion from the Korn Ferry Tour to the big stage due to the three-win qualifier. While we continue to bet and take chances on guys who we think can break through for wins, Pereira has done it three times in one year at the professional level. Sure, it wasn't the PGA and while weak, this field is certainly better than those he played, but he has also proven to be worthy of this stage over the past several months.
The Chilean has two top-six finishes over his last three TOUR starts, and he also had his name in the mix for a medal in August at the Tokyo Olympics. Pereira will be a staple in my cards this fall, and we get a juicy number because of the big name up top this week in Napa.
Marc Leishman (+5000)
Josh Perry: Leishman has a solid track record in California and was third here his last appearance in 2019. I tend to get drawn to him on these courses you don't need to bomb away on and can just get hot with the wedges and putter, especially if the big names are gone.
Max Homa (+6600)
Matt Vincenzi: Homa was the first golfer to catch my attention in terms of value in this field. With two PGA TOUR wins already on his resume, the 30-year-old certainly carries a fair share of win equity.
It's no secret that Homa plays his best golf on the West Coast. Having won at Riviera Country Club this past season, the California native has shown once again he feels very comfortable competing in his home state.
Homa's biggest issue in the latter half of last season was his extreme difficulties with the putter, highlighted in his most recent event (BMW Championship) where he lost a horrific seven strokes putting to the field.
However, there is some reason for optimism regarding his putting this week. Homa has done his best work on the greens on West Coast Poa, and gains an average 0.23 strokes per round on the surface. Additionally, three of the top-15 putting performances of Homa's career have come at Silverado. The former California Golden Bear grew up on the bumpy poana greens and should give him an advantage in Napa this week.
Harold Varner III (+4000)
Landon Sillinsky: This will be Varner's seventh career start at Silverado with three of those resulting in top-20 finishes. He enters play in some great form, ranking 13th in this field in SG: Tee-to-Green, fourth in SG: Approach and seventh in total strokes gained.
Varner is coming off back-to-back top-12 finishes at the BMW and Northern Trust, in what were playoff events with loaded fields. This is a ball-striker's course, and we know HV3 can get locked in with his irons, even if he's slightly erratic off the tee. The rough won't be that penalizing this week, so he should use his distance to give him favorable second shots.
Jon Rahm being in this field pushes everyone's number back a bit, so I do believe Varner would be closer to 30/1. We know Rahm can show up anywhere and take over, but it's possible he's just using this event as a tuneup for the Ryder Cup. I like Varner quite a bit in this spot.
Will Zalatoris (+2200)
Rob Bolton: Full disclosure: Because I'm usually last in filing my selections for this weekly preview, many of my preferred picks often are taken by my colleagues. If I'm compelled to echo the sentiment, I will, but that he wasn't circled when I reviewed the board, I didn't hesitate.
We know what kind of a ball-striker and electric scorer the 2020-21 Rookie of the Year is, but now Zalatoris is contributing to the pursuit of the pot of gold at the end of the FedExCup rainbow. In a word, he has stakes.
Although it's a phrase that we'll repeat on occasion, Silverado rewards his skill set and is a site where winners have posed for photographs while clutching their first PGA TOUR hardware. Zalatoris getting respectfully safe odds to prevail, and I'll take them to be the latest breakthrough.
---
» Return to the table of contents «
---
Longshots
Brandon Hagy (+20000)
Jason Sobel: When I'm looking at players who can take the next leap in their career progression, one of the first things I'll assess is their length both off the tee and with irons. That's not to suggest that short hitters can't find success — of course they can — but the bombers own a distinct built-in advantage.
All of which leads to Hagy, one of my favorites to make that leap this season. He not only looks like Dylan Frittelli, he swings a bit like him, too — and I mean that as a compliment.
I really think Hagy is a guy who can win an event this coming year, contend at a few more the next year, then work his way into the top 50 and all the major championship fields by 2024. For now, though, let's start by putting the West Coaster onto this week's list of sleepers, one with an uncommonly high ceiling.
Sam Ryder (+25000)
Chris Murphy: As I look further down the oddsboard, I am looking for someone with big upside at a large number, and Ryder certainly fits that mold.
He hasn't gotten that first win yet, but he has been on the doorstep a handful of times including just a couple of months ago at the Barbasol, where he finished third. In a play like this, I don't care too much that he has a fair amount of missed-cut equity as he has shown with three of those in his last four trips as I do that his fourth was a T-4 finish at this event in 2018.
Ryder is the style of player I want this week since he combines some distance and accuracy off the tee with what has been a sharp game inside of 150 yards over his last several events. He has the added bonus of showing many of his top finishes coming at stops on the West Coast.
I'll take a stab here at Ryder to pull off the improbable, while also looking to him for value in placing markets.
Aaron Rai (+14000)
Josh Perry: Rai is an established European Tour winner who should have picked up a win during the Korn Ferry playoffs in Boise about a month ago. He's at his best on the shorter courses overseas where the irons and short game are most important.
Adam Hadwin (+9000)
Matt Vincenzi: Similar to my Homa selection, another who has a great track record on the West Coast is Hadwin.
The 33-year-old Canadian has had some very close calls in California with two runner-up finishes in 2019. The first was at the American Express at PGA West in La Quinta, Calif. The second was at Silverado, where he lost to Cameron Champ by one shot and gained an impressive 6.8 strokes on approach.
Hadwin also comes into an event that he clearly loves to play in, along with some pretty solid form. With two top-10's in his past three starts, he has shown enough to take a shot on him at this big of a number.
Hudson Swafford (+13000)
Landon Sillinsky: Swafford is locked in at the moment, so I believe the number we're getting here is a bit too big in a field like this.
He's got a bunch of things working in his favor this week, starting first and foremost with his ball-striking, which has been razor sharp. Swafford sits second in this field in that department across his past 12 rounds, including fourth on approach.
Swafford has seen Silverado a bunch in his career, posting a couple pretty strong finishes in that span. Swafford putts far better on poa grass than other surfaces, which is just the icing on the cake here.
He's flashed some upside this past season, finishing second at the Palmetto back in June, so while he's in this run of good form, I like taking a chance at 130/1.
Greyson Sigg (+16000)
Rob Bolton: If you're ever going to swing for the fence, there's rarely as good a time as the season opener with a fresh class of Korn Ferry Tour graduates. What's more, he was half (!) this line at DraftKings at last check.
Sigg begins his rookie season at the top of the graduate reshuffle category, so it'd require a historic implosion not to retain his card from that position. Of course, we care only about this week, but he opened the KFT Finals with a victory in Boise. It was his second title in a little over three months.
He'll never win a long-drive contest, but Sigg can hang with his peers. Rather, his game improves when he's holding an iron and smells red numbers. Check and check at Silverado where Grillo proved in 2015 that it pays to ride into town with a victory as one of the nearest experiences in the side-view mirror.
Winning is winning is winning, and that's the whole point of this.

Doug Ghim (+7000)
Justin Bailey: I've been a sucker for Ghim for quite some time. He's a popular DFS play most weeks as he fits the great ball-striker, poor putter mold. Overall, Ghim does everything well outside of putting as he ranks 138th in Strokes Gained: Putting over his last 50 rounds.
That said, he's difficult to pass up at this number since he ranks well in two of the most important stats on TOUR — ranking 11th in Strokes Gained: Approach and 12th in Strokes Gained: Off-the-Tee over his last 50 rounds.
Driving accuracy also matters at Silverado, but that's no issue for Ghim, who ranks second in Good Drives Gained (Fantasy National) over that same time frame.
---
» Return to the table of contents «
---
Props
Maverick McNealy Top 30 (+130)
Jason Sobel: There are a lot of so-called sure things in golf betting — we all know there are no guarantees — but even the sharpest gamblers might not realize the value of a McNealy top-30 play these days.
Starting with the Charles Schwab Challenge in May, he finished top-30 in seven straight starts, only ending with a T-63 at the BMW Championship in his last appearance. Granted, there are some top players who might be better locks for a top-30, but perhaps nobody with a lower ceiling, as McNealy didn't finish better than T-16 during that streak.
I've written it before, but I see him as the next generation's Charles Howell III or Matt Kuchar — essentially, a guy who's going to make tons of cash but might never be amongst the game's very best.
Even so, I love exploiting the consistency and think this is a safe play this week.
Nick Hardy Top 20 (+700)
Chris Murphy: This is the time of year where we get some fresh faces on TOUR who have qualified through their prior season rankings on the Korn Ferry Tour, as Hardy has done.
He will come in as a relative unknown to most, despite an impressive stretch of golf over the past year which included just seven missed cuts in 41 events, and 10 top-10 finishes. That is a very CH3 statline for any player, and he even added a couple of made cuts at the PGA level, including a 14th-place finish at the Sony Open in January.
Hardy will look to transition his game to the next level this fall, and I love that he already has the exposure to some success on this stage. I'll jump right in on what feels like a solid play at value to make the weekend, and hope he can work his way to a top-20-type of finish.
The +700 for this is boosted over on BetMGM who offers to pay all ties in full, extending our opportunity to get rewarded for hitting on a longshot like this.
Chez Reavie Top 5 (+1400)
Matt Vincenzi: While fully acknowledging the risk of sounding redundant, I am really looking to target golfers who have great track records on the West Coast this week, and there are only few in the field who can match Reavie in that department.
Of the eight best strokes gained performances of his career, six of them have been on the West Coast; with five of those six being in the state of California. The 39-year-old veteran made a run at this event last year and finished in third place, highlighting how well he suits Silverado.
In addition to Chez being a great fit for the course and region, his skill set fits perfectly as well. Driving the ball well at Silverado will be quite difficult at Silverado as fairways are much more difficult to hit than TOUR average. This should give Reavie a big advantage; in his past 24 rounds he ranks first in the field in Good Drives: Gained.
Many approach shots this week will be coming from 100-125 yards, and Reavie is one of the best players on TOUR with a wedge in his hands. If he can putt even slightly better than field average this week he will have a real shot to contend.
Doug Ghim Top 20 (+300)
Landon Sillinsky: Ghim is one of the premier ball-strikers on TOUR, let alone in this field and has already taken a liking to Silverado, posting a T-14 last year.
We know the fate of Ghim's week usually comes down to what he does with the flat stick, and thankfully he's actually a positive putter on poa grass, albeit in a small sample.
It's probable he doesn't sink enough putts to win this event, but all we're looking for here is a top-20, which he showed he can do once already at this track.
Jon Rahm To Miss the Cut (+700)
Rob Bolton: Yeah, that's right.
I took on this reckless position with Viktor Hovland in my debut at Bay Hill and he blew up, but not until the weekend … and then missed his first cut in a year the following week at TPC Sawgrass. Sigh.
As for Rahm at Silverado, he sets up as a trap for two reasons.
First, the Ryder Cup is next week. He's a professional but he's still human. Missing the cut in California wouldn't be the worst thing as it concerns travel and the mindset.
Second, and I don't know why this isn't a stronger narrative given it's entering its sixth season, the Fortinet Championship will check the box as Rahm's new event for the season because he sat out the last four editions. And since he hasn't made more than 23 starts in any season. It's a requirement he's determined to fulfill sooner than later.
No, not every new-event commitment should be faded, but if you're ever going to bet double for the world's No. 1-ranked talent to miss the cut versus winning, there's no better time.

---
» Return to the table of contents «
---
Matchups
Webb Simpson (+235) over Jon Rahm
Matt Vincenzi: While targeting the best player in the world in a matchup may not seem like the smartest idea, the number on Webb Simpson in this matchup is simply too high.
Simpson has been sneakily playing some great golf, averaging +5.3 strokes on approach in his past three starts. Even though Rahm feels like a lock for a good finish this week, I think Simpson has a real shot to win. At greater than 2/1 odds, I believe this is a good bet.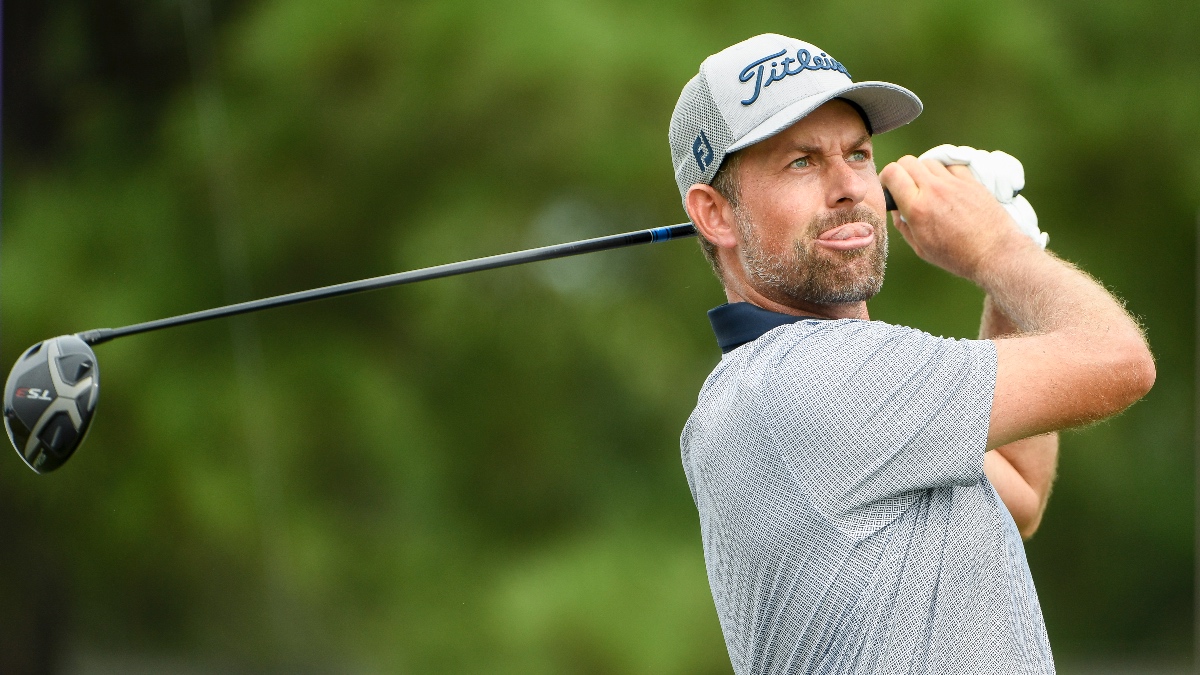 Charles Howell III (+100) over Adam Hadwin
Landon Sillinsky: Hadwin is simply way too volatile to trust right now and has been absolutely atrocious with his irons for a while now, ranking 96th in SG: Approach across his past 48 rounds in this field.
Howell on the other hand has been hitting it well of late and has decent history at Silverado, which includes a T-4 his last time out. This is the time to bet on CH3 as he usually plays well on the West Coast to begin the season. I like getting plus money in this spot.
Webb Simpson (+235) over Jon Rahm
Rob Bolton: Are you kidding me? When are you going to get a line like this for Simpson over anyone, er, or anyone over anyone?!
The objective is simple. In addition to my comments about Rahm missing the cut in the prop above, Simpson isn't competing in the Ryder Cup, so his focus is singular and current. He played poorly enough not to qualify for the TOUR Championship because he didn't record a podium finish for the first time in 11 seasons, but he still concluded with a T-7 among four top-20s in his last five starts.
This line is sleeping all over him.
Doug Ghim (-108) over Brendon Todd
Justin Bailey: This is a story of two opposite skill sets.
Ghim ranks 138th in Strokes Gained: Putting, but he's 11th in Strokes Gained: Approach and sixth in Strokes Gained: Tee-to-Green over his last 50 rounds.
Meanwhile, Todd ranks 14th in Strokes Gained: Putting, but he's historically abysmal with his irons, ranking 110th in Strokes Gained: Approach and 60th in Strokes Gained: Tee-to-Green over the same time frame as Ghim.
Even Todd's Strokes Gained: Tee-to-Green numbers are largely bolstered by his around-the-green game.
Give me the better iron and off-the-tee player every single time, especially at these odds. I'd bet this down to -115.
How would you rate this article?
This site contains commercial content. We may be compensated for the links provided on this page. The content on this page is for informational purposes only. Action Network makes no representation or warranty as to the accuracy of the information given or the outcome of any game or event.