2021 Fortinet Championship: Grillo, Na Stand Out in Season-Opening Event
Credit:
Warren Little/R&A/R&A via Getty Images. Pictured: Emiliano Grillo
I read a handful of tweets this weekend celebrating the fact that we'll be able to watch NFL games on every Sunday afternoon for the next five months.
That's cute.
Try this one: Starting this week, we'll be able to watch the finale of a PGA TOUR event every Sunday afternoon for the next 11-and-a-half months. (With a little late-December break for everyone's sanity.)
If you're scoring at home, we'll wind up going 11 full days between the final putt of last season's Tour Championship and the first tee shot of this week's Fortinet Championship, a number which only seems irrationally low when it isn't compared with previous years, when there was no week-long break to separate the seasons.
If nothing else, the never-ending schedule tells us something about ourselves, potentially answering the existential glass-half-full-or-glass-half-empty question which lingers deep within our souls.
For the players: The positive is more playing opportunities and more chances to earn money, secure points and all of the other spoils that come with great results. The negative is never getting a chance to rest – and while professional golfers can set their own schedules, it's tough to remove the FOMO when peers are out chasing titles and you're sitting at home.
For the TV rights holders: The positive is having more tournaments to show, rarely having to let stale debates dominate the weekend telecasts, but instead offering live programming. The negative – and this is a big one that too often gets overlooked – is that there's never any downtime to considering new, innovative ideas for these broadcasts, let alone implement them, which is why live television for other sports tends to advance at a quicker rate than in golf.
For the fans: The positive is that you almost never have a weekend without some semblance of the world's best players competing, giving you varying degrees of entertainment value based on the given week. The negative is that it never goes away, so you never get a chance to miss it – just think how much you enjoyed NFL Week 1 after going seven months without seeing a meaningful game.
Let's get right to the season-opener in Napa, the same event which has kicked off the schedule for years, only with a new name this time around. Last year's champion Stewart Cink is taking this one off to attend his son's wedding, but other big names in the field include Jon Rahm, Hideki Matsuyama, Phil Mickelson, Webb Simpson and Will Zalatoris. I'll start my picks with a player who's still trying to break into that upper echelon.
Outright Winner
One player to win the tournament.
Emiliano Grillo (+5000)
Whether it's the host course or the fact that this is the season opener or maybe there's just something about Napa, certain players have had a penchant for playing well at this one every year. Grillo won here in his first start, five years and two title sponsors ago. Since then, the results haven't been fantastic, but he does own three more top-30 finishes, with some potentially better placements undone by poor final rounds. I still think Grillo owns a bit of star-power; he's the prototypical world-class ball-striker who struggles with the flatstick. On the weeks he can get the putter going, though, he can contend – and really, if he can get it going on just a few more weeks each year, I could see him moving from his current OWGR position of 74th back to somewhere in the neighborhood of 23rd, his best career position, which was achieved not long after that win here a half-decade ago.
On a week that should include the few studs in this field on the leaderboard, not to mention a few new names, I'm looking at this past champion as a guy who can return to the winner's circle once again.
Other OADers
Potential selections for one-and-done options.
Before I get into this week's OAD picks, a shameless plug: In the next day or two (depending on when you're reading this), I'll have a lengthy post showcasing three potential OAD selections for every event of the upcoming season. If you don't start your pool until January, bookmark it and hang onto it. If you start this week, I salute you and suggest you give it a look – especially if you have to make all picks before the season starts.
Brendan Steele (+10000)
What was that I wrote about pros playing well here each year? Steele serves as Exhibit A, with two wins and three other top-25s. Just as importantly, he's a notable course horse, often playing the same tracks with some modicum of success on a regular basis.
Not that I've studied this or anything, but you can pretty much put him down for solid finishes at the Sony Open, American Express, Waste Management Phoenix Open, Honda Classic, Valero Texas Open, Travelers Championship and, yes, this one.
Stephan Jaeger (+7000)/Taylor Pendrith (+9000)
The great thing about paying attention to PGA TOUR events while the rest of the betting world focuses on the gridiron is that you'll know some of the new names while everyone else is playing catch-up later.
Not that Jaeger or Pendrith are new to those who watch and bet on a regular basis, but they're among my two favorite season-long plays coming off the Korn Ferry Tour. I'd expect a strong start for each one this week.
Mito Pereira (+5000)
If taking a chance on a player straight off the KFT is a little too bold for you, then take one who earned a promotion months ago. With three wins during the two-year season, Pereira graduated to the big leagues early, gaining some invaluable experience by competing in seven tournaments before the end of last season.
He tends to fare well when the winning score is well below par, which will again happen this week.
Hudson Swafford (+13000)/James Hahn (+25000)
One thing we've learned about Silverado is that it offers an advantage to the better players off the tee. Not just big hitters, not just fairway finders. Check out the total driving stats each season and you'll find some guys who have contended at this event. Last season, Jon Rahm led this stat, because, well, he led most stats.
That's why. The next two players on that list who are also in this week's field are Swafford and Hahn, a pair of names which might not pop in the models, but guys who should be able to ride a hot driver up the leaderboard.
Top-Five
One player to finish top-five.
Kevin Na (+280 for top-five)
Hot on the heels of Billy Horschel winning the BMW PGA Championship right after U.S. Ryder Cup captain Steve Stricker made his wildcard selections – which inexplicably led to social media-ists inexplicably trying to make a case for why Horschel should inexplicably be on this year's roster – it would certainly keep the narrative going if fellow snub* Kevin Na goes out and wins this one, just a week before the festivities at Whistling Straits. (*I don't think Na was snubbed. I don't think Horschel was snubbed, either. I like the picks. And I'd like to remind people that having more than 12 potential options for team members is a really good problem to have.)
Just a couple of weeks removed from tying for the low 72-hole score at East Lake, Na should have some good vibes coming into this week.
Top-10
One player to finish top-10.
Chez Reavie (+600 for top-10)
It was a disappointing season for Reavie, who finished T-3 at this event last year, but didn't post another top-10 in 28 subsequent starts. Perhaps offering him to bust that top-10 slump feels too much like chasing the past. Instead, though, I'd rather think of it as buying low on a player who was once top-30 in the world – only two years ago! – and is now outside the top-150. While last year's result is his only top-10 at this event, he does own five top-25s in 10 other starts, which suggests that he likes this event.
Top-20
One player to finish top-20.
Trey Mullinax (+1100 for top-20)
What a roller-coaster it's been for Mullinax, who was once a promising up-and-comer on the PGA TOUR, but two-and-a-half years ago, he was struck by a wayward shot by a pro-am partner that caused a concussion and other latent health issues.
It's taken him a while to work his way back, but a runner-up finish at the Korn Ferry Tour Championship suggests that maybe he's ready to be that up-and-comer once again.
Top-30
One player to finish top-30.
Maverick McNealy
There are a lot of sure things in golf betting – OK, so-called sure things; we all know there are no guarantees – but even the sharpest gamblers might not realize the value of a McNealy top-30 play these days. Starting with the Charles Schwab Challenge in May, he finished top-30 in seven straight starts, only ending with a T-63 at the BMW Championship in his final appearance. Granted, there are some top players who might be better locks for a top-30, but perhaps nobody with a lower ceiling, as McNealy didn't finish better than T-16 during that streak.
I've written it before, but I see him as the next generation's Charles Howell III or Matt Kuchar – essentially, a guy who's going to make tons of cash, but might never be amongst the game's very best.
Top-40
One player to finish top-40.
J.J. Spaun (+500 for top-40)
I'll readily admit that Spaun is a lower-level all-or-nothing type of player – or at least, he has been to this point. As if to underscore this point, he finished T-9 in Napa at this event last year, then didn't pull another top-10 until a share of runner-up honors in Boise at the Korn Ferry Finals to retain his card.
He does tend to play his best golf close to the Pacific, so this one could be more "all" than "nothing."
DFS Free Bingo Square
A safe plug-and-play option for DFS.
Jon Rahm
I mean, he's Jon Rahm. The No. 1-ranked player in the world. If I need to explain why you should include him in at least some DFS lineups, then we're each doing this wrong.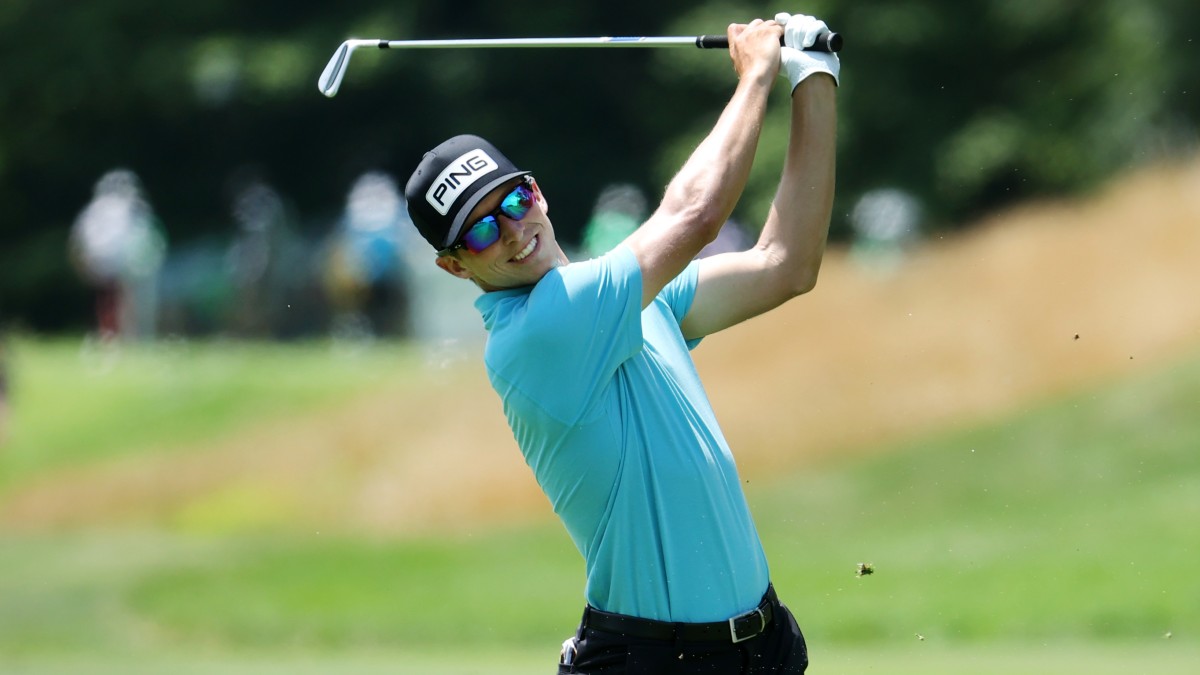 DFS 'Dog
A lower-priced option for DFS.
Brandon Hagy
When I'm looking at players who can take the next leap in their career progression, one of the first things I'll assess is their length – both off the tee and with irons. That's not to suggest that short hitters can't find success – of course they can – but the bombers own a distinct built-in advantage. All of which leads to Hagy, one of my favorites to make that leap this season. He not only looks like Dylan Frittelli, he swings a bit like him, too – and I mean that as a compliment.
I really think Hagy is a guy who can win an alternate-field event this coming year, contend at a few more events the next year, then work his way into the top-50 and all the major championship fields by 2024. For now, though, let's start by putting the West Coaster into some of our Fortinet lineups this week.
First-Round Leader
One player to post the low score Thursday.
Joseph Bramlett
Just a few weeks ago, Bramlett won the Korn Ferry Tour Championship, which some could argue didn't matter that much, since he was poised to win his PGA TOUR card back anyway.
I'd maintain, though, that winning begets winning and that victory could lead to greater successes down the road. He's shown some flashes of strong play, with a half-dozen top-25 on the big circuit last season, but I think he's ready to be a leaderboard presence on a bit more of a consistent basis. Here's hoping it starts with a top-of-the-board round this Thursday.
Matchup Man
One player who should beat comparable players.
Doug Ghim
As I often write in these previews, I prefer choosing players in matchups who own some cut-making equity, essentially offering a chance to cash these bets on either Friday or Sunday. That might not totally be the case for Ghim, who made the cut in "only" 17 of 26 starts last season, but I do believe that his second go-round as a full-time member will serve him much better this season.
I similarly like him for top-20/30 plays this week and as a DFS component.
The Big Fade
One top player to avoid at this tournament.
Charley Hoffman (+3500)
Here's a conundrum when you write a weekly preview which has a category called "The Big Fade": You can't fade a mid-level player, because that's not really useful information, but for an event such as this one, with so few big-name players in the field, there aren't really many great options to fade at the top. I considered Webb Simpson here, but have a suspicion that he might be playing in order to keep warm in case Brooks Koepka can't play in the Ryder Cup next week or there's a positive COVID result among the players. I also thought about Hideki Matsuyama, but he was trending in the right direction toward the end of the last season. Then there's Will Zalatoris, who hasn't played in five weeks, but he's got some California roots and the recently named ROY could thrive here.
That leaves Hoffman, if for no other reason than I believe his odds are too short and, well, I needed to fade someone who's somewhat close to the top of the board. I'll wait on Hoff until the Vegas Swing next month.
How would you rate this article?
This site contains commercial content. We may be compensated for the links provided on this page. The content on this page is for informational purposes only. Action Network makes no representation or warranty as to the accuracy of the information given or the outcome of any game or event.