John Peterson's Big Bet: Win $295K in His Next Two Events or Retire
Credit:
Jim Dedmon-USA TODAY Sports. Pictured (right): John Peterson
The Highlights
John Peterson needs to earn $295,707 in his next two starts to keep his PGA Tour card. 
If he fails to keep his card, he has decided to retire from golf and work in real estate. 
---
John Peterson will compete in this week's FedEx St. Jude Classic, his seventh PGA Tour start this season, and again at the Travelers Championship in two weeks. If he doesn't earn enough money in those two events to keep his playing privileges, he insists that he's done on the tour.
Even at its highest level, professional golf is a gamble compared to other pro sports. You can go 0-for-4 at the plate in a baseball game, and your paycheck still looks like you knocked a few out of the park. The beauty of golf, though, is that it's play-for-pay. A golfer makes what he or she earns.
All of those extraneous necessities during a tournament week — from flights and hotels to coach and caddie fees — are part of the ante, as players hope to turn those expenses into big bucks in tourney earnings.
We often describe professional athletes in theoretical win-win situations as "playing with house money" or "nothing to lose." As far as sports clichés go, these are hardly the worst of the bunch. At minimum, they paint a picture of someone who might as well go for broke and compete ruthlessly, aggressively and even carelessly, because the positives of winning far outweigh the negatives of losing.
Peterson, in his next two starts — possibly his last two starts — is a literal testament to this mantra.
I first got to know Peterson while covering the U.S. Open sectional qualifier in Springfield, Ohio, back in 2012. He was one year removed from winning the NCAA individual championship, but similarly, one year removed from being snubbed by the USGA for a spot on the prestigious Walker Cup roster.
He was trying to qualify for that organization's crown jewel, the tournament about which "Tin Cup" character Roy McAvoy so eloquently stated:
"I mean, it's open. Anyone's got a shot at it. You just gotta get past a local and a sectional qualifier, and unlike Doral or Colonial or the AT&T, they can't keep you out. They can't ask you if you're a garbageman or a bean-picker or a driving range pro whose check is signed by a stripper. You qualify, you're in."
Late in the day, with only two spots available at this sectional and one already locked up, Peterson needed to par his 36th and final hole of the day. He made birdie instead.
When we spoke minutes later, he didn't hide his feelings about the irony of earning his way into a USGA championship.
"I hope I see all of the committee members," he said. "I'll shake their hands, tell them I'm glad to see them. And hopefully just do as good as I can. I mean, I don't really have anything to say to them, but I'm a pro now, and I can accept checks, so hopefully, I'll play well enough to get one."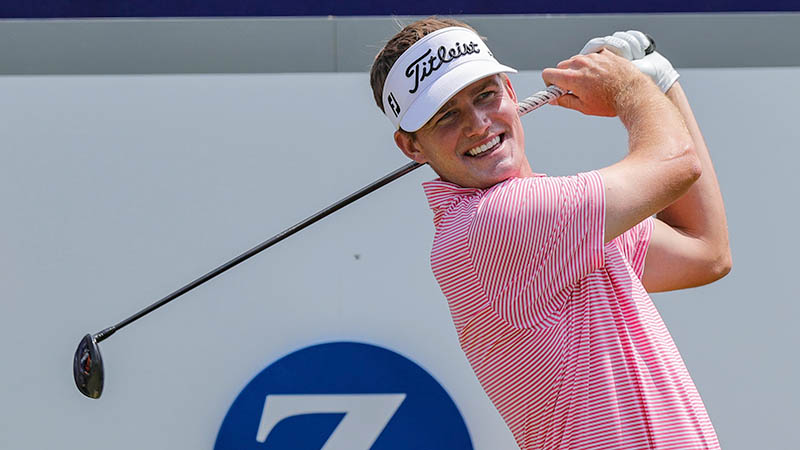 Credit: Stephen Lew-USA TODAY Sports
A few weeks later, with no status on any major tour, Peterson climbed into contention at Olympic Club. He made a hole-in-one in the third round and finished the week in a share of fourth place, just two strokes behind winner Webb Simpson.
The writing was on the wall for Peterson: A future star was born.
That was only half the story, though. One week earlier, his paternal grandmother, Elizabeth, passed away after a short illness. Peterson grew up spending every Father's Day at his grandparents' home in Fort Worth, Texas, eating barbecue and watching the final round of the U.S. Open.
His performance that week wasn't about foisting himself into the discussion of top young players. It was about easing the pain of his family, which was still in mourning.
Perhaps that story helps explain why Peterson is now playing with "nothing to lose" as he prepares to play in the FedEx St. Jude Classic — potentially one of his final PGA Tour events.
After a few years of injury-riddled seasons that left him with more downs than ups, Peterson and his wife welcomed their first child in October — Luke William.
Peterson always knew he didn't want to play golf forever, but his son helped accelerate that timetable. It's why he's maintaining that if he doesn't keep his PGA Tour card after two more starts remaining on his medical extension –- he needs to earn $295,707 — he's done.
His backup plan? Staying back home in Fort Worth, taking a job with a friend's real estate development company and spending more time with his young family.
"I'm kind of freewheeling it at this point," he said after a first-round 6-under 65 at last month's Wells Fargo Championship. "I know a little bit has been said about me retiring if I don't make the necessary money for my medical starts, and that's all true. If I don't make it, I'm not playing golf anymore. So I'm kind of freewheeling it out here. I don't really have a ton to lose."
There are very few occasions when that cliché is truly applicable for a professional athlete.
Everyone has something to lose, but in Peterson's case, he really doesn't. If he doesn't earn enough money to keep his PGA Tour card, he'll be able to move on to the next phase of his life and stay home in Fort Worth with his family. And if he does, well, that's just another decision he'll have to make.
---
More Golf Coverage
How would you rate this article?