OHL Classic: Fowler still favored with Kizzire, Rodgers close behind
Rickie Fowler remained the favorite at the OHL Classic, while our pre-tournament play, Patton Kizzire, is still in contention.
Fowler sits at 10-under after 15 holes of the second round, which had a weather delay and was eventually halted because of darkness. He's at the top of the betting odds at +150. Fowler trails only Patrick Rodgers on the leaderboard with Rodgers at 11-under through 15 holes. Rodgers is at +550, while Kizzire sits at +800 and was the only one of the trio to finish his round, coming in at 10-under.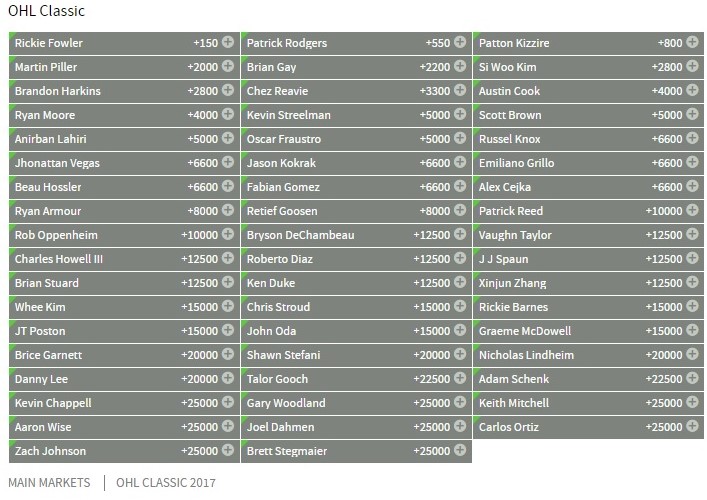 With a couple holes still to go, it's hard to imagine Fowler or Rodgers not finding another birdie on this relatively easy course, but the early start on Saturday to finish combined with a later tee time for the third round will make for a long day. Because of that, I still like where we are with Kizzire, who will be in his normal routine after completing play.
Of our other plays, Russell Knox as a top 10 is in the best shape. Knox came in at 6-under and is tied for ninth place. I also added a small play on Ken Duke earlier in the round at 250-1 for a quarter unit. He's currently at 6-under as well in ninth place. He's down to 125-1 now and this a track where shorter, older players like Duke have found success. If Fowler slips up for some reason, he may be able to contend.
With the second round still going, there's no matchups out for Saturday's round. I might fire at something and post it on Twitter, but it will likely be a calm day for golf while I just throw some college hoops darts around.
Joshua has spent the last five years writing about sports and the last 10 years betting them, mostly on golf. He's one of approximately five people who will watch the PGA over the NFL in November. Follow him on Twitter @JoshuaPerry22
Photo: © Rob Ferguson-USA TODAY Sports
Be part of the Action
Download the Sports Action app at the App Store or Google Play