Predicting the Players Who Will Be on the Move Saturday at the Masters
Credit:
Rob Schumacher-USA TODAY Sports
They call it Moving Day — an ironic moniker for the millions of couch potatoes who will remain completely immobile during the third round Masters Tournament telecast.
Saturday should separate the green jacket contenders from the pretenders, though a quick glance at the current leaderboard shows there aren't many of the latter still in the mix. Eight of the top 13 have won major championships before, while most of those who haven't are no strangers to contending on the weekend.
Let's take a look at which players I think will be moving on up — and down — this weekend.
⏬ 1. Patrick Reed (-9). It's difficult to see him staying anywhere but in the lead after Friday's exceptional display, but the law of averages says he'll struggle for a sequel. And there's nowhere to go but down.
⏬ 2. Marc Leishman (-7). Windy conditions should play right into the hands of the big Aussie from Warnambool. A noted low-ball hitter, he should be rooting for Mother Nature to blow some gusts all afternoon.
⏬ 3. Henrik Stenson (-5). His past experience at Augusta — no results better than T14 in 13 career starts — suggests a negative regression might be on the horizon this weekend.
⏫ T4. Jordan Spieth (-4). Following a disappointing second-round 74, he explained that after poor tee shots on the first two holes, he played much better. His track record on this course suggests it will continue.
↔️ T4. Rory McIlroy (-4). Discouraged by a 1-under 71 that he thought should have been better, McIlroy is the most volatile of the elite players on this board. Capable of going super-low or vanishing quickly.
⏫ T6. Justin Thomas (-3). Here's a handy little stat: JT (pictured above) just happens to rank third on the PGA Tour this season in third-round scoring average and first in final-round scoring average. That's a neat little combo.
⏫ T6. Dustin Johnson (-3). Expect DJ, the PGA Tour leader in third-round scoring average this season, to keep destroying the par-5s, which he played in 4-under during the second round.
⏬ T8. Charley Hoffman (-2). A perennial first-round stud at this tournament, he played nicely on Friday (73), though it's tough to envision him hanging with the big boys as the weekend unfolds.
⏬ T8. Tony Finau (-2). He won't use it as an excuse, but the ankle injury that almost kept him from competing this week can't be improving much on the hilly terrain at this course.
⏫ T8. Rickie Fowler (-2). Even though his recent weekend performances have been pretty ugly, he's got something to prove at majors and hasn't yet played his best golf this week.
↔️ T8. Louis Oosthuizen (-2). Feels like he either totally shows up or completely disappears at majors. He's in this one, and there's a good chance he isn't going anywhere now.
⏫ T8. Justin Rose (-2). A trendy pre-tournament pick to win, he's carded nine birdies and seven bogeys through two rounds. If he cleans up those mistakes, the trendy pick could now be a sneaky pick to still win.
↔️ T8. Bubba Watson (-2). He either has it or he doesn't at Augusta, with two career victories but no other finishes better than T20 in seven starts. It certainly seems like he has it this week.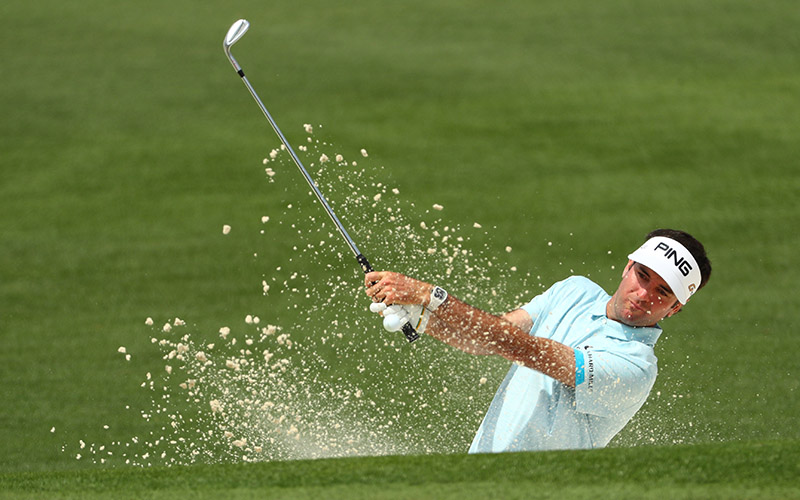 ↔️ T14. Cameron Smith (-1). Quickly building a reputation for owning one of the best wedge games around, that alone might be enough to keep the young Aussie in contention through Sunday.
⏫ T14. Matt Kuchar (-1). An uncharacteristic 3-over 75 plagued his second round, but Kuch has made a major career out of battling in the weekend rounds to post some strong results.
↔️ T14. Jon Rahm (-1). Following an opening 75 with a 68, Rahm will need to keep his foot on the gas pedal, though that'll be a difficult proposition after such a low round.
↔️ T14. Bernd Wiesberger (-1). One of the lesser-known players on this leaderboard, he's an underrated ball-striker who's due to continue popping up on major championship leaderboards.
Of course, those outside the top-17 are hardly out of it, either. Here are a few of those guys who could still put together a serious rally.
Adam Hadwin (E) finished with a disappointing double at 18 on Friday, but performed admirably until then. Those who have taken note of his recent play aren't surprised by his performance so far, as he's posted four straight finishes of 17th or better.
Jason Day (+2) ranks 75th this season in Round 1 scoring average, but once he settles in, Day tends to play the type of golf we all know he's capable of. After an opening 75, expect him to keep gaining momentum.
Kyle Stanley (+2) is a world-class ball-striker, but perhaps more importantly for these purposes, he's also tends to be a streaky player. When he's on, he's often really on.
Bryson DeChambeau (+4) is probably too far back to get into serious contention, but has shown a propensity for moving up on the weekends.
Phil Mickelson (+5) is also too far behind for a fourth green jacket, but Lefty playing a major round with few consequences will result in a lot of aggressive lines — and a scorecard that could include plenty of red circles.
How would you rate this article?