Logic Suggests a Good Week for Tiger, But He's Defied Logic All Year
Credit:
Jasen Vinlove-USA TODAY Sports
The Highlights
Tiger Woods has five career wins at the Memorial Tournament, making him a popular pick this week.
But a word of caution: Woods' 2018 season hasn't followed convention. He's flopped at courses where he's thrived in the past and vice versa. 
---
DUBLIN, Ohio — At the midway point of Wednesday's pro-am for the Memorial Tournament, host Jack Nicklaus was waiting around to say hello to Tiger Woods.
It was the first time they'd seen each other since the champions' dinner at Augusta National nearly two months ago, so they made a little small talk right there behind the 10th tee.
Then they got to the serious stuff.
"Your swing is starting to look better," Nicklaus told Woods after watching him hit a drive.
"Yeah," Woods replied. "I'm really not that far away."
At that point, the 18-time major champion nodded his head, agreeing with the 14-time major champion while advising that he still needs to maintain some patience with it, too.
The two men are inextricably linked, golf's two most decorated major champions, one having spent the past two decades stalking the hallowed record of the other. They're each asked endless questions about the other, Nicklaus remaining steadfast in his opinion that Woods will win more majors and Woods continuing to heap praise on Nicklaus for all of his contributions to the game.
A smaller part of that link is based right here in the middle of the Buckeye State.
Woods has won Nicklaus' tournament five times, receiving a handshake and trophy from the Golden Bear on the final green more than anyone else in tournament history.
All logic points to a convergence of form and familiarity for Woods this week. If, as he stated to Nicklaus, his swing really isn't too far away, a venue on which he's won a quintet of titles is seemingly a perfect place for everything to come together.
Here's the only problem with that assessment: Tiger's season so far has defied most logic.
Let's examine that path, beginning with his first start back in January.
---
Farmers Insurance Open (T-23)
Following a surprisingly successful week at the Hero World Challenge in December (T-9), Woods arrived at Torrey Pines with the bar of expectations probably raised much higher than it should've been. Granted, it was easy to watch his effortless swing in the Bahamas and think about his eight career professional wins at Torrey Pines and start believing the improbable was actually probable that week. Instead, Woods finished in a share of 23rd place, which should have been considered a victory based on his comeback from a fourth back surgery.
Genesis Open (CUT)
For more than 20 years, the annual event at Riviera has been Woods' personal white whale, the hometown tourney that has always eluded him. With his name now attached as host, though, and renewed motivation followed that strong start at Torrey, logic would've pointed to Woods at least making it to the weekend. It didn't happen. He posted rounds of 72-76 and slammed the trunk Friday afternoon.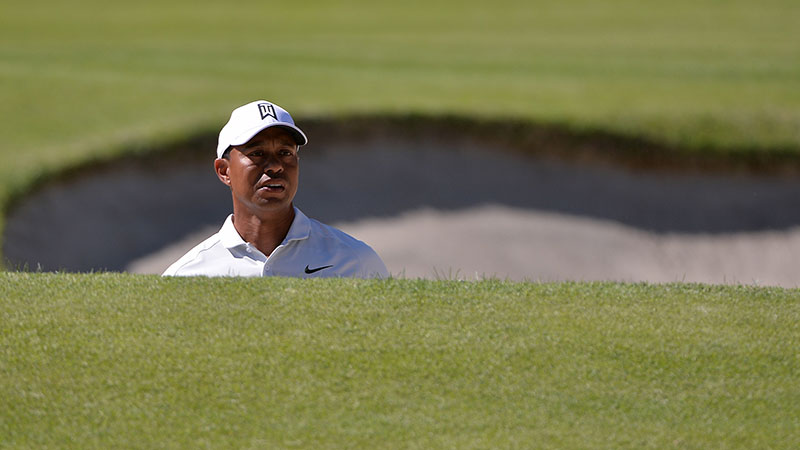 Orlando Ramirez-USA TODAY Sports
Honda Classic (12th)
This was the point where we all figured we'd pump the Tiger brakes and finally lower the bar. After all, he was fresh off a missed cut in Los Angeles and heading to a brutally tough track that usually features swirling, gusting winds. And then there's the idea that Woods only plays this event to appease the locals in his adopted hometown. So without many expectations, what did he do? He posted four solid rounds to finish 12th.
Valspar Championship (T-2)
This one never felt like a Tiger week. First off, it was his initial trip to play Innisbrook; the ultimate creature of habit, he'd never before added this one to his schedule. Secondly, it's a course that requires precise driving off the tee, something that wasn't even Woods' forte in his prime. Again, though, his efforts simply defied logic, getting into serious contention on Sunday afternoon, only to lose by a stroke to Paul Casey, finishing in a share of the runner-up position.
Arnold Palmer Invitational (T-5)
One week after his title contention in Tampa, Woods returned to Bay Hill, site of eight career victories. It was the perfect setup for him — his game was obviously in great shape and he was competing on a course where he was more comfortable than anyone else in the field. Woods didn't disappoint, posting four rounds between 68 and 72 to finish T-5, but it could've been better. There was a buzz in the air Arnold Palmer's tournament on Sunday afternoon, with Woods stalking the lead. Instead, Rory McIlroy lapped him — and the rest of the field — to claim the title.
Masters Tournament (T-32)
We all knew this was the tournament Woods was building toward, because he took every opportunity to constantly remind us. No tourney means more to him than the Masters, and oddsmakers even installed the four-time green jacket winner as the field favorite in the weeks leading up to the event. That title contention never materialized. Woods didn't break par until the final round, when he was already out of the mix, closing his week in a share of 32nd place.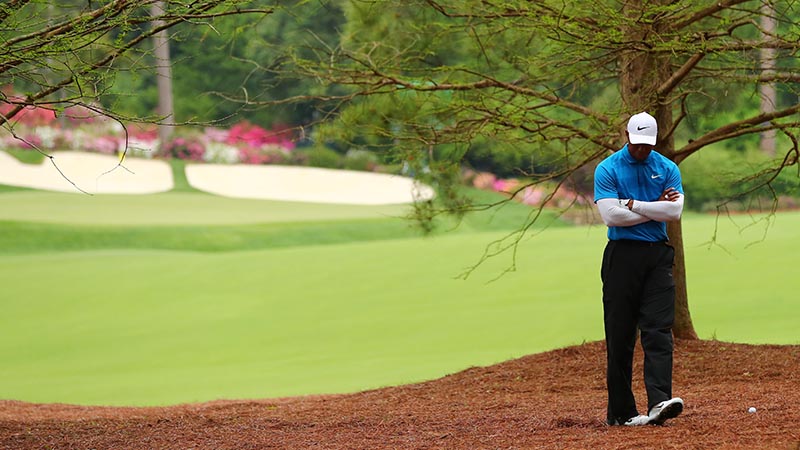 Rob Schumacher-USA TODAY Sports
Wells Fargo Championship (T-55)
Once again, Woods' performance defied conventional wisdom on a course where he's won in the past. Never looking comfortable with his game, he struggled to a share of 55th place, ostensibly a step backward in what had been a successful comeback so far.
The Players Championship (T-11)
This was another blow for logic. Woods has never hidden the fact that this isn't his favorite event. Yes, he's won twice, but that's based more on the fact that he's often been good enough to win anywhere and less on the fact that TPC Sawgrass fits his eye. Fresh off disappointing results at both Augusta and Quail Hollow, there wasn't much reason to expect a strong week from Woods, but he again surprised, this time in a positive manner, with a 65-69 weekend to finish in a share of 11th place.
---
All of that brings us to this week. Woods enters the Memorial Tournament at +2800, tied with Rickie Fowler for the seventh-shortest odds in the field.
Logic suggests that he should contend here, that his improved swing and brilliant short game should lead to another weekend with buzz in the air at a course he knows so well.
And that logic just might prevail this week. But as we've already seen from Woods in his latest comeback, his weekly results have been tougher to predict that ever.