Sobel's AT&T Pebble Beach Pro-Am Preview: Follow the Unique Trends
Credit:
Orlando Ramirez, USA Today Sports. Pictured: Jordan Spieth
Dustin Johnson (+500) is the favorite to win the 2019 AT&T Pro-Am at Pebble Beach with Jason Day (+800) not too far behind.
Jason Sobel breaks down the field for the tournament and offers his favorite bet for the tournament.
We witnessed a few trends over the past couple of weeks that could – and hopefully should – assist in some decision making ahead of this week's worldwide events.
The first is that the rich are getting richer – both literally and figuratively.
Each of the last two winners on the PGA and European circuits has been an elite-level player, all with a world ranking of 14th-or-better at the time of their victories, the type of guys about whom we shouldn't be surprised to see win a title.
Think about it: If I'd told you a few weeks ago that Justin Rose, Bryson DeChambeau, Rickie Fowler and Dustin Johnson would each soon be holding aloft some hardware, you probably would've thought, "Yeah, that seems about right…"
On the heels of longshot Adam Long's victory before that, the best of the best are showing up early in this campaign.
But here's the other trend: Hardly any of them were heading in the right direction prior to those wins.
Only DeChambeau, who posted results of 7-10 on the Hawaii Swing before his victory in Dubai, was coming off a top-10 finish.
Rose was steady, but not spectacular in claiming a T-34 result at the Desert Classic before winning at Torrey Pines; Fowler looked average in a T-66 at Torrey before winning in Phoenix; and Johnson was hardly playing poorly, but only managed a T-16 in Abu Dhabi before winning in Saudi Arabia.
What should that tell us going into this week's AT&T Pebble Beach Pro-Am?
Well, trends are hardly foolproof locks, but if we're seeking a guy who could fit this mold, there are plenty of options.
Jordan Spieth is No. 1 on this list. He's made a habit in his young career of playing well when it's least expected of him, when it appears there might be something seriously wrong with his game. He's gone MC-35 in his first two starts of the year and now ranks outside the world's top-20. I'll get to Spieth more later in this preview, but this is the type of week that could spark the turnaround he's been looking for – and one which would prey on that current trend.
Others include Phil Mickelson, Tony Finau and Patrick Cantlay, each uncharacteristically coming off a missed cut in his last start.
Expect the markets to react to these recent results and DFS ownership to creep a little lower, as we're all guilty of a little recency bias.
As we've seen lately, though, the elite players can turn things around at a moment's notice. This could be another week which proves it true.
Favorites
Dustin Johnson (+500)
To DJ or not DJ: That is the question. As I've written before, I'm not a fan at taking a guy 5-to-1 in a full field, but it should be noted that DJ  pummels Pebble and is fresh off a victory last week. If you're going with him in OAD pools and as your DFS anchor, I can't argue against it.
Jason Day (+800)
Real conversation I had with Day at Pebble a few years ago:
Me: "So what made you decide to come play here this year?"
Day: "Well, I play here every year."
Me: "Ah, so this year is, uh, one of those years then…"
Whomever said there are no stupid questions should've seen the look on Day's face, as he quickly smiled and needled me for the stupid question.
Anyway, that might've been a fun way for me to squeeze in this story, while similarly saying that, like with DJ, the 8-to-1 number doesn't get me too excited. Again, though, if you love him for other formats, I can't fault you.
Jordan Spieth (+2000)
The last time Spieth won a tourney? It was the summer of 2017, when he went back-to-back at the Travelers Championship and The Open. In the tourney before those, he finished T-35. This week, he's fresh off another T-35 in his last start. That's either some crazy, spooky omen or just a coincidence. Probably a coincidence. The point remains, though: He's turned things around pretty quickly in the past.
Mid-Tier
Chez Reavie (+3300)
The worst thing about picking – and writing about – Reavie is that now every time I do so, invariably it makes me think about my podcast pardner The Sleeze, who nailed Reavie's strong result at the Sony Open a few weeks ago. He's been running hot ever since and on familiar West Coast surroundings, where he finished T-2 a year ago, I expect another big week for him as a popular play in all formats.
Shane Lowry (+4000)
He's in form, with a win and a T-12 in his two European Tour starts this year. He's (theoretically) motivated, having lost his PGA Tour card last season. And he's a terrific bad-weather player, the type of guy who could thrive in the wind and rain.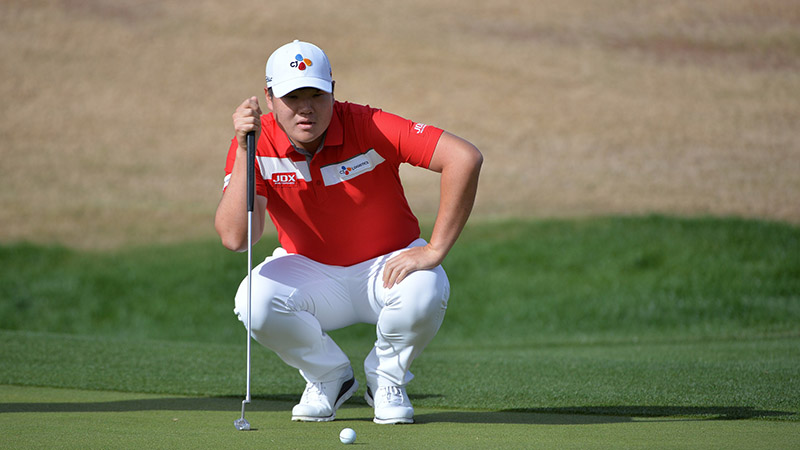 Sungjae Im (+5000)
Another week, another Im play. Clockwork.
J.B. Holmes (+7500)
It feels like the former Ryder Cupper is a forgotten man these days, now ranked 100th in the world, but results of 26th or better in four of his six starts this season should at least have him on our radar. He's played well in California and, like Kokrak, his length should be a factor here.
Longshots
Doug Ghim (+9000)
I still don't know whether Ghim projects as an elite player over the long-term, but in the short-term he's playing terrific golf. Following a T-20 at Torrey Pines, he was T-3 at last week's Web.com event. I really like him at +300 for a top-20 finish this week.
Trey Mullinax (+10000)
Ever watch a kid play Little League and you can literally see the improvement on a weekly basis? I feel the same way about Mullinax right now. He's getting better right before our eyes. Another long hitter, I think he's an excellent cheap DFS buy.
J.J. Spaun (+11000)
What a price. Spaun is a West Coast specialist who hasn't been very special on the West Coast so far. That's driven his price up and only makes me like him more. That +2300 number for a top-five is awfully enticing.
My Favorite Bet
Top GB & Ireland Player: Shane Lowry (+400)
I outlined above why I like Lowry this week – a multitude of reasons, from form to motivation to weather.
Against just six other GB&I players, I love his chances to cash this bet.
Lowry is third-favorite behind Tommy Fleetwood and Paul Casey, the latter of whom I believe should be his greatest threat. Listed behind him are Matthew Fitzpatrick, Russell Knox, Martin Laird and Graeme McDowell, but I don't foresee a big week coming for any of them, either, though Fitz could be an interesting punt in his maiden voyage to Pebble.
Even so, this feels like a Lowry/Casey battle to me. And at +400, I like the chances of Lowry winning this one.
How would you rate this article?