British Open 2018 Betting: Rory, Spieth Are Smart Wagers for Weekend
Credit:
Thomas J. Russo-USA TODAY Sports. Pictured: Rory McIlroy
Some big names, including Tiger Woods and Rory McIlroy, are in contention entering the weekend at the 2018 British Open.
There are still plenty of ways to bet and make money during the third and fourth rounds.
Jason Sobel offers his best bets for the tournament winner, top-10 finishers and third-round matchups.
At this point in The Open Championship, you likely have a good feel for whether this week has been a personal winner or loser. You know by now if your pre-tournament bets still have a chance or if they're dead money.
Whether you're stepping on the gas pedal or trying to do some damage control, there's still value in betting the final two rounds.
Here are some players to watch — for three different types of wagers — who could either add to your haul or help recoup those losses.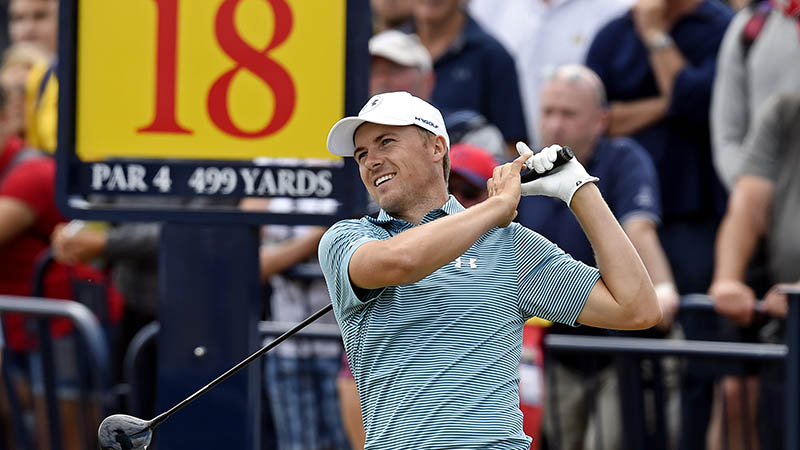 Ian Rutherford-USA TODAY Sports. Pictured: Jordan Spieth
---
>> Download The Action Network App to get real-time odds, track your bets and follow all of our experts' picks.
---
Bets To Win the British Open
Rory McIlroy (+750)
I've been saying for the past half-dozen years or so that McIlroy's A+ game is still a notch better than anyone else's in the world — that he owns another gear that others don't. The problem is that we see his A+ game less frequently than we see those of Dustin Johnson or Justin Thomas.
It's been four years since McIlroy's last major title; in that time, he's endured injuries and enjoyed personal maturation. It's impossible to measure these types of things, but it seems like he has a little more fire in the belly this week.
Following his second straight 2-under 69, he spoke about the learning process after losing this year's Masters and not worrying as much about the result. Well, not worrying about it just might lead to a much better one this time.
Jordan Spieth (+850)
I debated whether to put Spieth or Rickie Fowler in this spot, because I do like the latter's chances to pull off his inevitable first major soon. (Rickie has slightly shorter odds at +800.) But I opted for the defending champion simply based on the experience of having won this tournament before and one impressive statistic.
---
>> Get a 7-day free trial to access more premium golf articles like this throughout the PGA Tour season.
---
Despite his struggles this year — in fact, Spieth hasn't won a single tournament in 52 weeks — he still leads the PGA Tour in final-round scoring average. He's currently three shots off the lead; if he gets through the third round in a similar position, he can rely on a strong run of Sunday play lately.
Jason Day (+8000)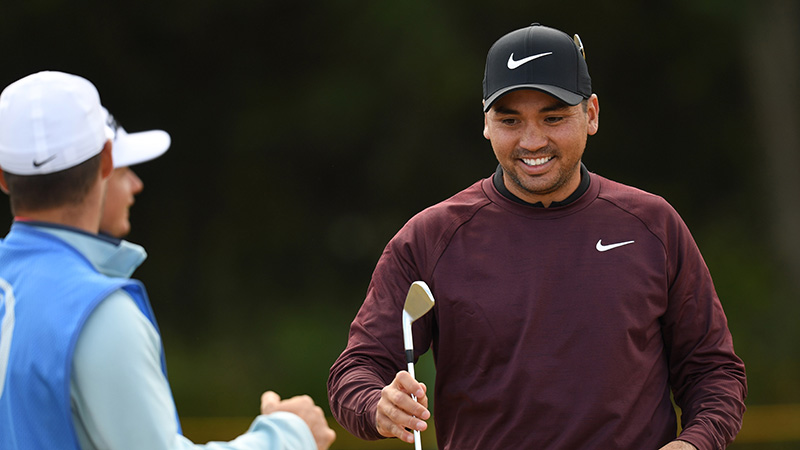 Thomas J. Russo-USA TODAY Sports. Pictured: Jason Day
Nineteen years ago, Paul Lawrie was 10 strokes off the lead entering the final round at Carnoustie, then erased that entire deficit to claim the Claret Jug, thanks in large part to Jean Van de Velde. That should serve as a reminder that we should continue looking a bit further down the leaderboard for a champion going into this weekend.
Of those lingering at even par, Tiger Woods (+4000), Phil Mickelson (+10000) and Francesco Molinari (+6500) are all worthy options, but my favorite here is Day. He already owns two victories this year and tends to play some of his best golf in the final two rounds, once he's already gotten a good feel for the course. At this number, he also provides a nice return on investment should he get hot the next two days.
Top-10 Finishes
Matthew Southgate (+650 for top-10)
Yes, the leaderboard is going to be rearranged from Friday evening to Sunday, and some of those players currently outside the top 10 are going to creep their way into a solid result by the time it's over.
Let's start with Southgate, whom I was touting before the tournament teed off. He's a member at Carnoustie and plays very well at The Open, with finishes of T-6 and T-12 in the past two years. He'll have an advantage if the course gets back to the firmness of Thursday, which is expected, since there's no rain forecasted for the weekend. At 1-under, he's not too far off this mark already.
Marc Leishman (+1400 for top-10)
Sometimes the best weekend bets are the ones that just haven't paid off yet. I really liked Leishman going into this week, and he was cruising along in the opening round at 4-under through eight holes until disaster struck. He finished with a double and four bogeys in his last 10 holes, posting a 72, then following up with the same score on Friday.
That shouldn't change any of the pre-tourney reasons we liked him: He's still a terrific links player and still a guy capable of posting a low number. Here's hoping for a third-round 65 or 66, as he kicks back in the afternoon and watches his name fly up the board.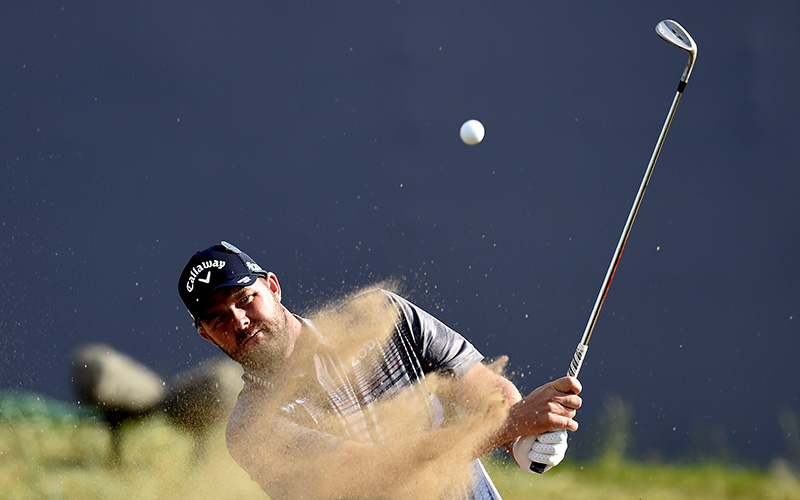 Ian Rutherford-USA TODAY Sports. Marc Leishman
Patrick Reed (+2500 for top-10)
After a disappointing 75 in the opening round, somebody reminded the U.S. Ryder Cup sparkplug that he was competing on enemy soil. Reed responded with four birdies in his first 14 holes before giving back three strokes for a second-round 70 to make the cut on the number.
---
>> Sign up for The Action Network's daily newsletter to get the smartest conversation delivered into your inbox each morning.
---
Even so, I like Reed's moxie to push him through for two more solid scores to keep moving up while others drop. He's one of a handful of players who tends to play his best golf in majors; rather than simply playing for pride, the Masters champion will go into the weekend believing he still has a chance to win this tournament. At this price, it's worth backing him for a chance to get close.
Matchup Bets
Tommy Fleetwood (-170) over Pat Perez
The day's penultimate pairing will feature contrasting styles. Fleetwood is a picture of tempo and rhythm, determinedly going about his business without much emotion. Perez, on the other hand, is more brutish and heavy-handed, not averse to punctuating a poor shot with a naughty word, as he did on the final tee Friday afternoon.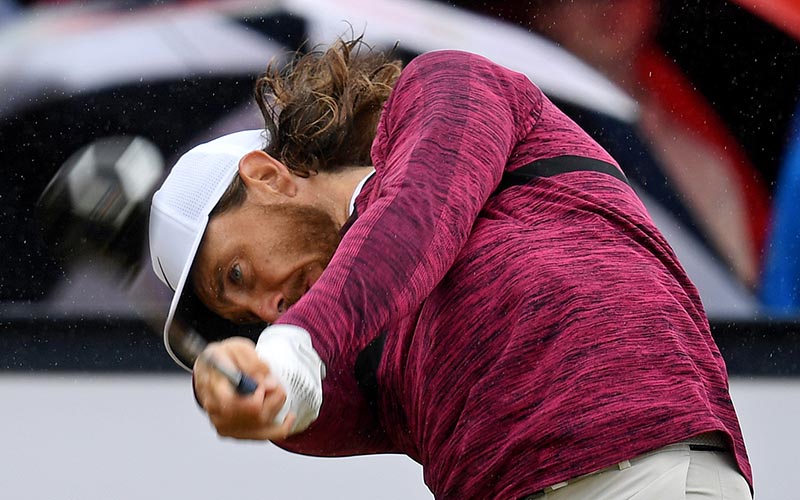 Thomas J. Russo-USA TODAY Sports. Pictured: Tommy Fleetwood
The pick here is less about their styles and more about their talent. Fleetwood has proven himself to not only be an elite player, but a guy who steps up his game on the weekends of majors. Expect him to do enough to beat his playing partner in this one.
Tiger Woods (-260) over Shaun Norris
Look, I get it: I'm not exactly climbing out on the thinnest limb here. Taking a 14-time major champion to beat his 125th-ranked playing partner is akin to betting on the sun to rise from the east tomorrow morning. And the truth is, I liked Norris a little bit entering this week, fresh off two top-five results in his last four starts on the Japan Tour.
---
>> Download The Action Network App to get real-time golf odds, track your bets and follow all of our experts' picks.
---
But I just wanted to get this in the piece, in case any of you are considering the plus number against him: Tiger currently leads the PGA Tour in third-round scoring average. Saturday's round is — lemme check this — yup, it's the third round. Everything adds up. Expect him to make a few more putts and win this matchup.