Sobel: What We Learned From Brooks Koepka's Fourth Major Championship
Credit:
John David Mercer-USA TODAY Sports. Pictured: Brooks Koepka celebrates after winning the 2019 PGA Championship.
While Brooks Koepka decided to save all the drama of the PGA Championship on Sunday, he still managed to pull through for his fourth career major win.
Here are Jason Sobel's 10 takeaways from Koepka's final round at Bethpage Black.
FARMINGDALE, N.Y. – It was easy all week for Brooks Koepka, until it wasn't.
Within the span of four days, we witnessed domination to the point of boredom, followed by struggles of near-historic proportion, then determination to finish what we'd all thought was already over.
Koepka now owns back-to-back PGA Championship and U.S. Open titles, a brawny resume that befits his physique, but some observers still think they don't really have a handle on him.
No problem, I've got you covered.
Here are 10 takes on Koepka directly after his fourth major victory.
He makes golf look easy
In Tiger Woods' prime years, he never made golf look this easy. That's not a knock on him — in fact, it's just the opposite.
When Tiger was bombing it past his playing partners and hitting towering approach shots and rolling in double-breakers, it looked like playing the game at such a level was virtually impossible for every other human except him. Other players saw how he played and knew, immediately, that they couldn't do what he was doing. It was demoralizing.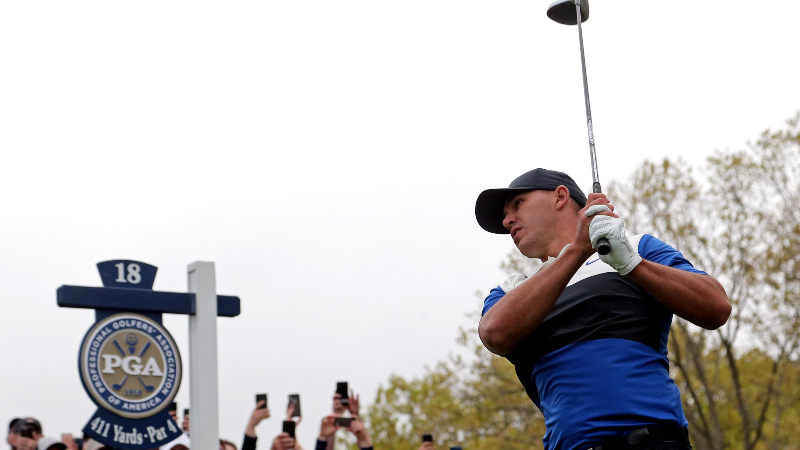 Koepka, by comparison, makes it look easy. He rarely breaks a sweat, never appears stressed over a specific shot.
When he's off, as he was during his five-bogey back-nine on Sunday, it doesn't seem like he's rattled.
When he's on, we watch him play and think: Why doesn't everyone else just play like that?
It looks easy, but it's obviously not. If it was, everyone else would be playing like him.
He doesn't deserve the no-attention narrative
One of the biggest questions being asked during Koepka's four-round victory lap was: Why doesn't this guy receive more attention?
Well, one reason is because his major championships have all come so quickly that his storyline hasn't had more time to develop. Another reason is that he doesn't play this well during non-majors, so the attention doesn't carry over. And yet another reason is that he doesn't open up as much as others, so there's less to talk about, although he's been much more open lately.
But here's the best answer to the question everyone is asking: He really does receive the attention.
Sure, he hasn't received as much pub as other top players over a sustained period of time, but it's impossible to have watched majors over the past four years and think he's somehow continually getting shortchanged.
This is the low-hanging-fruit of all Koepka topics. It's what we speak about when there's nothing left to speak about, which in itself is a contradiction, essentially: We've talked so much about Koepka that the only thing left to talk about is how much we don't talk about him.
Doesn't make sense, does it?
He loves having a chip on his shoulder
It takes a mature person — not just golfer, but person — to admit they want some criticism, just to be fueled by it.
Plenty has been made about Koepka playing the Rodney Dangerfield card, insisting that other players (read: Spieth, Jordan; McIlroy, Rory; and Thomas, Justin) are bigger media darlings than himself.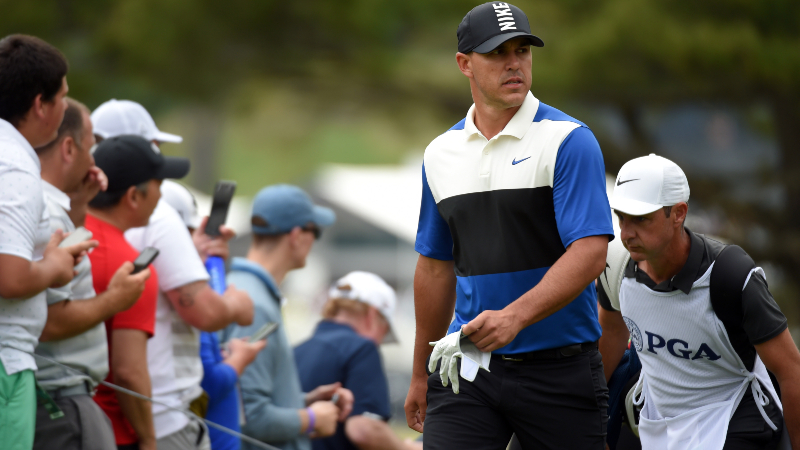 This week, though, he admitted that it doesn't exist as much as he's maintained — and that he doesn't care about it as much as he's said.
"Some of it was a little bit manufactured; I think some of it was quite real," he explained. "But I think you've got to find a chip or you've got to find something to motivate yourself and give you that extra little something going into a tournament or going into an event, whatever it might be, to really want to push you over that line."
Hey, even the New England Patriots scream after titles, "Nobody believed in us." It's working for him.
He's going to keep using that chip, too
After this victory, I reminded Koepka of that early-week quote and asked how he'd maintain that chip if nobody was criticizing him for anything.
I loved his answer. Very revealing.
"I think every great athlete always has a chip," he said. "You look at Michael Jordan, I've heard him talk about having a chip on his shoulder, and I think that's important. It works for me. Why would I stray from that? It's one of those things that it doesn't need to come from anybody. It can come from me. I can make something up in my own head and tell myself I can't get to 10 or more, and I'm trying to prove myself wrong. It doesn't need to come from the outside. I can do it internally, too."
Perfect response. Can't imagine he'll derive much criticism as a four-time major champion, but that internal pressure is obviously important.
He worked his butt off to get here 
Just because it looks easy doesn't mean it is. Koepka goes about his business with an outward nonchalance that we rarely see. Many observers assume he's just naturally talented, like he does a few bench presses and some box jumps, then just goes out there and dominates.
I've always disliked the "nobody works harder than so-and-so…" diatribes, because there's no way of analytically quantifying who actually works the hardest. Even if we counted up hours in the gym and on the range and the practice green, that would only give us a total number showing who works the longest, not the hardest.
And so, I don't know where Koepka ranks on an unquantifiable list.
What I do know is that, just like every other elite player, he started digging secrets out of the dirt at a young age, then kept practicing and improving as the years continued.
In the first words of his interview session after Saturday's third round, when it appeared Koepka was running away with the title, Phil Mickelson offered, "I just have a lot of respect for him and his game and how hard he works."
It was almost as if Lefty was trying to steer the conversation away from Koepka's natural talents and point out just how much work he's put in to become this good.
He's figured out how to peak
Prior to the opening round, I wrote a column on how elite-level players have often insisted they want their games to peak four times each year, but very few have been able to forge a tangible improvement.
A large portion of this piece centered, of course, around Koepka and his ability to figure this out better than his peers.
"I keep things maybe more low key this week than I would on a normal week," he said when I asked him about it. "I don't want to say take it less serious, but more of a relaxed atmosphere. I think sometimes you can kind of out-psych yourself, so I just don't let that bug me. Hey, it's just one week, one hole. You go out there, try not to make any bogeys, and if you're in trouble, just don't make a double because doubles are going to cost you majors."
That doesn't sound like any sort of magic formula other players would've been unable to process, but it certainly works for him.
In a copycat sport, where everyone tries to replicate what the latest winners are doing, others will try to channel this mindset, but he might already have the market cornered on low-key vibes.
He isn't boring. Really.
When other players have won majors by multiple shots — OK, so again I'm talking Tiger — we've remained glued to the action, enthralled by greatness of historical proportions.
Besides the 20 minutes or so when it appeared as if Koepka was, in his words, "half-choking," many viewers considered this a weekend-long snoozefest.
The one main objection I heard about Koepka? "He's boring."
I don't get it.
I mean, what do you want him to do? Sing a song? Tell a joke?
Sure, maybe he could show more emotion, but I've always had a problem with a player going against his innate personality, just to appease the masses.
Besides, a guy like Jon Rahm displays emotion on the golf course all the time and he constantly gets criticized for it. We can't have it both ways, folks. We can't tell professional golfers to be emotional during their rounds, but not too emotional — you know, just the right measure of emotional that we think is the perfect amount.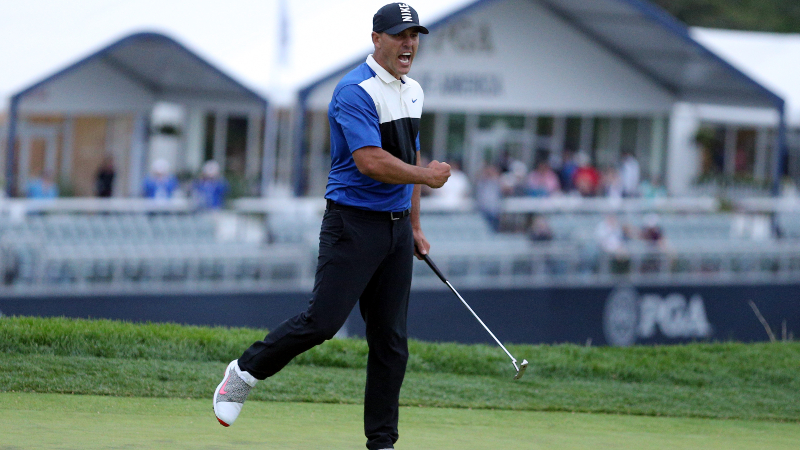 That said, if that final-hole fist-pump wasn't emotional enough for you, then I'll assume you didn't think Tiger displayed enough, either, because that celebration was Tiger-esque.
He's a cold-blooded golf assassin
One of the most telling things about Koepka occurred during his final stroke of last year's PGA Championship victory. Leading by two, he lagged a birdie attempt at the hole.
But instead of marking his ball, waiting for playing partner Adam Scott to finish up, then ceremoniously tapping in to the adulation of the gallery, he just walked up to it and knocked it into the cup like a Tuesday practice round.
It almost seemed like he just wanted to get the win over with and get on to the rest of his day.
The guile he showed in righting the ship after four consecutive back-nine bogeys on Sundays was similarly cold-blooded. With the crowd shouting for Dustin Johnson, he used that as motivation to start playing better.
"When they started chanting, "DJ" on 14, it actually kind of helped, to be honest with you," said Koepka. "I think it helped me kind of refocus and hit a good one down 15. I think that was probably the best thing that could have happened. It was very, very stressful, the last hour and a half of that round. That's why I let a big sigh of relief go."
Two completely different situations, but each shows how much he cares about winning.
He's going to lead to better athletes
Fifteen years ago, Woods was an athlete who just happened to play golf. We'd never seen an elite-level player who was so focused on his body.
Now we look at Koepka and he makes Tiger — even during his Navy SEAL wannabe days — almost seem small by comparison.
Well, it ain't gonna stop here: In another 15 years, there will be more top players who, motivated by Koepka, make him look small.
That's right: In the year 2034, we'll watch highlights from this tournament and chuckle about how Koepka was "the jacked one" in the game. Everyone will look like him, only bigger.
Players will hit the ball 375 yards (if they don't roll it back) without even swinging too hard.
Somewhere right now, there are freak-athlete little kids who don't want to get their heads bashed in as linebackers — or at least their parents don't — and will turn to golf, using Koepka as the prime example of an athlete who has succeeded in this game.
He's one of a kind
There's never been another player like Koepka, who owns four career majors and only two other regular PGA Tour titles.
Andy North had that same ratio – two majors, one other — but he was never considered a steely-eyed major competitor like Koepka.
Not long after his win, he was asked whether having another major would leave him less motivated for other tournaments or spur him on to better things in those, as well.
"I mean, I'm trying. I'm trying my best," he said. "I've finished second nine times and every time I've finished second, I've run into a buzzsaw. … Second sucks, but I've played good every time. So I need to take it over to regular Tour events and start winning there, too. There's no reason I can't."
It might've been more on-brand if he just admitted he didn't care about 'em and just wanted to keep winning four times each year.
But if he's focused on the other tourneys, too, it probably won't be long until he evens out this ratio.
How would you rate this article?