Sobel: Three Ways Koepka Could (But Probably Won't) Lose the PGA Championship on Sunday
Credit:
John David Mercer-USA TODAY Sports. Pictured: Brooks Koepka during the third round of the 2019 PGA Championship.
Brooks Koepka (-12) is seven strokes ahead of the next closest contender at the PGA Championship entering Sunday's final round.
While it's highly unlikely that Koepka loses, Jason Sobel explains the rare scenarios that could lead to an upset.
FARMINGDALE, N.Y. — Not long after posting a third-round even-par 70 to retain the same seven-stroke lead that he owned entering the day, Brooks Koepka had the following exchange with a reporter:
Q: Is there any doubt whatsoever in your mind that you're going to win tomorrow?
A: No.
He did elaborate after offering that response, but his point was already made. Not just that he doesn't think he's going to lose, but that he isn't losing. Period. The end.
He's right, of course. That might be a customary bit of bravado, but it's also the truth. Even so, with all of that in mind, knowing the victory is inevitable, there's still a little piece of us asking a decreasingly relevant question:
What if…?
Here are three ways, mirroring other unfortunate events in golf history, that Koepka could actually, possibly, maybe — but probably not — lose the PGA Championship.
What if … he signs an incorrect scorecard?
Hey, it happened once. At the Masters, no less. Back in 1968, Roberto De Vicenzo was slotted to face Bob Goalby in a playoff, but he signed for a 4 on the 17th hole instead of the 3 he actually made and finished one stroke back.
Now, Koepka might have to sign for a 33 instead of a 3 in order for it to actually matter on Sunday, but he could theoretically sign for a lower score on any hole. Which would bring this rule into play: If a player attests to a card in which the score for any hole is lower than his actual performance, he is disqualified from the competition.
Probably not going to happen. OK, definitely not going to happen. Let's move on to the next one.
What if … he leaves a few extra clubs in the bag?
Back at the 2001 Open Championship, Ian Woosnam was playing in Sunday's penultimate pairing, just one stroke off the lead. The opening hole at Royal Lytham & St. Annes is a par-3, which he nearly aced, tapping in for birdie and an apparent tie for the lead.
That's when he reached the second tee and his caddie realized they had two drivers in the bag – and thus, an illegal 15th club. He was assessed a two-stroke penalty and never quite recovered.
Now, Koepka will hit driver off the first tee at Bethpage Black, so he won't get confused by having an extra in the bag, but maybe a 5-iron or something? I mean, he's basically hitting driver-wedge on most holes, so somehow an extra one could slip through the cracks?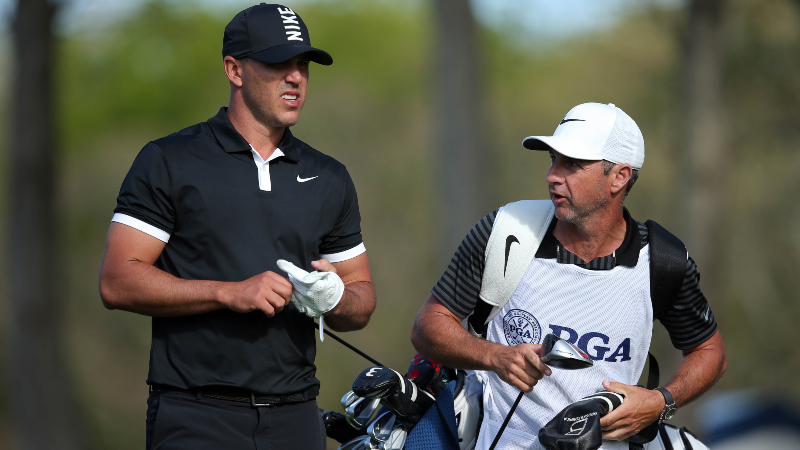 Alright, again, it ain't happening. Next…
What if … the tattle-tales are working overtime Saturday night?
We live in an age where everything is on camera all the time, especially for the leader in a major championship. It's become fashionable for television viewers to hunt for violations, trying to find the smallest possible infraction from a professional golfer.
Two years ago, Lexi Thompson lost a major when it was found afterward that she had improperly marked her ball on one of the greens.
Bad news, though, for anyone hoping to catch Koepka in a gaffe.
The latest edition of the Rules of Golf have rightly eliminated the penalties for these gotcha-type situations, removing all power from the hands of the at-home viewers.
That's right — if you've got a big pre-tourney Koepka fade that you're still hoping to cash, there's no point in poring over the third-round telecast like it's the Zapruder film.
So, there you have it. Three ways in which Koepka could lose the PGA Championship on Sunday.
And three ways which absolutely, definitely won't ever happen.