Golf Futures: Long-Term Strategies for Betting Majors
Credit:
Dennis Schneidler-USA TODAY Sports. Pictured: Brooks Koepka
Betting majors months in advance is all about finding the best value. Joshua Perry breaks down his strategy as well as his 2019 card.
He explains why buying players at their max number and/or when they're fresh off an injury can be profitable.
With the golf season back in full swing, many have already turned their attention to Augusta and the rest of the major calendar for 2019.
Last year, we were able to jump on Francesco Molinari pretty early for the Open Championship and lock in a +5700 price when he end up teeing off at around half that number.
So with the odds posted so early for these big events, the value is there — we just need to find it.
When I'm betting a tournament months in advance, I'm looking for a guy who I think is at his max number, which means that barring an injury in which he can't even play, the odds are probably as large as they'll get. And I'm not looking at anything lower than about 50-1. At that point, it becomes too big of an investment to risk injury or poor form.
I'm also looking to take a chance on guys coming off an injury and have fallen off the radar. Injuries heal, and players are usually return near the same playing level within a few months. And finally, I'm tracking players who have shown signs of becoming elite, but haven't reached that level yet.
The three 2019 Masters plays I made this past summer each meet one of these criteria.
Brooks Koepka was offered at +5000 this past May, when he was fresh off a wrist injury that forced him to miss the 2018 tournament and the odds for the next were at a max level. Looking ahead to the U.S. Open that June, he was only +4000 as the defending champ. So in my opinion, the books were making a mistake by either pricing him too low at the Open fresh off an injury, or his number was way too high for the 2019 Masters in a smaller, weaker field.
Well, Koepka went on to win the 2018 U.S. Open and the PGA Championship — which I didn't really see coming — but now we've got a ticket that's triple his current number.
The original thought was right, though: He's a major champ who was fresh off an injury that was unlikely to be a problem 11 months from the time I placed the bet, but for some reason was being priced into his chances. Bookmakers didn't take into account that he wasn't going to be hurt a year from when they posted the initial numbers.
The other two were long shot darts with Bryson DeChambeau at 100-1 and Si Woo Kim at 250-1.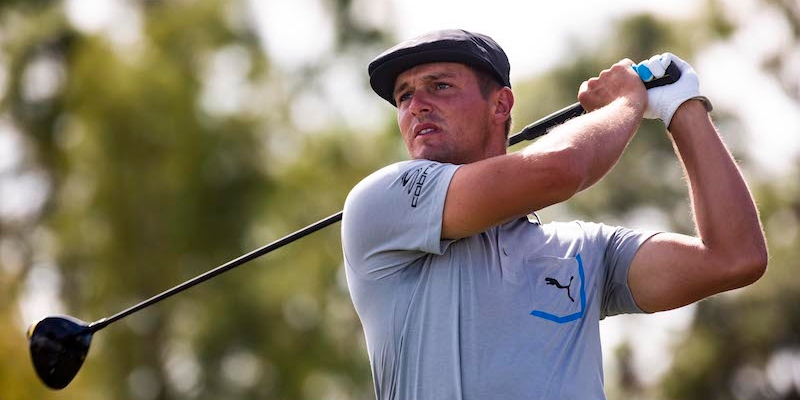 These were both long-term bets based on young talent that could make a leap. One was right, one hasn't changed yet.
DeChambeau was showing signs all spring that he could contend in tournaments. He had a few top five finishes and was one of the best prospects, then he caught fire in the playoffs and that number crashed.
Then there's Kim, who is young and has already won the Players Championship, so he can contend in an elite field. He hasn't done anything recently to see those odds change much, but it's also unlikely that anything will happen that's going to push him into the 300-1 range.
One thing that discourages bettors from making these long-term plays is the form of the player. How well someone is playing heading into a tournament is such a large factor in wagering that many bettors don't want to risk having someone on the card in bad form.
But with these early plays, it all comes down to talent level and building depth with my card.
I'm probably going to bet someone at the Masters at 50-1 or 100-1. So would I rather have Koepka 10 months before the tournament and wait to see how he's playing, or wait until the week of the event and bet someone like Matt Kuchar? Should I risk DeChambeau at 100-1, or wait until April to take Charley Hoffman or Brandt Snedeker?
I want talent at the big number every time in golf — even if I have to wait months to find out whether I made the right call.
So the keys for me are finding undervalued talent who we're waiting to make that leap and figuring out in which scenarios their number would go even higher. If the only answer is injury, then he's on the radar for a future major play.
It's also keeping the risk to a minimum.
I don't need to bet Jon Rahm at 20-1 — even if I think it's a good number — because there really isn't that much room for it to change. Even if he plays really well, it probably won't cut to much less than 15-1 because there are so many good players at the top. But he could just as easily get hurt or show up in bad form, in which cases I have a guy who I could have grabbed at 25 or 30-1.
There are more scenarios in which that number goes up rather than down, and being patient is more important for me with the players who are near the top of the board.
Looking at these numbers is an every day thing for me, but as you can see, that's only three bets over an eight month span. It comes down to monitoring the lines and the players, but we need a lot of factors to come together to actually place the wager.
But, if we know the lines and can track players' progress, we have a chance to find a lot of value before the oddsmakers can make their adjustments.
Here's where my major card stands with a few of these numbers still available.
2019 Masters
Brooks Koepka +5000
Bryson Dechambeau +10000
Si Woo Kim +25000
2019 PGA Championship
2019 U.S. Open
Tony Finau +6600
Tyrrell Hatton +10000
Gary Woodland +15000
Cam Smith +15000