The 10 Biggest Takeaways From A Strange Week in Golf: Rickie Fowler, Sergio Garcia, More
Credit:
Allan Henry-USA TODAY Sports. Pictured: Rickie Fowler
From Rickie Fowler's bumpy final round en route to a win in Scottsdale to the Sergio Garcia saga, Jason Sobel breaks down the biggest takeaways from a weird week in golf.
SCOTTSDALE, Ariz. — Golf has officially gone bi-polar.
In a week that celebrated the uber-popular Rickie Fowler winning the people's major in front of several hundred thousand screaming fans as well as Dustin Johnson reasserting his elite status overseas, there was similarly plenty to cringe about, too.
The Rules of Golf at times appeared silly, especially when misinterpreted and rescinded.
The European Tour contested a tournament on the turf of an authoritarian regime, then witnessed one of its star players tear up that turf in anger. A couple of GOATs teed it up with a controversial president. The contenders in Scottsdale played like a U.S. Open had suddenly broken out. And the man who was perhaps always the most honest in his assessments of all things unseemly hung up his microphone, though not without a valid replacement.
Let's get to all of that and more as we take a spin through the various highs and lows of an uncommonly notable week.
1. Is This Finally Rickie Fowler's Year?
Not long after Fowler held a big lead, lost it and regained it late, I tweeted the following words: "I hate recency bias, especially in golf. Too easy to say, 'If [winner] plays like this every week…' It just doesn't happen like that. That said, on the heels of this victory, I think we can sound the alarm that this could, finally, be the big year that Rickie has been chasing."
Of course, this being social media and all, the common response was something to the effect of: "So, you hate recency bias, but here's some recency bias?"
Well, yeah. Exactly.
Look, I'm not basing my thoughts on Fowler's potential to finally break through for his first major solely on this victory. It's about his growing maturity level as a player over the past decade. You might have seen a guy who carded a triple, a double and tried to throw away the lead; I saw a guy who never looked too distraught in the face of distress and turned things around to win.
That's the type of stuff needed to win majors. More so than other events, players undergo adversity in major championship final rounds. It's going to happen. I loved how Fowler dealt with that adversity and overcame it on Sunday.
I also really liked his answer when I asked him whether he could gain any confidence from winning with a final-round 74, especially after a triple-bogey on 11 that included two penalties.
"With everything that happened there, that was a two, three shot swing pretty quickly," he said. "Yeah, it sucked. But it was kind of just trying to put all that behind me, understand that playing well the first three days and giving myself that cushion is what kind of allows for some mistakes, and you don't have to go out and play a perfect round."
2. Fowler's Dropped Ball Saga
Two things I heard most about the ruling on Fowler's drop/placement rolling back into the water for an additional one-stroke penalty on the 11th hole: "I've never seen that happen before!" and "I can't believe they didn't change that rule!"
I think the answer to the latter can be found in the former. Essentially, if a rule very rarely comes into play, there's probably not much reason to change it.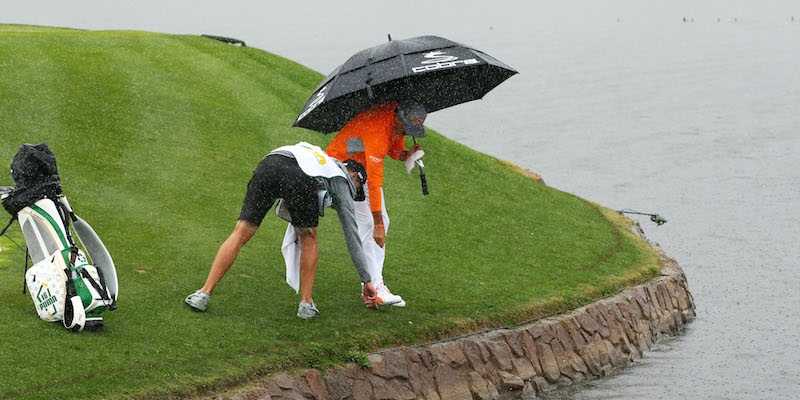 Sure, this was some unbelievably bad luck for Fowler. Upon watching it live, I thought he should've shouldered some blame for this incident. With his ball hanging precariously on that slope, he decided to survey the situation and attempt to minimize the damage, but that specific situation obviously required swift action.
That's easy to say from afar and after the fact, but following his win, Fowler insisted that he'd given it a good look and didn't think there was any danger of losing that ball.
"I thought it was fine," he explained. "I never really thought about it rolling in the water."
Again, we can Monday morning quarterback this thing and contend he should've hit it immediately — imagine if he'd gone on to lose by a stroke? — but it's not as if he carelessly left the ball there without first assessing the situation and believing there wasn't any danger.
3. New Equipment Matters Less Than We Thought
When you're betting on golf and trying to prognosticate tournaments, you look for any little edge that you can find.
Early in the year, that often means scratching players from the card who are just getting acquainted with new equipment. After all, it's a process of elimination; if given a choice between a guy who's completely comfortable with everything in his bag and one who's still in the feeling-out stage, it's easy to blindly go against the great unknown.
Not anymore.
If we've learned anything in the past few weeks, it's that players are adapting quicker than ever before. In his second start with new irons in the bag, Justin Rose won at Torrey Pines; in his second start with a new ball, Fowler won in Phoenix.
It just doesn't matter anymore. In fact, I'd almost lean the other way now.
Those playing with equipment from a new manufacturer have clearly been working more with it and might be more in-sync with their games. After those two wins the last couple of weeks, it's hard to argue otherwise.
4. Bubba Watson Hates Crowds, But Still Plays Well
Bubba Watson might be the game's biggest enigma, but at the WMPO he's also a mystery wrapped in a conundrum.
It's no secret that Bubba needs to feel some comfort level in order to play well; he obviously feels it in Augusta, Los Angeles and Hartford, which explains his terrific record at those events.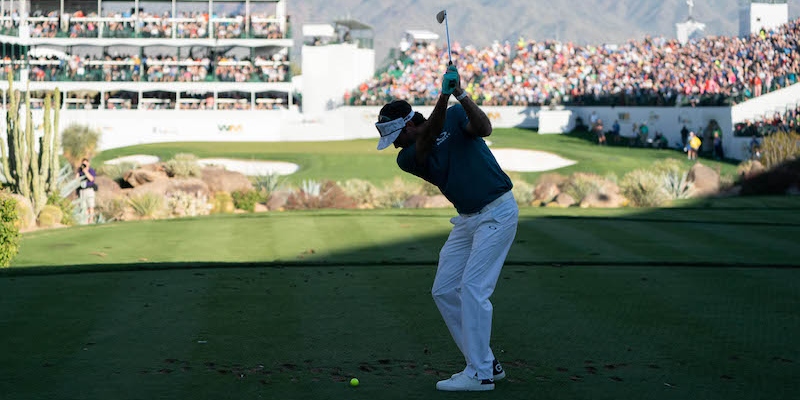 He also feels comfortable in Phoenix, his adopted hometown, though I still don't get it.
A few years ago, as part of a 60 Minutes profile, Watson admitted: "I'm scared of crowds. … In between holes is really scary to me, because there's so many people that close to you. I'm just scared of people in general."
And so, it would stand to reason that playing golf in front of thousands of boozed-up, screaming fans would be the exact environment that he'd completely detest.
Instead, Bubba finished T-4, yet another in a long line of solid results at this event. Considering his mindset, that's really impressive — and really tough to comprehend.
5. Keep An Eye on Cameron Smith
For the past month, Emiliano Grillo and Sungjae Im have firmly been atop my list of "Players I Don't Want To Fade Because I Know They're Going To Win Soon."
I'm officially elevating Cameron Smith to this status after his 10th finish of 22nd or better in his last 12 worldwide starts.
Look, picking winners of individual golf tournaments is a risky proposition — especially when, as we've seen over the past two weeks on the PGA and European tours, only elite-level players have won.
But a small part to long-term success is finding a few horses with value, then riding them 'til they find success.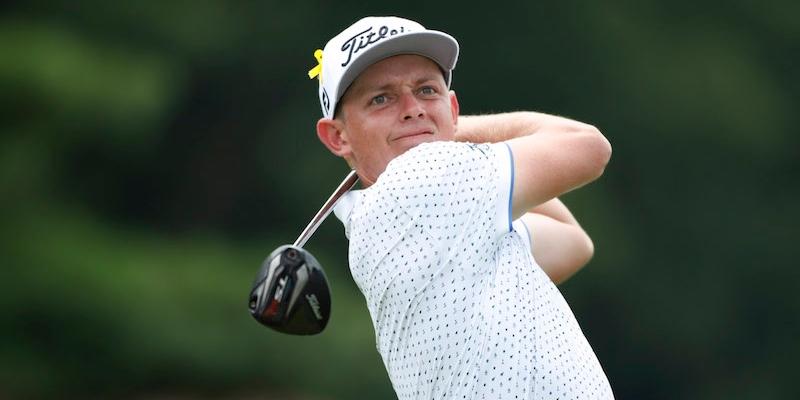 I'll be looking for others to add to this list — and reserve the right to remove any of these three — but I'm sticking with the horses until I'm proven wrong.
6. The European Tour Is an Absolute Dumpster Fire
This week alone, they decided to contest a tournament in Saudi Arabia, which hardly owns the most stable political climate.
One of their most prominent players decided to damage a handful of greens before getting disqualified, and they quizzically bestowed a lifetime membership upon Patrick Reed — who joins the lofty company of Jack Nicklaus, Arnold Palmer and Tom Watson as the only Americans to receive this honor.
Throw in previous situations like Rory McIlroy rescinding his membership and Haotong Li being wrongfully penalized for his caddie lining him up on the final hole last week, and you'll see why CEO Keith Pelley needs to do some serious work to weather this storm.
Not sure there's a magic elixir here that will fix these problems, but the tour hasn't done a good job of getting out of its own way lately. If that doesn't happen soon, the bad pub is just going to keep coming.
7. The Sergio Garcia Incident(s)
I find it a little difficult to pound my fist on the table and offer my strongest hot take on the Sergio Garcia situation without having seen video or multiple photos of the alleged incidents. (Although if they're anything like the video that surfaced from the previous day of Garcia throwing a temper tantrum in a bunker, it's a really bad look for him.)
But it's obvious to me that something immature and uncalled for took place. Again and again and again and again — five times in all.
Trust me: Even though we haven't seen the video, Sergio isn't issuing an apology unless the offense was egregious.
As for the punishment, I find myself somewhere between the ban-him-forever cries that have been echoing throughout social media and the reported actual punishment, which is … nothing.
If the news is indeed everything we've heard, this level of disrespect to his fellow competitors and the course itself is worthy of some sort of European Tour suspension, even if it's just a month or two and wouldn't have impacted his schedule.
It's more about the precedent.
As I tweeted: If you walked into your office and started damaging company property in the middle of your workday, what kind of punishment would you receive from the boss?
For Sergio, the answer is apparently no punishment at all. That doesn't feel right.
8. Score Changes
Along with, well, just about everyone in the game, I agree that the PGA Tour made the right decision in rescinding the ridiculous penalty assessed to Denny McCarthy on Friday for having his caddie help line up his shot (which he clearly wasn't doing).
That said, I still hate the precedent that — positively or negatively — a player's score can change after he signs his scorecard that day. There needs to be a statute of limitations.
For everyone who (rightfully) complained about Lexi Thompson getting docked four strokes at the 2017 ANA Inspiration one day later, we should similarly understand the unfairness of McCarthy's ruling, even though it went in his favor rather than against him.
This needs to go both ways: Either you're in favor of both positive and negative scoring changes the next day or you're not.
It was the wrong call against McCarthy and he deserved not to get penalized. But the game opens up Pandora's Box when scores start changing in the days after rounds have been completed.
---
>> Sign up for The Action Network's daily newsletter to get the smartest conversation delivered into your inbox each morning.
---
9. The Johnny Miller Era Is Over on NBC
And I know a lot of viewers are already rejoicing over that.
Sure, Miller had an ego and talked about his own glory days in more reverential terms than he probably needed to. But he was also brutally honest. You might not have liked his opinions — players often didn't — but at least he wasn't afraid to share them, which is too often the case in this game.
I've always admired the people who weren't afraid to say what was on their mind and not worry about the repercussions.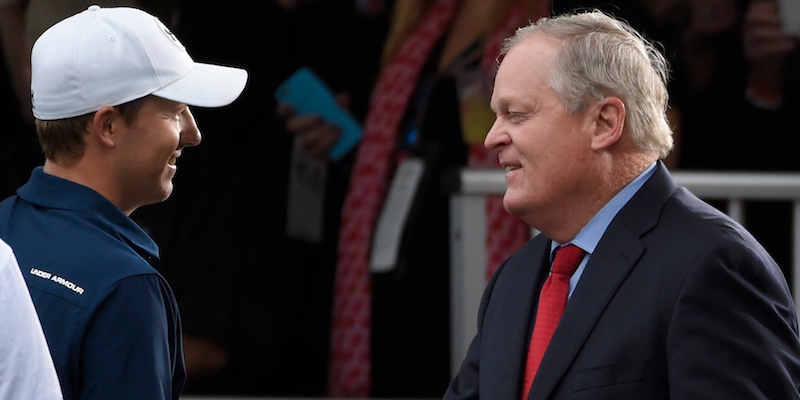 Well, for those of us who appreciate the honesty, here's some good news: Paul Azinger will easily follow in those footsteps.
For the past 15 years, Zinger has been one of my favorite people in the game to simply listen to, just because he brings an unvarnished and often unique opinion on so many subjects.
On his first day in the NBC booth, from what I was able to watch, the transition seemed seamless. My favorite Zinger observation was when he noted that Justin Thomas was missing all of his putts to the right. On cue, he did so again seconds later, then again on the next hole.
Those types of observations will be invaluable for golf fans.
10. Fowler Also Had the Line of the Week
Following his post-third round press conference, two other reporters and I spoke more casually with him off to the side, without any cameras rolling. I'd walked the last handful of holes with Fowler's group and everywhere he went, fans chanted in unison, "Big D— Rick! Big D— Rick!"
So … I asked him what he thought of that nickname.
"It's been going on for a few years now," he said. "It's really growing — the name, I mean."
We laughed, he smiled and walked out of the room like George Costanza, leaving on a high note.
How would you rate this article?