Perry's 2019 Masters Betting Card: 4 Golfers I've Already Bet and More I'm Eyeing
Credit:
Jasen Vinlove-USA TODAY Sports. Pictured: Bubba Watson
Joshua Perry has already made some bets on the 2019 Masters, and he's looking to potentially add a few more to his card.
Check out which favorites he's eyeing, the mid-tier players he's backing, and his favorite longshot (who comes in at 125-1 odds) in the tournament.
The Masters Favorites Who Have My Attention
For months leading into The Masters, the top of the betting board was in flux.
We saw moments where Jordan Spieth, Justin Rose and Dustin Johnson held the distinction of being the favorite. But it will be Rory McIlroy, who has finished in the top-six of every stroke play event in 2019, atop the board at 7-1 as we head into Augusta.
McIlroy has been incredibly consistent this year and finally found the winner's circle with a marquee victory at The Players last month.
There are about a half dozen players right on Rory's tail at the top of the board, all listed below 20-1: Dustin Johnson, Tiger Woods, Justin Thomas, Justin Rose, Jon Rahm, Jordan Spieth and Rickie Fowler are all between 10-1 and 18-1 at most shops.
Looking at the aforementioned, we'd figure that winner would be in that group most years. But the Masters just hasn't been a favorites tournament since Tiger's dominant days. Woods' last win was in 2005 and since then, only three of the 13 winners teed off at under 20-1 (Phil Mickelson twice in 2006 and 2010 and Spieth in 2015).
It's easy to get caught up in the big names, but this tournament is pretty wide open among about 35 guys and the winners tend to fall closer to that mid-tier between 25-1 and 66-1.
With the talent at in the middle range, I usually end up fading all players at the top because I really don't see much value with any of them.
If you decide to jump into this range, I think recent form is the most important thing to look at. A player doesn't necessarily need to have a win coming in, but he definitely needs a few high finishes coming in the past couple months to show he's close.
Players don't really show up at Augusta and win out of the blue. There are usually signs leading up to it.
That doesn't really eliminate any of the big names outside of Spieth, who is probably the worst bet on the board. Books know people will put money on him here because of his history at the Masters. But Spieth's form has never been anywhere near this bad heading to Augusta.
If you're wanting to bet one of the favorites, two players in particular stand out.
I like Jon Rahm and Justin Thomas the most, but I'd need their odds to drift north of 20-1 before I consider betting them pre-tournament.
Wednesday update: I snagged J.T. at 20-1.
While Thomas has been a little off in the past month, but he's had good results this season and is capable of playing well here. Same goes for Rahm, he's had a string of solid results in the build-up to the event and was fourth here a year ago.
I think those two have the best chance to slip through the cracks. Casual bettors will back Rory, D.J. and Tiger. Rickie will have his fans who will bet him because they think he's due for a major. Then there's the group who will still bet Spieth because he might have some course history magic going. But Rahm and Thomas two might not draw the same type of action as others in this range.
With the Masters, you want to go against the grain a bit. Lately, the winners at Augusta haven't been popular selections: Not many were picking Patrick Reed, Sergio Garcia and Danny Willett to secure their first Green Jacket. Among the elite guys, I think Thomas and Rahm fit the best with that narrative.
In that second tier of guys between 20-1 and 30-1, things start to get more interesting. Brooks Koepka, Francesco Molinari, Tommy Fleetwood, Bryson DeChambeau, Paul Casey and Jason Day all come in this range.
I've got both Koepka and DeChambeau already from futures last summer at 50-1 and 100-1, respectively. The numbers have obviously dropped, but neither has been in the greatest form in recent months, so I don't see much value at their current numbers.
Of these guys, Fleetwood and Casey probably interest me the most, but not at their current numbers. I'd want mid-30s on either before I'd consider it. There's probably no chase of getting there with Fleetwood, he's a pretty popular bet at this point. But Casey could drift given the stigma surrounding his inability to close out tournaments. It's hard for the public to bet on a guy to win if they think he'll choke when he gets into contention.
At this point, there's nothing new to add to the card in this range, but Thomas, Rahm, Fleetwood and Casey will all have my attention throughout the week and potentially as live adds in the middle of the tournament. We'll just be waiting to see where the numbers move as the week progresses.
---
Finding Value in the Mid-Tier
Eyes will be drawn to The Masters favorites this week, and with good reason.
But when it comes time to find betting value for Augusta, rarely is it at the top of the board.
Instead, winners tend to come from that next tier of players. Patrick Reed, Sergio Garcia and Bubba Watson have all won in the past seven years in that +4000 to +5000 range.
The pressure is high at The Masters and guys in this range can usually fly under the radar the first few days and just focus on golf. They aren't usually as consistent as the favorites on a week-to-week basis, but when we're looking for an eventual champion, they have the ability to take down any field in golf with their 'A' game.
If we're betting an outright winner, there's not much difference between a missed cut and a 25th place finish. Players in this area of the board are far more likely to miss the cut than the favorites, but that doesn't really matter for us. All we're looking for is that winning ability when they're playing their best.
Here are four guys I'm targeting as the week progresses:
Hideki Matsuyama (+3500)
Matsuyama is close to winning something soon. The results have been building early in 2019 with five top 20s in seven events. He's also been inside the top 20 in six trips to The Masters.
Putting is always the concern, but these greens are as difficult as any in the world and give the best putters trouble. If good putters are missing short putts, it negates Hideki's weakness a little.
We just need to look at recent winners like Garcia and Adam Scott to know that bad putters can find their way to a green jacket. I'm waiting out this number a bit to see if the +4000 that was out a couple weeks ago returns, but if it doesn't, I'll still probably bet him at this price.
Bubba Watson (+4000)
There are a couple things that hold true with Bubba. The main one is there are just some tracks Bubba plays well at. When there's a course he's comfortable on, he's a threat to win there again and again. He's got three wins at the Travelers and three more at Riviera. With two already at Augusta, it wouldn't shocking if he added a third here.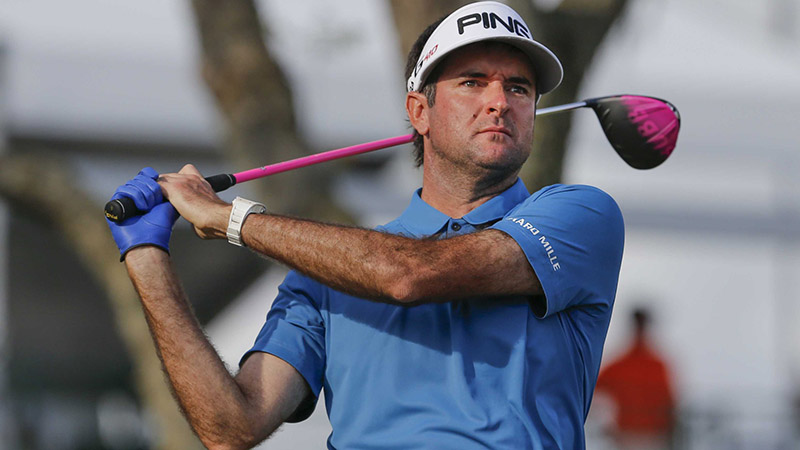 The form is fine leading into this year's event. He's got a couple fourth place finishes this year. Like Hideki, the putter has been a problem, but I'm not worried about that. If Bubba's tee to green game is in shape, he's going to get a lot of birdie chances this week.
If the putter is around field average, he'll be lurking on Sunday. I don't think we'll find a better number this week, so I'm in at +4000 now.
Sergio Garcia (+7000)
There's a bit of a trend with these picks — ignoring putting and trying to find good ball strikers in good form.
Garcia can obviously win here and his game is in great shape. He's been inside the top 10 five times worldwide in nine starts. I like Garcia more in this range because we're basically gambling his putter is going to get hot. If the putter is hot, he can win any tournament. If it's not, he's not winning no matter how weak the field is.
Like Bubba, this number isn't getting any bigger, so I'm in at +7000.
Xander Schauffele (+4000)
Lastly, we'll look at Xander. He was an add a while back at 100-1 but he's still lurking in this mid-range. He's become a bit of a no-cut, elite field specialist, winning the Tour Championship, HSBC Champions and Tournament of Champions. All are solid but limited fields.
While the Masters has a cut, it plays much more like a WGC event. There are only 87 players in the field this week and about 20 have basically no chance.
The form hasn't been great, but he's had numerous top 25's and did get that win in Hawaii a few months back. I'm not really a big fan of the current number, but keep an eye on him if it drifts into that +6600 range or if he starts slow. He may be worth an add in the middle of the tournament.
---
My Favorite Longshot Bet
If you've followed my articles in the past, you know I love digging around for longshots. I hit one last week after Round 1 of the Valero Texas Open, when I grabbed Corey Conners at 100-1.
But in golf, no two tournaments — and no two fields — are alike. An event like the Valero has been much more conducive to longshot winners than the Masters. Augusta National just doesn't cooperate with the Cinderella stories — at least not recently.
The last player to tee off at longer than 100-1 on Thursday and win was Zach Johnson in 2007. There were very tough weather conditions that year and it was also the only time since 1956 when the Masters winner finished over-par. Basically, it played far more like a U.S. Open than what we normally see from Augusta.
Winners usually have good form leading into the event, which hurts the longshots' chances as well. As guys start to play well, books will take notice and drop the numbers. So it's pretty rare we see someone who is playing well enough to win a major like this slip through the cracks.
But with all that said, I've still found one boom-or-bust player who presents value at his current odds of 125-1.
In this range, I'm going with Si Woo Kim. I grabbed him last summer at 250-1 and he's still available at 125-1. With longshots, I'm not really concerned about consistency. It's far more important to me that they can beat an elite field if they're playing their best golf.
Si Woo is one of the few guys in this range we can say that about. He's got a Players Championship win under his belt, and he's also been in great form this year with three top-five finishes in his past six starts.
He's far more likely to miss the cut by five than really contend, but if Si Woo can duplicate some of the form we've seen this year, he's one of the few longshots who really has a chance. That alone makes him worth a wager.
Make sure to shop around for the best price, as the odds can differ drastically book-to-book.
How would you rate this article?