Perry's Guide to Betting the Masters Mid-Tier: Where the Value Lies
Credit:
USA TODAY Sports. Pictured: Bubba Watson and Hideki Matsuyama
Several Masters winners in the last few years have come from the 40-1 to 50-1 range, including Patrick Reed, Sergio Garcia and Bubba Watson.
Joshua Perry breaks down four plays he likes in this range and explains why he's ignoring putting and focusing on ball-strikers in good form in this tier.
Eyes will be drawn to The Masters favorites this week, and with good reason.
But when it comes time to find betting value for Augusta, rarely is it at the top of the board.
Instead, winners tend to come from that next tier of players. Patrick Reed, Sergio Garcia and Bubba Watson have all won in the past seven years in that +4000 to +5000 range.
The pressure is high at The Masters and guys in this range can usually fly under the radar the first few days and just focus on golf. They aren't usually as consistent as the favorites on a week-to-week basis, but when we're looking for an eventual champion, they have the ability to take down any field in golf with their 'A' game.
If we're betting an outright winner, there's not much difference between a missed cut and a 25th place finish. Players in this area of the board are far more likely to miss the cut than the favorites, but that doesn't really matter for us. All we're looking for is that winning ability when they're playing their best.
Here are four guys I'm targeting as the week progresses:
Hideki Matsuyama (+3500)
Matsuyama is close to winning something soon. The results have been building early in 2019 with five top 20s in seven events. He's also been inside the top 20 in six trips to The Masters.
Putting is always the concern, but these greens are as difficult as any in the world and give the best putters trouble. If good putters are missing short putts, it negates Hideki's weakness a little.
We just need to look at recent winners like Garcia and Adam Scott to know that bad putters can find their way to a green jacket. I'm waiting out this number a bit to see if the +4000 that was out a couple weeks ago returns, but if it doesn't, I'll still probably bet him at this price.
Bubba Watson (+4000)
There are a couple things that hold true with Bubba. The main one is there are just some tracks Bubba plays well at. When there's a course he's comfortable on, he's a threat to win there again and again. He's got three wins at the Travelers and three more at Riviera. With two already at Augusta, it wouldn't shocking if he added a third here.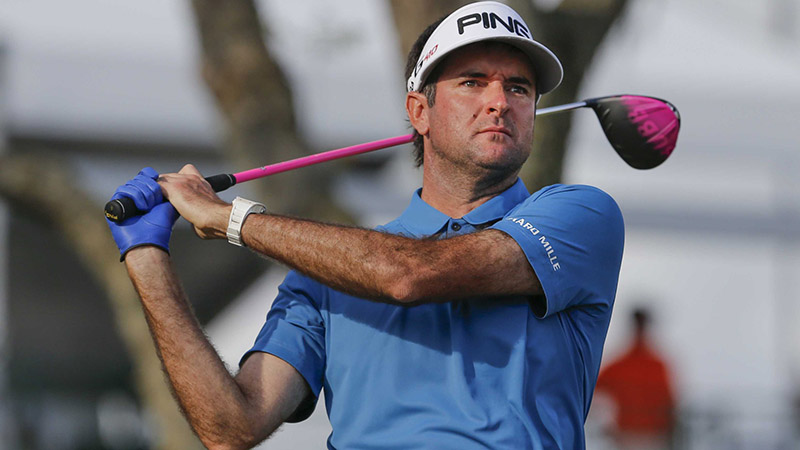 The form is fine leading into this year's event. He's got a couple fourth place finishes this year. Like Hideki, the putter has been a problem, but I'm not worried about that. If Bubba's tee to green game is in shape, he's going to get a lot of birdie chances this week.
If the putter is around field average, he'll be lurking on Sunday. I don't think we'll find a better number this week, so I'm in at +4000 now.
Sergio Garcia (+7000)
There's a bit of a trend with these picks — ignoring putting and trying to find good ball strikers in good form.
Garcia can obviously win here and his game is in great shape. He's been inside the top 10 five times worldwide in nine starts. I like Garcia more in this range because we're basically gambling his putter is going to get hot. If the putter is hot, he can win any tournament. If it's not, he's not winning no matter how weak the field is.
Like Bubba, this number isn't getting any bigger, so I'm in at +7000.
Xander Schauffele (+4000)
Lastly, we'll look at Xander. He was an add a while back at 100-1 but he's still lurking in this mid-range. He's become a bit of a no-cut, elite field specialist, winning the Tour Championship, HSBC Champions and Tournament of Champions. All are solid but limited fields.
While the Masters has a cut, it plays much more like a WGC event. There are only 87 players in the field this week and about 20 have basically no chance.
The form hasn't been great, but he's had numerous top 25's and did get that win in Hawaii a few months back. I'm not really a big fan of the current number, but keep an eye on him if it drifts into that +6600 range or if he starts slow. He may be worth an add in the middle of the tournament.
How would you rate this article?