AT&T Pebble Beach Pro-Am Betting Guide: The 600-1 Longshot to Consider
Credit:
Brian Spurlock, USA Today Sports. Pictured: Paul Casey
Dustin Johnson (+600) and Jason Day (+900) are the favorites to win the 2019 Pebble Beach Pro-Am.
This tournament usually features a winner from either the top or bottom of the board, so Josh Perry has a few longshots he thinks are worth a punt.
Rickie Fowler tried his hardest to blow a lead in Phoenix. But in the end, no one was prepared to take the title away from him.
We got close at times with Matt Kuchar, Chez Reavie and Bubba Watson all tying for fourth. Hopefully a few of you added some top 5s with the outright-win bets, but as for me, I only cashed on Kuchar to finish in the top 20.
Moving onto Pebble Beach, which is one of the more difficult tournaments to cap in my opinion. The tournament is spread over three courses and the rounds can stretch into the six-hour range at times thanks to the 156 amateurs also taking part in the event.
Couple that with some unpredictable weather and there are a lot of factors that influence the outcome outside of just hitting golf shots.
This is usually one of my lighter weeks in terms of action. We tend to either get a winner under +3000 like Jordan Spieth (2017), Brandt Snedeker (2015), Jimmy Walker (2014) and Phil Mickelson (2012) were. However, two of the past three winners, Ted Potter last year and Vaughn Taylor (2016) came out of nowehere.
My cards tend to feature a few golfers in the mid-tier range, but this tournament just hasn't produced champions in that range in recent years.
The Course(s)
As mentioned, this tournament will take place on three courses on the first three days with the players all heading to Pebble Beach for the final round.
Pebble is the course everyone is familiar with and the field will play there once over the first three days along with Monterrey Peninsula and Spyglass Hill.
All three courses check in at under 7,000 yards, so they're among the shortest on tour. In good conditions, Monterrey is usually the easiest of the three. But if the wind picks up, Spyglass has more trees that protect it and the track becomes much more playable.
With the lack of distance, the driver plays much less of a role at this event. Instead, it usually comes down to a good iron player who is comfortable putting on bumpy, fast poa annua greens.
The Field
Dustin Johnson and Jason Day are the clear favorites at the top of the board at +600 and +900.
Johnson has two wins here and has finished in the top five in five of the last seven years. Meanwhile, Day has been in the top six four times in the last six years. With all their success however, Day has never won and DJ hasn't finished in front here since 2010.
They're the only two players who opened at less than +2000. A group of six including Jordan Spieth, Tony Finau, Phil Mickelson, Matt Kuchar, Patrick Cantlay and Tommy Fleetwood all started behind the favorites between +2200 and +2500.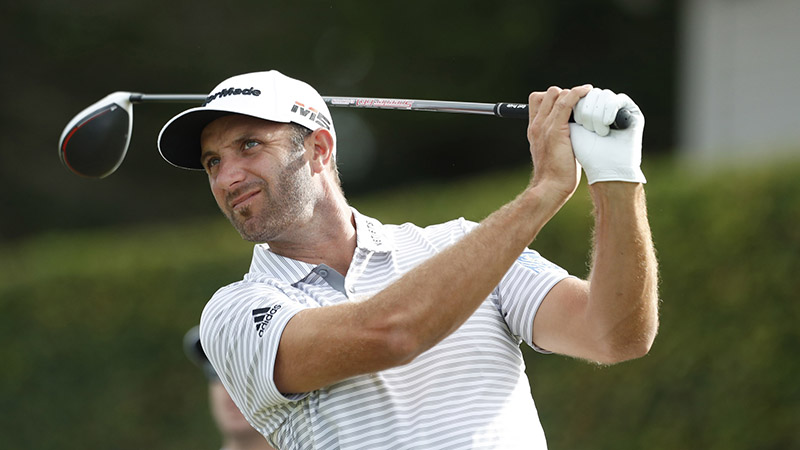 The Favorites
If this is one of those weeks where you feel like placing the weekly bankroll on either DJ or Day, I won't stop you. They both rate out as the best two players for this course.
My concern would be their course draws though. Weather so unpredictable here and with rain and wind in the forecast, it could be easy for either of them to get caught on the wrong course at the wrong time and be at a disadvantage.
Mid-Tier
Even though this tournament hasn't been kind to players in this range there's still a few names that I'm interested in, starting with Paul Casey at +3500. Casey was eighth here a year ago and finished second in his last start in Singapore, so the game should be in good shape heading into this week.
I'm also backing Kevin Kisner here at +9500 with a top 5 at +1500. Kisner's game is starting to turnaround. He's gained strokes with his approach in three of his last four tournaments. He's struggled here in the past, but two years ago, he finished in the top 10, so he has shown the ability to play well at Pebble.
Longshots
When the stars don't take this down, we can get some winners from way down the board.
Potter and Taylor weren't on the radar at all prior to their wins, so I'll be going off the map here with a few plays.
Brandon Harkins found a little form last week, finishing 26th in Phoenix and was also 15th here a year ago. At 225-1 for the win at +750 for a top 20, he'll be my first long shot.
Next up is Mackenzie Hughes at 350-1 to win and +1200 to top 20. He's finished 10th here a couple years back and has a couple solid finishes at Safeway and Farmers during his last two starts in California.
Freddie Jacobson is at 600/1 and 20/1 for a top 20 and has played well here in the past. He was fourth in 2016 and sixth in 2013.
He's also coming off his first made cut in 10 months last week in Phoenix. It's not much to go off of, but this course will neutralize the disadvantage he has off the tee and puts the emphasis on his strengths.
The Card
Paul Casey +3500 (.95 units)
Kevin Kisner +9500/+1500 (.35/.35 units)
Brandon Harkins +22500/+750 Top 20 (.15/1 units)
Mackenzie Hughes +35000/+1200 top 20 (.09/.5 units)
Freddie Jacobson +60000/+2000 Top 20 (.06/.5 units)
Total Stake: 3.95
Season: +5.125 units
How would you rate this article?