Sobel: Confidence Ratings for Haotong Li, Tommy Fleetwood & Rest of PGA Championship Leaderboard
Credit:
Jamie Squire/Getty Images. Pictured: Haotong Li.
Take a good look at the 36-hole leaderboard. It's not going to look the same after Saturday's third round.
So far, the 102nd PGA Championship has offered us a star-studded leaderboard topped by a surprise leader, with Haotong Li taking a two-shot advantage into the weekend.
How confident should we be in Li's capability of winning this event? How about the other contenders?
Let's rate our confidence level in each player on the leaderboard at the current midway point.
---
Odds via DraftKings. Get up to a $1,000 sign-up bonus at DraftKings today or see more offers and reviews for the best online sportsbooks.
---
Haotong Li -8 (odds: +1400)
Can this guy pull a rabbit out of his hat? Make his assistant disappear? I'm still not quite sure how he shot 65 in the second round, but it might've been magic, considering he only hit 4-of-14 fairways. Throw in the fact that he grinded for hours after he was done and it doesn't seem like Haotong is very confident in himself, so we shouldn't be too confident in him, either.
Confidence level: 2/10
Tommy Fleetwood -6 (+900)
The only thing standing behind Fleetwood and his first major are all those big-name players on the board, but don't expect him to get rattled. Here's been there and done that in these big events, finishing fourth or better at a major in each of the last three years. He's one of the best drivers of the golf ball on a course that demands great driving.
Confidence level: 8/10
[Bet now at DraftKings and get Fleetwood at +1170 odds with a 30% profit boost.]
Jason Day -6 (+900)
We hear Day's name and might automatically think of him as one of the world's best players – which isn't wrong, but he was outside the world's top-60 just a month ago and is only 42nd now. Despite three straight results of seventh-or-better, he hasn't seriously contended in any of 'em. Really, it's been quite a while since he was in the thick of a title run on a Sunday afternoon, which hurts how sure of him we can be, even just a bit.
Confidence level: 7/10
Daniel Berger -6 (+900)
He's confident, cocky and knows he can win every time he tees it up. Berger has been one of the game's hottest players over the past few months and now he's trying to pick off his first major. What he has going his way is a streak of eight consecutive final rounds in the 60s. Perhaps the only reason to not like him more right now is that price, which feels like it could/should be a tad longer than Fleetwood and Day.
Confidence level: 7/10
Brooks Koepka -6 (+400)
Let's see … can Koepka win a major? Yeah, I think he's capable. The man going for a three-peat is looking like he's changed in the phone booth, put on a cape and emerged as his major championship self once again. Even though he shrugged it off after the second round, Koepka received some stretching treatment on the course Friday afternoon, which could leave us just the slightest bit worried about his physical health.
Confidence level: 9/10
Justin Rose -6 (+1000)
He certainly isn't as surprising a contender as Li, but fresh off a trio of missed cuts, with new equipment in his bag and no swing coach at his disposal, it's a bit befuddling to see Rose in serious position to win this tournament. I think he's certainly capable of hanging around, but I tend to think a Sunday afternoon contention is too much, too soon after such mediocre recent play.
Confidence level: 5/10
Mike Lorenzo Vera -6 (+8000)
Look, MLV owns some sweet facial hair and a great short game, but he's not winning this golf tournament. In fact, he's been a pro since 2005 and owns exactly one victory on a sanctioned tour – which came on the Challenge Tour in 2007. He's not going to make the sudden leap to major champion, especially after not playing an event over the prior five months. That said, at this price, if you really want to make a small play on him, have at it.
Confidence level: 1/10
Cameron Champ -5 (+4000)
There's some serious value in Champ, who can bash it with the longest guys around and has been hitting it great so far this week, especially during his second-round 64. He might own a low floor when he doesn't have his best stuff, but he's got an incredibly high ceiling, as evidenced by his two career victories in two season on the PGA TOUR.
Confidence level: 5/10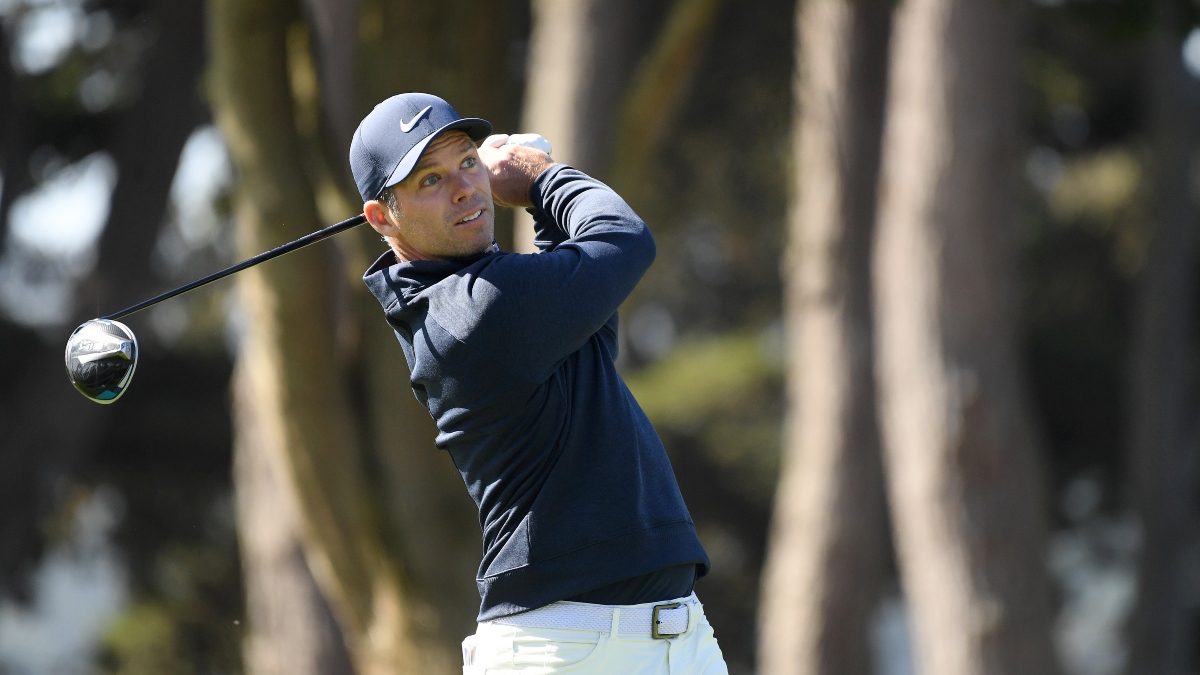 Paul Casey -5 (+2500)
I've always felt that Casey is more dangerous on a course with soft greens which is experiencing negligible wind. That's because he tends to play a very high ball, both off the tee and into the greens. The good news for him is that, even though there will still be some San Francisco breezes, it isn't forecasted to be too bad, though the greens could continue growing bouncier.
Confidence level: 4/10
Brendon Todd -5 (+4000)
If he gets into contention again entering the final round, which Todd will show up? Will it be the guy who looked like a closer while winning twice in the fall portion of this season's schedule? Or the guy who's twice held a 54-hole lead in the last six weeks and parlayed them into finishes of 11th and 15th place, with a grand total of zero birdies in those two rounds combined? I hate to say it, but it might be the latter.
Confidence level: 3/10
Lanto Griffin -4 (+7000)
Crazier things have happened – Ben Curtis, anyone? – but Griffin isn't winning this tournament. With a few more experiences like this, though, he's a guy who could, maybe, seriously contend for a major at some point in the not-too-distant future.
Confidence level: 2/10
Xander Schauffele -4 (+1400)
He didn't completely have his best stuff during Friday's even-par 70, but his ball-striking numbers are still solid and he'll be able to chase instead of being a rabbit, which should suit his mentality. Schauffele has a very good chance of being right around the lead coming down the stretch Sunday, which makes this an enticing price.
Confidence level: 7/10
[Bet now at DraftKings and get Xander at +1820 odds with a 30% profit boost.]
Dustin Johnson -4 (+1600)
Will the real DJ please stand up? He won the Travelers Championship, failed to break 80 in two rounds at the Memorial, WD'd from the 3M, played well at the WGC-FedEx and is now in contention once again after reportedly not hitting it well during practice rounds. He's been a bit under the radar so far, which could make him enticing.
Confidence level: 6/10 
Bernd Wiesberger -4 (+8000)
Is he my favorite play amongst the current contenders? He isn't. Can he win this tournament? I honestly believe he can. Wiesberger isn't a big name here in the U.S., but he won three times on the European Tour last year alone and is currently ranked 29th in the world. He has the firepower to hang with some of the big boys.
Confidence level: 4/10 
Alex Noren -4 (+8000)
The last player in the field this week, the former 11th alternate is making the most of the opportunity and is resembling the Noren who asserted himself as a top-10 player just a few years ago. If there's one drawback, it's that he did his second-round damage mostly with the short game, ranking below the field average both off the tee and with his approaches.
Confidence level: 3/10
How would you rate this article?