Handicapping Jordan Spieth and the 'Big Six' After Round 1 of the Travelers
Credit:
Dennis Schneidler-USA TODAY Sports, Pictured (top photo): Jordan Spieth
CROMWELL, Conn. — Twelve years ago, the longtime PGA Tour stop in Connecticut had no title sponsor, no financial backing and was off the schedule, instead on the verge of becoming a senior tour event.
Since then, there's been plenty of change here at the Travelers Championship.
This week's edition of the event includes six of the top 11 in the current world rankings, including each of the four reigning major champions.
Those half-dozen players range from co-leading to below the cut line through the first round.
Let's examine each one and whether we're buying or selling with 54 holes to play.
Jordan Spieth
Score: 7-under 63 (T-1)
Odds: +270
The skinny: There haven't been many positive numbers in the strokes gained: putting category for Spieth lately, but he looked more confident with the flatstick on Thursday, to the extent where he stopped bringing in caddie Michael Greller for as many reads as he'd been doing recently.
The money quote: "I just didn't feel great coming off the range. I've been working on some things on the swing, just decided to play toward the center of the greens and let the putter do the work because it's starting to come around."
The verdict: Hold. Not enough value to buy, and that putter could turn cold overnight.
Rory McIlroy
Score: 6-under 64 (T-3)
Odds: +375
The skinny: This is just the fifth time all year that McIlroy has broken 70 in the first round of a PGA Tour event. In the previous four, he missed one cut; the others resulted in a win, a T-5 and a T-16.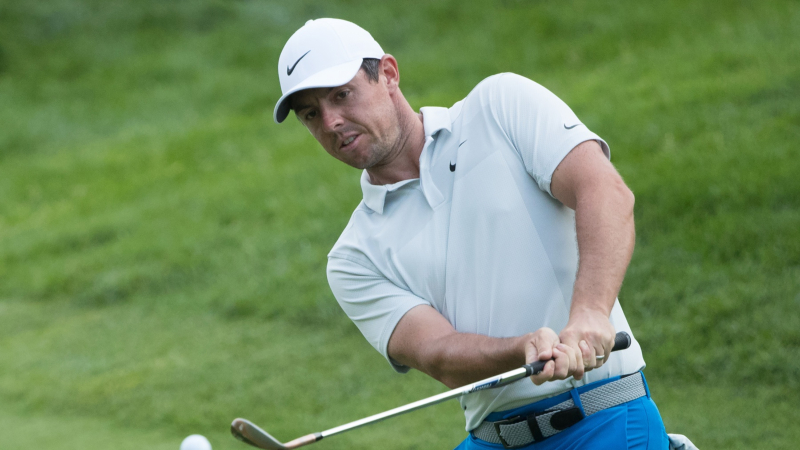 Credit: Bill Streicher-USA TODAY Sports
The money quote: "I feel like the work that I did over the weekend sort of started to pay off already. It was nice to see the shots I was playing right there. Being able to work the ball both ways was something I wasn't quite as comfortable doing last week."
The verdict: Buy. A hot McIlroy still has an extra gear that few in the game, if any, can match.
Jason Day
Score: 4-under 66 (T-9)
Odds: +1450
The skinny: Day poured in six birdies in the opening frame and should be comfortable on a course that suits his game. Only problem? He usually trends in the right direction before victories. This week he's straight off an MC and T-44 in his last two.
The money quote: "I think I gave myself plenty of looks out there. From tee to green, I was pretty good, and the putter started to come around, which was nice."
The verdict: Hold. Don't be too pessimistic about his chances, but this might be the beginning of some more success rather than the endgame.
Justin Thomas
Score: 4-under 66 (T-9)
Odds: +950
The skinny: Didn't have his best stuff on Thursday, insisting afterward that it took him a while to feel comfortable in his round. That's a good thing, not a bad thing. It means he should continue to improve.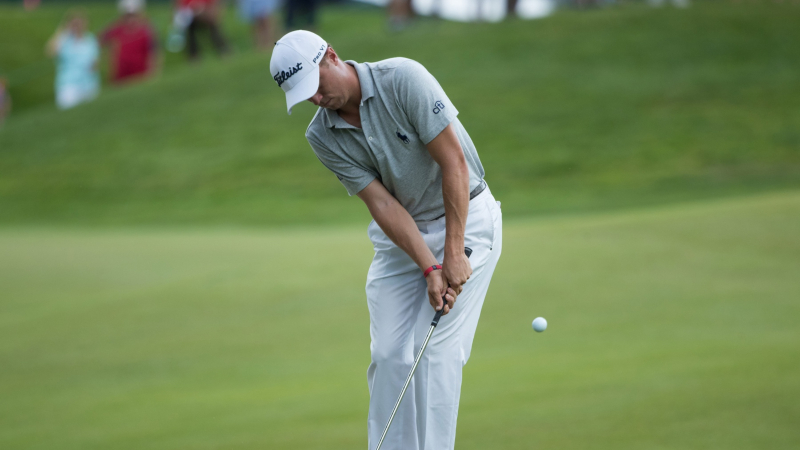 Credit: Bill Streicher-USA TODAY Sports
The money quote: "I was just in a weird mood today. I couldn't really get into it. I slept for a while last night, and I kind of had a hard time getting out of that grogginess. … So I'm very, very pleased to get a 4-under out of a round today."
The verdict: Buy. Nice chance for another notch in his belt on the "Anything Jordan Can Do, I Can Do, Too" tour.
Brooks Koepka
Score: 2-under 69 (T-38)
Odds: +3000
The skinny: Started his round like he was going to parlay that U.S. Open victory right into another win, as he birdied four of his first five. Slowed down, though, and later admitted he was still wiped from last week.
The money quote: "I'm still kind of going on adrenaline right now, but I'll be honest, I'm dead right now. I think it showed kind of coming in. Just exhausted. Get some rest and kind of clean it up for tomorrow, but still playing good."
The verdict: Sell. Still riding the high from his second major win, expect exhaustion to cancel out ball-striking and putting.
Patrick Reed
Score: 2-over 73 (T-114)
Odds: +16000
The skinny: Never quite got things going in his first round after a Sunday rally fell short at Shinnecock. He was feeling confident going into this week, so the over-par total could wind up being his outlier for this tournament.
The money quote: "This week it's guns blazing. Everyone is going to be firing at flags and going, and last week it's more like, alright, let's try to survive the week."
The verdict: Buy. Maybe not for the win, but for head-to-head matchups.