The Time Phil Mickelson Made a Crazy Bet on Jon Rahm's Career … And Won
Credit:
Warren Little/R&A via Getty Images. Pictured: Phil Mickelson and Jon Rahm
Jon Rahm won the Memorial Tournament this weekend to become the No. 1 player in the world for the first time in his career, but it was another ranking milestone from a few years ago that resulted in one of the greatest golf-related betting stories we've heard in a long time.
This one has never been told publicly until now, but with the blessing of both parties involved, it can finally be shared.
Like most great golf and betting – and golf betting – stories, this one begins in the locker room of a club, a bunch of golfers passing the time with vivid conversation. More specifically, this club was TPC Southwind in Memphis during a rain delay for the 2016 FedEx St. Jude Classic and the golfers were a group of pros waiting out the weather – a group which included Phil Mickelson and Colt Knost.
The conversation turned to a young amateur named Jon Rahm, whom Mickelson not only knew through his brother, Tim, who coached the young Spaniard at Arizona State, but whom he'd recently played with, impressed by the 62 he posted at Whisper Rock, a private club in Scottsdale.
That score would later prompt Mickelson to admit, "Let's just say, I will only be his partner from now on. I haven't been able to beat him."
Knost had never witnessed Rahm's game in person, but was astounded when Mickelson spoke of him in such reverential terms.
"This kid is going to be top-10 in the world within a year," the left-hander proclaimed of the soon-to-be professional.
Thinking he'd call that bluff, Knost tried to argue his point.
He gestured toward Dustin Johnson, who was among the players sitting at the table with them and said, "It took Dustin like five or six years to get to top-10 and he was winning every year."
This wasn't just about the kid's talent. It was about the opportunities — or lack thereof, which could prevent Rahm from getting that close, that quickly.
"I was like, 'How can you think he'll be top-10?,'" Knost recalls. "'He has no status on the PGA Tour. If he has to play the Korn Ferry Tour, he has no chance.'"
Mickelson agreed with this assessment, but was willing to take the risk.
His argument: If Rahm gets off to a good start as a professional, he's going to rocket up the rankings. He was basing this on a combination of Rahm's talent and the mathematical formula that comprises the rankings.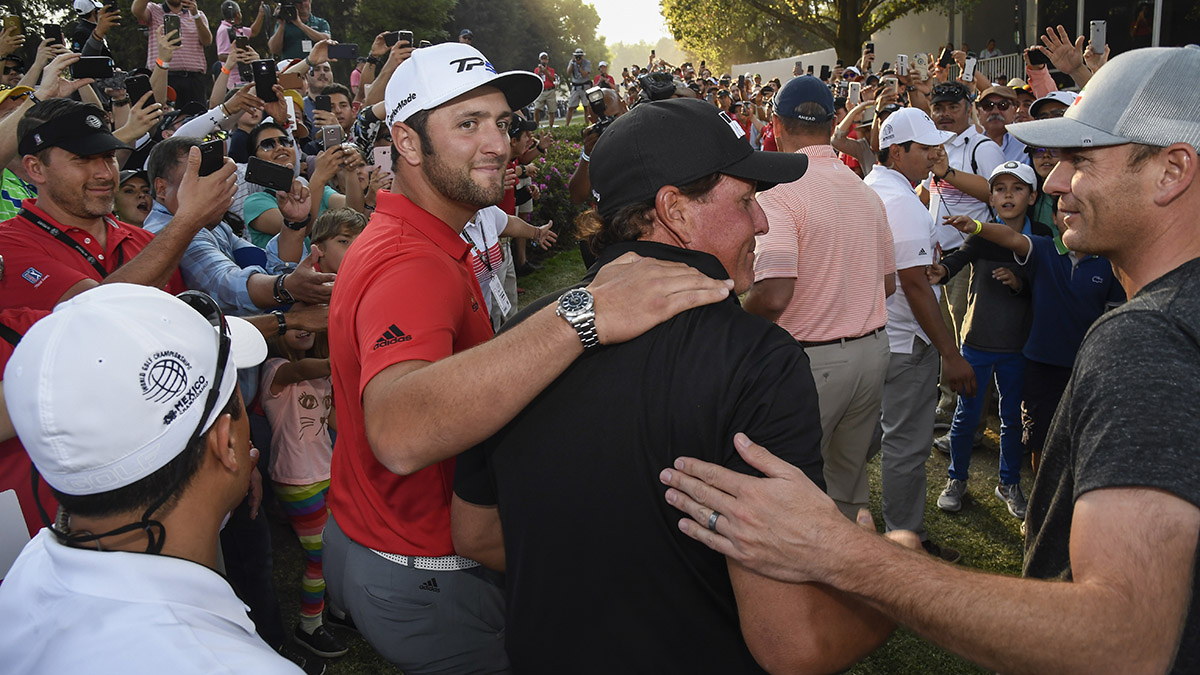 Like all good locker room debates, this one quickly turned into a wager.
"Do you want some action on that?" Mickelson asked Knost.
And so it was agreed upon: Knost would give Mickelson 2-1 odds that Rahm would be a top-10 player in the world by that week in June the next year.
"I told a ton of people about this bet and everyone was agreeing with me," Knost says now. "Everyone was like, 'You know how hard it is to get to top-10 in the world?'"
One week later, Rahm would finish as low amateur at the U.S. Open, grabbing a share of 23rd place at Oakmont.
The next week, Rahm turned professional and promptly claimed the first-round lead before finishing in a tie for third at the Quicken Loans National.
That moved him inside the top-300 in the world — a swift ascendancy, but still a long way to go for top-10.
One month later, though, after a pair of mediocre results, Rahm finished in a share of second place at the RBC Canadian Open, not only moving up to 142nd in the world, but also clinching special temporary membership, meaning he could bypass the developmental circuit, which would have undoubtedly kept him from reaching the top-10 so soon.
And yes, as if you had to ask, Mickelson continually reminded Knost of their bet.
"There was definitely a lot of chirping," says Knost. "He kept asking if I wanted to buy out. I'd always get a text after Rahm played well."
He played well pretty frequently, too.
By year's end, Rahm was 125th in the world. In his second start of 2017, he won the Farmers Insurance Open at Torrey Pines with a 60-foot eagle putt on the final hole, rocketing to inside the top-50 just seven months after turning pro.
"I was at a bar when he made the putt," Knost remembers. "I just screamed. People were like, 'What?' And I'm just like, 'Don't worry about it, you wouldn't understand.'"
At this point, it felt inevitable that Rahm was going to cash the bet for Mickelson.
He finished top-10 in five of his next eight starts, gradually working his way up the ranking with each one.
After the Players Championship in May 2017, Rahm had moved all the way up to 12th.
Two weeks later, he finished in a tie for second place at the Dean & DeLuca Invitational, catapulting Rahm to ninth in the world.
That did it: The bet was settled.
"It once again shows how smart Phil Mickelson is," Knost admits.
For his part, Mickelson was asked after his final round on Sunday about Rahm, who at the time was on the verge of his momentous victory.
"Jon Rahm is a remarkable talent, and you're seeing it," he said. "You're seeing it in his play week in and week out from a game that has no weaknesses. [He] drives it long, drives it straight, good iron play, good wedge player, great putter. He just doesn't have a weakness."
Knowing what he knows now, Knost heartily agrees. "I play a ton of golf with him here in Scottsdale and he's so good. We all knew he would get to No. 1 in the world at some point."
When the wager was decided, when Rahm officially moved inside the top 10 a mere 11 months after their wager was made, Knost was injured and not competing in PGA Tour events. He didn't see Mickelson for another four months, but paid him as soon as he saw him.
As for the financial total, well, it wasn't insignificant.
"There was a comma involved," Knost admits. "Let's just say it hurt me more than it helped Phil."
How would you rate this article?