Sobel: Buying Rahm, Selling Kisner After British Open Round 1
Credit:
Steven Flynn-USA TODAY Sports. Pictured: Jon Rahm
Kevin Kisner finished the opening round in the lead, but his history at the Open is shaky at best.
Tiger Woods got off to a fast start, and his betting odds dropped fast, but don't get too excited about his chances to win just yet.
Expect for weather to play a factor at Carnoustie. The golfers playing later tomorrow might have an advantage.
Here's what we learned during the first round of The Open Championship: Carnoustie is a superstar, rewarding great shots and penalizing bad ones, just as the game is supposed to be played. The leaderboard is star-studded, save for a handful of young South Africans, with plenty of big names lurking. Tiger Woods (+1800 to win) just happens to play better without a driver in his hands.
OK, so we might have known that last one already.
That's what we know, but what do we need to know for the second round and beyond? Here are 10 things to keep an eye on.
---
>> Sign up for The Action Network's daily newsletter to get the smartest conversation delivered into your inbox each morning.
---
1. Fade the Kiz
Right about now, you might be thinking, "Kevin Kisner (+2500) shot 66, needed only 22 putts and should be up there on the leaderboard for three more days." Don't bank on it. Monumentally superior putting performances are hardly sustainable from one day to the next, meaning some negative regression should be expected.
Then there's this: In his past six starts, Kisner made just three cuts and had no results inside the top 50. And one more: In three previous Open starts, he similarly failed to claim a top-50 finish. That's a lot of history working against him.
2. Rahm Threat
Meanwhile, Jon Rahm (+1000, co-favorite with Rory McIlroy) posted a score only three strokes higher than Kisner's, but needed 11 more putts. Using the same logic, he should enjoy some positive regression on the greens moving forward.  If Rahm — a traditionally aggressive player — can avoid a few big numbers and make a few more putts, he'll be in terrific position to make a run at a first career major title this weekend.
3. Major Mojo
Last fall, before the Tour Championship, I wrote a lengthy feature on Tony Finau (+1500), since getting into that field also qualified him for the first three majors of this year. "It's the next step in his career," his longtime instructor Boyd Summerhays told me about that ascension. "The way he's playing, that's where he's been trying to base his game. He wants to win a major championship — and you can't win it if you're not in it."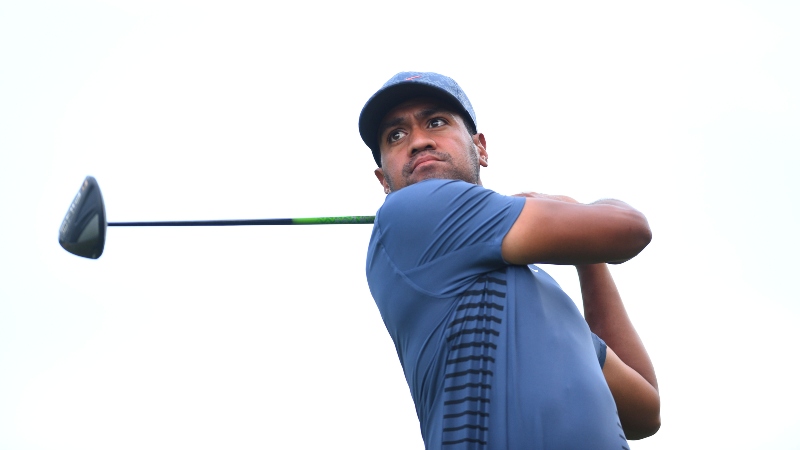 Credit: Bob Donnan-USA TODAY Sports. Pictured: Tony Finau.
Talk about taking advantage of the situation. Despite a bad ankle sprain the day before the opening round of the Masters, he finished T-10. He finished fifth in the U.S. Open. And now, thanks to an opening-round 67, he's in contention once again. It's surprising that Finau still owns just one career victory — and that was an opposite-field event in Puerto Rico — but he's quickly proving that he's a guy who plays better when the stakes are higher.
4. Back to the Future?
In the final round of last year's Open Championship, Jordan Spieth (+3300) played the final five holes in 5-under. In the first round of this year's Open, he played the final four holes in 4-over.
For a minute there, when Spieth was 3-under for the day through 14 holes, his odds dropped to as low as +750. That number obviously rose after his troubling finish, but a 1-over 72 hardly takes him out of the mix.
His putting looked much improved on Thursday, perhaps closer to last year's level than we've seen in months. And here's a relevant stat to keep in mind if he stays close for the next two days: Despite his noted struggles this year, Spieth remains first on the PGA Tour in final-round scoring average (68.27) this season.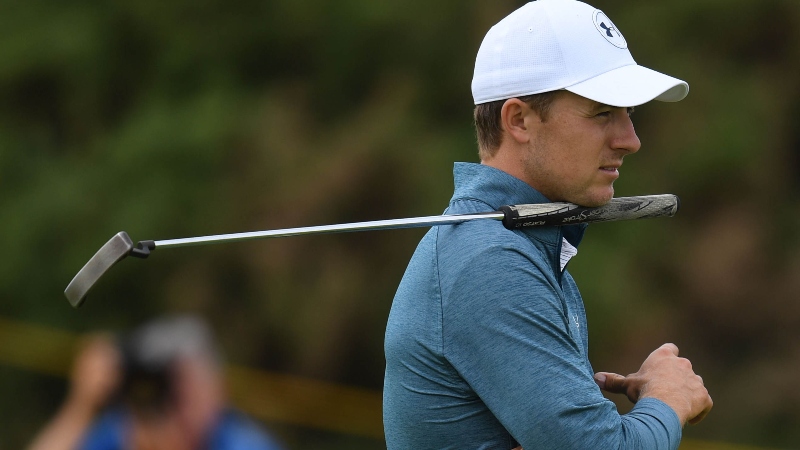 Credit: Thomas J. Russo-USA TODAY Sports. Pictured: Jordan Spieth.
5. Moore Thursdays, Fewer Sundays
Ryan Moore (+4000) might be the Spieth antithesis. He doesn't play his best golf in major championships — as Golf Channel's Justin Ray noted, this is his 40th career major, and he's never finished better than T-9 — and he certainly doesn't improve his standing in final rounds.
Moore posted a 68 in the opening round, which he might be able to keep going — until the final round, if his stats prove true to form. So far this season, he ranks 37th in first-round scoring average, 29th in second-round scoring average and 27th in third-round scoring average, but drops all the way to 84th on Sundays.
6. No More Weak Links
So far in his young career, Justin Thomas (+1400) has already compiled multiple top-25 finishes at each of the other three majors. But at The Open? He's managed only a T-53 and a missed cut. Earlier this week, he explained why he hasn't fared better: "Two years ago, I was on the bad side of the draw, and it was very difficult to make up ground that way. Then last year, I really just had two terrible holes that caused me to miss the cut and not have a chance."
In each of those instances, he opened with a score of 67, which means we can take his opening 69 on Thursday one of two ways. Either potential danger is lurking right around the corner for him, or he's finally ready to parlay a solid start into a serious title run. I'll go with the latter.
---
>> Download The Action Network App to get real-time golf odds, track your bets and follow all of our experts' picks.
---
7. Learning to Win
It didn't take long for Tiger Woods (+1800) to reach the lowest odds on the board. By the time he'd bagged two birdies in his first four holes, it felt like the mid-2000s all over again, as Woods had dropped all the way to +650 in the live betting window.
Here's hoping none of you shrewd readers jumped on him at that point, because the odds quickly reversed. I still think there's value in Tiger for matchups and top-five/top-10 wagering, but I also believe he needs to walk again before he runs — and by that, I mean he needs to win a PGA Tour event for the first time in five years before he wins another major.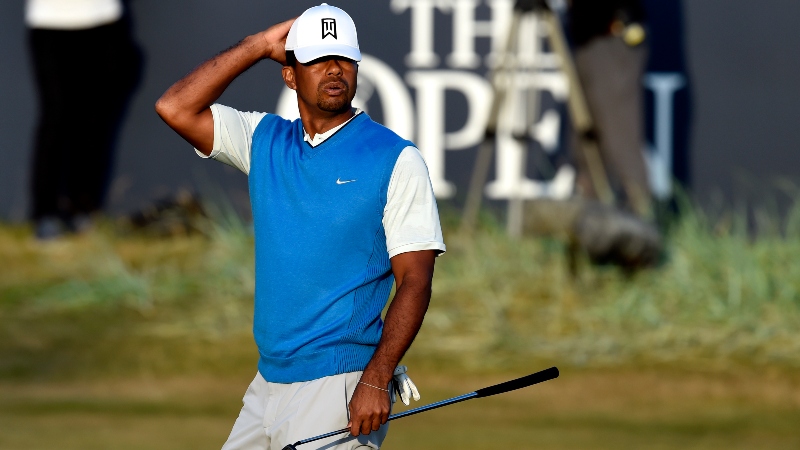 Credit: Ian Rutherford-USA TODAY Sports. Pictured: Tiger Woods.
If you don't believe me, then believe Jack Nicklaus, who knows a thing or two about winning and recently said that Tiger needs to learn how to win again. I'm not sure he can suddenly learn it this weekend at Carnoustie.
8. Firm Stance for Rory
There's a stigma around Rory McIlroy (+1000) that he can succeed only on long, soft golf courses — and I'll admit, I've bought into that notion, too, simply based on his winning history (Congressional, anyone?).
The truth is, he's better on fast, firm tracks than he gets credit for. He won at Royal Liverpool four years ago, finished T-5 and T-4 in the past two editions of The Open and started this week with a 2-under 69 on a course he called the firmest he's ever played. Sure, we'd all probably like Rory's chances better if a few inches of rain drenched Carnoustie, but let's not write him off simply because it's dry.
9. Bounce-back Bros
If you're looking for a couple of players to go extra-low Friday after over-par openers, check out pals Dustin Johnson (+18000) and Brooks Koepka (+4000). I get it, picking two of the world's best isn't exactly rocket science, but there are specific reasons that each should be ripe for a better day.
Johnson opened with a 76, punctuated by a Van de Velde (that's what they call a closing triple at Carnoustie) at the last hole. He posted an over-par 73 in the first round of this year's Masters, then bounced back with rounds of 68-71-69 to finish T-10.

Credit: Ian Rutherford-USA TODAY Sports. Pictured: Brooks Koepka (left), Dustin Johnson (right).
As for Koepka, he rode a roller-coaster round that saw him go out in 41 strokes and come back in 31 for a 1-over 72 that still has him in the mix. It could also give him some much-needed momentum and maybe a sense of déjà vu: At last month's U.S. Open, he shot 75 on Thursday, then followed with rounds of 66-72-68 to claim the win.
10. Weather or Not
You can't trust the weather forecast in Scotland any more than you can trust take-away haggis from a petrol station. But since we have nothing else to go on, it's worth noting that Friday could play differently than Thursday did.
In the opening round, it was calm for the morning groups, then the wind started blowing a bit in the afternoon, although never too much. For the second round, it's expected to be a little rainy and breezy in the morning, followed by calmer conditions in the afternoon.
Of course, what this means is an uneven dispersion for the two waves of players, as it appears the early-Thursday/late-Friday competitors will get the better side of the draw.
You know, if we trust the forecast, that is. I certainly wouldn't trust the haggis.