Best Bonus Offers for Tiger vs. Phil in New Jersey: Bet Team Tiger at Crazy Boosted Odds!
Credit:
Sean M. Haffey/Getty Images. Pictured: Tiger Woods
This past Sunday, we had a lovely golf match between three semi-household names and a fourth fella who only golf buffs would've known.
This Sunday?
Tiger Woods. Phil Mickelson. Tom Brady. Peyton Manning.
Now that's star power. And with star power, you get strong promotions. Here are all the best betting promos to take advantage of before Sunday's match (3 p.m. ET).
PointsBet Sportsbook
Offer: Bet Team Tiger at Crazy Boosted Odds
Claim now: Click here
Who's it for? New and existing customers
PointsBet is back with a classic "crowd-pleaser" promotion.
For every 100 bets placed on the favorites, PointsBet will be moving the odds in their favor. They started at -225 and have moved to -170 as of Friday afternoon.
Here's the best part.
Regardless of the price you bet them at, you will be paid out (if they win) based on whatever the closing line is. No point of waiting around until right before they tee off.
Bet them at -170 and they close at +120? You get paid out at +120.
And even better? You get paid out in cash, not site credit. The max wager for this promotion is $50.
To give you an idea of what type of boost you're getting, here's an example. The opening odds of -225 suggest a 69.25% implied probability. If they close at even odds (50% implied probability) you're getting nearly a 20% boost!
Forget about line shopping thanks to this promo.
BET TIGER & PEYTON AT CRAZY BOOSTED ODDS
DraftKings Sportsbook
Offer: Bet $20+ on the match and get a free $20 live bet
Claim now: Click here
Who's it for? New and existing customers
Golf's a terrific sport to bet live, and anyone planning on getting down on some live action for the match ought to take a gander at this here promo — which is available to both new and existing customers.
Here's what you have to do to get a free bet to use during "The Match II."
On the DraftKings Sportsbook home page, find the box you see below and click 'Opt-in'.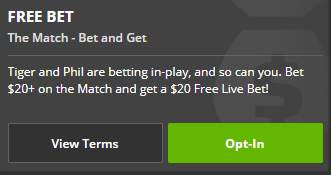 After that, it's pretty darn simple. Just make a $20+ bet on the match (excluding bets of -250 or higher; e.g. -300) and you'll automatically get your $20 free bet.
Just remember that the free bet can only be used during the match so don't save it for later. With it, you could try to just make a little extra cash and bet on something with a high chance of cashing. You could also try and turn it into a big payday and bet on a big longshot. Plenty of possibilities, so get to it!
How would you rate this article?