Best Bonus Offers for Tiger vs. Phil in Pennsylvania: Win $50 if Tiger Makes ONE Birdie!
This past Sunday, we had a lovely golf match between three semi-household names and a fourth fella who only golf buffs would've known.
This Sunday?
Tiger Woods. Phil Mickelson. Tom Brady. Peyton Manning.
Now that's star power. And with star power, you get strong promotions. Here are all the best betting promos to take advantage of before Sunday's match (3 p.m. ET).
---
Parx Sportsbook
Offer: Bet $25, Win $50 if Team Tiger Makes a Birdie
Pennsylvanians get access to a no-brainer offer for the match that involves both Tiger AND Peyton: Score a $50 free bet if the duo makes just one birdie. All you have to do is click this link and place a cash bet of at least $25 on the match (excluding bets of -250 or higher — e.g. -300 — along with parlays and boosted markets … see full terms here).
Perhaps the best part of this offer is that you get to combine it with Parx's standard offer of getting your first bet risk-free bet up to $500.
Here's an example:
You bet $200 in the Tiger/Peyton moneyline at -200
Tiger and Peyton make a birdie, so you win your $50 free bet
Tiger and Peyton also win the match, so you profit $100
In this scenario, you'd have $350 in your account ($300 in cash and $50 in free bets that you need to rollover just once before withdrawing).
What happens if Tiger and Peyton lose the match? Well, you'd obviously prefer for that not to happen, but it's not that much of a difference to you since your $200 original bet was risk-free. That means you'd have $250 in free bets ($200 from your original stake and $50 from the bonus of Tiger/Peyton making a birdie) in your account.
WIN A $50 FREE-BET IF TIGER & PEYTON MAKE A BIRDIE
DraftKings Sportsbook
Offer: Bet $20+ on the match and get a free $20 live bet
Claim now: Click here
Who's it for? New and existing customers
Golf's a terrific sport to bet live, and anyone planning on getting down on some live action for the match ought to take a gander at this here promo — which is available to both new and existing customers.
Here's what you have to do to get a free bet to use during "The Match II."
On the DraftKings Sportsbook home page, find the box you see below and click 'Opt-in'.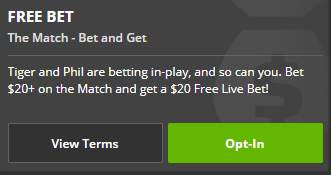 After that, it's pretty darn simple. Just make a $20+ bet on the match (excluding bets of -250 or higher; e.g. -300) and you'll automatically get your $20 free bet.
Just remember that the free bet can only be used during the match so don't save it for later. With it, you could try to just make a little extra cash and bet on something with a high chance of cashing. You could also try and turn it into a big payday and bet on a big longshot. Plenty of possibilities, so get to it!
How would you rate this article?